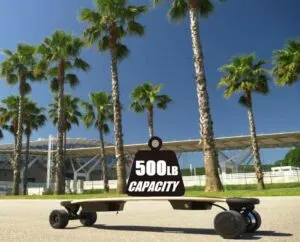 Sidewalk surfing, or skateboarding as its more commonly known is the latest mode of transport to receive the technology upgrade. Enter 2023 and we have the best electric skateboards for heavy adults charged and ready to roll.
Growing up in the 90's I saw my fair share of fads come and go, but one thing that has always stayed strong is skateboarding
The problem with being a larger size adult, is finding a suitable board. Skateboards have never been known for their resistance to breaking, so you can imagine how an electric skateboard would handle under 400 pounds or more of weight, not too well.
However, if you're willing to think outside the box a little and consider an off-road electric skateboard you may just get one suitable for your weight as these things can handle heavier persons up to 500 pounds.
Compare 2024 E-Skateboards By Weight Capacity
| | Capacity | Specs | Price |
| --- | --- | --- | --- |
| | 440 LB | Classic Maple Cruiser Deck, Range: 12miles, Top Speed: 23mph, IP55 water resistance, 25% Hill Grade | Check Price Amazon |
| | 330 LB | 28 MPH Top Speed, 17 Miles Range, 540W x 2 motors, 30"L x 11.06"W | Check Price Amazon |
| | 330 LB | 31 MPH Top Speed, 31 Miles Long Range with 2800W x 2 Belt Motor | Check Price Amazon |
| | 330 LB | 4 Speed, 1800W Dual Brushless Motor,24 MPH Top Speed, 8.6 Miles Range, 22% Hill climb | Check Price Amazon |
| | 286 LB | 39" Longboard, 1200W Dual Motors, 18Miles Range, 26PMH Top Speed, 4 speed mode and 4 brake mode | Check Price Amazon |
---
Our #1 Choice
Should Heavy People Even Consider an E-Skateboard?
But can overweight people safely use a skateboard? Well there is no one size fits all solution here. Some people are naturally gifted in the art of skateboarding and others not so much. But with the right safety gear, determination and attitude, sure why not pick up an electric skateboard and see how you fair.
If balance is something you know you struggle with, perhaps investing in a heavy duty electric scooter to help you maintain balance at high speeds. A decent off-road e-scooter will set you back a fair chunk of money, but in the end you can feel safer riding on something designed to hold 600 pounds.
Another alternative for the big guy to consider is to test their might and balance on a high weight capacity Hoverboard. Again, this will certainly be challenging for the heavier adult, but not impossible with the right set-up.
2023-2024 Electric Skateboards For Heavy People Update.
Please refer to the table above for the most up to date electric skateboards for heavy people in 2024. As this emerging technology is rapidly changing, so are the availability options for skateboards.
The boards listed below may or may not still be available. Please check relevant links.
500 LB Capacity Electric Skateboard

This LandSnail electric skateboard is another excellent option for anyone looking forward to trying one for the first time. It has lots of unique features that make it a high performing choice for competitive and lifestyle skating.
Both beginners and advanced adult riders find it efficient for their needs because of its 4 speed/4 braking modes with a decent top speed. It has a top speed of 30MPH which is quite incredible considering it can carry up to 500 pounds.
When it comes time to climb hills, the 30% grade climb really gives you edge you need to tackle hills comfortably and with less effort. However, there are precautions to take, especially with speeds, as the manufacturer recommends different speed levels depending on your actual level of experience.
Learners and heavier riders should start at and stick to speeds of 10MPH until they feel overly confident in their ability to handle the board. Intermediate skaters who are commonly known to be leisure riders can do speeds of 20MPH.
Advanced skaters who are experts in what they do can comfortably skate at speeds of 30MPH right from the get go. Sticking to these speed recommendations is essential to avoid accidents and as a big man retuning to balancing on a small board as it transports you across hard bitumen, taking extra care is critical.
Powerful 1500W Dual Motors
Another thing you will note as you use this skateboard is that it is stable, robust and quite powerful. After all, it needs to be to be able to transport someone weighing up to 500 pounds.
Power and stability are some essential indicators of high performing skateboard and pretty much essential for anyone over 300 pounds. Its motor ensures a strong output as it uses high-quality copper wire to ensure there is enough power supply.
With great power comes an ever greater price tag. Unfortunately, as a heavy rider you need to invest heavily into a powerful motor. This dual (2 x 750w) 1500 watt e-skateboard will do just that.
Quality Of Life Features
This skateboard also gives the skater easy control options as it comes with remote control. Besides the remote control, it also comes with an OLED display making it easy to control it. Another handy feature of the Land Snail e-Skateboard is that it has a runner puller design that makes sure it does not skid as you skate.
Portability is another great feature of this skateboard. The manufacturer made it lightweight (16.1lb) as possible while ensuring it remains strong enough to meet your needs. It carries a maximum load of up to 500lbs despite its lightweight.
Some Of The LandSnail Specs To Get Your Mouth Watering
Dual 2 x 750watt hand winded copper wire for maximum output from the motor
Torque: 4.8 N.M x 2
Utilizes a powerful magnet system to maximize the range (up to 18.6 miles on the charge)
Ultra Thick Carbon Fibre deck for maximum resistance to breaks (1/2-inch thick)
Pros
Coated in a Bulletproof and waterproof (Rating IP55) SPUA material for maximum wear resistance
Designed to be maintenance-free for its lifetime due to its NSK waterproof bearings
Fast Charge UL Approved – Fully charged in just 80 minutes!
Search for LandSnail E-Skateboards on Amazon Here.
---
Electric Skateboard For Overweight Riders 330 LB Capacity

This long electric board by Swagtron has some fantastic features that make it the right choice for entry level/beginner riders While it is also suitable for experienced skaters who would love to do thrills at slower more controlled speeds. But as a learner, you may have to take time before jumping in and trying any thrills you see with the experts.
As you will discover, the power of the motor has a direct impact on the boards torque and top speed. The Swagtron has a smaller dual 2 x 350watt motor compared to the powerful LandSnail (above). However these dual motors are still sufficient to ensure there is enough power for your skating needs.
The motorized wheels can go to high speeds of up to 15MPH. They can do that comfortably for a range of 15 miles. But do note: the heavier you are, the more impact you have on the motors performance, so don't expect maximum results when you are on or above the 330 pound weight capacity.
24 Cell Batteries For Up 3 Times The Performance
This skateboard has a remote control that makes it to control. You can do so much with a single click, such as changing directions and other actions. Besides, the remote control enhances safety by making it easy to brake in emergencies.
The 24 cell battery pack that powers this skateboard is long-lasting and its performance is quite impressive. Its motors get powered by a durable lithium iron phosphate battery which is said to offer up to 3 times the performance of traditional battery packs. You can move from one place to another stress-free as this battery lasts long enough for around town commutes.
A skateboard has to be strong enough to guarantee efficiency. The Swagtron skateboard is flexible but also strong enough for anyone to use including overweight adults. It has a gorgeous deck which is built on 2 types of wood, 6 layers of Maple and 2 layers of bamboo to give it the heavy-duty rating required to hold overweight teenagers and adults. That makes it one of the most robust options to consider in my opinion.
Experienced skaters will tell you how comfortable it is to use longer boards. This skateboard comes with a longer board than most electric skates in the market. That not only make it easy to balance but also ensures you remain stable. It is classically curvy to ensure you skate swiftly.
The Juicy Specs
2 x 350W motorized Polyurethane wheels
Top speed 15mph, Range: 15.5 Miles
24 Cell Lithium-Ion Battery Pack for 3 X Performance
41.25″ Longboard
8 Layer Design: 2 Outer shells made from Bamboo with 6 Maple layers in between.
Passed strict safety standards IL2272
Official E-skateboard of the Chicago Cubs
Suitable For Heavy Adults Ups To 280 LBS

There is so much talk about this dual x 500Watt motor SkateBolt Upgraded Tornado 2 as it has a host of features that make it an excellent choice for anyone under 280 pounds.
It comes with an upgraded 7500mAh battery pack that delivers you power for long skating periods. There is nothing worse than to have your skateboard battery die in the middle of nowhere, but as the wheels freely spin, you can use this as a regular skateboard should the emergency occur.
With this battery, you can cruise up to 21 to 24 miles in the medium speed without requiring any additional power source. It can reach speeds of 26MPH on maximum with its powered wheels. But again, as a heavy adult, chances are you won't squeeze every little mile out of the motor ro battery as specs describe.
However, it can climb some steep hills while maintaining the average pace. The 1000x dual motor is a big reason the SkateBolt can tackle 25″ incline hills.
Durable For Daily Riding
Another exciting feature of this skateboard is its durability and strength. It has a long board made from durable materials making it sturdy enough to support users up to 280lbs. It features an expansive deck and strong 90 mm wheels to give you a smooth ride while providing you with a 9″ wide deck for keeping your balance.
For safety, this skateboard comes with taillights for hassle free night skating. These tail lights make it easy to skate on dark streets as you can alert other road users of your presence. Other road users, especially motorists, can also get warnings to reduce traffic accidents once you press on your brakes.
It comes with a LED display and a remote controller making it easy to handle it. For instance, you can control the speeds, change directions, check battery capacity, and apply brakes using the remote control. You can also control the taillights using the remote which is a cool feature.
Another great feature of this skateboard is that you can buy with confidence should anything break after the purchase. You can shop with confidence as it has been approved for use and comes with a warranty. The manufacturer has a repair and service centre in the USA, making repairs easy.
Some Of The Noteworthy Specs
Dual 1000watt motor (2 x 500W)
7500mAh Lithium-Ion Battery
9.4″W deck with length of 38″ – 8 Layer Maple
Tackles hills up to 25% incline
Top Speed: 25mph (2 modes – Normal and Sports)
18.6miles Maximum Range
---
Our #1 Recommendation
Electric Longboard For Heavy Adults
*Check out the TeamGee 39″ Electric Longboard on Amazon here.

If you are looking for a faster version of the SkateBolt, look no more. This skateboard Breeze 2 by Skatebolt is the perfect choice for thrill skaters who would like to do up to 28MPH of speed. However, with this maximum speed comes a slightly lower weight limit of 264 pounds.
It is an excellent choice for long-range skating purposes, and this is one of the reasons this model is extremely popular as it allows people to skate to and from work on a single charge.
It features a powerful 6000mAh Samsung battery that can keep you going for up to 15 miles. However, it would be best to have a fully charged battery and set the skateboard to medium mode to achieve the maximum mileage from the board.
This skateboard comes with four-speed modes, and you can adjust to any depending on your preference and experience level. But for maximum range, medium is the setting to stick to. If you're close to home and just playing around, sure go all out and go maximum speed.
It features dual powered 350w motors to the wheels to ensure they can climb hills without any problems. It also comes with 100mm strong wheels with an extra 90mm pair for replacements. With these, you can be sure of moving smoothly on all kinds of terrains.
The solid construction that this skateboard comes with makes it favorable for almost all kinds of skater. It is uniquely constructed to ensure it is strong enough to carry heavyweights. The construction uses bamboo which makes it flexible to use. The uniqueness of the construction is that it it consists of high-end glass fibre to give it the durability edge. Its shape also provides the desired comfort and makes it stable.
Customized Braking System
It features customized brakes making it easy to control in emergency and non-emergency situations. There are soft and robust brakes allowing you to choose depending on the situation.
It also has tail lights that will flash when you brake and therefore alerting other road users.
It allows you to cruise at the same speed you are skating at, especially if going long distances. You can quickly shift to this mode by pressing the remote control. What's also cool is that you can start the electric board by sliding.
Braking Down The Breeze 2 Specs
2 x 350W motors
6000mAh Samsung 30Q Lithium Battery pack encased in an aluminium alloy casing for maximum protection
Can tackle hills with an incline of up to 30%
Unique construction: Bamboo and high-end glass fibres
9″ wide deck with a 39″ length
URBANPRO Three-speed E-skateboard 265 LB

One thing you will love about this skateboard is its simple and fun design. It has a classy design that makes it unique. The exclusive design of this skateboard also gives you an unmatched skating experience. Besides, it is safe enough to use as it features a tested and certified battery.
It comes with a multifunctional remote that allows you to control several features on the skateboard. For instance, you can control the speeds by switching from one mode to another quickly. This feature will enable you to halt or accelerate with ease as you only need to press a button.
The UrbanPro skateboard comes with a sturdy battery that keeps it going for about 10 miles. While 10 miles is not the greatest range on this list, it provides enough power to suit adult riders not commuting around town on the e-skateboard.
The battery gets fully charged in 3 hours and, therefore, won't keep you waiting for too long. It can climb slight 20% incline hills with ease and also while maintaining performance.
The high-quality PU Grip wheels that this skateboard has is designed in a way to provide maximum adhesion to the road, making you feel safer as a bigger man going at speeds of up to 20mph.
Heavy-Duty 11 Layer Deck
The well-crafted solid deck can hold weights of up to 265lbs comfortably while remaining flexible. Unlike the other boards on this list, the UrbanPro utilizes an additional 2-3 layers of Maple and fibreglass.
While 11 layers is reassuring for heavier adults, the extra wide waist deck is where it is at. Most bigger riders will have wider torsos and broad shoulders, so this extra width that extends to reach a wider footprint on the deck is very useful. The 3.55″ wheels it comes with help to ensure a comfortable grip and a smooth well balanced riding experience.
You do not have to worry about any issues after purchase as the manufacturer has a decent warranty attached to this skateboard. They also provide the much-needed customer support to ensure all problems get solved quickly.
In summary, for a 35″ Longboard with a top speed of 20mph in this price range, it is hard to beat. The additional layers of maple and fibreglass are very appealing for heavier riders and the bigger wheels just add to the stability for heavier adults.
Speculating On The Specs
400W Brushless Motor
36v Lithium-ion 4.0AH battery
20% incline capability
11 layer board for greater resistance to breaks and increased balance
3 Speed options – Top speed 20mph
Summarizing The 6 Best Electric Skateboards For Heavy Adults
There are various choices to make when looking for an electric skateboard. Every option has unique features and abilities. Consider your needs and select one that will satisfy them. As a larger rider, there are a few more critical components to consider.
You need to consider the features of every skateboard listed here and measure them up to your own body weight and height. The boards listed here serve a variety of uses from thrilling top speeds to boards more suited for the beginner.
Check out the pros and cons of using it before deciding whether it is the right choice for you. Some features may be standard among different options on this list. That calls for a better understanding of what you need before settling on one choice.
Key Elements To Consider As A Big Man
While weight capacity is a good starting point to buying an electric skateboard as a heavier rider, there's a lot more you need to consider as well. Manufacturers can slap a weight limit on the board and be done with it. It is no different to buying a regular skateboard for heavy people, you need to do your research.
But can the e-skateboard even handle a heavy adult? That is what you need to figure out by looking closely at the specs and built of the product. You may have a board made out of the strongest material on earth, yet the driving force behind the motor is too weak to even push a 300 pound man on flat ground.
Size Of The Deck
It's not unusual for a bigger adult to have larger feet, especially if you're big and tall. So you need to factor in the dimensions of the deck and figure out whether or not it is too small for you to comfortably stand on.
Even if you're not planning to become a pro skateboarder anytime soon, the size of the deck plays a vital role in how comfortable you feel onboard. If you are over 6 foot tall, don't even consider a mini electric skateboard option, even if it has a weight capacity of 300 LB.
Whether you're an overweight child or a plus size adult, taking into consideration the size of your feet is important.
Consider Your Shoe Size As A Guide
If you have a shoe size of 9.5, you should not go for a deck that is less than 8.25″-9″ wide. The wider the board, the more stable you will feel giving you more balance. Much like buying a paddleboard for a heavy person, the wider the platform beneath the feet, the more stable you will feel.
A electric longboard for an adult is also a good place to start as they offer a better experience for beginners needing to find their balance. Plus they are more likely to suit a heavier riders intended use for an electronic skateboard: cruising, speeding downhill, and commuting long distances to work.
Do Big Riders Need More Power?
Many electric skateboards are rated to 200-220 LB capacity for a reason, the motor is not powerful enough to propel heavier loads. It's exactly the same as trying to ride a e-Bike as a 300 LB person, without a heavy duty motor the bike is going to go nowhere. Even if the frame is rated to hold users up to 450 LB.
So how do you determine what size motor your electric skateboard needs in order to efficiently propel your body in a fluid motion? Well, there are a few specs to look at on the manufacturers listing. Here's is a brief break down of them to help guide to buying the right board for your body weight.
Size Of The Motor
Some e-skateboard will come with either a single or dual powered motor. The actual physical size is not always a reflection of the motors true power. On the actual motor itself, there will be a sequence of numbers.
These numbers simply let you know the measurement of the motor. For example, a motor with the first 4 digits represented as 6455 will mean the motor is 64mm in diameter and 55mm in length.
Knowing the size of the actual motor itself is not always enough information. When possible you should ask your supplier or webstore owner for the listed size of the actual stator. This number in correlation with the motor size can give you a better idea to its real power.
How Much Torque the E-Skakeboard Motor Has
How much torque any given electric skateboard has is represented by the KV rating. The KV rating is simply how many revolutions it turns every minute. The Higher the KV rating, the faster the motor can go.
However, as a heavy rider, speed is not what you need. It's all about the torque and its ability to effectively push a heavy load.
This ultimately means a HUB motor is preferably over an Outrunner motor. The reason for this is that a HUB motors offer a lower KV rating of about 80-100Kv whereas the Outrunner motors perform better for faster speeds with a higher KV rating (140-220KV). So basically, the lower the KV rating = Higher torque with less speed.
What's With all the Watts?
One thing you will notice when comparing electric skateboards is the vast difference in wattage ratings for each motor. The actual power of the motor is represented by a number followed by watts. For example: 2x 250w motors or a single motor with 600w.
As a heavier skateboarder, you want to find a motor within your price range with a high number of watts to sufficiently power the extra torque required to move heavier loads. If you are building your own deck, you can buy motors with watt ratings all the way up to 4000w.
You're Going Nowhere Without A Battery
Like many things in life, the quality of a battery will determine the quality of your eskateboard. Without a decent battery you may end up going nowhere. Batteries are more than just the thing that determines how long the motor runs for like many people believe.
All batteries used in electronic skateboards (LiPo, Li-ionm LiFePo) have a direct impact on your comfort and the boards performance. He's how a battery will impact your decision:
Torque
Speed of transit
Durability
Life-cycle (longevity & Duration of recharge)
And of course, battery safety.
Again, this relates back to the torque capacity of your boards motor. The better the torque you have (Lower KV rating) the less stress the motor puts on the battery. The less the battery has to work to provide the energy, the more efficient it will operate.
The industry standard here is 36V. If the electric skateboard you buy has insufficient voltage, the board will simply not have the torque capable of handling the heavier rider.
A Vs AH Specs
When comparing the various electric skateboard battery statistics, two of the vital components to consider are the Ampere (A) rating and the Ampere Hours (AH).
For Range, more often than not, the statistics given on any given product description will be based on a average size/weight person or child if it's a child's board.
This is important to know because the range/duration of battery per recharge is going to be drastically impacted by someone weighing 350 pounds compared to someone weighing 180 pounds.
So if a board states that it has a range of 21 miles before needing to recharge the battery, be sure to check if the listing provides a sample of the users weight/build to determine this figure.
Most batteries used will have a minimum rating of 30A meaning it will have the capacity to provide 30 Amperes continuously before overheating.
The AH number simply represents the amount of amperes the battery can provide in one hour.
Concluding The Best Electric Skateboards For Heavy Riders
Understanding batteries can be a very confusing and technical aspect of buying a an electric skateboard. When in doubt, speak to a professional about getting the best bang for your buck. There are many battery experts both online and offline.
Choosing an electric skateboard based purely on the weight capacity is one way to approach it and the more complicated approach is to learn and understand all the in's and out's of how they operate.
If you are serious about buying the best electric skateboard to suit both your height and your weight, it is a wise decision to pay close attention to all the details and specs. Even if it means you're going to pay 2 or 3 times the price of a cheaper board, at least you can be assured of the boards performance under your body weight.