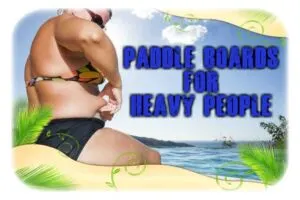 Paddleboarding looks like it could really be a lot of fun, but for the bigger people like myself, it can be quite frightening at the same time. Just trying to imagine balancing myself on top of air or fiberglass above gushing water does not seem easy. However, paddle boards for heavy people can make a world of difference and actually help you lose weight.
So what exactly is a paddleboard for a heavier person?. Well simply put it's an oversized board designed to be able to handle higher weight capacities. With a high weight capacity paddle board usually comes a greater width.
This extra width allows us larger people the ability to maintain balance easier. However, a wider board is not really suitable for touring and for entering the surf zone. These conditions are better suited to a narrow board.
But the chances are you probably want to start off as a beginner in calmer conditions anyway. So a 30″-33″ wide paddle board is ideal for general water activities and can be ideal for fitness routines and yoga.
About Paddle Board Weight Capacities
I'm pretty sure you are well aware of the importance of weight capacities as just about anything us heavy people sit on demands to be reinforced with a heavy-duty frame. Many first-timers aren't aware that a paddleboard actually has a recommended weight capacity.
Sure you most likely won't break the board if you are sitting on one that's capacity is well below your actual weight, but you will force the board under water making it very difficult to maintain balance and functionality of the board.
No Specified Weight Capacity?
From time to time, you will come across a paddleboard which has no specified weight capacity. Determining whether the board is suitable for your weight will come down to the number of liters the board is and the actually intended purpose of the board.
Because it's not a definitive solution, you will come across people that say it needs to be a 2:1 ratio of amount of liters vs body weight. This ratio is playing it on the safe side a bit too much if you ask me. Sure there's nothing wrong with having a board in which you are too lightweight for, but there's also the drawback of having a board much too big for you.
So I like to gauge a weight capacity of a general use paddleboard by a ratio of 1.5:1. What this means is that if I weigh 300 pounds, I would be looking for a paddle board with at least 200 liters on the description. Basically divide your body weight by 1.5.
700lbs Weight Capacity Stand Up Paddle Board

For the much heavier people, the best choice I've come across is this inflatable paddle board is the Tower Xplorer. It has all the dimensions a big person needs and has a huge 700-pound weight capacity.
The Tower Xplorer is a longer board coming in at 14 foot which makes it a suitable candidate for touring and faster rides to keep up with your Kayak partners.
The 8-inch thickness and 700 pound capacity make it suitable for heavier persons. Whereas the 32inch width does give some stability for the beginner, but with the longer dimensions could make it slightly more difficult for a very heavy person just entering the sport.
However, the extra 2-4 inches of thickness does make a huge difference in terms of general stability. Many inflatable boards are between 4 inches and 6 inches thick. The Tower Xplorer is 8 inches thick which does make this inflatable board more stable on calmer waters and can even feel like a real hard board.
What's also appealing about the Tower Xplorer is that it does sit higher up in the water due to the 8-inch thickness. This makes it much easier to paddle on and find your balance as a bigger person.
In terms of rigidness and resistance to punctures, the Tower Xplorer is certainly one of the best. While the company does prove how tough this board is by driving a car over it while its inflated, first-hand experience counts a lot more to me. From paddling above sharp coral in Japan to having dogs on board, the Tower Xplorer has impressed many people with its durability and strength of construction.
Tower Xplorer - 700 Lbs, 32" Wide 14' & 8" Thick
Extra Wide Paddle Board 400 Lbs Capacity

The slightly wider 33 inch body of the iRocker board combined with the 400 pound capacity creates the stable platform us heavy people need. The 33-inch width covers most of the standing zone so you can really feet confident and stable standing up on the iRocker as a bigger person.
The extra width of the iRocker is the stability factor while the unique crocodile skin grip zone creates a balancing platform for which finding grip under your feet is unbelievable.
These 2 factors alone make this is a great paddle board for beginners that are heavier than average. The iRocker is often regarded as the best paddle board for beginners by many of the Pros.
The iRocker even comes with an advanced new technology dual-core pump said to be the best on the market for hand pumps. This thing can be inflated in about 10 minutes depending on your level of fitness. Best of all, the pump even fits inside the carry bag.
Yes, the iRocker comes with a cool carry backpack. The backpack is very roomy and can fit the paddle board in no worries. The zippers on the bag seem to be very heavy duty, no flimsy zippers that get caught up and break after first use here. The straps on the bag are even padded so you can remain comfortable going from car to water no matter the distance.
iRocker 33" Wide 10'6" Cruiser
Paddle Boards For Big And Tall People

The next board is suitable for big and tall people. This board by JLF includes an extendable fiberglass paddle that extends up to 7'3″ tall. For tall people, this is a huge back saver. No need to bend over as far and strain the back. Not too mention putting you off balance. So should you lose balance and drop the paddle in the water, these paddles also float for an easy recovery.
If you're big as well as tall, the 350-pound weight capacity should be sufficient for most. The JLF paddle board is shorter than the above Tower Xplorer coming in at 11 foot. Making it ideal for general paddling and exploring calm lakes.
The width of this paddle is also 32 inches but with a thickness of 6 inches. Considering it has a lower weight capacity of 350 pounds, the 6-inch thickness is in proportion. The overall hardness of this paddle is quite astounding as well. Many people underestimate just how firm and stable an inflatable paddle board can be. JLF nails it with the construction of this board.
A few of the smaller things that have impressed me with the JLF are:
Dual pump. Just makes inflation and assembly so much quicker and easier.

Includes a leash/carry handle which many do not for the standard price.

The traction pad is bigger and longer making it suitable for bigger users. The diamond groove pattern provides greater grip also.

Adjustable floating paddle makes it great for tall people as well as short people.
JLF - 350 Lbs 11Ft 32" Big & Tall Paddle Board
Oversized Paddle Board 500 Pounds Capacity

Conveniently named 'The Titan', this 12 foot paddleboard has a 500 pound weight capacity suitable for multiple people at once, or as a solo ride for the heavy person.
While the Titan is designed for group paddling, it's manageable enough to use solo. Which is great news for heavier people up to 400/500 lbs. Its thickness of 8 inches makes it quite stable on the water but the extra-wide platform is what makes it so convenient for the big man.
The 45 inch width is ample space for a larger person and the standing platform is massive as it's designed for 2 or more people. The larger size board may be slightly more difficult to turn on a whim, but the amount of balance and confidence you can gain from a board this size makes it a great choice for heavy beginners.
Because it's an oversized paddle board, you really don't want to be inflating this thing by hand. By hand it can take 20 to 30 minutes of pumping. Fortunately, the Titan does have 2 inflation valves so with an electric pump you can get this thing up and floating in about 8 or 9 minutes.
In terms of toughness, the Titan lives up to its name. Made from military-grade PVC, the Titan is as tough as they come. The only quarrel I have with the design is the 4 fins are not detachable.
This can make it a slight issue if you roll it up from the prow as the end result will always be that the fins are on the outside. But it does come with a carry bag where many do not. So overall the Titan is a really good option for the very big boys.
The Titan 500 Lbs 12Ft 45" Wide Paddle Board
Hybrid Paddle Board For Overweight People

Get the best of both worlds with this up to 350 pounds weight capacity paddle board by Bluefin. This package comes with either a 10'8″, 12′ or 15′ paddle board which includes a kayak conversion kit.
For the price of this package available on amazon, it's one heck of a deal if you ask me. To get the option to kayak or paddle board from one package is incredible.
The Bluefin is quite the versatile paddle board. I love the fact you can turn it into a kayak when your legs are getting tired from standing, however the Bluefin offers even more. The shape and design of this board makes it possible to handle choppy water, waves while being very stable and firm on calmer waters. So really, a great board for any level of experience.
For the bigger man, the high 350 pound weight capacity on the 15 foot board means you won't sink this thing anytime soon. While it's getting towards the narrow side of things, the 30 inch width is made up for with the extended grip pad. This is because it's possible to have more than one person at a time on the Bluefin, or extra space for the heavier person.
In terms of stability, the pointy nose which tapers back about 3 foot from the front may cause some stability issues for very big guys. I would opt for one of the above wider paddle boards in this case. But if you're overweight and need a board greater than 25o pounds capacity, this Bluefin is a great choice.
Being able to stretch your legs after using it as a kayak, or rest the legs after paddling is an awesome option the kayak conversion kit provides. The price is great and the inclusions like a dual pump are great value. Just the 30 inch width may be of some concern to the bigger guys.
Bluefin Paddle Board With Kayak Conversion Kit
Tips For Getting Back On The Paddle Board When You're A Heavy Person
As a bigger person, our weight is often against us, especially so in the water. Trying to leverage yourself out of the pool is hard enough without a heavy duty pool ladder. Heck, even getting onto an oversized pool float is hard enough. So what happens when you fall into the lake while paddle boarding?.
With extra weight to carry around, one needs some amazing upper body strength to be able to pull themselves up. Which is not often the case with us heavier guys. So in order to get back on top of the paddleboard in deep water, this guy on YouTube posted a video showing you how its possible. With a little improvising of course. Note the 700 pound capacity Tower Xplorer used in the video as mentioned above.