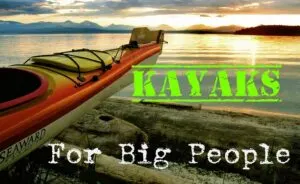 When your a tad bit overweight or simply a heavy person and love the idea of Kayaking but have always been somewhat hesitant due to weight capacities. It's time to leave those fears on the shore and jump into a suitable Kayak for big guys and girls.
Kayaking is too much fun to be missing out on and us large people should not be limited by our size.
Further down this page you can find all our best recommended plus size Kayaks suitable to buy if you need a Kayak with the 'Heavy Duty' rating. So just scroll on down to get started.
Buying Tips – Kayaks For Heavy People
The majority of kayaks listed below are hard shell kayaks. If you're limited on storage space, have no roof racks/trailer or can't lift 70 pounds, then perhaps an inflatable kayak is a great alternative. With weight capacities up to 750 pounds, these inflatable kayaks can get the big man on the water in no time.
First time Kayaking?. It's advisable to start off your Kayak adventure in calm still waters before you tackle and harsher conditions. Wider kayaks are great for the flat waters as they don't tip so easy. I prefer to take on the calm waters anyway as it's less stressful, peaceful and it's a great way to have a chat with your mates on the water.

I think the hardest part for a big guy when kayaking is getting out of the darn thing. Truth is there is no easy way. But I do recommend that us bigger people should go out kayaking with other people we know. Other people can help you out by offering an arm to pull on to get up. Also, I also tell people to practice getting out of your kayak at home on the floor. Become familiar with the kayak and know you limitations.

What happens if you capsize? Like I said, always go out with another person. Although you shouldn't have too many dramas on a long flat kayak on flat water. Try and avoid the smaller and more narrow kayaks as they can tip much easier. Attaching a safety strap to the cockpits cowling is another good idea, as you can pull yourself back in from the strap. have your friend counter balance the weight of the kayak.

Look for big open cockpit areas and extra wide kayaks. We will state the width and Kayak's weight capacity ratings below.

ALWAYS wear a plus size life jacket

Consider a oversized Canoe for more than 1 person.
So Let's Compare The High Weight Capacity Kayaks
| | Capacity | Size | Features | Price |
| --- | --- | --- | --- | --- |
| | 550 Lbs | 13' Pedal Drive Fishing Kayak | Perfect fishing Kayak suited to Lakes, Rivers, Ocean. 33.25" wide, weighs 80 Lbs. 2 Person option available (670 LB Capacity) | CHECK PRICE AMAZON |
| | 250 Lbs | 10 Foot Recreational | 30" Wide Cockpit | CHECK PRICE AMAZON |
| | 300 Lbs | 11 Foot Ocean, River, Lake | 3 Point Hull 29.5" Wide | CHECK PRICE AMAZON |
| | 419 Lbs | 12.5 Foot | Perfect for fishing coastal lakes and oceans | CHECK PRICE AMAZON |
| | 500 Lbs | 10 Foot Fishing Kayak | Very Stable and still kayak. Great for beginners and Fisherman | CHECK PRICE AMAZON |
| | 325 Lbs | Old Town Vapor 10' recreational kayak | Perfect for both anglers and recreational paddlers. The short hull makes it easy to get into the water. | CHECK PRICE AMAZON |
500 Lbs Capacity Kayak For Fishing
Starting with a kayak that can handle some serious weight is the 10 Foot LifeTime Sport Fisher. While designed to hold up to 3 people, it's also perfect for the solo big Man kayaker due to the high 500 pound weight capacity.
There's plenty of leg room and seat space for the larger person, without sacrificing storage space. When set up for one plus size person, you still get the entire deck and hull areas to store gear. While the front bungees were at arms reach for the dry goods and safety gear.
Considering the price which you can check on amazon, it's not a bad fishing kayak. Don't expect to be hauling down setting new time records, but you can expect a nice steady kayak for fishing or simply relaxing on the water. Being a wider and shorter kayak, it's ideal for the heavier people to jump on board and not expect to pay through the roof prices.
Which also makes it a great kayak for getting started. It's very stable on the water and as it sits higher above the water, paddling is much easier for the less experienced person. Also easier on us larger people as well. Overall, it's a very good kayak that offers a good decent weight capacity and plenty of room to do the things you enjoy most.
Lifetime Sport Fisher 10 Foot Kayak
250 – 350 Lbs Top Rated Kayaks For Overweight People
A step up from the common 250 pound weight capacity kayaks is the 10 foot Old Town Recreational kayak with a weight rating of 275-325 pounds. The overall width measures in at 28.5″ with a cockpit size of 19.5 x 48 inches.
Old Town know what they are doing when it comes to Kayaks, and this 10 footer is my personal favorite entry level Kayak to calm rivers, lakes and swimming holes. The perfect beginners kayak for a bigger person.
The cockpit is spacious enough to fit a bigger guy and his child in, which is superb for Father Daughter adventures. Plus I don't like the idea of having a dual cockpit Kayak with a young child in separate cockpits. Especially as I'm oversized.
A very stable ride, like I said great for people learning to paddle. The hull is very durable, a lot more so then then the majority of recreational kayaks. Other things worth noting are the adjustable seat/back rest, cup holders, extra storage cockpit for lunch, goodies etc and not too heavy considering.
My only negative is that the drainage plug is in a not so easy position, However a great Kayak, and one you will often see in Kayak hire shops because of how reliable and sturdy this thing is.
Old Town Kayak. I Recommend 275-325 Lbs
250 Lbs Capacity Kayak For Plus Size People

As you may be aware, Kayaking can be a pretty expensive sport. So when starting out it's a good idea to begin on a low end entry level Kayak.
Which this Aruba 10 foot recreational kayak by Sun Dolphin is. It has a sit in cockpit width of 30 inches and is officially rated to hold a weight capacity of 250 pounds.
For a beginner overweight person looking to get started kayaking then I do recommend you check out this Kayak further. Its well made, boasts a strong hull and has sufficient storage space for moderate river trips. However you can add more storage, lots more by modifying behind the seat area. After warranty has expired of course and your much more experienced at kayaking.
The seat itself is rather good and has a high back for the taller people. I find this 250 pound capacity kayak is very easy to handle, especially for the beginner. The Aruba 10 kayak in my opinion is perfect for the casual and beginner kayaking adventurer.
250 Lb Kayak Good For Beginners
My Number 1 All Rounder Big Mans Kayak 300 Lbs
If you looking for a plus size kayak that's not only good for taking on the flat water but also to tackle the ocean, then you may consider the Ocean kayak Scrambler.
It's 11 foot, rated to hold a weight capacity of 300 pounds and has a width of 29.5 inches. Which means plenty of leg room and big enough for many of us heavier people.
Not only is this kayak ideal for the big and tall, but it's simply a great Kayak for everyone, even beginners. It's one of those Kayaks you can take out complete beginners on there first attempt at kayaking and they should have less problems learning to control the scrambler.
The scrambler is not a new Kayak, it's been in production for about 20 years and over the years has been modified to be the the awesome Kayak that it is today. While some kayaks cant handle flat water and surf/ocean conditions, the I think scrambler thrives on it.
I find the unique 3 point hull makes it super easy to kayak through the oceans waves, while still a very stable and reliable kayak for calmer lakes and rivers. Check out all it's features and see if it suits your needs.
The Famous Scambler By Ocean Kayak
Recommended High Weight Capacity Kayaks From The Readers
Below you can find Kayaks that are recommended or alternative options to the above kayaks available for the plus size community. These have been recommendations by the readers of this blog.
If you have another Kayak suitable to the big person that is not on this list. Please feel free to add your recommendation in the comments section below. Please be aware the minimum weight capacity should be 250 lbs.
Moken 10 By FeelFree – 350 Lbs weight capacity

Sport Fisher by LifeTime – 500 Pound weight capacity

Frenzy by Ocean Kayak – 275-325 lbs rating

Malibu Two XL – 450-500 pound weight rating.

While this Coleman Sevylor kayak is technically classified as a fishing and hunting kayak, this 350 pound capacity kayak is just great for the relaxing paddle down the stream.
While the fishing part is a bonus too, as the fish swim right below you as if nothing was above them. Plus the canvas cover makes a great protection against against unwanted hooks, compared to many other vinyl kayaks.
Plus size kayaks may seem a little frightening at first because your paranoid it's just going to sink. Being inflatable and a heavy person right. But you may be blown away when you learn how durable and stable these kayaks can be.
Plus the fact they are inflatable and portable is just pure genius in my opinion. That way if you decide to only use the kayak a few times, you can easily store it away with out taking up too much valuable space.
When you are brave enough to enter the white waters, and above 300 pounds, you may find it difficult to hind hard shell kayaks in your weight capacity. That's where this heavy duty Coleman kayak steps in. As I rate this kayak as one tough big mans kayak which I find can handle the rough waters as well within reason.
For more inflatable kayaks, visit the page on heavy duty inflatable kayaks.
350 Lb Inflatable Kayak
500 Lbs Capacity Kayak
I found it's slim pickings for a one man hard shell kayak with a weight capacity of 500 pounds. However they may exist!. You just gotta look far and wide. However we have managed to find a pretty darn nice kayak which fits into the 500 pound weight capacity rating.
It's a beauty but it's not cheap. Again like many things for us big and tall people, we have to pay extra for the things in life we need due to our large sizes.
The kayak in question is the Hobie Mirage i12s. It's a real heavy duty kayak which is built to increase speed and stability. Good choice for the bigger guys looking for that Adrenalin rush without sacrificing much stability. One heck of a comfortable kayak for long weekend trips on the water with plenty of storage options. No need to starve and dehydrate here.
500 Pound Hobie Mirage Kayak
Kayak Alternative For Big People
Kayaks can be restrictive for the big person due to the cockpits. With the rise in popularity for paddle boarding, many big people are changing there approach to water sports. With a paddle board for heavy people, you can feel stable and safe standing on top of a wide and flat surface.
With a kayak conversion kit you can get the best of both worlds. Paddle boarding and kayaking. Paddle boarding is just a another fun way for us heavier folks to stay active, have fun and even lose a bit of weight.
Video Tips On Getting In & Out Of A Kayak
Save
Save