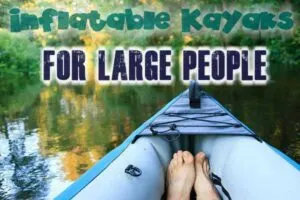 When looking to buy inflatable kayaks for large people it can be quite overwhelming with the number of options available. Do you have all day to sift through hundreds of models looking for specific requirements?.
As regular kayaks for heavy people have been studied in depth already, now its time to take a look at some high weight capacity inflatable kayaks suitable for the larger and heavier people.
But are inflatable kayaks safe for a heavier person?. I use to question this myself until I invested in a blow up paddle board. The shear strength and durability of the board gave me the confidence to take on the waters in a blow up kayak.
Compare Heavy Duty Inflatable Kayaks
Choosing The Best Blow Up Kayaks For Larger People
But kayaks come in a variety of styles and sizes. So choosing just one model to suit all large people is near impossible. One can even convert a paddle board into a kayak should they prefer the feeling of a board over a sit in kayak.
But to help narrow down your search, I have listed inflatable kayaks with higher weight capacities in solo, tandem and fishing categories so that you can make a decision based on your weight and the weight of any passengers.
Do note that many kayaks have a similar seat width of just 15 inches, so a sit in kayak like this may not be appropriate for the really big guys and gals. Be sure to check the measurements inside the cockpit and that there is enough room for your backside to fit in between the walls of the kayak. Just because its inflatable doesn't mean you can just squish in there.
Best Inflatable Solo Kayak For Heavy Person

The best inflatable kayak for a heavy person in my opinion belongs to Sevylor. The Quickpak K1 has a weight capacity of 400 pounds making it one of the best inflatables for the heavy person. Many 1 person options available struggle to cater to people over 300 pounds, so the Quickpak K1 is a good find if you're a heavy person.
But its not just great for holding the larger person, its actually built quite tough to withstand harsher conditions. The Quickpak uses 21 gauge PVC which is quite durable. Many inflatables use a 16 to 18 gauge PVC. The higher the gauge number, the thicker and more puncture resistant the kayak is.
To greater combat harsher environments found in rivers and lakes, the Quickpak K1 also has a heavy duty tarpaulin base to prevent scratches and punctures.
But at the end of the day, its an inflatable kayak, so there's always the chance of puncturing your boat and being left stranded. However, the K1 is a multiple air chamber kayak. What this means is that if you do manage to get a hole in one area of the kayak, the whole boat won't sink as there are other chambers of air to nurse you to shore.
Perfect Seat For The Larger Person
Just as the case is for sit on top kayaks and paddle boards, having a sit on top inflatable kayak means that there are no seat width restrictions. You can have a 30 inch backside and not feel restricted by the 15 inch cockpit as you are sitting on top of the kayak rather than in it.
The other advantage to this kayak being a sit on, is that its far easier for the bigger person to get on and off the kayak. Reduces the chances of you going overboard when getting in especially.
The design of the interior of the kayak allows people of varying heights to take advantage of this great kayak. Whether you are tall or short, there are molded foot holes to cater to your height. This really helps to dig in and put your body into motion when paddling.
Comes With A Backpack That Acts As A Seat
One of the truly remarkable features of the Sevylor Quickpak K1 is its ability to pack down into a backpack and be worn with ease. This is great for us larger people as much of our strength is on our shoulders making it much easier to carry to and from the car.
But this backpack also plays a crucial role in your comfort while in the kayak. When inflating the kayak, which takes about 6 minutes, you will notice there's an inflatable seat. The seat is then supported by the addition of the backpack. It clips into 2 rivets and acts as a support for the seat. Making it more supportive and firmer to lean against when rowing.
Overall, I find this inflatable kayak to be hands down the best for the larger person. The sit on top design with the 400 pound capacity is exactly whats needed when kayaking alone. The backpack idea is super handy and the support the seat offers is a very nice touch for the big man.
Sevylor Quikpak K1 400 Lbs Capacity
Widest 1 Person Inflatable Kayak

If you're not one for the sit on top kayaks and prefer to have the seat inside the cockpit then you're going to need a wider inflatable kayak. This 1 person or 2 person option by Elkton Outdoors known as the Steelhead may be the right candidate.
With its greatest measuring width point being 39.5″, you're getting an extra 3.5 inches of width to cater to larger bodies. The extra width of the kayak also allows for greater stability onboard and as this is a fishing kayak, stability is a great feature to have.
400 Pound Capacity 1 Person Inflatable Kayak
Like the above Sevylor, this Steelhead also has a 400 pound weight capacity. This is the gross weight and includes all your gear, so be sure to stay within your limits when packing.
Because you stand in a kayak when fishing more than you normally would, you need to ensure the kayak is capable of handing this motion. Elkton Outdoors have done just that and implemented a i beam drop stitch flooring system.
This flooring system is basically reinforced to be able to handle people standing in the kayak. The i-beams are similar to that of a supportive airbed. They channel air up under your feet to provide greater support. With a regular flooring system, the air may flow away from your body weight and potentially causing rupture issues within the kayaks seams.
So by enforcing the drop stitch flooring, you are essentially provided a firmer and more durable standing platform, ideal for fishing on. The kayak also comes with a bunch of attachment points and hard modular rod mounts for the enthusiast to make themselves at home with.
Steelhead FAQ's
Multiple Chamber Kayak? Yes, features 3 chambers of air to provide a safe way to get ashore should you puncture a chamber.
Air locking vales? Yes, Halkey Roberts valves
Are the seats adjustable? Yes and the seats on the 2 person kayak can even be moved more towards the center for greater stability.
Suitable for ocean kayaking? Yes, the Steelhead is a fine candidate for inter-coastal and ocean use. Also rated to withstand class 3 rapids.
Does it come with pump and paddles?. Yes, the Steelhead comes with everything needed including repair kit to get on the water from day 1. However, there are no paddle holders attached to the kayak.
Elkton Outdoors Steelhead Fishing Kayak 400 Lbs
Inflatable Kayak For The Big And Tall People

The big and tall paddlers need extra leg room along with a sturdier kayak. I find the extra length 9'8″ and the 6 inch raised seat makes life a little more comfortable for the taller folks. The seat is also adjustable so you can position it how you like. The seats also a breathable foam to help keep your back cooler and comfortable on those hot stinking days.
This is the Straight Edge by Advanced Elements and this inflatable kayak has a 300 pound weight capacity. Its a great size kayak for the big and tall, but it's also a very decent blow up kayak when comparing to your hard shell models.
Tracks Easier & Straighter
The Straight Edge tracks relatively straight, which I guess is why they called it the Straight Edge. But this is not all that common in the inflatable world.
The reason it tracks pretty good is because Advanced Elements have tried to replicate the bow and stern of a hard shell kayak using aluminum ribs.
These ribs are built into the kayak, but once inflated, they push up against the inside of the thick PVC shell providing a high performance bow and stern. You will find that the Straight Edge tracks much easier and straighter than you could have imagined from an inflatable kayak.
Includes Bail Out Features
Another unique feature of the Straight Edge is the bail out feature. The self bailing technology used in this kayak enables you to tackle white water without having to worry about build up of water inside the boat.
By opening the ports on the floor of the kayak, water can escape while you pay attention to the things that matter. But you also have the option to close off the ports when you're paddling on calmer waters. This feature is game changer for the diverse yakers.
All Round Quality
Overall I find the Straight Edge inflatable kayak to be quite a quality kayak, many people may be forgiven for thinking this is a real hard shell when they see it on the water. It looks the part, that's for sure.
With the unique bow and stern features combined with the self bailing feature, its hard to look past the Straight Edge. However the 300 pound weight capacity and 15.5″ seat width may prove troublesome for the extra large paddlers.
ADVANCED ELEMENTS Strait Edge Inflatable Kayak
350 Lbs Capacity Inflatable Fishing Kayak

When you're a big fisherman, you need stability from your inflatable fishing kayak. With this Sevylor RIO 350 pound 1 person fishing kayak, you get just that. By no means is this thing built for speed.
Its designed big, bulky and heavy duty so the heavier person can go out and fish with confidence that the boat will survive the trip. In fact, Sevylor guarantees the air tight system wont leak. Plus the multiple air chambers ensure you won't go down with the ship should you puncture the 1000D heavy duty tarpaulin bottom.
Because it isn't a small kayak as such, you get greater stability on the water on the inflated 9'9″ x 3′ kayak. Giving you the freedom to reach for one of the 3 adjustable fishing rod holders to pull up your catch. The rod holders can be adjusted to angle your rod how you like.
Plug And Play Trolling Motor Ready
It can get tiring fishing all day and then having to row back to shore. Put your paddlers away on the included paddle holders and invest in a 12v trolling motor designed specifically for the Coleman Sevylor inflatable boats.
The kayak comes plug and play ready, so all you need to do is hook up to the Sevylor trolling motor and a 12v power source and away you go. Although you won't break any speed records with the 18 pound thrust, id sure does beat paddling all the way back, especially if you've drifter of course more than anticipated.
By having the trolling motor fittings pre installed on this kayak, you really do get the ideal inflatable kayak for fishing. It takes the guess work out of fitting a suitable fitting kit and motor for your kayak.
However, the Rio doesn't come with a pump or paddles. So do keep this in mind when adding your trolling motor to the cart. Some people have found canoe paddles to be more effective than kayak paddles, but I've found this to be more of a personal choice than a recommendation.
350 pound weight capacity is stated on the manufacturers website here, but not present on the amazon site.
Sevylor RIO 350 Lbs Capacity 1 Person
Highest Weight Capacity Inflatable Kayak

The Sea Eagle 380X is a great inflatable kayak for 2 to 3 heavier people. With a maximum weight capacity of 750 pounds, I find it to be ideal for a couple of overweight paddlers rather than 3. Being the highest weight capacity inflatable kayak that I could find, large folks will appreciate the stability this thing can provide.
Measuring a few inches wider also offers a greater platform for larger folks to feel stable on. The total width comes in at 39 inches while the length of the boat is 12'6″. So the longest kayak on this list so far, but again, this is a 2 to 3 person inflatable kayak.
The Sea Eagle 380X also includes a drop stitch floor, which is removable for easy cleaning. Having a drop stitch floor is ideal for the heavier people to gain greater balance in the boat. While you may not be standing up as such, it can still provide better body balance as a result.
Great For Overweight Beginners & Pros Alike
While the Sea Eagle 380X pro was designed for wilderness touring in open waters and white water rafting due to its class 4 rating, its still a great choice for beginner paddlers along with heavier folks.
When you're a heavier person or a beginner, flipping the kayak back on its side when you roll it can be quite difficult. A wider boat reduces the chances of rolling the kayak and the Sea Eagle is a wider inflatable option with a total width of 39 inches.
Which is why a stable kayak is the better option, sure you lose a fraction of the speed, but the ease of use and low level of learning required to use the Sea Eagle 380X makes it a great choice.
As it inflatable, carrying the 40 lbs weight in the carry bag is a lot easier than lifting a 70 pound hard shell kayak off the of of your car. Lastly, the high back seats provide another layer of comfort for the big man.
Its far too easy to get a sore back when kayaking, especially if you're a larger size person. So having the support of a high back chair is ideal. Along with the longer paddles provided int he Pro package by Sea Eagle.
In Conclusion
Everything just seems to gel together nicely with the 380x Pro. My only complaint would be that foot rests aren't included in the pr package, they can be sold separately. But in saying that, the inflatable flooring and drop stitch flooring provide a nice amount of foot security without the rests being attached.
Overall, the big winner for the Sea Eagle 380X is the higher 750 pound weight capacity. This opens up the door for a heavy couple to go kayaking together without the fear of being too heavy for the kayak. It also allows you to pack more belongings into the storage compartments without fear of being over the weight capacity.
Sea Eagle 380x Pro 750 Lbs Capacity
Inflatable Tandem Heavy Duty Kayak

A suitable inflatable tandem kayak for large people is the Driftsun Rover 220. It has a drop stitched floor and a combined weight capacity of 600 pounds. Its not quite as wide as the above Sea Eagle, coming in at 36 inches wide.
So still enough width to provide stability and support for the larger person. The adjustable foot rests make life easier for tall and short people that need to adjust their leg length.
The main benefit the over 220 has over the Sea Eagle 380x is that it is considerably lighter. The Rover is 12 pounds lighter coming in at 28 pounds, which does make a big difference if you have to carry the kayak a fair distance.
Multi Purpose Kayak
Whether you like the thrill of the white water or the calmness of still water, the Rover 220 is up for the task. Rated to class 3 and 4 white water with a removable skeg, the Rover can take on a fair amount of rough waters. When water does enter the boat, there are 7 self draining plugs to keep your kayak above water.
Plug the tracking skeg back into position for cruising down lakes and calmer waters. Should you manage to puncture the kayak, you can be reassured that the Rover comes with 3 inflatable chambers, including the drop stitch flooring.
For the heavier people, the sides of the kayak are elevated which gives the boat greater stability on the water. But not raised so much that you can't get the paddles to move freely. The paddles themselves are pretty good quality aluminum and measure roughly 86 inches each.
Overall its quite the heavy duty inflatable kayak, with a 600 pound capacity and a 1000D tarpaulin base, the Rover 220 is set to explore wherever you want to take it.
Driftsun 600 Lbs Capacity Rover 220
Are Inflatable Kayaks Safe For Heavy People
If you're only a beginner to water sports such as kayaking, the thought of being stranded in the middle of a lake can be at the forefront of your mind. People are especially concerned when it comes to choosing an alternative to hard shells.
Are inflatable kayaks safe for the heavier person?. From personal experience, I feel they are very safe. The only thing I've noticed since using inflatable water toys like these is that if you're close to the weight capacity, it can be more difficult to operate.
So its wise to find a inflatable kayak that is well above your actual body weight. This will give the kayak greater chances of staying above water and not being too submerged that it becomes too difficult to paddle.
Safety Features To Look For
While an inflatable kayak can be safe to use by a larger person, the risk of puncturing it is still very real. Regardless of your size and or weight, puncturing an inflatable kayak can and does happen. There's no getting around this.
But to put the odds in your favor, there are some key features to look for when buying a kayak that's inflatable.
As discussed in the above reviews, always buy a kayak that has multiple air chambers. In the event you do get a puncture, your kayak won't sink to the bottom of the lake. There will still be at least one other chamber fully inflated keeping you and the kayak above.r water.
Multiple layers protecting the air chambers. You want a thick coverage of PVC to surround your air chambers. The thicker it is, the harder it is to get a puncture. A single layer of PVC like found on pool toys will never survive the harsh environments outside the pool walls.
Protected Hull. A kayak with either a heavy duty tarpaulin or polyurethane covering the hull will protect the base of the kayak from twigs, branches, rocks etc. Don't skimp here.
Heat welded seams rather than the parts of the kayak glued together to reduce the amount of seam holes appearing.
Reinforced drop stitch flooring really helps when you're a larger heavier person.
Kayak must come with puncture repair kits, no if buts or maybes. It must!.