Can You Be Too Heavy To Ride An E-Scooter?
Finding the best electric scooters for heavy people is by no means an easy task. To make life easier for you, I've listed suitable options fo the heavy persons below.
Jump Straight To The E-Scooter Reviews Now
Is It Safe When You're A Big Man?
Are electric scooters for heavy adults even a thing? While the world goes mad over this relatively new craze, is it possible for an overweight person to safely use one of these devices as a form of mobility?
When electric scooters first arrived on the scene, chances are you dismissed them as a passing fad. Now that they have proven to be here for the long term, all of a sudden they have become more appealing. Not only are they great for the environment, but a viable means of commuting for the larger person.
This is because most adult electric scooters have a maximum weight capacity of between 200 and 220 pounds. I'm not sure if these manufacturers have seen the latest figures in regards to the increasing obesity rates, but I'm sure if they had, perhaps there would be a greater number of 500-pound capacity scooters on the market.
By the way, I'm not talking about mobility scooters here, so if you landed on this page for that reason, you will need to scope out the heavy duty mobility scooter page.
Compare Electic Scooters For Heavy Adults Now
| | Capacity | Features | Price |
| --- | --- | --- | --- |
| | 600Lbs+ | 2X1600 Watt dual power motor, 48Volts 5C Power 26AH Battery, Max Speed 55mph, Range: 55miles | Check Price Amazon |
| | 550Lbs | 800 Watt Motor, 26Ah 5C 18650 lithium battery, Max Speed 37mph, Range: 65miles | Check Price Amazon |
| | 385Lbs | Dual 3200w motor, Battery options: 60V 20-35Ah Samsung or LG, Top speed: 56mph, Range - Up to 67 miles | Check Price Amazon |
| | 330Lbs | 2X1000W Dual Motor, 23.4Ah 52V lithium battery, Top Speed: 40mh, Range >45miles | Check Price Amazon |
| | 300Lbs | 3-Wheel option, 350 Watt brushless motor, Top speed: 15mph, Range: 20miles | Check Price Amazon |
| | 320Lbs | 250W Motor, 36V lithium-ion battery, 18mph top speed, Range: 11miles. Fully charges in under 4 hours. | Check Price Amazon |
| | 265Lbs | 250W Motor, 500 cycle 18650 all-core power lithium battery, Top Speed: 15,6mph, Range: 12.5miles, charges in 6 hours. | Check Price Amazon |
| | 264Lbs | 250W Motor, 5800 mAh LG lithium battery, Top Speed: 15.5mph, Range: 13.6miles. | Check Price Amazon |
High Weight Capacity Electric Scooters Aren't Cheap
Electric scooters range in prices that go from one extreme to the other. If you're not heavy or an overweight person, you can pick up one for about $250. But when you've stacked on a few too many pounds over the years, be prepared for a more horrific price tag.
But the thing is, you can buy an electric scooter for 10 times the price whether you're heavy or not. Sure much of the price tag for us heavy people comes down to whether or not the electric scooter has a high weight capacity or not, but there's more to it than just that.
Things to consider when buying a product like this can be so exhaustive that you end up not knowing what exactly you need. From the features of the battery to the amount of suspension they offer, its easy to get lost in a world of information overload.
So believe it or not, us bigger people have got it easy when it comes to buying a battery powered scooter. Before you start calling me crazy, let me explain.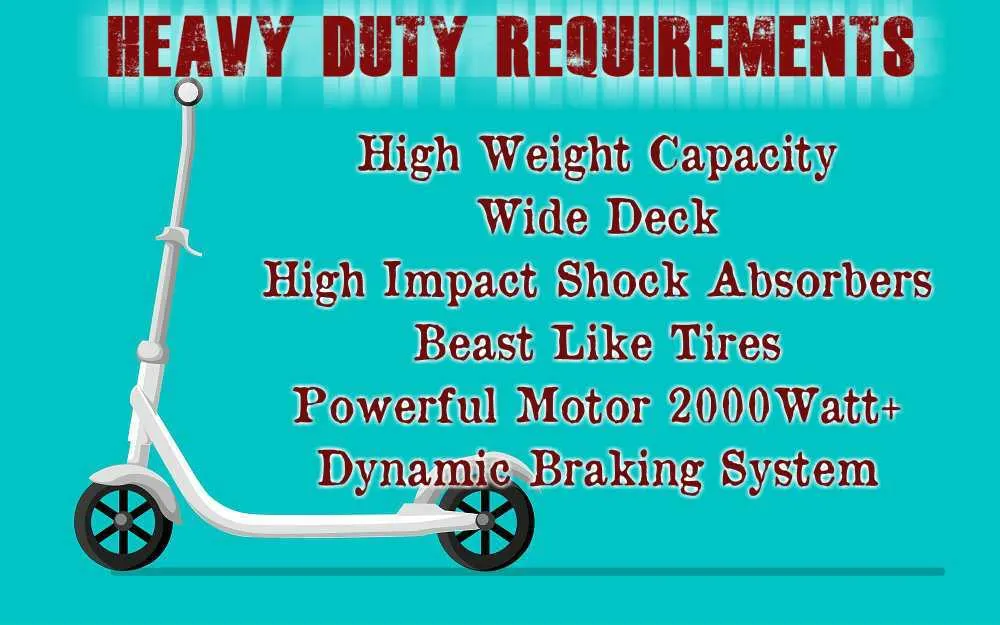 Big Guys Need Big Scooters
There are limited options for the large adult Man over 300lbs, which narrows the field down dramatically. With the options severely downsized, being indecisive from an overload of options is no longer a problem.
The biggest problem, of course, is finding an E-scooter with sufficient weight capacity to handle your body weight. Its also important to keep in mind that if you weigh close to the max capacity, the motor on the scooter will be strained.
So do expect to get fewer miles per recharge and a reduced top speed from a scooter if you do this. Ideally, you want to find an E-scooter with at least a 50 pound higher capacity than your body weight.
So with this pretty basic knowledge at hand, below you can find a number of suitable electric scooters for heavier adults. Prices on these scooters WILL vary. Generally speaking, the higher the capacity, the more expensive the scooter is. If the price tag is just too scary for you, perhaps you can check out the suitable electric bikes on offer for the larger rider.
Is Suspension Critical For Heavy Adults?
Many would argue that suspension is the second most critical aspect of an electric scooter, second behind the battery capacity. For me, the suspension is right up there with the importance of the weight capacity of the e-scooter.
The heavier you are, the better the suspension you will most likely need. That is unless you want an uncomfortable ride where you feel every bump on the path. The suspension is often linked to the type of tires on the scooter also.
The Downside To Suspension
For a big person to use a scooter with airless tires and no suspension is just asking for trouble. It would be an extremely rough and stiff ride. The drawback to suspension is of course maintenance and the initial upfront cost is more expensive.
The suspension can go stiff over time and may end up needing a bit of maintenance. This can involve the simple process of tightening the screws or loosening them if they have become too tight. If that doesn't fix the problem, chances are you may need to replace the spring, which does take a little more effort to replace. But nothing a simple Youtube search can't answer.
Best Heavy Duty Electric Scooter 600 Lbs+

One of the first things you will notice with heavy-duty electric scooters is that they generally have 2 motors. Twice the power and often have more wattage than single motor scooters.
This extra power is certainly needed when it comes to basically carrying around a 500-pound person. Many of the cheaper 'common' scooters you see around the place would most likely under perform under such high weights.
The QPOWER by Qiewa is certainly not one of those. This electric scooter has a weight capacity of 300kg, which is basically 660 pounds. That is an insane amount of capacity from such a small device.
The ability to carry around 500 lbs or more comes from its heavy-duty frame and the 2 x 1600 watt motors. Because it is a heavy-duty rated model, it is significantly heavier to carry around.
Quick Overview
The Pros
90kmph (around 52-55mph): Very fast with quick acceleration. Speed will be determined by how heavy you are as weight puts my stress on the motors. Always abide by your local laws.
Decent miles per charge ratio from the 26Ah battery
IP5 waterproof
Double hydraulic brakes
Option to toggle between 1 or 2 motors.
Tough durable 11″ off road tires.
Huge weight capacity and wide deck
Features a anti-theft alarm with a remote to control it.
The Cons
This thing is not cheap as a result of being so powerful. How much exactly?. Find out the price on amazon here for the most up to date pricing.
Bit heavy for carrying under the arm while walking around town. But does fold down in about 30 seconds for easy transportation and storing it safely at school or work.
Minor assembly involved.
Folds Down For Easy Transporting And Storage
While it does fold down, for easy transporting, weighing 81 pounds may prove to be too heavy when carrying it for too long. This would have to be the biggest disadvantage to the QPower, but in saying that, the thing can lug around over 500 pounds. So I ain't complaining.
The QPower really is a beast of a scooter. Just by looking at it once, the sheer durability and toughness stand out. Having huge 11-inch pneumatic tires allows you to go off-road with it, but taking on sloped roads is where it proves highly beneficial for the heavier person. Certainly beats walking up a 10° incline in the heat of the summer sun.
Another great feature for heavier adults is that the deck is a decent 11 inches wide, which is even wider than the ZeroX10. This is a good thing because us bigger people aren't exactly known for our gymnastic balancing attributes. So a wider deck helps us keep our confidence up while not ending up in the dirt.
2 Motors For Serious Power
But before you jump straight on ready to take on your daily commute, it's important to remember the QPower is a beast. The wider platform will get your confidence up, but be prepared for some pretty serious acceleration. The 2 motors can let you take off nearly as fast as a car and if you're not prepared for this, well you know how it ends.
Fortunately, there is the option to switch between 1 or 2 motors, so unless you are beginning your electric scooter journey tackling a hill, I would have a go using just the 1 motor, to begin with. Once you get the hang of how the scooter feels, both on and off-road, step it up to 2 motors.
Has To Be One Of The Best
Overall, the Qiewa QPower is a fantastic electric scooter, certainly one of the best heavy-duty options available. The fact it has a huge weight capacity combined with a wider deck really does give the larger adults more confidence to get out there.
The powerful 3200 motors are the cherries on top. Having this much power beneath your feet is certainly an asset if your commute involves some tricky terrain and sloped surfaces. For mine, this is the best electric scooter for heavy people. But with that, unfortunately comes a higher price tag.
QIEWA QPOWER 3200W 660 Lbs Capacity
Electric Scooter For Heavy People

Qiewa also does a more road-friendly electric scooter with a high weight capacity. This is the Q1 Hummer and it has a 500-pound weight rating.
The Q1 Hummer is the more tamed down version of the beast like QPower. But that's not to say it's not practical for the bigger person, just that it's designed for a more peaceful ride compared to some seriously heavy duty riding.
So with that said, let's have a look at some of the differences. While the Q1 still has a high weight load, it doesn't offer the power like the QPower. The 800-watt motor compared to the 3200 Watt 2 motor version is going to make steep hills a big problem for heavy people.
The battery is also a 26AH 5c, so nothing changes there, but the lack of motor power means you can't go as fast, limited to 37mph. The tires are an inch smaller as they are 10″ and are not off road tires, better for the commute to work.
The Q1 has a slightly higher waterproof rating of IP6, so while it won't vaporize in the event of rain, it's recommended that you don't go over puddles of water where the water can rise up to the pedal height.
All in all, the Q1 Hummer is certainly a premium electric scooter that has some premium line features and includes a decent size deck and weight rating. The difference in power between the QPower and the Q1 may prove to be the deciding factor. But not everybody needs or wants that much power. Which is why the 800watt model proves to be a good buy.
800 W Q1Hummer 550 Lbs Capacity
Best Electric Scooter For 300Lb Man
Outstorm Review – 385Lbs Capacity

Another high quality scooter suitable for obese and heavy people is this time by OutStorm. In terms of performance, its pretty similar to the above QPower scooter. With the main difference being that the OutStorm features a removable seat.
I like how they included the option to have the seat added or not, as it allows us bigger people that get tired easily to rest those legs for a bit while still traveling. But if you don't like the idea of a seat, just don't add it.
385 Lbs Weight Capacity
Although the weight capacity is slightly lower on the OutStorm at 385 pounds, I feel it's just as a heavy duty scooter as the QPower. Especially when it comes to performing on hills and taking it off road.
The shock absorption on the OutStorm are ideal for heavy folks. On both the front and rear wheels, the PU suspension systems are rated to high impact but don't discount the smaller bumps in the road. Even if you're not a heavy person, this feature is a one to look out for.
Battery Power Options
What I like about the OutStorm is that they offer you options when it comes to choosing the type of battery you need. If your commute to work or the shops is relatively short, it makes no sense to pay extra for a 35Ah battery with 67 miles per charge.
So you can choose a battery to suit your budget or your commuting needs. Shorter daily trips can easily get the job done on the smaller 20Ah 46 mile range battery, so no need to upgrade. Do note that it takes about 8 hours to charge, so be sure to top up the battery when needed.
Off Road Or Road Tires
While the Outstorm comes with some beefy off road 11″ tires, its not to say you can't solely use this scooter on road. Changing the tires to on road tires is a possibility and can be done at checkout by messaging Outstorm within half an hour of purchasing on amazon.
With a 50° grade rating, the 3200 watt dual motor can tackle quite the slope. Again, the heavier you are the more pressure it will put on the motors. So keep this in mind if you're pushing the weight friendship and can't make it all the way up a very steep hill.
Overall, I really like the OutStorm. It has some heavy duty features as well as some techy features you can play around with. The option to choose the battery and tires you need is a great feature, plus the mile rating on the battery is pretty accurate.
OutStorm 3200Watt 385 Lbs Capacity
330 Pound Capacity Electric Scooter

I find the D4 NanRobot to be a good mid-ground level for people wanting to take their scooters to the next level. Everything about the NanRobot says to me it's designed for the entry to mid level enthusiasts.
From the performance, power to the price, the NanRobot seems as tho it is right smack bang in the middle. Not too powerful, yet not so weak that it can't take on hills. Just the right amount of everything to make it appeal to the majority of people on the market.
The 10 inch deck is a great addition to the 330 pound weight capacity. It allows the bigger riders to stand up comfortably. The weight capacity itself is rather high, but obviously not as high as the above models.
But the truth is, most people over 350 pounds probably won't be riding a scooter all that frequently. Which is why I quite like the set up of the NanRobot, it appeals to the large portion of the market.
Dual Motor 2000 Watt Power
With the option to use 1 or 2 motors, the NanRobot can produce 1000w or 2000 watts when both motors are engaged. For heavier people, I'd probably always use it in the dual motor mode as the amount of power is less than the 32000 watt power of the scooters above.
However, in dual motor mode, the expected range of the scooter does slip down. Its said that you can obtain 45 miles of range on the NanRobot, but this is not the typical days scooting.
To achieve 45 miles from a single charge, you need to be using 1 motor with the ECO mode engaged. This takes the scooters power down to about 500 watts. Which I feel is too low for the big and tall riders.
So just keep that in mind hen you're planning your commute. Allow for the extra body weight combined with the secondary motor to restrict the range on the 25Ah battery.
But all in all, the NanRobot certainly has some appealing features, especially for the larger size person. Some of these features have been mentioned above, but there are others such as 6 shock absorbers, emergency brakes including front and rear electronic braking systems and the detachable seat for when the legs are starting to get tired.
With a top speed of 40mph and some pretty decent brakes, it's important to practice out the braking system at lower speeds to begin with. When you're traveling at top speed and you hit the brakes, it can feel as tho you are going to flip. So take the time to wear in the brakes and get a feel for the scooter.
NanRobot D4+ 330 Lbs Capacity E-Scooter
Electric Scooter 300 Lbs Weight Limit

So this scooter is a little different to the others mentioned on this list, it's a medical scooter by Drive Medical. This is more a mobility aid, then something you use for commuting to work.
It has a 300-pound weight capacity, so it's not extremely high which I find a little disappointing. Considering its a medical mobility aid, I would like to see this scooter but in a 500-pound capacity.
However, the 3 wheels are a good idea for helping people with mobility issues. Much more balance and a feeling of being stable. There's also quite a large seat to give those tired an sore bodies a rest from standing.
Limited Use, But Great For Short Commutes
Because the ZooMe by Drive Medical has a single 350-watt brushless motor, don't be expecting this thing to perform like any of the other scooters mentioned on this page. It has a top speed of just 15mph for casual cruising around where the body normally wouldn't be able to take you.
Along with the reduced speed, it can only go up to 17 miles per charge. So the range on this scooter is quite low. But in saying this, it's a mobility scooter with 3 wheels. Don't expect to zoom up and down hills on this thing either, it has just a 10° incline capability.
While you may be thinking, why is this scooter on the list?. Well, because there's many of us bigger people that need a helping hand with mobility. Not a permanent fix either, just something fun yet safe for the heavier person to get from A to B. Its also a cheaper option when comparing it to a full-blown mobility scooter.
Drive Medical 3 Wheel Scooter 300 Lbs
Heavy Duty Electric Scooter For Adults

Now that we have gone over some of the best options for the heavy adult rider, its time for you to compare a more budget-friendly 320-pound capacity electric scooter. They are like chalk and cheese in terms of performance, but nonetheless, not everyone can afford a $1000+ electric scooter.
So introducing the Swagtron, one of the better e-scooters for overweight people with a strict budget in mind. How much is the Swagtron exactly?. Well, you can get the latest price on amazon here and compare it to some of the more heavy duty expensive models listed above.
Decent Weight Capacity, Lower Performance
Of the lower end e-scooters, the Swagtron was the one that stood out to me. That's because it has an unusually high weight capacity compared to similar e-scooters in this price range. Many other models have weight limits of between 200 and 265 pounds, whereas the Swagtron has an impressive 320 pounds.
So if your price range is down this end of town, the Swagtron may be one to consider, simply for the higher weight rating.
But you will soon realize after researching these types of electric scooters is that they lack sufficient power when compared to some of the more heavy duty electric scooters such as the Q1 and the QPower.
The Performance Rating
A small 250-watt motor is what powers the Swagtron, certainly seems considerably low compared to 3200 watts or 2000 watts. This is a direct reflection of the scooters performance abilities.
A top speed of 18mph and a mile range of between 6 and 12 miles per recharge. so while it can carry a heavy adult, it won't do a great deal in terms of performance.
But of course, this may be perfect for the 300 pound adult wanting a simple, cost-effective commuting solution for their 10-minute walk to work.
Swagtron 320 Lbs Capacity E-Scooter
High Weight Capacity E-Scooters

Electric scooters are designed to make life easier, which is what this electric scooter by URBANMAX provides. It offers a good amount of power and comfort while not being too bulky for transportation.
265 Lbs Rating
I find these are key features to make an electric scooter stand out from the pack. But more importantly for the heavy riders is the weight capacity. The UrbanMax has a 265-pound weight capacity, so not huge, but enough for the overweight and plus size riders.

The motor on the Urbanmax is slightly smaller but is still an impressive 250W. However, Urbanmax has done some clever engineering that still gives it a high mileage rate for the motor.
It has an impressive range of 12.5 miles per charge, which will vary depending on how hard you push it. Factors that will influence the mileage rate include speed, inclines, your weight, and rougher terrain.
A key feature that I feel all scooters should have is an LED display as they are there to tell you useful data as you scoot. Thankfully this scooter has an LED display on board, which displays how much battery the charge has left among other things. This is a crucial feature that will help prevent you from running out of power in the middle of town.
Beefy Tires
The tires on this scooter are really impressive and give this scooter a lot more durability. They're Non-Pneumatic Inner Foamed Tires that are 8.5 inches in diameter and offer some protection a tire with air doesn't have. This means these tires can't randomly explode, or a puncture isn't going to deflate them. This makes a big difference to this scooter's survivability and makes this scooter worth considering.
Charging this scooter does take around 6 hours, which isn't too bad and does seem to be the average for a 250W motor. There's not a lot more to say about this as most scooters you should charge overnight. A quick charge scooter for heavy people doesn't exist yet sadly.
The max speed of this scooter is pretty decent and works really well for built-up areas. It can go up to 15.6mph, which is fairly decent and still quicker than some others on the market that doesn't offer the 265lbs weight capacity this model has.
URBANMAX PHAEWO Electric Scooter
Electric Scooter For Big People

Adults Up To 264 Lbs
Sometimes simplicity is best when it comes to electric scooters, and I find the MEGAWHEELS scooter is a shining example of this. It has a simple yet durable design that makes it stand out compared to a lot of others on the market.
One thing I like about this scooter compared to most other scooters on the market is where the batteries are stored. Most scooters have their batteries stored in the base of scooter where you stand.
The batteries in this scooter are in the pole of the handles, keeping them from having excessive weight put on them. This gives you peace of mind that the batteries are more protected and possibly give the scooter a longer lifespan as a result.
The frame is created out of a high-grade aluminum alloy that is lightweight yet durable enough to handle plus size riders up to 264lbs. This type of frame gives this scooter the advantage of not weighing too much that it becomes too heavy to be a portable option. Because the MegaWheels only weighs 27.5lbs, it's a lot easier to transport the scooter around town between rides.
Dual Speed Motor
This scooter also has a really useful feature that allows the battery to last longer than you would expect from a 250-watt motor. You can set this scooter to a low-speed mode that only goes 11mph, which saves power or a high-speed mode allowing it to get 15.5mph when speed is of the essence. A useful feature to have in built-up areas where you can't go too fast either way.
If there is one downside to this scooter, it's the weight capacity, which is only 264lbs. However, the 264-pound capacity is still higher than a lot of other scooters on the market. While it's a good thing for plus size riders, for the heavier people out there this most likely won't be enough. But as I mentioned earlier, there aren't a lot of options for electric scooters for heavy people currently on the market.
You shouldn't let the weight capacity of this scooter deter you if you're within the weight limit as it's still a decent scooter regardless.
MEGAWHEELS S5 Electric Scooter
Electric Scooters For Heavy Persons
There are ample e-scooters to choose from when you're overweight. By overweight, I simply mean you weigh under 300 pounds. The more heavy duty options listed above are far superior for the heavy person, but not everyone weights 300 plus pounds.
So these options below are great budget friendly e-scooters for the overweight person. With a maximum weight capacity of 265 pounds, you will find many adults riding these kinds of scooters around the place.
Does The Big Man Really Need An E-Scooter?
So after going through the above list, you may be thinking twice about investing in one of these products. Sure the price tags can be scary, but you got to ask yourself, how much is it worth to you to have the freedom a scooter like this could offer.
As a big man myself, I know how hard it can be walking from place to place, even if it is from the car to the post office. It can be quite tiring, especially if there's any incline in the walk.
Having a portable and folding E-scooter on hand in the trunk of the car can make a huge difference. Even on such short journeys, they are well worth time and investment.
They Can Help With Walking In General
While I wouldn't exactly say an electric scooter is a critical piece of exercise equipment, but I would go as far as to say they can help you be more active.
Lack of motivation and commitment are some of the realities we face when it comes to staying active when being active is just too hard a lot of the time. So why not have something fun to help in these times of need.
Sure, nobody wants to walk a few miles to get to the nearest shop, work, school, etc. But with the assistance of an electric scooter, you can get there quicker without having to walk a marathon. Divide the trip into 3 sections, scoot, walk, scoot.
This way you still get some exercise in without having it feel like a drag. People with difficulties walking long distances can also find relief from using a device like this as well.
Heavy People Have Electric Scooter Options
At the end of the day, not many people would NEED a e-scooter. For some its more of a thrill than a necessity. But unfortunately, one of the biggest downsides to being heavy is that the majority of products suitable for us can cost a lot more.
I can understand the need for the extra price when it comes to an electric bike for heavy people. This is of course if the products have actually been reinforced to hold a higher weight, more responsive shock absorbers to take the grunt of our body weight with motors heavy duty enough to zoom us around town without conking out after a couple of miles.