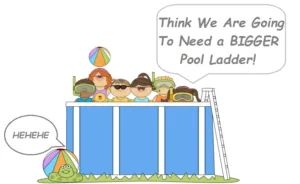 Updated for 2020 due to popular demand, we're going to review what we think are the best heavy duty above ground pool ladders for heavy people.
These ladders are extra strong and robust, which will give the confidence boost we big Men and Women need to get back in the pool.
So if you're looking to brave the waters but are hesitant because of one of the most feared critical components of the pool, then you better read on.
The amount of safety and reassurance a sturdy pool ladder or step system can offer allows us larger folks to safely indulge in one of the most relaxing ways possible is critical. Trusting a weak or pool ladder you don't feel comfortable standing on is out of the question.
The above ground pool ladders mentioned below all have high weight capacities and are suitable for the bigger swimmers. While being heavy duty with a high weight capacity is important, be sure to also check the width of the steps, the distance between the armrails if applicable and the height of the steps/ladder to ensure if fits your pool.
*Please note: The below ladders are for above ground pools.
For in-ground pool, ladders go to ==> In Ground Pool Ladders For Heavy People
Compare Heavy Duty Pool Ladders
Above Ground Swimming Pool Ladders For Heavy People.
Confer Curved Base Above Ground Pool Step Ladder

After many hours of research and wasted trips to physical pool stores, I eventually decided that the Confer curve pool steps were a fine gateway to the swimming pool for us bigger guys.
It was like trying to draw blood from stone to get helpful info from some of the pool stores. They simply are not interested in helping, well that's my impression.
Anyways, the Confer steps are important for the bigger man. They can handle up to 400 Lbs capacity according to the manufacturer. If you weight more than 400 lbs, check out the 500 lb pool ladder option below.
They are universal meaning you can use them on either side of the above-ground pool. They are extremely sturdy and wide enough to cater to the large person easily. The handrail provides extra help for getting in and out of the above-ground pool.
Overall I think they are a good choice for any larger than 'normal' person with the urge to get out and have fun again. Plus they look amazing. Highly recommend them. They are hard to find tho and have limited numbers available.
These model of the Confer series comes as the complete kit as shown in the images here, or as just the straight forward steps. I prefer the complete package as it is not only eye appealing, but safer for the big person due to a wider access area.
This ladder/steps can be used in both oval and round pools. For oval pools, you just got to put the ladder on the flat side of the pool. You should feel safe getting in and out of your above ground pool with this ladder system because of the stability and oversized access area. Looks good, easy to assemble and is heavy person friendly.
Confer Curve Ladder
*400 Pound Capacity Rating
*Strong And Sturdy design
*Durable meant to last a while
*Comes with a 5 year warranty.
*Available in Complete Kit for a wider access area

Confer Pool Steps Reviews


Much like our best-rated pool steps for heavy people, this too is made by Confer Plastics. American owned and made since 1973. Not much at all separates this pool ladder from the above curve model. Both really deserve kudos if you ask me.
Appearance has a sturdy appeal and its reversible to go on either side of the pool. The handrail can also be flipped around to adjust to your height. Which is a helpful idea for helping us overweight people and also the elderly in and out of above ground pools.
The handrail is also one step longer than the above Confer model which gives greater stability when pulling yourself up the ladder. The handrail attaches to the second bottom step. The maximum height your deck can be is 60 inches, so quite a tall set of steps.
These Confer pool steps has a heavy duty rating of 400 pounds, so most heavy people can feel confident stepping up this ladder. Each step is 27 inches wide and has a depth of 10 inches. So they are quite large steps to help the bigger person feel more stable as they use the handrails to guide themselves up or down the steps.
Confer Plastics Access Pool Step
*400 Pound Capacity
*Made In The USA
*Non-slip wide treads
*Snap together assembly
*Vents built in to prevent build up of Algae
*Reversible
The Very Best & Safest Pool Steps For Large People

As we all know, a pool can be very tricky and dangerous to get in and out of. Especially above ground pools that don't have built-in steps or a ladder. By being a larger person we have made the challenge even more difficult. This is where the ultimate solution from Confer comes into play.
This step system is a beast and I warn you now, it's certainly not the cheapest option on this list.How much exactly? Well, you can get the latest price on amazon here.
Double-Sided Pool Steps 400 Lbs Capacity
But the extra costs are due to this step ladder system being a double-sided step solution. So basically 2 x the 400 pound capacity side steps you normally place in or out of the pool. This is 2 of them combined so you can easily and safely walk up one side and down the other. It doesn't get much safer than that for a heavier person.
But the awesome design doesn't end there. Confer have even included a self-closing gate which can be padlocked to keep unwanted guests and children at bay. This feature is crucial with the amount of pool-related drownings we have in this country (10 per day).
In terms of size, this step ladder kit can put used on pools 48″ to 54″ tall and taller decks with the appropriate mounting kit. Its height measures 81 inches with a further possibility of 6 inch's in adjustable height. The total width of the stairs comes in at 31 inches.
While on the Confer website, they state the steps can hold 400 pounds or more. So its certainly built like a tank and performs like one too. If you can afford the excess cost and want the guarantee of safety, this is the complete kit you need.
Double Sided Step System With Gate
Heavy Duty Pool Ladder With 500 Lb Capacity

This pool ladder by Blue Wave is an impressive ladder that offers a good amount of features that will make your next pool adventure much easier as a big person. For a pool ladder to be rated heavy duty, it needs to have a good amount of durability, weight capacity, and safety which is often overlooked in my opinion.
Being rated 500 lbs, these wedding cake style pool steps are ideal for obese people struggling to find steps that can hold heavier weights. The addition of a handrail also ensures the safety of the obese person when getting in and out of the pool.
Being made with perforated non-slip steps makes getting in and out of the pool that much safer. This also has the added benefit that the chemicals in your pool can go through these holes and prevent a build-up of algae which can be dangerous.
Easiest Installation Method
Installing a pool ladder can be a big job and can be enough to put some people off from getting one and making their life easier. This is one of the reasons that I really like these stairs as there is no anchor weights or ballasts. What this allows is for you to install it and remove it very quickly.
The mounting brackets are included in the kit, so it really is as simple as attaching it to your deck with the supplied hardware. It's made out of an incredibly strong injection-molded ABS that makes it very durable and unlikely to buckle. This is a big part of why it's excellent for big people since it has a weight capacity of 500lbs.
The dimensions on these stairs mean that it's designed to go in pools that are 54-inches(4'5″) deep. Each step is 11-inches high that total to 44-inches which is a good stepping size for when you're getting out of it.
As an added bonus, this kit also comes with a pool liner designed to fit these stairs. This liner acts as a barrier between the steps and the pools lining for protection against scuffing and wear and tear on the stairs. The stairs also include minuscule holes so that the chemicals in your pool can keep the plastic clean from algae and the likes.
500 LB Blue Wave Pool Step with Liner Pad
Heavy Duty Pool Ladder 400 Lbs Weight Capacity

This pool ladder by JDM is a very simple but excellent heavy duty pool ladder with 400 Lb capacity. While a simple design, it looks great in practically any pool. It offers you that incredible look while still giving you an impressive amount of weight capacity of 400lbs. Which will give you peace of mind the next time you're getting out of the pool.
The dimension of this ladder can be a little difficult to find but it's designed to fit in pools with a flat bottom that is between 48 and 54-inches. The individual step height is 11.5-inches and the width of the steps is 31.5-inches give you a good amount of room to get out of.
In terms of width, the steps have a total width of 38-inches. But do note that the steps themselves are 31-inches and the gap between the two side rails is 24 inches, which could be a little tight for someone that weighs between 300 lb and 400 lb.
While having two side rails is beneficial for the most part, their biggest disadvantage is that it restricts wider people from comfortably fitting. But if you can manage to get your body through the 24-inch gap, you will still feel safe on the heavy duty construction.
Suitable For curved Pools Also
Being able to put this ladder in a curved pool is a really useful ability of these stairs. You're not limited to having to have a square pool to get a ladder for it which is a nice touch.
Having a non-slip texture on the wide steps works really well with how the sides are opened on these steps. Combined they help with keeping the algae down so you don't slip on the stairs and injure yourself.
Something to note with this ladder is that it doesn't come with weights to hold them down which might affect your decision. Getting weights isn't overly difficult but it's something that I had to mention so you go in with all the information before purchase.
JDM Auto Lights Swimming Pool Ladder Heavy Duty Step System
Wide Pool Ladders
Confer Plastics A-Frame Roll-Guard Safety Ladder

Not really a surprise that Confer Plastics has many above ground pool ladders suitable for heavy people. While it is rated to hold up to 300 pounds, I know people over 300 Lbs using these kinds of ladders every Summer.
However, I feel if something did break, the manufacturers 5-year warranty may not cover it. So I don't endorse using equipment if you're over the weight capacity.
In terms of how wide this pool ladder is, its an extra-wide 18″ step with a depth of 5-inches. The ladder also adjusts to suit pools from 48″ to 54″ in height.
What I like is how roomy the wide platform on top is, for those braving the bomb dive!. Plus the added safety rail guard is a great idea. It's ideal for keeping kids or even animals from climbing the ladder when they're not meant too. It glides pretty well with a splash of dishwashing liquid. If you prefer a ladder over steps, then this is the pool ladder for you.
A Frame Pool Roll-Guard Safety Ladder
*300 Lbs Pool Ladder Capacity
*Safety Guard System
*Assembly not tricky
*Awesome Platform At Top
*Perfect for 48-54" Above Ground Pools
Strong Pool Step System By Main Access

The Smart Step System is a nice and wide ladder and step solution to the troublesome entry and exit behaviors of the swimming pool. 24 inch inner wide steps with a handrail on one side and a ladder on the other.
The ladder attachment makes it possible for people without a deck to have easy access to the pool from both inside and outside.
The ladder has a swing and lock feature to keep kids and unwanted guests out of the pool when not in use. It's also possible to reverse the ladder so that the steps are on the outside of the pool making it easier for heavier people to access the pool.
The perfect solution to above ground pools without a deck. However, if you do have a deck, I recommend you take advantage of the 2 holes in the top and bolt them down to the deck. This creates an even sturdier pool ladder.
While there's no specified weight capacity on the manufacturer's website, other consumers have stated it's been used by people up to 330 pounds. The design and the build of the steps would likely back this up.
Smart Step Solution With Ladder
*330 Pound Capacity Unofficial
*Optional step light - Really cool feature
*Very sturdy and well built ladder system in my opinion
* Can be switched around so ladder is on inside of pool
Alternative 500 Lb Pool Ladder
Docking Ladder Heavy Duty
Getting out of the water on a dock can be a very difficult task that can put you off going into the water altogether which is no way to live! Thankfully Dock Edge has made this excellent dock ladder that allows for easy access out of the water from your dock which will give you your water freedom back.
This is one tough and durable dock ladder since it's a roto-molded ladder that can handle the higher weight capacity. This makes it a great addition to your dock if you're a heavier person and have struggled with getting out of the water on the dock.
If you're fortunate enough to need a docking ladder for a heavy person, this is the one I would go for. It makes getting on top of your heavy duty paddleboard much easier.
Pulling Yourself Out Of The Water Simplified
The 60° angle of the ladder is the perfect angle to be able to pull yourself out of the water. It's close enough that you're not fully straight and far enough away that you have some room when you're pulling yourself up. In my opinion, this is arguably the easiest angle to get out of the water with.
Leaving the ladder in the water isn't a good idea as you never know what might be resting on the ladder or what's growing on it. Thankfully with this ladder from Dock Edge, you're able to fold the ladder up when you're not using it and take with you as a portable docking ladder.
Flip Up Dock Edge + Dock Ladder
How To Make Your Pool Ladder Nonslip

You may already have an excellent ladder or steps in your pool but they're slippery and you'd rather not spend hundreds on a new ladder. Or perhaps you want to ensure the above heavy duty pool steps are up to the nonslip standard.
LifeGrip has come to your aide with this incredible traction tape that can make your pool steps non-slip and safe to use as a heavy person.
The tape needs to be fairly water resistant since it's going to get wet a lot which is a big part of why I like this tape. It's not only water-resistant but also chemical resistant as well. Since all pools do have chemicals in them, it's essential for your nonslip grip to have this feature so it will be hard for this tape to come off.
The grip is made out of 60 grit aluminum oxide which may sound a little worrisome to some people. But it just means that the tape has a rougher texture to help your feet to grip it so you don't slip on it when it is wet. 60-grit is about the same equivalence of a medium grade sandpaper, where 0 is the most coarse and over 180grit is super fine.
One thing to note with this particular tape is that it needs to be applied to a smooth surface. So if you have coarse wooden steps that haven't been sealed or painted then you will need to go with something else.
This particular version comes with the roller you will need to apply the tape which is handy and saves you having to go find your own. This makes it a great bit of value for your hard-earned coin and will save you time in the long run.
Anti Slip Traction Tape
Don't Let Your Body Weight Control You
So as a big man myself, I know what my biggest fear was, besides having to show my body off in a public pool. It was those darn silver vertical climbing pool ladders. It's a fear that has struck down many if not most overweight or obese people from entering the pool.
The thought of being stuck in the pool because of being too heavy to pull myself up the ladder. What's even worse is having to get help from people to drag me out of the pool. Regardless of whether they were family members or not. It's humiliating!. This fear is crippling.
So How Do I get My Overweight Body Back In The Pool?

The best thing about the pool is it's virtually exercising weightless. When you take into consideration the impact on your ankles, hips body from the hard-wearing treadmills or walking, etc. Swimming in the pool is a breeze. That's if you can get in and out!
I know how hard and at time's impossible it was to even pick up my own child because of my own heavy weight making it 100 times harder. So how the hell was I ever gonna pull myself up that ladder?
You see, us heavy people are slowly getting catered for now. We even have high weight capacity pool floats to encourage us back into the water. That's a nice change. So now there are special ladders with high weight capacity limits and stairs with rails to make getting in and out of above ground pools a lot easier. In-ground pools generally have steps and a ladder. So this really only affects above ground pool users.
Now It's Time To Have A Pool Party
Now that you're armed with reviews for some of the best heavy-duty ladders for above ground pools on the market. It's time to knock those fears to the curb and get your pool party on!. Naturally, take it as slowly and easily as you like.
But the most encouraging thing is the fact you ended up on our site here looking for ways to get back into the swimming pool and start having fun,
For far too long I was NOT living life, letting my fears compel me. Those were dark days, and now I am really starting to embrace life. Remember, we only get one, so let's live it up. Big or small! Enjoy.
Save
Save