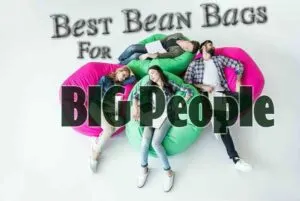 The humble bean bag has been around for over 50 years, whilst many of the best bean bags for big people or adults have only recently become a popular trend.
We have all seen and even tripped over our child's bean bag which has been sprawled out over the living room floor. But not all of us are aware of the pure comfort a chair like this can provide, especially as a larger adult.
Us bigger people find it challenging to find high weigh capacity furniture every time we enter the big stores, even online it can be quite the challenge as the options are limited.
Which is why I appreciate oversized bean bag chairs so much. They don't have any weight limits, they don't judge, no weight capacities labeled over them and you can do what you want with them.
But you can't just buy any bean bag and hope for the best. Whether you're a normal size adult or a plus-size person, there needs to be some thought put into it. After all, it can be difficult dragging yourself up from an over the top suishy bean bag when you're overweight.
Below you can leverage off my thoughts previously put into researching for heavy duty bean bags for adults as well as a basic guide you can follow to ensure you get the best bean bag for your needs.
The Biggest Bean Bag Chair Ever!

Comfy Sacks have created an absolute beast which may even be the biggest bean bag ever made, well as far as I have found anyway. This massive yet impressive bean bag is an impressive 8ft in size, easily making it one of the largest bean bags on the market that can fit the big man quite comfortably.
Filled With Memory Foam
This unique bean bag is filled with memory foam beads which adds a whole new layer of comfort that other regular bean bags can't compete with.
The other benefit of using shredded memory foam is that the beans don't get squished beyond repair. Because they are memory foam beans, they spring back to shape, just like any product made out of memory foam.
If there is one thing to note about this bean bag is that it comes with a lot of filling but might not be enough for some people who want a more filled bag so it will cost you more to get some. As a bigger person, I find having the bean bag well topped up is ideal as it provides a more supportive foundation.
Available In An Array Of Styles & Colors
The amount of styles this bean bag comes in is impressive and there is most likely something for everyone. It has a wide range of colors and fabric types to suit your needs which is something I really like.
The types of material used include microsuede, comfy cords, and furry. For me, it's the microsuede finish, it just feels so soft and smooth on the skin.
A lot of people will be happy to know that this bean bag is made in the USA and not China. For some people, this will be the most important thing and for others, they won't really care, but I thought I should mention it for those who do.
You're able to put the cover of this bean bag in the washing machine which is a big plus for those who have a machine who can handle it. Your average washing machine won't likely be able to handle this massive bean bag and you might need to go to a laundromat.
But overall, if you're a big adult, this is the monster bean bag you have been dreaming about. I don't foresee any problems with a 300 lb or even 400 lb person taking full advantage of this bean bag. The unique memory foam beans are just a dream to lay on and I feel you will have a very difficult time going back to regular beans after experiencing this phenomenon.
---
Huge 7′ Beanbag For Big & Tall People
Labeling a bean bag as extra-large doesn't mean it's comfortable for full-size adults, which is something most companies don't understand, with Lumaland being an exception to this. This is an extremely comfortable bean bag that makes it hard to want to ever get up off this bean bag chair, especially as a big and tall person.
One thing I'm a big fan of is having options for products and no matter how small the options are I'll always appreciate them. This bean bag gives you a lot of color options with it offering up to 8 different colors so there will be something for everyone.
Quite Sturdy, But Also Quite Heavy
Since this is such a large bean bag it has one issue that most people will not even think about is how heavy it is. This 7ft version weighs roughly 85lbs which makes it difficult to move if you're by yourself. This is something to consider before you purchase as moving it is difficult and takes up more space than you think.
An issue that can happen with such large bean bags is that the stitching can pop undone from the pressure of the bag. Lumaland has done the smart thing stitched this up with double stitching which is a lot more durable than your normal kind of stitching.
Overall this is a tremendous bean bag that's easy to recommend to someone who wants a large bean bag. It's not only comfortable to sit and lay on but it's durable thanks to the double stitching which gives you peace of mind. However, I wouldn't mind seeing some YKK zippers on this bean bag, it would make it indestructible then.
---
Heavy Duty Bean Bag Chair For Adults

There is a lot to like about this heavy-duty 6-foot bean bag by Chill Sack. It's extremely comfortable to relax on while watching a movie or even fall asleep in as its as comfy as a sofa.
This is one of the reasons this bean bag made the list as it's not just large and comfortable, it's also able to handle big and heavy people.
One of the reasons this bean bag is so comfortable is that it's filled with shredded memory foam which is really soft and durable. The advantage of this is that the foam will help maintain its shape as well as provide the comfort you need for your bean bag.
Up To 8 Foot In Size
If you feel that this 6-foot monster is to small for your bean bag needs then there is some good news. Chill sack offers a variety of different sizes with a maximum size of 8-foot for those who want the maximum size in their bean bags.
When you first get this bean bag it will be compressed and will take a few days to fully expand. This is a really cool process but something to remember before purchase if you were planning on needing to use it on day one. It can be a good idea to get it earlier so you can let it expand first.
The different styles of covers you can get for this bean bag is extremely useful. If you don't like microsuede then you could try the ultra fur or the soft faux linen. This gives you a variety of options to find something that will suit your needs. Again, I prefer the smooth feeling of microsuede on my skin, but I can see why the ultra fur is also quite a popular choice.
---
Luxury FatBoy Beanbag Chair For Big Adults

When you hear the name Fatboy and bean bag you instantly think of quality since that's what Fatboy is all about. But it does make you wonder, are these bean bags only good for fat people, or any size adult?
There is a lot to love about this bean bag but it's the quality of it that really sets it apart from a lot of the other bean bags on the market.
One of the biggest issues you get with a bean bag is that they can really dirty and trying to clean these larger ones next to impossible without an industrial washing machine.
Very Easy To Clean Bean Bag
The cover of this bag is made out of nylon with a protective coating making it stain and water-resistant. Which makes cleaning easy as all you need is a damp cloth and mild soap.
Comfort will make or break a bean bag and Fatboy has knocked it out of the park in comfort for this model bag. It's comfortable enough that you can easily fall asleep in it when you're trying not to, which says a lot about how comfortable this bean bag is.
This bean bag has some advantages over other bean bags with how it's shaped which allows you to sit on it in a variety of positions. You can lay it flat to be more like a bed or fold it to be a chair with some people using it as a whole room ottoman. So there is a lot of versatility with this bag.
What makes this bean bag so comfortable and easy to mold is that it's filled with polystyrene beads. These beads move easily and will fit into your position making it easy to get comfortable.
---
Oversized Lounge Bean Bag For Large Adults

This polyester bean bag by Big Joe is an impressive piece of furniture that is sure to add style and comfort to your house. It's one of those beans bags that you could easily use to replace a big man's sofa as it's that large and comfortable for the larger size adult. It also comes in a variety of different colors, so there is something to suit everyone's needs.
One thing you have to worry about with a bean bag is that they can lose their tension and stop being comfortable. With this bean bag, you can fluff the bean bag up and if you do it regularly this bean bag will hold its cushiness which will save you money in the long run.
Environmentally Friendly Bean Bag
Big Joe has gone with the environmentally friendly route with this bean bag which is something I endorse. The comfortable shredded memory foam is from recycled foam used by the big foam industries, so you still get a high-quality foam without doing so much environmental damage. With global warming being the hot topic these days, doing any little it like using recycled foam counts.
With these larger bean bags, their weight becomes a big issue and moving them can be difficult. This is why I really like how they included handles on this bean bag. The addition of the fabric handles does making moving it easier since you have something to hold onto while dragging the 43 lb bean bag across the living room floor.
There's one thing I really appreciate that Big Joe did and that was listening to their customers. Their old model's fabric was uncomfortable and thin so it broke easily which made it be a very average bag.
So Big Joe listened and improved the fabric of the bean bag. The new and improved fabric used in the construction of the bean bag makes it one of the most comfortable out there but more importantly, tells me the company cares about the feedback from customers.
---
Guide To Buying An Oversized Adults Bean Bag
Some of the best features of a bean bag are all fairly common sense, but unfortunately, many companies cut corners to save a buck. While they may get away with cutting corners on kids bean bags, when it comes to bean bags for big people, any corners cut are met with a sturdy refund.
There are three components to consider when buying an adult bean bag, they are durability, comfort, and availability. Comfort is such a hard thing to find out without actually testing the bean bag in person. Since we all have our own levels of comfort, basing your opinion off someone else reviews can be misleading.
Availability has two different meanings for me with one being just how easy it is to get a bean bag since there are so many on the market. The other is how easy is it to find replacement beads for if you need more which is more important than you think. Finding replacements can be difficult and turn a perfect bean bag into an average one.
Durability
Beans will lose their shape, become squashed and eventually, needs to be replaced. This is the natural life cycle of a bean bag. But when you weigh 300 pounds or more, the frequency of bean replacing can make the purchase of a bean bag not justified.
To ensure you get the maximum lifespan out of your beans, you need to determine how heavy-duty or durable the bean bag is. This all starts with the materials used during construction. How many lines of stitching do you see side by side? One line of stitching indicates the bag is not going to last long. Ideally, you want a double or even a triple stitched bean bag so that it lasts for a much longer time.
Does The Bean Bag Contour To Your Body
In my opinion, the best feature of a bean bag is how you can mold them into a more comfortable position. Unlike your normal chairs where if it's uncomfortable and you need to add pillows to make it comfortable. Where a bean bag you can just shift it around into the perfect position.
It's a small thing but bean bags just don't go out of style no matter what year it is. So if you want to add a touch of style to a room than a bean bag is a great option for those who're on a budget and want style.
What To Look For In A Bean Bag?
With there being so many bean bags on the market it can get overwhelming in telling what sets them apart, let alone what makes one the best. There are a number of things you can look for that will make it easier for you to tell if it's not only a great bean bag, but also suit your body size, weight and needs.
Portability is usually a big advantage of a bean bag since they're usually smaller and lightweight. Sadly with these larger bean bags on this page, you lose this feature to help handle the heavier frames of the people who need them.
The material the bean bag is made out of is crucial to whether you'll like a bean bag. Thankfully when it comes to bean bags they have a lot of variety in what they're made out of so there is generally something for everyone.
With there being so many different types of filling for a bean bag it's difficult to know what's good and what isn't. The best two fillings to aim for are a memory foam filling or a polystyrene filling as these offer the most comfortable and durable.