I hope you love the products I've recommended below, just a heads up that as an Amazon associate, I earn from qualifying purchases. This means I may earn commissions on products bought via links on this page.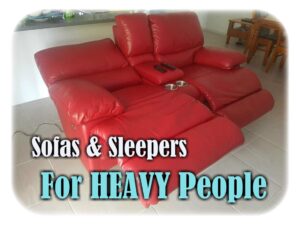 Heavy duty sofas for heavy people need to be reinforced to provide extra strength while maintaining oversized dimensions. Find this combination is not as easy as you may think.
This is because many manufacturers don't test their sofas or couches to withstand higher weights. So more often than not, there is no specified weight capacity.
This makes it extremely difficult for the bigger person trying to buy a comfortable sofa or sleeper. Fortunately, I have come across a number of suitable sofas, sleepers and reclining sofas for the heavier persons, which have been listed below.
The Types Of Sofa Chairs Available For The Big Person
Oversized sleeping and chairs
are often overlooked as great guest beds for plus size people. Sure they may not be as comfortable as the real deal, but with the addition of a
mattress topper
you may be amazed by the increase in comfort levels.
But after all, they're designed to be a temporary and portable bed to be used much less frequently than the common bed.
In saying this, sleeping sofa's/chairs can also be very eye appealing and quite comfortable in any living room, not just the guest room. However, when you're a heavy person like myself, you may already be well aware of the consequences of sitting in a standard chair not built for us bigger guys and gals.
No, it's not pretty and usually ends up costing us a few hundred bucks to replace the chair… Not something I want to do that often.
However, we do have a few options when it comes to high weight capacity sleeping sofas and chairs. Not a great deal, but a few to help us sleep at night (Literally). As more sleeping chairs become readily available to buy online, we will be sure to add them to the list. So make sure you come back at a later time if you don't find what you're looking for today.
It's important to know that some sleeping beds don't come with a weight limit rating, not even from the manufacturer. So it's important to do your thorough research and read reviews and details about the structure and support system.
Reclining Sofas For Heavy People
My Wife and I were recently out looking to buy a reclining sofa with high weight capacities so that we could both feel comfortable and safe while relaxing after a hard day's work. To my surprise, trying to find sofas that recline with a weight capacity proved harder than first thought.
Most chairs simply don't have a weight limit. Is this is a good or a bad thing? I personally need the reassurance that the sofa can handle our combined weights, for peace of mind, plus also to cover us for warranty should it fall apart in the close future.
So when looking to buy a reclining sofa suitable for heavy people, you need to consider a few things if weight capacity isn't stated. The amount of space you have between the arm and center console if it's a two-seater, or if you need to buy a 3 seater to cater to two people. The sofa we choose was a two-seater with a center console. So as the minimum distance recommended between arms for a lift chair for heavier people is 22 inches, I used the same measurement for this chair.
Other important features to look for as a bigger person is: Whether it' a powered recliner. Some recliner sofa manual handles can be difficult to pull and unlock when carrying extra weight. So having the ease of use a powered button really makes a difference.
Also, look for what the chair frame is made out of. Heavy-duty steel, or a thin pine construction?. Always go for the heavy-duty materials to ensure the sofa can carry your weight.
Below you can find a reclining sofa on amazon that actually specify their weight limit per seat.
MorriSofa 300 Lb Per Seat Reclining Sofa
Heavy Duty Sectional Sofas
Sectional sofas are great at utilizing space in small apartments as well as providing big seating areas for multiple people. More often than not, they are reversible meaning they can be changed around to suit your living room.
However, for the big person, the lack of a specified weight capacity makes it difficult to find a heavy-duty option. Fortunately, some manufacturers have come to the party and included a weight recommendation.
On this page here, you can find sectional sofas with weight capacities of up to 1500 pounds.
Compare Heavy Duty Sofas & Sleepers Here
330 Pound Capacity Sleeper Chair

Hom Furniture delivers this stunning cleaning friendly 300 Lb weight capacity sleeping chair. Ideal for overweight people up to 41 inches wide. The outer material is made from suede fabric which I find easy to clean, but more importantly, what I really like about suede fiber is its genuine softness.
Which works so well with the firmer than soft inner padding. It creates a nice mix of soft yet firm seating.
This sleeper chair is one of those chairs I reckon people will comment on, in a good way of course. It has a certain stylish look about it, while still maintaining it's heavy duty aspect.
It comes with padded arms and also a soft and comfortable matching pillow. The pillow assists with lumbar support while in recline or chair mode. But when in the fully extended bed position, you may find yourself grabbing an extra pillow or 2.
330 Lb Capacity Sleeper Chair
Strong Sofa For Heavy Person
Being a heavy person has a lot of difficulties that come attached to it that can make the simplest things difficult. Sitting on a normal sofa can be worrisome and hurt your confidence just sitting on them. This is where this incredible sofa by LifeStyle Solutions really shines as it will give you your confidence to sit again.
This sofa has one of the best features a heavy-duty sofa can have and that's the filling being made out of high-density foam. This foam is not only comfortable but one of the most durable on the market and will help with preventing the foam from becoming misshapen and flattened.
790 Lb Weight Limit
One of the biggest issues with finding a heavy-duty sofa is making sure it has a great weight capacity. This sofa has an impressive 790lbs weight capacity so you can sit on it and have peace of mind knowing it's not going to give out from under you.
However, 3 people that weigh 300 pounds each may be pushing the boundaries a little too far with this chair. So just keep in mind that while it is a strong sofa, ideally its best suited to two heavy people.
There is a reason that the classic serpentine springs have been around for so long and are on almost all sodas. They're really durable and comfortable so it was a smart design choice by LifeStyle Solutions to put them on this sofa for that added durability.
Grayson Micro-fabric SOFA
1000 Lb Capacity Sofa

This stylish sofa by Casa AndreaMilano will make a great addition to your house and comes in three different colors. Combine this stylish design with its impressively high weight capacity of 1000 lb, then you have a serious contender for one of the best sofas on the market for a heavy person.
Extra Stong Hardwood Frame
The frame of the sofa is important as it can tell you just how strong and durable a sofa is. Being made out of hardwood is essential as it has a lot of advantages when it comes to heavy-duty capabilities. With this sofa being made out of hardwood it makes it that much more reliable and will give it a longer lifespan than a softwood sofa.
No matter how heavy-duty and how good the weight capacity of a sofa is, it would be all for nothing if it wasn't comfortable. Thankfully that isn't the case with this sofa as the cushions are made out of a high-density and a memory foam. Which when combined make this an extremely comfortable sofa.
Being a modular couch allows you to put this sofa in a number of positions. This allows you to have some versatility with how you set it up in your place.
One word of warning with this sofa is that the pieces don't lock together which can be a bit of an issue. A simple and effective solution is to get some rubber stoppers to help with it sliding if you're not using the sofa on carpet.
Casa AndreaMilano Modular Convertible Sofa
Oversized Sofas

The size of a sofa can be something that's overlooked when it comes to sofas as you just see the weight capacity and think that's good enough. There needs to be room for the heavy person using it as well, so the size is extremely important, and Stone & Beam nail this aspect.
While there is a lot to like about this sofa I find the size of it to be something that really stands out. Having a good amount of depth is required for a heavy-duty sofa in my opinion. With this sofa being 44.9-inches deep and an impressive 89-inches wide makes it have a lot of room for two oversized people to sit comfortably.
Heavy Duty Construction
The trend of hardwood frames continues which is a good thing and something that you want for your heavy-duty couch. This makes it really durable and will give you that peace of mind when you're sitting on it.
They opted for a soft feather blend for the cushions on this sofa which is a very comfortable filling. Tho it's not as durable as a high-density foam it still has a really good level of durability that will take a good long time before it starts to get out of shape.
Offering a range of colors is always a good idea for sofas as it can help with finding something that is right for your place. This model has 6 different colors and 2 other models that are made out of 98% nylon instead of polyester fabric with both of them being stain-resistant.
Stone & Beam Lauren Down-Filled Oversized Sofa
Heavy Duty Couches

There is a lot to like about this sofa from Honbay who has made versatility one of their main focuses when it comes to this sofa. The level of versatility, comfort, and durability this sofa has makes it well worth your time in considering whether it's right for you.
They give you a longer pillow so you can put it on the ottoman and couch together so you don't get that annoying gap. If you want to keep the ottoman separate you're able to do this as well since the long pillow can be used to take up two cushions leaving one for the ottoman. This amount of versatility is really useful on a sofa.
Everything that Honbay has done with this sofa has been done with being durable and heavy-duty in mind. With the hardwood frame and serpentine springs being two of the biggest requirements when it comes to heavy-duty sofas it's great that Honbay made sure this sofa had them.
Couch With 660 Lb Capacity
While the weight capacity on this sofa is decent and can hold a good amount it might be a little low for the really heavy people out there. The capacity is a solid 660lbs which is going to accommodate a lot of other people. But if it's a couch for one or two overweight people, the 660 pounds limit should be sufficient.
The only drawback of this sofa is that while setting it up isn't difficult, it becomes difficult because of the instructions. A lot of the instructions seem to get things backward and can make setting this sofa up be a lot more difficult then it should have been. Far from a dealbreaker but something worth noting.
HONBAY Convertible Sectional Sofa
750 Pound Capacity Single Sleeper Chair
Epic Furnishings
Simply huge with a 750 lbs capacity. Certainly one of the best big man's chairs available and best of all its available on amazon here.
Before you jump for joy over this high weight capacity sleeper, be warned assembly is not something I consider fun. In saying this, I recommend you have an extra person to help and a few extra hand tools to get the job done quicker.
Epic Furnishings may also offer email support with instructional videos on how to put it together if you ask them nicely. With something as complex as this thing is to put together, I just know it's the real deal. A genuine heavy-duty solid sleeping sofa.
750 Lb Sleeper
Various colors and different sizes are also available, but this particular sleeper is the one person chair/bed version which measures in at 35/30 inches wide. The 750 lbs limit is easy to see within the structural support of this chair. Steel on steel is always a good sign to me. It's a little heavier than most sleepers, but I've come to expect that from a 750 lb chair.
Probably the biggest positive for me about this chair is the comfort level. It's soft and squishy cushions and I just love those sink into the couch moments. What I find even more impressive is how the metal bars aren't noticeable while the chair is in bed mode. Well, this is my opinion, as some folks may experience the bar feeling depending on overall body size.
Fans of timber furniture may take a keen interest in this sleeper over any other. The 2 arms are solid timber and look fantastic, however, this dual material style may not suit all decors or personal tastes. Do keep in mind that Epic Furnishings do also offer various colors and models.
750 Pound Capacity Sleeper
Gold Sparrow New York Chair Bed Review
As a big fellow who likes a bit of style, I couldn't resist recommending the Gold Sparrow New York Bed Chair. Not only is it a great chair for overweight people due to its solid build and 31 inch wide surface, but it's a rather cool and contemporary sleeper bed as well. Even without folding it down into a bed, I simply love this chair as is.
The white stitching and that leather appeal adds a bit of class and style to whats a moderately priced convertible chair for what is one of the better quality chairs I've seen in this price range.
So it can fold into 4 different positions including full bed mode, which the relatively firm foam cushions provide plenty of support and comfort. While in chair mode the included soft pillow is detachable and can be relocated for perfect lumbar support. Only negative I would think is while in bed mode it's rather low to the ground. But other then that, I believe this to be a high quality sleeper chair with excellent functionality.
Gold Sparrow New York Sleeper
600 Pound Sofa Sleeper For Big People
DHP Delaney Sofa Sleeper

If you have the extra room the DHP sleeper sofa may happily occupy that space. The chair folds down with little hesitation and has a high weight capacity of 600 lbs according to Wayfair.
Which is a good weight limit for two overweight people or for one larger person to take advantage of the extra space. Speaking of space, this DHP sleeper sofa folds down to these measurements: Almost 71″ in length, 44.5 " wide and has a height of 15.3″. When up in the sitting position the height of the back comes in at 22.5″.
I've seen mixed reviews online about the Delaney Sofa. What I discovered was that it seemed to come down to one common factor. Comfort while sleeping, some say it's fabulous and some compare it to sleeping on cardboard. So keep in mind as we bigger folk most likely weigh more than these reviewers, it might be a good option to add a 3″ mattress topper. Not saying this sofa absolutely needs it, but just my recommendation.
Overall I would have to agree with many of the reviews, and I do think this is one good value chair. It has plenty of style and eye appeal, plus functionality is a breeze. I find the price is very reasonable considering its heavy weight capacity of 600 lbs. It can come in either brown or black depending where you shop.
DHP Sleeper Sofa 600 Lbs
550 Lbs Capacity Sofa Chair Sleeper
Excellent For The Big And Tall
Hom Furniture offers this 550 pound weight capacity folding sofa chair. It's a big bed when folded down and whats even better is the Ottoman that may come with this sofa. The folded out sleeper measures at 83″ long but when you attach the Ottoman it's even longer. Almost 40 inches wide also. Great sleeper chair option for the big and tall.
What I do really like about this chair/bed is the arm rest stay permanently in position, which acts as a bed head when unfolded. It just looks good and adds a bit of extra sturdiness to the bed. The addition of 2 cotton pillows is a nice touch, something you wouldn't expect from a decent priced heavy duty sofa bed.
550 Pound Capacity HomCom Sofa Chair
Alternatives To Sleeper Chairs
So none of the above Sofa's have taken your fancy, but you're still interested to find sleep solutions for the big Man. Oversized Recliners are another popular solution. Many people have been known to use recliner chairs as a semi-temporary sleeping option. I don't see why not when some of these huge recliners are the size of a Queen bed when fully reclined.
If you have space in your living room, a heavy duty daybed can also be quite an attractive piece of furniture. These daybeds can accommodate people up to 500 pounds.
If a temporary bed option for a heavy guest is what you are after, portable cots for big people may also be an option. While not overly stylish, they do look pretty decent with a mattress topper and bedding on top. Some do end up looking just like a guest bed.
Alternatively, heavy duty air mattresses will also do the trick, again these extra-large mattresses may even surprise you when dressing it up with some bedding.
The Strongest Sofas Use Heavy-Duty Materials
It should come as no surprise that what your sofa is made out of will determine just how heavy-duty it is. It's a good idea to learn what woods you should be looking for and which ones you should avoid entirely. Learning this can help save from spending a fortune buying multiple sofas and potential injury.
When it comes to wood there are two different types with one being hardwood and the other softwood. Hardwood, as the name implies, is hard and sturdy and often considered the best wood a sofa could be made out of since it's so durable.
Softwood, on the other hand, is more likely to crack and not last as long so you will want to avoid it if the budget allows it. Softwood is often used to keep the cost down on sofas which can be great for those on a budget and need a cheaper sofa.
What Woods To Look For And Which To Avoid
There are certain hardwoods that you should keep an eye out for since they will give your sofa better durability. The main kinds of wood you will want to look for are things like oak and maple as these are a good hardwood that's not too uncommon. Woods such as birch, beech, and walnut are also excellent hardwood choices and are worth your time considering.
If possible it would be best if you can find out if the wood has been kiln-dried as this wood has been dried in an oven which removes all the moisture from the wood. The lack of moisture will help with the durability of wood and stop the wood from cracking and bowing.
Woods you will want to avoid are the softer woods like pine and spruce as these are more than likely to have issues. As I mentioned above softwoods are more likely to crack so they won't last as long. There is the option of chipboard but it's something I would avoid entirely as it's not very heavy-duty and doesn't hold together very well.
How To Test The Strength Of The Sofa
There is a simple test that you can do that will give you a good idea if the frame is weak and has too much give. The trick is quite simple with you simply having to lift the front corner of the sofa up 6-inches. What you're looking for is to see if the opposite corner is still on the ground or in the air.
This is how you can tell if the frame of the sofa is weak. You want the opposite corner to be in the air to show that the frame is durable and doesn't have to much give. There you have it a simple trick to tell just how strong your sofa is.
Heavy Duty Couch Qualities To Look For
Buying a heavy-duty couch isn't as simple as going and buying the most expensive couch with the highest weight capacity. As with most things, there is more to it then you would think and to learn what to look for exactly is one way in helping you save money.
The materials the sofa is made out of is crucial to know whether the couch is heavy-duty or not. You will want to look for those hardwoods that have been kiln-dried as these are far more durable than anything else on the market in my opinion. Tho they're expensive and can really hurt the budget.
You will want to make sure the frame doesn't have a lot of give in it as if it does it'll be too weak and can possibly break easier. You can use the trick I mentioned up above to be able to work this out and work out if the frame is too weak for your needs.
One thing you will want to look for is how the legs of your sofa are connected. You will want to avoid sofa legs that are only attached by glue as these are weaker. Preferably you will want the legs to be connected by screws or apart of the frame itself.
Heavy Duty Brackets & Joints Are Crucial
Looking into the actual joints of a sofa is a good idea as it can tell you how well it's made. You will be looking for wooden joins like wooden dowels and wooden corner blocks. Combined with metal bracks and screws will make the frame really durable. But you will want to avoid furniture that's held together by just nails and glue.
It should come as no surprise that the springs of a sofa can make a massive difference in how durable a sofa is. The main two types of springs you will come across are 8-way-hand tied springs and serpentine springs. The difference between them is hard to know as experts aren't convinced 8-way is stronger and worth the extra cost.
There is a number of different fillings your sofa can be made of and they all have there pros and cons. Without a doubt, the best type of filling is a high-resilient foam as it's comfortable and more durable than most other foam. Once you have a sofa that follows all these guidelines, there's no doubt it will be a heavy duty rated sofa suitable for heavy people.