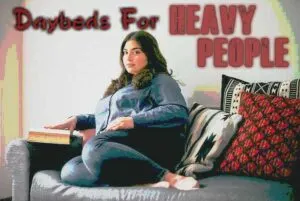 While you may think its safe to assume that all daybeds are built strong and heavy duty, the sad reality is that they are not. Daybeds for heavy people will need to have a specified weight capacity that is higher than the combined body weight and the weight of the mattress.
This can make choosing a daybed difficult if you weight over 300 pounds. Most daybeds should be able to support a single 200 pound user, but once you start getting into the more heavy duty weights, the number of daybeds available start to dwindle.
If no weight capacity is specified, it might in your best interest to avoid such a bed, or get a confirmation from the manufacturer as to how much weight the actual bed can hold.
Nobody wants to have a heavy guest stay over only for them to discover the daybed frame is not heavy duty enough to support such a weight. Not only is it embarrassing for the person that breaks the daybed, its also painful to your hip pocket.
So to help alleviate such issues, the daybeds below all have their weight capacities stated. With a minimum of 330 pounds to a maximum of 500 pounds. Do note: Trundle beds often have a lower user capacity compared to the daybed.
Compare Daybeds By Weight Capacity
500 Lbs Capacity Daybed With Trundle

Daybeds are some of the most useful things you can have in your house. This is especially true if you live in a smaller apartment and space is at a premium. Since they offer the ability to be a bed and a lounge they offer you some versatility. This is made even better by this DHP Manila daybed including a trundle as well.
A daybed needs to be sturdy and have a good weight capacity in order for the heavier person to safely use. But even for people that are not considered obese, having a higher weight capacity is important. This is since they can be used as a lounge by multiple people at a time. This daybed has an impressive weight capacity of 500lbs which can give you the peace of mind when sleeping on it or lounging on it.
450 Lbs Capacity Trundle Included
Since this daybed comes with a trundle, the DHP Manila makes this great for people who get heavier guests quite often. The trundle of this daybed is very impressive in itself, with it having a 450lbs weight capacity as well. This makes it more durable then a lot of other daybeds.
The size of this daybed is hard to say since it comes in 4 different sizes. It comes in a twin, full, queen, and a king size. So it has a few different options for a variety of peoples situations. The thing to note about the multiple sizes is they all have there own weight capacity, with the 500lbs being the queen one.
However, as a large person, or for a couple of large guests, the Queen is probably the way to go. Unless you are cramped on living space, the Queen offers more sitting and sleeping area for larger bodies.
With daybeds they need to actually have a good looking design to them. Which is one of the many reasons I like this daybed. It has a slight Victorian design that you can get in 4 different colors which is something I really like. The daybed has a width of 63 inches while the trundle is slightly smaller with a width of 56.5 inches. So the trundle would be best used by a single person rather than 2 heavier people.
DHP Manila Queen Metal Trundle Daybed 500 Lbs
Heavy Duty Daybeds
Full-Twin Size 450 Lbs Weight Limit

This is the twin size daybed by DHP which has a stylish design that I find looks incredible. This is in big part to the Victorian design that seems to go well with daybeds. This really does add to their visual appeal. Most daybeds will be in full view of guests so most people like the idea of them looking good.
The weight capacity of a daybed can make or break a daybed. Which is what's so good about this daybed with the trundle. It has a 450lbs weight capacity, so it's good for overweight and obese people.
Full Over Twin Daybed
Being a full size does mean the bed isn't as wide (56″), but the higher weight capacity does allow one considerably heavy person to safely sleep on it. The trundle itself is a twin size and does have a lower capacity with it only being 225lbs, so it's not as good for heavy people sadly.
The trundle does come with 4 caster wheels which roll really well, tho I'd still recommend putting a rug under it if on wood floors. Thankfully they did the smart decision and let you lock two of the wheels so you won't roll around on it when sleeping.
Assembly of a daybed can be difficult depending on what daybed you have. This isn't the case with this daybed, it's got good instructions that are easy to follow. In terms of how long it takes to set up there really isn't an exact answer. It seems to take most people around 30 minutes but this varies on skill level. I would allow one hour minimum.
There's a lot to like about this daybed and it's a great product overall. The metal frame is one of the things that really stood out to me. They're durable and well made and give it that extra bit of support.
DHP Manila Full Over Twin Daybed 450 Lbs
400 Pound Capacity Daybeds
Mid Century Day Bed

Style is important and this daybed has it in spades. It's got a classic look that is making a comeback. This is made even better by the fact it has 5 different color options to choose from. This gives it a good chance to hopefully have a color scheme that will fit your style.
The weight limit of this day bed is a solid 400lbs so it's good for some of us heavier people. You can fit 2 adults on this but if both are on the heavier side, this could be a slight issue. If that is the case it might not be a bad idea at looking into one of the higher capacity ones above.
This daybed does have the option of coming in a linen or a velvet style for its cover. This again just adds to the range of options this daybed has for style. Having this amount of styling options is something that really appeals to me and something I think more companies should do.
While it doesn't have a trundle for this daybed. It's possible to find one that does actually fit it if you really want a trundle with this daybed. The height from the bottom of the daybed to the ground is only 8 inches.
Assembling this daybed can be a bit of a slow process since it has wooden slats. If you've ever had to set up a bed with wooden slats then you'll know this can frustrating. While this isn't a deal breaker in my opinion, but it's something you should consider before purchasing a daybed.
DHP Franklin Mid Century Upholstered Daybed
Heavy Duty Daybed With Drawers
400 Lbs Weight Capacity

The best thing about daybeds is the numerous styles they are available in. Which is what makes them great for people who don't have a lot of space. This is one of the many reasons I really like this daybed also by DHP. It's a daybed that also has storage draws underneath. Not something you see on every daybed that's for sure.
As with most daybeds the weight capacity is important and can be a main factor for some people. This daybed has the fairly standard 400lbs weight capacity so it's good for a single heavy person to sleep on.
This daybed only comes in the one size so finding a mattress to fit it will be fairly simple. It's been designed to fit a twin mattress which is a really good size and a very common size of mattress to find. Some people worry about the height of the mattress for this daybed, but a 10 inch mattress fit easily. I find that a 10 inch mattress is what a heavy person needs on temporary bedding like this.
You may of noticed that I prefer things that give you a range of colors and this daybed is no different. It comes in 3 different colors that will hopefully suit your needs!
The assembly of this daybed is similar to the other model above since it also has timber slats. So it's a little frustrating to assemble thanks to the slats. Once you get use to setting them up they aren't to bad but it's something to think about.
Having storage draws on your daybed really adds some great value to them in my opinion. While the draws in this daybed are good, they're a little more lightweight then I'd personally like. They have a weight capacity of 40lbs so they really only excel at keeping spare linen and pillows in them.
The 2 large drawers are also on wheels, so when you retract the drawers they wont tip forward on you. This is a very nice touch. Overall I quite like the design and modern feel to this daybed. The fact it can hold 400 pounds is a bonus.
DHP Theo Urban Daybed 400 Lbs
Twin Daybed Classic By DHP – 276 words
450 Lbs Rated

DHP have done something a little different with the design of this 'Dale' daybed. Instead of the usual 2 side arms and backrest, it only has 1 side arm and backrest. It's a different design than normal but it somehow manages to pull the look off and makes you take note of it.
You'll be surprised at the durability of this daybed since it does look a little thin. It has a sturdy metal construction which really helps with it's durability and adding some longevity to it. So in my opinion this was a clever design decision by DHP who are one of the best daybed manufactures on the market.
Since it has such a strong metal frame it does have a good maximum weight capacity. The weight capacity is like a lot of the other models on this list with it being 450lbs. It does have another size option which is a twin size that has a 400lbs weight capacity. Which is a good option if you like the look of this daybed but want a smaller option.
For me it's the look of this daybed that really does stand out, which I put this down to the upholstered nail head trim it has. Combine this with how it comes with 3 different colors will make it really pop in your room!
There is one slight downside to this daybed which a few people do have an issue with. The sideboard can only be attached to the left side of the daybed which can be an issue for some layouts. This does limit where you can actually put the daybed, so this is something to consider with this option.
DHP Dale Upholstered Daybed 450 Lbs
Modern Daybed For Heavy Persons

This daybed with trundle has a very clever design choice that makes it look better then most others in my opinion. This is that the trundle has a cover over it so when it's closed it looks like a normal couch. This just looks better from a design point of view.
It has the more common weight capacity of 400lbs for the daybed itself and the trundle being a solid 250lbs. So if the other 400lbs models will suit your needs, then there is a high chance that this daybed will also work for you.
They've gone for a sturdy wooden frame with this daybed which is generally really good. Tho they also went with wooden slats like a few others which does bring up some of those older frustrations. Tho I will say that the wooden slats do let daybeds breath better which is a plus.
For those of you like me who want different color options you're in luck. This daybed has 3 different color options with one of them being a more out there pink option. So it does give you some good options when it comes to color choice.
Unlike a lot of other companies that give there daybeds multiple sizes this only comes in the one size. This can be a good or a bad thing depending on what you need. It's a 85.5″ x 48″ size daybed which is a decent size but if you want something bigger, one of the other options on this list will suit you better.
Novogratz Tallulah Tufted Daybed and Trundle
Strong Daybed With Trundle 400 Lbs Rated

Metal frame daybeds give you a safe feeling when you sit or lay down on them. Even if a wooden frame daybed has the same weight capacity, it never gives that same feeling as these metal frame one do. So in my opinion when you want a stronger daybed I find it hard to pass up on a metal frame.
Having a 400 pound weight limit, it just feels more durable and safe because of the metal frame. It also comes with a metal frame trundle that has a weight capacity of 225lbs which is a decent amount, but not enough for a heavier person.
This daybed only comes in one size which is a twin model. With the trundle mattress I wouldn't go with anything thicker then 8 inches, otherwise you might run into a problem of it not fitting under the daybed.
Setting up this daybed is much easier then a wooden slat daybed which is a big plus for me. The only issue during set up is getting things to line up, but it's not a big issue. The time it takes to set it up should only be about an hour and could be quicker with a second person helping you.
There is one downside to this daybed. This is the wheels seem to be made of a plastic instead of some proper caster wheels. They seem to be durable but I would of preferred something more stronger.
Novogratz Bright Pop Twin Metal Daybed
Heavy Duty Metal Daybed

This daybed is a great example of how to save some storage room without having storage draws. They achieve this by making the distance between the ground and the bottom of the bed being 10.5 inches. This is a bit higher then a lot of other daybeds on the market, so it gives more space underneath.
Not every big person needs a 400 – 500lbs daybed and want something that has a slightly smaller weight capacity. So if you don't need something that has such a large capacity then this is where this daybed comes in. It has a max limit of 330lbs which is a good size for a lot of people.
Being made from a heavy duty steel frame is a big plus in my books. Which is exactly what this daybed has and it fills you with confidence when sleeping on this heavy duty daybed. When you combine that with the extra leg in the middle of this daybed makes it feel even safer.
With this daybeds design it will suit a lot of styles of homes. This is thanks to the simple black design it has that allows it to match a greater number of tastes. This was a clever choice from Giantex when they made this daybed.
One of the things that I really like about this daybed is that it has metal slats. This makes assembly much easier and also allows you to feel more safe on this daybed. Overall this is a great daybed that makes you feel comfortable when laying on it.
Giantex Metal Daybed Twin 330 Lbs
Alternative Guest Beds For The Heavy Person