I hope you love the products I've recommended below, just a heads up that as an Amazon associate, I earn from qualifying purchases. This means I may earn commissions on products bought via links on this page.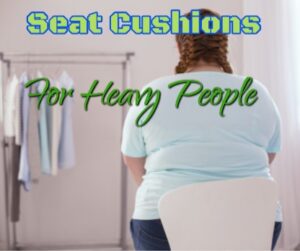 We often take sitting for granted, but as a larger person, sitting on a seat cushion without sufficient support can be quite a discomfort to say the least. Chair cushions for heavy people need to be able to support the extra weight and provide a comfortable surface at the same time.
Often people are mislead by thinking that a plush and soft cushion is best. But I feel that for the heavy person, high density and support is more important. Without denseness to the cushion, there is nothing to support the bodies weight.
Which often leads to having no support and feeling the baseboard beneath the office chair, dining chair, wheelchair, car seat etc. While thickness is also important, the level of density the cushion provides is paramount.
Having a 5 inch thick cushion may sound appealing. But if it consists of a low density filling where it is soft and plush, the thickness simply gets squashed down as thin as a pancake.
Compare Sizes & Weight Capacities
Heavy People Need Denser Cushions
Which is why density is important. The level of density is measured by how many material molecules are compacted into a square inch. So a higher density cushion will have more materials per square inch to provide support for the heavier person.
Its like comparing a cushion filled with sand and another with feathers. The cushion with sand will hold its shape and provide a more supportive cushion than that of a feather filled cushion. Having a cushion filled with sand may not be the softest material out there.
But with the improvements in foam materials these days, you can still manage to have a seat cushion that is both supportive and soft enough to fulfill your desired level of comfort.
Do Seat Cushions Have A Weight Capacity?
Like just about all products for heavy people, a weight capacity is one of the first areas of interest. But do seat cushions have a weight capacity?
Surprisingly, some cushions actually do have a recommended weight capacity. Not many, but the ones that do are generally designed for bariatric purposes. This is when you know that the cushion is going to provide the right amount of density and support needed.
So should you only buy a cushion with a weight limit? No, not necessarily. AS I mentioned, not many cushion actually specify it. You can still buy a really good high quality cushion that never mention anything about the users weight. Provided you investigate the level of density the cushion provides, you should be alright.
Best Chair Cushion For Heavy People
25″ Wide Up To 500 Lbs Capacity

Having the right cushion for your office chair or wheelchair can make even the most uncomfortable chair into something you'll look forward to using. Rather than dreading the hard and uncomfortable cushion you may be use to. This is one of the reasons I really like this Desk Jockey cushions. It extremely comfortable and offers good support for your lower back.
Being a cushion it does need a few things that will make it useful for us heavier folks. For me the weight capacity is one of the key things in my opinion. This seat cushion has a 500lbs capacity so it can handle some hefty weights without compromising its structural makeup.
Widest Wheelchair Cushion
I searched far and wide to find the widest cushions that are suitable for heavy people. As one of the best wheelchairs for a heavy person has a seat width of 30 inches, I was surprised to not find any seat cushions of the same width.
However this cushion by Desk Jockey is as good a option I could find. Since it has a width of 25 inches, it will be suitable for more uses as it was designed for wide office chairs and wheelchairs. This is something I really do like about this cushion.
It's made of a memory foam which is a comfortable material that just gets more comfortable with extended use. Its a high density foam, so much so that its not recommended for people less than 200 pounds. Now you don't see very often on products.
Cleaning this cushions cover is really easy as well which is a nice quality of life feature. The cover comes off fairly easy then you just put it in the wash. This does help with making it last a longer time and help with keeping it smell good.
Desk Jockey Seat Cushion for Extra Wide Wheelchairs & Office Chairs
Extra Wide Seat Cushion For Heavy People
22″ Wide 500 Lbs Capacity

Comfort is a high priority when it comes to this seat cushion. The cushion is made up of multiple fabrics and foams which serves an important purpose while also making it comfortable to sit on. While it does start off being a little firm it does soften up fairly quickly over a short period of time.
This is when this cushion really starts to shine. As its designed to cater heavy people, being made by Drive Medical a large provider of heavy peoples medical aids, it uses a special redistribution technology to aid in supporting heavier people.
The distribution feature of the cushion provided by the gel bladder allows the foam to support where its needed and not disperse to areas that its not required. This is important for big people because we need as much support under our backsides as possible. This amount of support is why this seat cushion is also recommended for people over 200 pounds to a maximum of 500 pounds in weight.
Oversized Seat Cushion
It's not as wide as the above Desk Jockey (25″W) but it still has a good amount of width to it. It's a solid 22 inches wide x 18 inches long with a decent thickness of 3 inches. This is larger than your average chair sizes, but we aren't talking about average sized people here. Which is why this cushion makes a great addition to any big mans office chair.
While this is an amazing seat cushion it does have one slight downside to it in my opinion. This is that the cover of the cushion itself is somewhat slippery. This is because its made from nylon that's been coated with urethane to provide a water resistant surface. While this isn't a deal breaker it's something that can be an issue for some people.
Drive Medical Skin Protection Gel "E" Cushion
Extra Thick Heavy Persons Seat Cushion
3.5″ Thick 500 Lbs Capacity

If you like your heavy duty cushions to be a little bit thicker then this is a good option. It has a little bit more thickness then a lot of the other cushions on the market. It has a thickness of 3.5 inches which is really useful for those who need that extra bit of support and height.
But as I mentioned earlier, thickness means nothing if the cushion is not dense enough to support a heavy person. Fortunately this ComfiU cushion was made using a medical grade memory foam. As a result it is quite a firm and supportive cushion.
You would think with how this cushion has a soft velour cover it would heat up fairly easy. The surprising thing is that it doesn't even after several hours of sitting on it. This is something something that makes this cushion incredible since there is almost nothing more annoying then getting sweaty when you're sitting.
The level of thickness of this cushion is made even better by its 500lbs weight capacity. It does have a width of 19 inches so it's not the widest cushion but it's still slightly bigger then the average size chair.
One thing to note with this cushion when you first get it is that it comes rolled up. So when you unpack it you need to let it sit for about 4 hours. You could push the sides of the cushion to get it into shape quicker, but it works better if you let it sit for the required time.
ComfiU Extra Large Very Firm Seat Cushion
Extra Wide Orthopedic Cushion
19.7″ Wide 309 Lbs Capacity

This cushion by Bonmedico was designed more to be of some help to people who have Orthopedic issues. The cushion was designed to help with good blood circulation over extended periods of use. So it has some advantages that other cushions don't offer.
While this cushion doesn't have a very high weight capacity, with it only being capable of handling 309lbs, the unique design of it is better suited to people around the 250-270 pound weight. This of course will be depending on your size and the shape of your calves and backside. So if the capacity is too small for you then I'd suggest one of the others on this list.
Quite Thick For Extra Height
The size of this seat cushion is really good and has a surprising amount of thickness to it. The width is a really good 19.7 inches, so it's quite wide. With the way the pillow is shaped the maximum height at its peak, it's 4.3 inches. This makes it a very thick seat cushion. Ideal for office chairs used by short and heavy people needing a few inches extra height to reach the desk.
One of the things I really like about this cushion is what it's made out of. It's a combination of a breathable mesh, gel, and memory foam. This combination makes it really comfortable to use for extended periods.
Something I personally like is that it's really breathable as a result of the gel infused foam. The gel helps to distribute the body heat that memory foam typically stores. The gel will transfer the heat away from your body, rather than building up underneath your body.
bonmedico Extra Large Orthopedic Seat Cushion
Oversized Donut Ring Cushion
20″ Wide

One of the best ways to make your seat cushion comfortable is to make it ventilate extremely well. This is one of the areas this seat cushion by Milliard excels at. The donut design and the 3D mesh allows it to ventilate easily thanks to the hole in the middle of it covered by the 3D mesh cover
Being a ring designed cushion does give it a really good solid width being an impressive 20 inches. The length of the cushion could be a little longer in my opinion but it's still a solid 15 inches. So its not exactly your typical circle shape donut, more of an oval.
Benefit Of The Donut Shape
These types of ring shaped seat cushions were designed to help with reducing the discomfort of coccyx injuries. So not only is this seat cushion really comfortable it's also design to help you and make your life a little less painful.
It's made out of foam which is a good design choice since foam is quite comfortable to sit on. It's a fairly dense pillow which does make it a little firm in the beginning, but it does soften a little over time.
They included a mesh cover that you can remove and wash which does help your seat smelling fresh. Which is important when you can be sitting on them for long periods of time.
There is one thing to consider with this is to be sure you're not allergic to foam, otherwise this seat cushion could cause you some issues.
Milliard Orthopedic Ring Cushion With 3D Mesh
Best Car Seat Cushion For Heavy Person

If you've ever had to drive for a long period of time you know how painful it can be to sit for those long times. Which is why I really like this Conformax seat cushion as it was specifically designed with car and truck driving in mind.
They managed to achieve this comfortable level while keeping the cushion quite thin. When driving you may need a thinner cushion that for your office chair for example, so it doesn't effect your height and vision too much. It's only 1.5 inches thick so it's really thin but still comfortable thanks to the gel-foam material it's made out of. This combination material makes it reduce the road and vehicles vibration.
While this cushion was designed with vehicles in mine, it still does do a great job for office chairs. The only issue that you might find is that this cushion narrows the longer it goes. So the front width is 20 inches, and the back of it is 14 inches so it narrows quite a bit.
One of things I really like about this car seat cushion is that it comes in two different sizes. There's only a slight difference between the two but I still appreciate them giving you some form of choice nonetheless. The difference between the two choices is one is 18 inches long compared to 20 inches.
Something most people don't consider with there cushions is where they're made. While it's not the biggest thing to some people, but this cushion being made in the USA does make you feel better about buying it and supporting the locals.
CONFORMAX Anywhere, Anytime Gel Cushion
Widest Wheelchair Seat Cushion
200-300 Lbs Capacity 26″ Wide

This seat cushion set out to do two things in my opinion. Which was to be comfortable for the heavier person and to be wide enough to support even the extra large backsides. For me this cushion achieves both of these things really well and is well worth your time if you're looking for wheelchair cushion wider than others.
While there are a lot of reasons to like this cushion it's impressive size that sets it apart. It has an incredible width of 26 inches which makes it one of the largest I've come across, without it being a specially made one. This width is impressive and is one of the best features of this cushion.
If you like this next feature will come down to personal preference. It comes with two security ties to help stop it from moving on the chair instead of them using a rubber base. I don't mind the ties to keep it in place but I feel a rubber base would of made it feel more secure.
This isn't a bad thing but something you should consider before purchase. However, the tie downs are more useful for use on a wheelchair, where stability of the cushion is pivotal.
Options are something I really like and this cushion has a lot of sizing options, with it easily having more then most others. It has an a impressive 15 different sizes you can choose from. With this amount of options there is almost a choice for any sized person.
While it is a comfortable cushion it is a little soft for some people. It could benefit to be a little bit more firm in my opinion which made make it an even better pillow. So because of this, I wouldn't suggest using this pillow if you're over 300 pounds.
Protekt Bariatric Gel Wheelchair Cushion with Straps
Choosing The Best Seat Cushion
So as you can see, there are a number of seat cushions suitable for the heavy people. Each serving a number of various uses. Choosing the best option for you will come down to your individual specific needs.
With the large number of people suffering from conditions and about 1/5 of all visits to a physician relating to lower back pain, chances are that we all could benefit from a chair cushion in some way.
As a seating disability is now a registered condition, its extremely important that the obese people take considerable actions to minimize their level of discomfort when sitting for longer period of time.
As one of the main causes of a seating disability comes from lower back pain, heavy people are generally at risk. Back pain for obese people is a pretty common condition, so ensuring that you use a seat or chair cushion with enough support is critical.