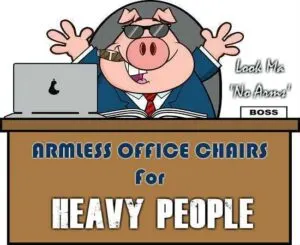 Armless office chairs for heavy people can prove extremely beneficial when you're a wider individual. While having a higher weight capacity and a wide seat is also important, more often than not, the arms of an office chair can be the big mans worst enemy.
With arms on, the space between the arms can be as minimal as 18 inches, if not smaller. Now I don't know about you, but this is not enough to squeeze my body in between the arms and work comfortably behind the desk.
Which is why armless office chairs are often a great choice for overweight and obese people. There's no restriction on backside and waist size. Provided you have sufficient support provided by the seat that is.
Going armless can also be a good for the big and tall people as well. As many arms are set permanently in position, the taller people basically lose any benefit of having arms in the first place.
Sure there are chairs that have height adjustable arms which are very effective at providing a comfortable place for your arms to rest as you type away, but they can also interfere with desk height along with the fact you may not fit between the arms.
So its easy to see the benefits of an armless office chair as a heavy person. So with that said, its time to take a look at some of the high weight capacity office chairs without arms.
500 Lbs Capacity Armless Office Chairs

With how much we sit on an office chair these days, having an office chair that is durable and supportive is practically a requirement. Not only does it need to be durable but it also needs to be comfortable for the heavy person to sit in for extended periods. As touched on early, the benefits of going armless rings true with this Safco task chair.
There is in no secret to the fact that some of us heavier people are wider, so being squished in a chair isn't very comfortable. This gives this chair a lot of value as you can chose to go armless or or equipped with arms. It can be quite annoying when you find the perfect chair but you aren't given the option to take off the arms.
Which is one of the reasons I love this Safco so much, it gives you that option. As a result of going armless, it does make the 20 inch wide seat more comfortable for us wider people.
Thankfully this chair has a really good weight capacity that will suit a good number of heavy people. They made the smart decision of reinforcing this chair to withstand maximum of 500 lbs. Having the the peace of mind when sitting on this chair without fear you're going to break it is a great feeling.
The chair itself has a maximum height of 20 inches which will suit some of the taller people out there. Sadly not for the really tall people, but for people who are at or sightly above the average height. This chair will give you that little bit of extra leg room which makes it more comfortable.
Breathable Mesh Is Ideal For Bigger People
One thing I really like about this chair is what the back rest is made out of. They made it out of a mesh that lets it breath really well in the hotter months. This is something that really appeals to me in those hotter months. Even in air conditioning, I find that I sweat a lot on fabric and vinyl chairs, so having the mesh backing really does help to keep me cooler.
While I love the design choice of what they made the back out of it. It does have one downside that can be frustrating. The back can't be adjusted to be higher, and it sits a bit low for someone my height. However, I find myself leaning forward most of the time anyways, so a tall backrest is not always required for me personally. Certainly not a deal breaker but it's something to consider.
Safco Vue Mesh Padded Office Chair
Heavy Duty Office Chairs No Arms
500 Lbs Vinyl Or Fabric

I think having options when purchasing a product like an office chair is extremely important. Just like with the above Safco chair, being able to chose for yourself whether or not you want arms on that particular chair is a nice touch.
This is another prime example of that, also by Safco. But with this Safco Uber chair you can choose either a fabric or vinyl version. For vinyl lovers, you can see this chair on amazon here.
So if you like vinyl you have that option and vice versa for people who like the fabric option. Me personally, I avoid fully vinyl and leather imitations as they get too hot and sticky. But that's not to discredit this chair, its just my personal opinion on the subject.
Heavy Duty 24/7 Usage Rated
Sturdy is the name of the game with this chair. This is in big part thanks to it's metal base and really strong caster wheels. This gives it that extra bit of stability and you lose that sense of it being weak and breaking on you.
But whats great about the Uber is that its rated to 24/7 use. Which means you can use this chair for a full time job and it up to the task. 40 hours or more per week and the Uber has your back.
This office chair does have an impressive 500lbs limit as well, making it even more sturdy in my opinion. While this isn't the biggest capacity chair you can get, it's difficult to find ones that let you remove the arms at this capacity. So it's something that I really like about this office chair.
The chairs seat is made out of a comfortable foam that when combined with the width of the seat being roughly a little over 22 inches wide. It really does make this chair comfortable for bigger people.
While this chair has the option of being vinyl, or fabric it has some other optional features that I like. You do have the choice to get this chair with armrests and getting a shorter Pneumatic cylinder. This gives it some options for people who are shorter and heavier than average.
Assembly of this chair can be a little frustrating especially when you try and get the back rest on. This isn't a big thing but it's something I've seen come up several times so there does seem to be issue there. It only seems to take a bit of common sense to figure it out tho, so it's not big of an issue.
Safco Uber Office Chair 500 Lbs Capacity
Armless Office Chairs For Overweight People
Assembling an office chair can make or break it in my opinion. Having poor instructions or being just difficult to put together can get you off to a bad start, which will make you dislike the chair. This is not the case with this office chair with it being incredibly easy to set up, so you can get right into using it.
While the weight capacity on this chair is a bit lower than some of the others on this list. It still gives you a decent max weight capacity of 400lbs which will be a good enough for many heavy and obese people.
Adjustable Lumbar Support
The backrest on this office chair is one of its best features in my opinion and something that really makes it worth considering. It has a nice high back that makes it really comfortable to sit in. When you combine this with its adjustable height lumbar support and the reclining feature, it can be a really relaxing and supportive chair to sit on.
For those of us in a warmer climate having a chair that doesn't breath is almost a requirement. Thankfully they made the back of this chair out of a mesh as well, which just adds to this chairs comfort levels even more.
A lot of people seem to struggle with getting this chair to recline. It's simple to do and improves how good this chair already is. The chair has a knob underneath the seat that when you turn will loosen up the back of the chair and let it recline.
Sadly if there was one downside to this office chair it would be the seats cushion. If you like firm seat cushions then you will be alright but personally I prefer some more cushioning. Fortunately, there are seat cushions for heavy people which can withstand up to 500 pounds of weight. Adding something like this to this chair would make it just about perfect I reckon.
Flash Furniture HERCULES Series Big & Tall 400 lb
Hercules Armless Series By Flash Furniture
400 Pound Weight Capacity

Having an office chair that looks nice does make a difference in my opinion. Which is one of the many things I like about this Flash Furniture office chairs. They have a really professional look and do stand out more than your average office chair.
Flashing Furniture did something that I really like with this office chair. Which is they give you the option to get it in either a stylish leather, or a comfortable fabric. The 400 pound capacity fabric Hercules can be found on Amazon here. This is something I wish more companies would do since not everyone likes one or the other and giving them a choice is a good move.
High Weight Capacity Without Arms
The base of this chair is extremely solid and weighs a good amount, which gives you comfort in knowing its not going to break under you. When this is combined with its maximum weight capacity of 400lbs does make it really sturdy and even more durable.
Comfortable backrests are really important with office chairs and if it's uncomfortable, the chair is close to useless in my opinion. Thankfully they did the clever design of making this chair have a high backrest, with a slight headrest. It does add a lot to the comfort and overall value to this chair.
This chair has a really good seat width in my opinion. It has a width of 23 inches which does make life easier for those who do have some width to them. It's these small types of smart design choices is what sets this chair apart to others on the market. Again, going armless means the seat can be a nit smaller if required as you aren't as restricted by the arms in place.
When it comes to assembling this chair it's really simple, even tho it doesn't have worded instructions. It's got the mosaic image instructions which are simple to work out. It doesn't take long to assemble this chair with it really only taking maybe 30 minutes if you set all the parts out properly first.
Hercules Executive Ergonomic Office Chair with Full Headrest
Armless Office Chairs Are The Best
So there you have it, some viable armless office chairs for the heavy people. Its nice to see that the manufacturers haven't forgotten about the oversized community and provided ample options for the people that prefer an office chair without arms.
Some may disagree with me when I say that armless is the best, but this is just my personal choice. As a larger person myself, I know how restrictive arms can be on any office chair, especially if your desk is not adequately sized to cater to oversized office chairs in the first place. Sometimes, there is just no room for the addition of arms.