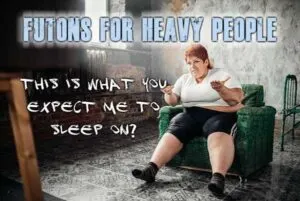 While futons come in a variety of styles and shapes, when it comes to futons for heavy people, the number one factor to consider is high weight capacity.
Followed closely behind is sleeping space. Without the combination of these two factors, the futon could potentially break beneath you.
Whether you need a futon to act as a spare bed for overnight guests or if you are simply buying one as a stand-in regular bed, chances are you want one that can handle overweight and obese people. Whether it's for yourself, or guests coming to stay, there's nothing worse than braking a piece of furniture.
Especially as a big man spending the night at someone elses house. The embarrassment and awkwardness of the whole situation can get out of control. So if the futon is for you, great, but if you are buying one anticipating heavier guests, do them and yourself a favor and buy a heavy-duty futon.
Compare Heavy Duty Futons
How Much Weight Can A Futon Hold
With the exception of the last one on this list (500 Lbs) and the first option (800 Lbs), the remaining futons on this page can hold up to 600 pounds of weight. However when it comes to stating how much weight a regular futon can hold, well that's a question no one can answer with 100% certainty.
Manufacturers test their products to a certain weight point to include in the product description and also use it as a selling point. Now for me, a futon without such a weight capacity listed sets off alarm bells.
But this is not to say that it can't hold your weight. But I for one would probably prefer to stick to a futon with a capacity listed. This way you can at least challenge the seller should anything horrible occur. Chances are most heavy-duty futons could potentially hold 500 pounds or more, but that's not a risk I'm willing to take.
800 Lbs Capacity Queen Size Futon

The highest weight capacity futon that I could find with specifications actually listed is the 82″ Modern convertible folding futon bed by TYBPATLE. It has a heavy duty rating of 800 pounds which is thanks to the iron and solid wood configuration which helps to distribute weight evenly.
The mechanisms that hold the futon in position are solid wood legs with an iron center leg. Which means, no flimsy resin or plastic-like materials that can decay quickly under intense weights.
The futon is also a Queen size in terms of width (81.1″x 38.58″) which is a good size for the heavy person spending the night. This does mean that it takes up more of your living space, but in the interest of the heavier persons health, its very much worth it.
Med-Firm Density
This level of padding and the dense structure give this futon a medium to firm density. Which I find most heavy people will find comfortable. Anything too plush and the bed just becomes flat like a pancake. There's enough density to provide the right amount of support.
Some people may prefer the mattress to be firmer, but as it is also a sofa, I feel the medium to firm density is just right. As the frame of the futon can hold up to 800 pounds, it makes this futon one of the best options for the heavier persons.
---
600 Lbs Weight Capacity Futons

With futons often being quite large that they can draw your attention to them. Most likely you want them to look stylish which I think this DHP Futon achieves. It's a very nice looking futon that comes in two color options being beige and gray.
The frame of this futon is something that really makes this futon stand out compared to others on the market. The walnut finish on the armrests of this futon is really stylish. Combine it with the black metal base and it's a quality looking futon.
Sleeping on a futon can be a horrible experience if you don't have the right mattress for it. This futon has a 6-inch thick polyester/cotton-filled mattress which is really comfortable. Being a slightly thinner mattress does mean it needs to be firmer in order to hold its shape for the heavy person.
Firmer Mattress
I find the mattress on this futon to be quite firm, but not so hard its impossible to sleep on. Remember us larger people need extra support and density to hold our weight successfully.
While I like this level of firmness to a mattress there are some people who are of the older generation who find it to be too much. So this is something to take into consideration if you're a bit older.
Putting a futon in and out of it's sleeping position can make or break a futon. If it's to difficult it's hard to make it worth doing it, which isn't the case with this futon. It's easy to do that you can do it with one hand!
One thing to note with this futon is that the assembly can be difficult taking some people several hours to do. It's highly recommended to have two people when attempting to set it up, this will just make your life easier. But once you're set-up, using the futon is considerably easy.
---
600 Lbs Capacity Armless Futon

DHP is known for making a lot of great quality furniture such as daybeds, that doesn't break your wallet while being suitable for heavy people. They've achieved this again with this incredible futon that has an impressive 12 color options. This gives it lots of versatility for people's rooms as there is a color for almost everybody.
It's a very firm futon which is something some people really like and others not so much. It's not too firm you can't sleep on it but a lot of people recommend getting a mattress topper, that's if you plan on making this more of a permanent bed. Tho a firm mattress can be better for your lower back.
3 Position Futon
Some of the best features of a futon are how they're customizable with there backrests. This futon can be put into three different positions with it up like a chair, down in a bed position, and my personal favorite you can have it in a lean back position. This leaning position is perfect for when you're watching moves or binging a TV show.
If setting things up is something that you have issues with and something you detest. Then there is some good news for you and this futon, as all you need to do to set it up is put the legs on it. So the setup time isn't very difficult or long at all.
The sleeping dimensions of a futon are important as they need room for two people or a larger individual. The length and width are 71 inches and 43 inches respectively which is a decent amount. However, it might be a little narrow for some people.
---
Heavy Duty Black Suede Futon

Having a variety of color options and the ability to come in two different sizes makes this a good futon to consider. The multiple colors give a good chance for it to suit your room and the two different sizes let it fit in different areas.
These are both great advantages to this futon and having a 600-pound rating, means heavy people can also enjoy the futon.
Not only does this futon have a multitude of colors to choose from, but it also has the option of coming in three different covers. You have the choice of fabric, faux leather, and suede covers. This is useful for those who want a certain style or look for their futon.
Solid Wood Base Futon
It's a very heavy duty futon thanks to the solid wooden base and 6 metal legs. This makes it very solid when either sitting or laying down on it. Which gives you good peace of mind when sleeping on this futon.
Being a futon that has 3 different positions adds a lot of value to a futon which is another big plus for this futon. It has the usual three positions of seat, reclined, and sleeping. This is a feature I highly recommend to most people looking for a futon.
While this is a comfortable futon thanks to the comfortable foam padding, it has one slight drawback because of the way they designed it. Since the cushions aren't one solid piece the middle of it has a little bump which can be uncomfortable for some people. This is only a problem in the beginning as with some time it will flatten out.
Note: Not all options available on the single amazon product page. You may need to hunt around to find them
---
High Weight Capacity Armchair Futon

This is a very modern-looking futon that's not only stylish but comfortable, which will make a great addition to your room. This is one of the few futons that when you look at it that you think it's just a normal couch.
So if you're someone who doesn't necessarily like the look of futons, but wants the functions, then this is a good option.
The armrests on this futon are really comfortable because of their design. Since they're curved down the curvature really suits your arm when resting on them. While this is good for relaxing, it's not good if you want an armrest you can rest a drink or something on.
DHP has a knack for making their futons really comfortable and this is the same with this futon. Something they like doing is making there cushions a bit firm which I don't mind. So if you don't like firm a mattress topper will help make it a bit softer.
With most futons, you may worry about how comfortable they are when they're in their sleeping mode. For me, the sitting comfort is also just as important. In some cases, the seating needs to be more comfortable since they use it as a couch more and a guest bed on the occasion. Which is what I like about this futon, it's got extremely comfortable cushions for sitting.
If there was a downside to this futon is that it can be difficult to clean according to some people. Which this can be a problem for some people who have kids or animals. But for the heavy person, the 600-pound capacity makes up for this.
---
Best Futon for Big & Tall People
78.5″ Length

You may think I'm a bit of a fan of DHP which I am, but this isn't the reason why you see them so many times on this list. The biggest reason for me is that they make a lot of quality furniture that's designed for the big and tall crowd, which a lot of companies don't do. Since they do this and keep such a high standard impresses me.
While this is a split-back futon it doesn't have the usual problems that this causes. Normally this makes the cushions uneven or a bump and makes it uncomfortable to sleep on. While this has a very slight bump it's so small it doesn't affect you when you sleep.
The length of this futon is really good which makes it good for taller people. The total length is 78.5 inches which is close to 6'5″ in length so if you're taller then this will still be a problem. But for most other people this will plenty of room.
One thing I do like is that they made the smart choice of including padding under the wooden feet. This is really good if you have wooden floors and are worried about scratching them, which more companies need to do.
This is an easy futon to set up and down for when you need it. The only issue is if you have it up against a wall you need to move it away from the wall to put it into it's sleeping position. A small thing that's worth mentioning.
They keep their design of firm cushions as their other futons which have the same advantages and disadvantages as the others. It also has the three positions that all futons should have!
---
500 Lbs Futon Sofa With Cupholders

There is a lot to like about this modern designed futon. It has a lot of the features you want in a futon and a few extras that make it even better in my opinion. When you combine it all with its stylish look you have one of the better futons going around on the market.
The most obvious and biggest drawcard to this sofa compared to the others is the extremely useful cup holders. This makes it a great futon for those who like to watch movies and binge shows in comfort. You can also fold it up so you can fit an extra person on the chair.
Armrests Can Be Removed
I really like the armrests on this futon as they're quite comfortable to rest on and can act as a stand-in pillow should the time come. They're removable for when you don't need them or if you don't like armrests in general. This is a small feature that's appreciated when they include it.
This futon has the lowest max weight capacity on this list of futons. While the others are all 600lbs plus, this one is only 500lbs. It's still a good amount of capacity but for some people, this won't be enough.
If there is one downside to this futon is that it only comes in faux leather which is comfortable but has one drawback. In the warmer months, faux leather can get quite warm when you're sitting or laying on them for extended periods. This can get uncomfortable and sticky in the warmer months, unfortunately.
But overall I'm quite impressed with this futon by 'Best Choice Products'. I really like the modern appeal and the central cup holder compartment. Just looking at it, you wouldn't think it was a futon. Which I find is a huge bonus to this model.
---
Alternatives To The Futon For the Bigger People
While there are a number of futons for heavy people listed above, you may still not be quite satisfied with the options available. Fortunately, there are a number of ways to accommodate larger guests via other means. These include:
Sleeper Sofas – These heavy-duty sofas can fold out to produce a suitable bed for larger guests.
Daybeds – Heavy-duty daybeds for people up to 500 pounds.
Rollaway Beds – These beds make for great guest beds for people up to 500 pounds in weight.