I hope you love the products I've recommended below, just a heads up that as an Amazon associate, I earn from qualifying purchases. This means I may earn commissions on products bought via links on this page.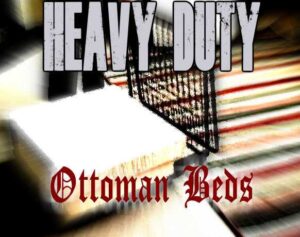 Heavy duty ottoman beds are the ideal sleeping solution for oversized guests that drop by unexpectedly. There's no fussing around with blowing up an airbed, or dragging out a folding bed, as the ottoman is already there ready to go.
However, as any big person knows, not all products are designed for handling heavier weights. Which often means the big person has to miss out. Just about everything these days has a 220-pound weight capacity, which is not nearly high enough for the heavy person.
Fortunately, there are a few ottoman beds for heavy people available. But finding them can be difficult, as they are few and far between. The ottoman bed seems to be a relatively new concept and one that hasn't fully expanded into the heavy-duty market to its full potential.
So until then, these are the best ottoman beds for big and tall people. Starting from the highest weight capacity and working its way down the list of 5 suitable options.
440 Lbs Capacity Ottoman Bed For Heavy People
Reinforced Steel Frame
A heavy-duty ottoman bed makes a great addition to anyone's place as they're able to cover several different tasks that generally require multiple items. It's this versatility of the Diophros folding ottoman bed that makes it an impressive piece of furniture that is not only practical but stylish also.
It's hard to know where to begin with this tremendous ottoman bed since I feel it excels at everything it's designed to do. As a folding bed, your guests will thank you since it's exceptionally comfortable, thanks to its surprisingly thick high-density foam.
The level of comfort gets even better due to the size in which it offers, with it being 74.02 inches long and 37.4 inches. This amount of space gives you plenty of room to stretch out and feel confident in knowing you're supported.
One of the things that make this ottoman stand out from the rest is the multiple positions available for the backrest. You can lay it flat or have it angled so you can relax even more! When you have the front of it up, it turns it more into a recliner, which is just one more thing this amazing ottoman can do.
The upholstered linen fabric comes in two different colors, which are light and dark grey models. I would like more options personally, but these two colors will complement most people's places.
Usually, when you get a new piece of furniture, you're stuck having to assemble it, which does take the wind out of the sails. The best thing about this ottoman bed is that there is no assembly required, so you can just set it up and start relaxing! One more reason to love this fantastic ottoman.
Ottoman Bed For Big & Tall People

Triple furniture has made a very stylish looking ottoman that not only looks great but performs equally as well. It comes with a grey suede cover, which is elegant and will blend well with a lot of people's furniture.
This ottoman only has two positions, which are as an ottoman or as a bed. While it only offers the two positions, and it does both of them well. As an ottoman, it makes for a comfortable footrest or simple chair to sit on, although there is no backrest to lean against, so you won't want to sit for too long.
In its bed position, it is 78 inches long and 28 inches wide, which is an ok amount of room. However, I would prefer the bed to be wider to cater to the extra-large people. Even tho it's comfortable when in its bed position, I do think a lot of people may find the pillows to be a little thin.
High-Density Foam
Apart from the pillows not being the best, the mattress itself is made out of a high-density foam, which does hold its shape well. Us heavier people, need a high-density foam to support the more significant body weight.
One of the most frustrating things with a folding ottoman is how difficult it can be to fold up/down. Fortunately, this is not an issue for this ottoman as it only has a few simple folding steps that are simple and don't require a lot of effort to open. No dealing with some ridiculous mechanism that may break, it's just simple folding.
Owning an ottoman is about saving space while being practical. So having furniture that takes up half your loungeroom is not going to help anyone. This is one of the reasons I like this ottoman, it's compact when you have it folded down measuring 28 inches wide by 28 inches wide, and 16 inches high.
300 Lbs Capacity Ottoman Bed

Handy Living lives up to there name with this impressive ottoman that comes in very handy! It's a handy ottoman that makes a great guest bed and comes in a total of 4 different cover colors. So there's a lot to like about this ottoman right off the bat!
No matter what color you choose, you will get a fantastic ottoman that is comfortable to sit or sleep on. It has a foam material for its cushions which is satisfying but a little thin for some people. But it works really well with the sinuous spring base that doesn't require a box spring.
It's a little smaller in the bedding department then I think some people will like, as it's only 26.8 inches wide. The width of the bed might be an issue for some of the broader people out there. It still has a good length at 75.2 inches, which means the ottoman bed may suit tall people to a degree.
Thankfully they made the intelligent decision to make the frame out of steel. Being a heavy-duty steel frame does give it a bit more durability compared to some other ottomans on the market. Having this extra durability does give the heavy person peace of mind when sleeping on this ottoman.
This ottoman has the best of both worlds, in that assembly is non-existent and folding it super easy. It was designed with simplicity in mind, and I feel that Handy Living has done that with the product. This is the kind of thing that sets a poorly designed ottoman apart from something that is designed to be rated heavy duty.
Heavy Duty Ottoman Bed For Tall People

The whole point of a folding ottoman is to be convenient, and if it doesn't achieve this, then it's not worth using. The entire idea behind them is to make your life easier and free up storage space where a guest bed would typically reside.
The Space Saver iBed Ottoman is a unique design that has left me quite impressed. The thing I love the most is that it has a headrest when it's in the bed position. Where most ottoman fold into a box then requires the need for a cover. This ottoman folds into itself in its own box, so there's no need for a cover, and there are no sharp metal edges like others.
When you have this ottoman folded up, it's relatively small, with it only measuring 35 inches long by 28 inches wide and 16 inches high. This makes it very compact when it's folded down, which will help with saving space for those with a smaller place.
Extra Long Sleeping Pad
For the tall people out there, this ottoman has a length longer than your traditional queen size mattress, coming in at 82.5-inches long. So people taller than 6 feet, can now enjoy the benefits of a bed in a box.
The frame of the bed is made out of tubular steel, which is relatively durable. Having this extra durability gives this ottoman the heavy-duty rating, along with the 275-pound weight capacity.
This ottoman has a few different color options as well as fabric options, which is something I like. It has four different color options and two different fabric options. Tho sadly, you can't mix and match, so no blue faux leather, only blue polyester.
Overall this is an excellent ottoman with its best features being how compact it is and the headrest in the bed position. It's hard to go wrong with this Space Master.
Strong Ottoman Bed For Overweight People
270 Lbs Weight Capacity

This HOMCOM foldable ottoman is designed with what I like to call 'small quality of life features' that make it stand out from the rest. The extra time they spent making these minor improvements does improve this ottoman overall, which is something that I think you'll like.
One of my favorite improvements this ottoman has is that it has two heights you can set. So you can have it lower for a footrest or set it higher to be a seat or a more elevated footrest if your couch is high. Some people even like to use it as a makeshift table when it's at the extended height.
While the extra height is excellent, it's just one of the many improvements this ottoman has. It has four wheels so you can roll it around when it's folded up, which makes life more comfortable since there's no carrying. The wheels can also be set not to be down if you don't like the idea of them.
I don't know about you, but I know I've spent time on an ottoman bed before, and the mattress keeps sliding off. This can be annoying and make for an uncomfortable night's sleep. But HOMCOM has helped ease this issue by including velcro straps that help keep the mattress in place.
All of the quality of life improvements add up and makes this easy to recommend. It folds easily, doesn't scratch floors, and makes for a comfortable night's sleep. So there is a lot of reasons to love this ottoman, in my opinion.
Room For Improvement
While there's no denying some of these ottoman beds are heavy-duty, one can't help but feel there is certainly room for improvement. Perhaps someone will enter the market with a 500 pound option, or better yet, a 1000 pound capacity queen size ottoman. But until that day arrives, these are the best ottoman beds I have come across for heavy people.