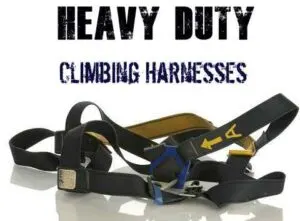 Buying a plus size harness whether you're a woman or a man can be quite a challenging experience. While some harnesses cater to 'women's' or 'men's', many are not. But even so, if you're a plus-sized person with a large waist and hefty thighs, finding a XL harness to fit is still a tricky task.
If you're a larger female, it can be tempting to simply try an XXL Mens harness to cater to the larger wait and legs adjustments. But this doesn't always work out, as men have different body shapes and sizes to Women. So while a plus size women's legs and waist may technically fit into a males harness, it's not to say the harness safely fits the woman's body shape.
Climbing Harnesses That Don't Suit Big People
Buying a heavy duty harness to fit a big man is not that easy also. Most harnesses go up to a maximum of 45 inches. While this considered large to some, for the large men, 45 inches is still not enough. Another thing to consider is putting on the harness, assuming your waist is under 45 inches.
As many harnesses don't have a clip at the waist to un-do, trying to putt a 45″ harness over your 44″ waist can prove difficult. This is because you need to get the harness over your backside and hips without the option to undo the clip at the front like you would do on regular pants for example.
While having a waist adjustment that doesn't unclip is considered a safety feature, it sure doesn't make it easy for the plus-sized person to find a well-suited harness. In order to combat this issue of having no front buckle/clip, one could buy a harness with a larger adjustable waist adjustment. This will allow you to slip it on over your backside and adjust the measurement around your waist.
So with that said, below you can find a number of harnesses for larger climbers with plus size measurements and high weight capacities.
Largest Size Climbing Harness
Up To 55.1″ Waist

Leg Perimeter Up To 29.5″
551 Lbs Capacity
Full Or Half Body Options
Climbing harnesses are an essential tool, but what's more important is that they're safe and secure. Being secure for the heavy person is what this YaeCCC climbing harness has explicitly been designed to do.
There are several things that this full-body harness does that make it stand out. One of the main things that really stands out is its weight limit, which is an impressive 250kgs(551lbs). This amount of capacity allows the harness to be used by a wide range of people.
This harness has a large number of adjustable straps that will make it fit us larger individuals. The waist size can go from 31.5 inches to 55.1 inches, which allows for room to grow. Combine this with the leg perimeter being 23.6 inches to 29.5 inches, makes this harness a great choice for bigger people.
What a harness is made from is a crucial feature to consider before buying. If it's made from a low-quality fabric, it's going to be hard to trust, especially when you weigh more than 200 pounds. This model is made out of a high strength polyester and features robust aluminum alloy. Combine this with its high weight capacity and large size adjustable straps, makes this an excellent harness for bigger people.
One thing that needs to be considered with any harness that you buy is that you should have it checked by a professional first before using it. This something I do recommend no matter what harness you get or any safety type of equipment. Even if you're not a plus-size person, but more so if you are exerting more weight on the harness than the regular user.

YaeCCC Climbing Harness
Oversized Half Harness With High Weight Capacity

Waist – Up To 51.2″
Legs – Up To 32″
Weight Capacity – 661 Lbs
There's a lot to like about this half body harness by X XBEN. Whether it's the durability or the quality of the materials they used when manufacturing it, I find it to be a serious contender for plus size people. When you combine everything this harness offers, you're left with one of the best on the market, in my opinion.
One of the critical factors to look into when buying a harness for plus-sized people is weight capacity. There's no point of it fitting you if it can't handle the weight that comes with it. Since this X-Ben has a great weight capacity of 300kgs(661lbs), just about any heavy person wanting a harness will find it compatible.
With the important weight capacity out of the way, now it's time to find out whether the straps can actually fit a plus-sized person. I find it to be a good size with the waist having the right amount of room for most people. The measurements are 19.6 inches to 51.2 inches for the waist and 15.7 to 32 inches for the leg straps.
The X-Ben harness is created using a high strength polyester that gives it the ability to handle more pressure. The adjustable buckles are made out of a high-quality alloy that is durable and gives this harness a good breaking strength of 25KN.
Even tho you should get your harness checked by a professional before use, its reassuring to know that this harness is CE and ISO9001 certified, which will give some people peace of mind before using.
Being comfortable while using a harness is essential for people who use them for extended periods. With this harness being comfortable in most situations and for long periods, it's hard not to recommend it.
X XBEN Half Body Climbing Harness
Extra Wide Climbing Harness

51.2″ Maximum Waist
27.5″ Max Leg Adjustments
661 Lbs Weight Capacity
This half body harness is an impressive piece of safety equipment that can be used by my fellow plus-sized individuals. Eleven Guns have made a splash in the safety market with this harness being high quality and durable for those high-pressure situations.
Us larger-bodied folks need that extra weight capacity and a good amount of adjusting in the waist and leg department. Which thankfully, they make this harness with us in mind due to its 300kg (661lbs) weight capacity and boasts a robust tension of 25 KN.
One of the essential things on a harness is the D rings, and what they're made of will often determine whether its worth buying or not. Often a company will go cheap on this crucial part, which is a worry if you think about it. Fortunately, that's not the case with this impressive harness with it being a stong heavy-duty metal D ring.
Like most harnesses, it has an adjustable waist buckle and leg rings, which is essential for a harness to maximize comfort and support. The waist can go from 27.5 inches to a maximum of 51.2 inches, which is quite suitable for many plus-size climbers. The legs strap adjustments go from 18.1 inches to 27.5 inches.
Even while being suspended, this harness is comfortable, which is no easy feat for a harness to achieve. So comfort is high with this safety harness and makes it great for extended periods.
There's a lot to like about this harness from the comfort to it's plus-sized friendly design. Its overall engineering is very clever, and it could be a harness to consider for your next rock climbing or mountaineering trip.
Sushiyi Adjustable Thickness Climbing Harness
Full Body Harness For Overweight People

330 Pound Capacity
Up To 47.2″ Waist
Up To 27.5″ Leg Straps
Full Or Half Body Options
This high-quality full-body safety harness is designed with some impressive capabilities. It has a high weight capacity, and it can adjust to large sizes, making it a good fit for plus size people. Kissloves has done a great job when it comes to this harness.
This oversized harness is made out of a nylon webbing that is surprisingly also quick-dry, which is a small thing but something I like. But it's the breathable mesh they put on the inside of the waist and leg loops that makes this something to recommend. Since being in a harness can be hot and exhausting work, this is a nice feature. Especially as us heavier people tend to sweat more than others, so the mesh is an exceptional feature if you ask me.
The weight capacity is an important factor since using a harness implies you're doing something potentially dangerous or life-threatening. With this harness having a maximum capacity of 150kgs (330lbs), it will allow for bigger people, up to around 300 pounds, peace of mind when using this harness.
Not only does it need to be able to hold your weight, but it also needs to be able to fit you comfortably. Unlike many other harnesses, the adjustments on this harness go quite large, even tho it's not a 500-pound capacity harness. I quite like this as not all people that weight up to 300 pounds can fit into regular fitting harnesses. With the measurements being 29.5 inches to 47.2 inches for the waist, and 19.7 inches to 27.5 inches, I find t quite suitable for more overweight climbers.
This harness was designed with certain tasks in mind such as rock climbing, rope course, and mountaineering. So it can do these jobs really well but at the end of the day, you're in charge of your own safety and should go over the harness with a professional before using it.
Full Body Safety Climbing Harness
47″ waist Professional Climbing Harness

661 Pound Capacity
31.49″ to 47″ Adjustable Waist
23.62″ to 29.53″ Leg Strap
This climbing harness by X Xben is one that was designed with comfort in mind. This is thanks to the way that the tension is distributed from the connecting loop to the back of the thighs. Because of this unique design, it feels like you're sitting in a seat which is a lot more comfortable than feeling like your torso is being ripped in half.
One thing I like about this harness is that I find it gives tremendous back support. Even when it was used with a linesman rope, which did allow for both hands to be free while using. All the while it was extremely comfortable to use, which is one of the reasons it made this list!
The extra padding that's included on this harness also improves comfort level. It makes a big difference for those times where you do get a sudden slip, as it helps with cushioning, making those scary moments a little less painful.
As with all harnesses for plus-sized people, the weight capacity is important. It has an impressive weight capacity, and breaking strength. With the capacity being 300kg (661lbs) and a breaking strength of 22KN. So it offers plenty of capacity for those larger people out there.
The specs of this harness waist and leg loops are a good size for bigger people. With the waist being 31.49 inches to 47 inches, so there's plenty of room to grow. There's also a decent amount of legroom as well with it being 23.62 inches to 29.53 inches.
I quite like how this harness offers greater leg space without making the waist size too large that the harness feels bulky on you. This will make it suitable for bigger people with thicker legs, whom don't necessarily have large hips.

While the specs of this harness are great, it's not the main selling point in my opinion. It's just how comfortable it is to use for extended periods of time. Because without long-serving comfort, chances are you won't end up liking the harness.

X XBEN Padded Climbing Harness
Should Overweight Or Obese People Rock Climb?

Deciding whether you are too big to begin your climbing endeavor begins with how well you know your body. The fact that climbing is a challenge against gravity, less is more. So with a heavier and bigger body, naturally it's going to be harder.

But this is in no way means that a plus-size person can't or shouldn't climb, which is shown in the climbing website, bigger people can climb and be leaders in the field. If you are confident in your body and understand the degree of difficulty associated with this sport, then why not give it a go.
But it's important to remember the risks and not just the obvious one: falling and crashing into the wall can hurt a lot more as a bigger person. But the less obvious ones, like fatigue on your joints.
While muscles generally respond quite quickly to a workout, which climbing certainly is, the tendons and sinews in your joints take much longer to adapt to the movements associated with climbing. In many cases, it takes years before your joints become adapt to the grind of wall climbing.
At the end of the day, it really comes down to just how big you are and your level of movement and fitness. However, it's probably sound advice to always treat this new endeavor as a beginner. Don't go getting cocky after one week, and then go pushing your body to the extreme. This is a sure way to end up injured.
The brave plus-size people that do take up climbing, generally prefer climbing as a form of exercise over something like a treadmill, which can be quite boring after a while.