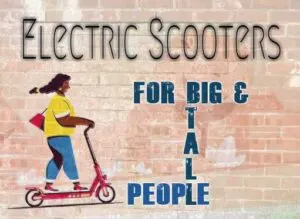 The majority of brands have neglected the electric scooters for big and tall people market, which has left many heavier riders disappointed. However, there are a few brands out there that do provide adequate electric scooters to handle heavier loads and taller adults.
As electric scooters make for a great mode of transportation for plus size adults, its a shame there isn't more options on the market right now. But we are thankful for the few options we do have, which are listed below.
E-Scooter Guidelines For The Big And Tall
Weight Capacity
For the most part, adult scooters have a weight rating capped at around 200-220 pounds. While this is fine for some of the population, many of the big brands must have forgotten that almost 40% of the US population has been affected by obesity.
That is over 93 million heavy people that have been forgotten about when it comes to using an electric scooter. But as I mentioned earlier, there are a few options listed below that are available for the people that weigh more than 220 pounds. For more options, you can check out the guide to electric scooters for heavy people.
So before you go out and buy whatever e-Scooter is trending this year, be sure to check the weight capacity on the thing. The last thing you want is a broken scooter without the possibility of a refund due to being over the maximum weight capacity. Chances are, it would void any warranty.
Big & Tall Riders Have It Tough
To make things even more difficult for the big person, scooters aren't really designed for tall people either. As many big people are quite tall as well, this does leave you disadvantaged.
Not only do you need to consider the board's weight capacity, suspension, and tires, but also the deck length and handlebar heights. Us big and tall people usually have oversized feet, making it difficult to fit our feet side by side on an adult scooter.
E-Scooters With Height Adjustable Handlebars
So a deck with extra length is surely appreciated. Next comes the Hunchback of Notre Dame issue. It's not fun at all riding a scooter hunched over due to low riding handlebars. In order to solve this height problem, some brands have produced scooters with height extendable handlebars.
But even still, this is not enough for the really tall people. Someone that is taller than 6 foot, really needs to be looking for an e-scooter with handlebars that are higher than 40 inches. So it's wise to check out how high the handlebars extend before purchasing to ensure you are not going to end up hunched over in a lot of back pain the whole time you are riding.
Best Electric Scooter For Big And Tall People

600-660 Lbs Capacity

As a big man, it's hard to go past the QPOWER by QIEWA! It has a wide range of features that most other scooters would only dream of having, but more importantly, its the best option for the big and tall people.
To even make this list, there are specific requirements the scooter must pass. With the most important requirement being the maximum weight capacity.
Huge Weight Capacity
This scooter passes with flying colors as it has an impressive maximum weight capacity. It's documented as between 280kg and 300kg, which translates to over 600 pounds. Having such a high rating will give most heavier people the peace of mind needed to risk life and limb on a scooter.
If you're big and tall, adjustable handlebars are a must. Fortunately, the QPOWER has handlebars that can be raised for taller people. The deck is also quite large to cater to larger feet typical to tall riders.
Powerful Heavy-Duty Motor
The power of this scooter is impressive as it will allow you to get up 35 degree inclines relatively easy. It's powered by 2 x 1600-watt motors that give this remarkable scooter a top speed of 55mph. This makes this scooter excellent for around-town riding and off-roading due to the monster 11-inch tires.
Electric scooters will have a certain amount of mileage, which will vary depending on how hard you push it. If you don't push it too hard and ride it casually with not a lot of hills you're going to get up to 56 miles on one charge. However, you also need to factor in your body weight. The heavier you are, the more toll it's going to take on the battery as it has to work harder the heavier you are.
The charge time on a battery can make or break a product, in my opinion. The batteries are 5C lithium batteries that take between 10 and 12 hours to charge fully. So you'll need to remember to put this scooter on charge overnight, so you're ready to go in the morning. Personally, I don't think this charge time is too bad considering the amount of power it offers.
Don't Need So Much Power?
Qiewa has an alternative electric scooter for heavy people rated to 550 pounds. This scooter has a smaller motor offering 800W. This may be a better idea for the heavier person not yet confident to ride a dual powered 1600watt scooter.
The Qiewa 550lbs capacity, 800W Q1 Hummer can be found on amazon here.
QPOWER Is Feature Packed
One thing I really like about this scooter is that it comes with a remote-controlled lock. This is a small thing, but something I like as it gives you peace of mind when you can't be at your scooter. Like leaving it at your office and having to go somewhere.
Other notable features the QPOWER offers include:
Double hydraulic brakes which are ideal for heavy riders. With 2 sets of brakes, the scooter can slow down effectively with a heavier rider onboard.
The ability to choose between 3 speeds with the option of utilizing 1 or both of the 1600w motors. Having the option to engage the second motor is a great feature for the heavier folks when it comes to tackling hills and rougher terrain.
Folds down a compact unit in just seconds.
Heavy-duty tires for a better grip when carrying heavy riders on all surfaces.
QPOWER By QIEWA 2 X 1600W Motors
Best Electric Scooter For Tall People

The above QPOWER is certainly impressive with its high weight capacity, it does make it a viable option for most of the big and tall people. However, it is quite expensive.
Big price tags are a common thing for big and heavy people, but for many, $2000+ for a scooter is out of the question. By sacrificing a bit of weight capacity in exchange for some stylish and tall handlebars, you can pick up the Inokim OX for a more reasonable price.
While it may be a cheap scooter, it certainly is not a poor quality option. The OX is considered by many as the SUV of the scooter world and you don't get that title by having mini-car features.
Big & Tall Features
Before we go any further, let's get the biggest consideration out first, the weight capacity. The OX has a rider limit of 265 pounds, which is not huge but still a good 45-65 pounds more than most.
In terms of tall person features, the scooter has a total height of 50 inches. Once you take away the height of the deck to ground height, you're left with about 43 inches from the handlebars to the top of the deck.
Making this scooter a good option for tall adults. While you may see a 300-pound man on this electric scooter around town, it's not really viable to push the boundaries on such a scooter. Unfortunately, if you are quite big and tall, the above QPOWER really is the only other option.
It's by no means easy to find the perfect scooter which has handlebars that extend past the magically 40-inch mark, while also having enough reinforcement to handle riders over 300 pounds.
INOKIM OX Super
Electric Scooter For Overweight People
Don't let the brand name 'Swagtron' stop you from considering it as its one hell of a scooter. It offers a lot of versatility for simple day to day use and running town on relatively flat surfaces.
However, as it's suitable for overweight people, pushing the maximum capacity to the limit will put a heavy workload on the scooter. So hilly towns may not be the ideal terrain for this scooter.
320 Lbs Capacity E-Scooter
While it doesn't have the highest weight capacity on this list, it still has a decent rating of 320lbs. Sadly there isn't a lot of options for us heavier people out there, so I appreciate the fact that more than one company has reinforced their scooter to be able to handle more than 220 pounds.
The motor of an electric scooter will affect a number of things which sometimes is good and sometimes bad. The overall top speed does take a hit with a lower-powered motor, depending on your situation; this might not be an issue. A maximum speed of 18mph is still a decent speed, and you'll still get to places quick enough, in my opinion. Sure is faster than walking as a heavy person.
Quick Charge 250W Motor
The smaller 250W motor does have some advantages for sacrificing some overall top speed. This smaller motor does mean it doesn't take as long to charge compared to others. It only takes between 3.5 to 6 hours to fully charge this scooter, which is a lot quicker than the scooters above.
The ability to fold a scooter down in size is an important feature not all scooters have. When folded down, this scooter will easily fit into a number of areas with two of the most important places being under a subway seat and in your car trunk.
If there was one downside to this scooter, it would be that it doesn't have an LED display for speed and mileage. You need to download an app to get these kinds of things, which might not be an issue for some people, but it's something personally I don't like.
Swagger 5 T High Speed Electric Scooter for Adults
Electric Scooter For Big & Tall Person


This electric scooter is designed with comfortable riding in mind, which is why I'm glad they also made it accessible for heavy people.
Having a 500-pound weight capacity is certainly up there compared to the majority of adult e-scooters. This combination of comfort and high weight rating makes it easily deserve its place on this list as it hits all the requirements.
The first thing you'll notice with this scooter compared to the QPOWER above is that this YANG scooter has a seat. This seat is essential as it's a big part of why this scooter is so comfortable to ride. The seat is made even more comfortable since it has its own shock absorbers making for a much smoother comfortable ride in my opinion.
Us larger riders can get tired quickly, and having the seat option available makes complete sense to me. Even when you're not physically doing much, the legs can get worn down rather quickly with the amount of pressure they can be under when gripping onto the deck.
A Safe Ride Is A Must
Safety is a high priority for this scooter, which should be for all scooters. But Yang hasn't cut any corners here and have provided a relatively safe to use scooter. This is because it has a double braking system, which means your going to be safer when trying to brake. Because this scooter has an anti-lock braking system, lockups are a thing of the past.
The motor on this electric scooter is a decent quality 500W brushless motor. This does give this scooter a lower maximum speed, but I don't think it's to slow personally. The maximum speed is 15.5mph, which is great for running between places and short trips to the shops. I don't feel too safe at my size going much faster anyways.
Relatively Fast Charge Time
I find charge time on scooters to be one of the most important factors for an electric scooter. The longer a scooter is out of commission charging, the less useful it's going to be. This scooter takes between 6 to 8 hours to charge fully and can be done once you're at work. However, it's still recommended to charge overnight tho to ensure the battery fully charges.
I find there's a lot to like about this Yang scooter and it'll make life easier, which is why I like it so much. The quicker charge times and how comfortable it is makes it worth your time to consider if it's right for you.
YANG 500 lbs Electric Scooter Adults