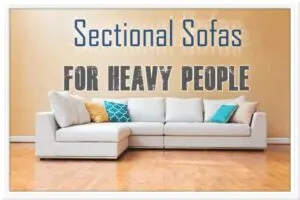 After spending many hours researching the best sectional sofas for heavy people, its become quite apparent that the majority of these sofas don't have labelled weight capacities.
So whats a big man to do?. While it certainly does make it harder to find a suitable option online, the absolute best way is to go in store. Here you can question the sales person and ask them specifically about the heavy duty rating of the sectional sofa.
If the salesperson can't give you a definitive answer, walk away. However, in saying that, many sofas lack a specified weight capacity. So more often than not you will have to go with your guy feeling. Does the chair have a strong foundation, is it wide enough, is it deep enough etc.
Try out the sofa and put all your weight into it. Really give it a good test run. If you notice and initial creaking or wobbling, this may be a sign to look at another model.
Buying Online
Its not always easy for us bigger people to get down into the store and try out a bunch of sofas. It's also not easy telling some random person you just met how heavy you are and if any of the chairs they sell can handle you weight. So buying online is the only option at times.
As I have already listed suitable sofas for heavy people, listed below are some of the heavy duty sectional sofas I've found online that do have a weight capacity labelled.
Do note: Its always best to ask the question. If you have any concerns about the sofa, ask the seller if there's an official listed weight capacity. Knowing the sofa can hold your weight plus the weight of any other people in the house is reassuring, especially when buying such a bulky item like this.
Heavy Duty Sectional Sofa 1500 Lbs Capacity

The first of the heavy duty sectional sofas is by Coaster Furniture. The Coaster website has this sofas listed with a 1500 pound weight capacity. This of course would have to be somewhat evenly distributed.
Having this high capacity does allow a couple of heavy people to safely sit and relax on this sofa without the fear of breaking the frame. Speaking of the frame, its made from hardwood that has been kiln dried for extra strength and stability.
The seating consists of individual pocket coils. This is perfect for the heavy people for a number of reasons:
Pocket coils will last longer than your conventional foam seating. Remember how you last foam sofa use to be so thick and supportive, but now its a flat dense pancake?.
The springs distribute weight better, meaning if a heavy person and a lighter person both sit on the same sofa, the springs work independently to each other. Each person will get a cushion that contours to their body weight, not affected by the person sitting next to them.
Consistent and supportive seating: Springs provide a better support system for heavier people as foam will just flatten out over time. Springs also pop the cushion back out after every use. So you get consistency from the spring time after time. Whereas foam eventually dies out.
The overall look of the cushions will maintain during the lifespan of the sofa as a result of the individual pocketed spring system.
Overall, It's The Best For Larger People
The 4 seat sofa is also reversible, so you can chop and change the design to make it fit into your living space. The back cushions which are nicely button tufted are also removable. This makes getting comfortable a lot easier and cleaning the sofa a breeze.
Overall, I find the Coaster Furnishings sectional sofa one of the best options for us heavier people. It's large, features a large chaise so we can nap in comfort while boasting a high weight capacity.
The addition of the individual pocket springs seals the deal for me. They provide the best kind of support a heavier person needs, while not flattening out and loosing there support over time.
Coaster Home Furnishings 1500 Lbs Sectional Sofa
Velvet Fabric Sectional Sofa 800 Lbs

The next suitable sectional sofa for heavier people is by Rivet. This set has a combined weight capacity of 800 pounds. Being a 4 seat option, it can be utilized by a couple of heavy people while staying within the recommended weight capacity.
The metal legs give it the strength it needs to support 800 pounds while also adding to the modern mid century appeal. The frame consists of hardwood for extra strength as well.
The seat sits about 18 inches from floor to top of cushion, which is a good height for most people, especially heavier people as anything too low makes getting up much more difficult.
In terms of seat depth, you get a generous 29 inches when the pillows are removed for sleeping on. Or with pillows on for seating, you get a depth of 21 inches. The back pillows can be considered a little overstuffed, which does chew up a bit of the depth of the seat. But over time, they will soften in size naturally.
In terms of eye appeal, the Rivet Emerly doesn't disappoint. Available in an array of colors, Emerald and Navy being the standouts for me, you can choose to suit your decor. Do note the sofa is a velvet type fabric, so running a lint brush over it on regular intervals is a good idea to get rid of lint/hair that may stick to the fabric. Overall its velvety soft yet supportive enough for larger people.
Rivet Emerly 800 Lbs Sofa
Media Room Sectional Sofa 300 Lbs Per Chair

If you've got a spacious media room that needs filling, this option by Homelegance is up for the task. The 118″ sectional sofa allows for user up to 300 pounds per seat. Being a 5 person sofa, this sofa can hold up to 1800 pounds. Which is quite impressive.
Being available in either black or brown, the sectional sofa makes for a good movie chair, but can always function quite well in your living room provided you have the space.
There are manual recliners built into this sofa, one on each end. They also double up as glider chairs which can glide back and forwards.
On one end there's also a built in twin cup holder between seat 1 and 2. Behind the cup holders is a flip up storage compartment for keeping your TV remotes and such hidden in.
The material used while is not genuine leather, is quite good quality nonetheless. Its called a gel leather. Which basically means a mix of melted leather and polyurethane to create a leather appeal, without the high end price tag. A unique way to avoid wasting leather off-cuts and benefiting people that can't afford real leather.
While its not real leather, the Homelegance does do a good job at supporting the heavy people. With a 300 pound weight capacity per seat, it's hard to find a sectional sofa like this without paying top end for a custom build.
Homelegance Recliner Sectional Sofa
Best Sectional Sofa For Small Living Space With High Weight Capacity

This is a little gem by Scott Living. Its got a high weight capacity of 750 pounds and it won't eat up all your living space. So its ideal for smaller spaces with heavier people. The popularity of this sofa is shown by how often it becomes out of stock. So be sure to not hesitate on this sofa if its available and its what you're after.
The Scott Living sectional sofa is a 2 seater with a chaise, which is reversible. So you can switch the chaise to the end that best suits your needs. But if you're looking for a sectional sofa for a heavy couple, this is a good option.
The 750 pound capacity split between two heavy people not only gives you the heavy duty rating, but ample space to comfortably sit and watch TV, read a book, play video games etc.
The storage chaise is a decent size as well. It measures about 27″x23″ so you can store your throw blankets and books without taking up any additional space in the living room.
The finish on the Scott living sofa just looks a million bucks. The design features receding arms that add an extra element of modern class to your living room. The soft fabric consists of a cream and grey tweed. The cushions, which are reversible as well, are nice and thick. They provide great support for larger bodies. The construction of this sofa is very sturdy making it ideal for the heavier people.
Scott Living Montgomery Sectional Sofa 750 Lbs
Additional Sectional Sofas For Heavier Persons
The above four options are the standouts from my research into heavy duty sectional sofas. While I'm sure there are many more out there, the lack of weight capacities makes it difficult as a big person to commit.
If the above styles didn't suit your decor and living room, take a look at the additional options below. With weight capacities from 600 pounds up to 1500 pounds, these sectional sofas are designed to hold heavier people.
| | Capacity | Features | Price |
| --- | --- | --- | --- |
| | 1500 Lbs | 5 Person, seat height 17.7", High density foam, High end sofa. | Check Price Amazon |
| | 710 Lbs | 2-3 seats, no tool assembly, reversible faux leather, firm support. | Check Price Amazon |
| | 660 Lbs | Pocket coils with Serpentine springs, Durable fabric, solid wood frame. | Check Price Amazon |
| | 600 Lbs | *Convertible sofa bed option, lift up chaise storage, collapsible headrest. | Check Price Amazon |