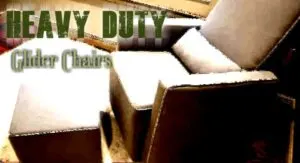 There are a few benefits to owning a glider chair such as they don't mark the floor and they offer a very smooth rocking sensation, but as a larger person, it's not easy to find suitable options. After going through countless options, I have found a few gliders for heavy or obese people for indoor and outdoor use.
Whether you're looking for a new addition to the nursery or looking to add a new element to the back deck, when you're over 220 pounds in weight, the options become quite scarce. Finding a suitable heavy-duty glider capable of handling heavier weights is certainly a mission.
Especially for indoor use, manufacturers seem to not provide more than 300 lbs gliders. This is a huge shame because we bigger people love to gently glide back and forwards too.
When it comes to nursing chairs for heavy people, I find it quite odd that the majority of gliders aren't suitable for an obese person, woman, or male. According to the New York Times, one in five pregnancies is an obese woman. When you consider the weight of the baby on top of your weight, it just doesn't make sense.
While the number of high weight capacity gliders may be small, there are alternatives. Such as a 500 pound indoor rocker. Rocking chairs have long been used for nursing babies so it's certainly not odd to go with a rocking chair over a glider.
Moving to outdoor gliders, there are more heavy-duty options for overweight and obese people. Why they can't provide the same reinforcements and materials on an indoor model is beyond me. Moving on, below you can find both indoor and outdoor gliders suitable for people who weigh more than 220 pounds.
Best Nursery Glider For Heavy People

Whether you're still pregnant or just had bub, the last thing you want is to feel cramped and uncomfortable. As a bigger person, this is easy to do due to average size chairs being too narrow.
This is why I feel the Babyletto Tuba Extra Wide Swivel Glider is the number one choice for obese parents. Not only does it look the part, it also provides quite an enjoyable seating experience.
First of all, the Babyetto Tuba is a 300 pound capacity glider that can be found on amazon here. The highest I could find in regards to gliders for nursing rooms or indoors use. The construction of these chairs is done by hand, so you can expect a stronger finish compared to a manufactured chair.
One Of The Widest Seated Gliders
It's pointless having a higher weight capacity if you can't fit between the arms of the glider chair. Fortunately, the Babyletto Tuba provides ample space between the arms for heavier people.
When you measure from the inside of the arm to the other inside of the arm, you get around 26 inches of seating space. Which is quite wide compared to many 18-20 inch seats.
The Babyletto is a glider and swivel chair which allows you easier access to various areas of the nursing room. For example, if you're needing to get to a baby wipe pronto, but you're facing towards the window, you can swivel around to the changing table without having to move.
A handy feature for sure all while being able to take advantage of the gentle gliding sensation. Should the baby decide its time for its dinner to come back up all over the chair, the Tuba is made from an easy to clean fabric.
The fabric this chair uses that makes cleaning up mess easy is a chemical free woven polyester poly-fiber. The woven appearance consists of a grey and white color which looks amazing.
In terms of comfort, the chair also includes a lumbar support pillow. Anyone who's had a baby before will understand how important this is. Pain in the lower back after giving birth can be horrendous.
All in all, its hard to find a better quality glider with a 300 pound capacity and a extra-wide seat. While it would be nice to see a 400 pound glider version, it just isn't so. For me, the quality and oversized appeal are the main characteristics that prove the Babyletto Tuba is a winner.
Babyletto 300 Lbs Tuba Glider
Oversized Nursery Rocking Chair 300 LB

While there is nothing wrong with using a gliding chair, there is an alternative that has a long history of being great nursing chairs. This is using a rocking chair like this model from Esright who has designed this chair to be larger than your standard chairs giving you more room.
Commonly referred to as the chair and a half glider, this chair measures 40.9″ wide with a distance between the arms 31.5″. This is ample room for most larger parents looking for a place to sit back and gently glide themselves or their child to sleep.
With Esright using soft polyester fabric, they have made this rocking chair exceed at allowing you to sit in it for long periods of time. The fabric breaths extremely well which allow you to stay cool when you're rocking on this chair.
Gentle Rocking Motion
There is no secret that gentle rocking will help your baby sleep so it's important that this rocking chair has this in my opinion. The solid wooden legs allow this chair to have a very gentle rocking motion that will not only put your child to sleep but also you.
This comfort is drastically improved by the thick padding they have used for the seat cushions. They add a new level of comfort which makes it feel like you're sitting on a cloud which is something I think all of us like the sound of. This works really well with the fabric I mentioned earlier.
Nice Added Bonus
Something that some people will appreciate is that assembling this rocking chair is really easy to do and doesn't require an engineering degree to do. This helps saves time and eases the stress during a fairly stressful time for most parents so it's something that I like.
Esright Grey Upholstered Rocking Chair
Heavy Duty Oversized Glider

While this glider by Baby Relax has a lower weight limit of 250 pounds (according to Hayneedle), it makes up for it by being oversized. Providing you with the wiggle room needed as a plus size person.
Between the arms, this Coco chair has roughly 32 inches of space with a seat depth of 21 inches. This is one spacious glider which gives bigger people enough room to sit and glide alone or invite a child or two to join in (If they're lucky).
While this glider is oversized, it does not swivel. So be sure to set it up in the perfect spot so you can access your TV remotes, side table, change table, or whatever you need. The arm height is roughly 25 inches from floor height which is perfect for resting the arms while holding a newborn.
The gliding sensation is pretty basic, yet it is rather silent. Which is a good thing, especially when trying to rock a baby to sleep. But because its so quite it can also be used as a lounge room chair. The beautiful grey fabric with the timber finished base make this chair appeal to many markets, not just the nursery chair buyers.
Baby Relax Oversized Glider Chair
300 Lbs Glider For Big & Tall People

There's been some confusion online over the DaVinci swivel gliders in regards to their weight capacity. According to the DaVinci site and the amazon description, the gliders have a 300 pound capacity and not a higher 500 pound capacity.
But with that said, this option by DaVinci is a great glider for big and tall people due to its high back and overall height. In terms of sizing for the big and tall people, these are the numbers that matter:
Seat Height: 18.5″
Seat: 22″W x 21″D
Overall height: 39.5″
Backrest: 16.25″
So for a glider chair, its well poised for the big and tall. The seat is quite big compared to many others while the high back offers valuable shoulder and neck support while nursing a baby. Speaking of the backrest, it also folds down onto the actual seat. This makes it easy to transport but also for storing when not in use.
The DaVinci Olive is also a full swivel meaning it can swivel the full 360° while also having the ability to glide back and forwards. This particular chair also comes with a matching ottoman so you can really relax. Put your feet up and drift away from the stresses and pressures of day to day life.
DaVinci Olive Swivel Glider 300 Lbs
Heavy Duty Recliner Glider

With a weight capacity of 275 pounds, this reclining glider by Coaster Home Furnishings provides a cloud like comfort via the reclining function with the gentle rock of the glider. While it falls short on traditional rocker recliners in terms of weight capacities, this one is classified as a glider rather than a rocker.
In terms of comfort, this is a glider that raises the bar. It's extremely well padded offering some of the most plush comfort you can handle. This type of glider is certainly for the people that want to doze off into nothingness as there body is submerged in pure comfort.
But in saying that, it's not overly huge. So tall people may feel a little ripped off here. If you're over 6 foot, chances are your head will not be as well supported. When its fully reclined, this glider stretches out to 67.5″. Where a tall person really needs something closer to 80 inches.
But if you're under 275 pounds and not too tall, buy this chair can offer some dream like comfort. If you plan to use this in your nursery, its a win win. Because once you're done with it in the nursery, it can become a new lounge room recliner.
Coaster Home Furnishings Weissman Upholstered Glider Recliner
Heavy Duty Outdoor Gliders

This outdoor glider is certainly for the obese people. With a huge weight capacity of 500 pounds, most heavy people will be able to take advantage of doing absolutely nothing as they rock themselves to sleep on the back patio.
What I like about this particular line of chairs is that they offer you multiple choices. This one is suitable for one person, but they also have a glider bench which is 38 inches wide.
This particular glider however is rated to hold 500 pounds and is built for outdoor use. So no need to worry about rust due to the powder coating and no need to worry about deterioration of the seat.
This is because its made from a very supportive textaline material which is designed to hold its shape and durability against harsh weather. Its said to be tear resistant, but this is not something I'd be willing to put to the test.
In terms of size, its decent. It's not a huge chair but solid enough to hold larger people. The width of the chair is 24 inches while the depth is 18 inches. I would have preferred the depth to be 3 or 4 more inches deeper to cater to extra height. But average and shorter height people will enjoy the depth and the seat height of 17.8 inches.
500 Lbs Outdoor Glider
Hefty 800 Pound Capacity Glider Bench

Another great product in the Amish line of outdoor furniture is this 4 or 5 foot 800 pound capacity glider. Made in the USA to commercial grade quality, the Amish outdoor glider comes in a variety of different stained colors, including unfinished so you can paint/stain to suit your decor.
Its easy to see how Amish has rated this glider to hold 800 pounds as the construction on this thing is very heavy duty. Right down to the 1.5″ wide slats. This thing was built to last.
In terms of seat size, the 5 foot option has a huge seat. It measures 58 inches wide and has a depth of 19 inches. Certainly wide enough for two big people to enjoy a nice glide together.
The design of the glider is also pretty neat. Without cushions you can still find comfort because the chair is contoured to suit the natural curves of the body. The seat contours back to allow for your legs while the roll back design of the backrest follows the alignment of your spine.
The highest point of the seat is at the front and is about 19 inches from ground level. Which is not a bad height for heavier people as it makes pulling yourself up much easier. But then again I wouldn't mind being stuck in this chair enjoying all the elements of the outdoor life.
Tip: While this Amish Glider is a piece of outdoor furniture, if you plan to leave it exposed to the elements, full sunlight and rain, I would certainly apply a further coat of stain or varnish to better protect the timber.
For under cover porches, the amount of protective stain already applied is sufficient to protect the timber, but for full expose locations, it pays to do some maintenance.
800 Lbs Capacity Glider Bench
In Conclusion
So in conclusion you can see that there are a number of indoor and outdoor gliders for heavy and obese people available. It pays to do your research, so if nothing here tickles your fancy, remember to check for weight capacity. Most gliders are suited to people 200 pounds or less.