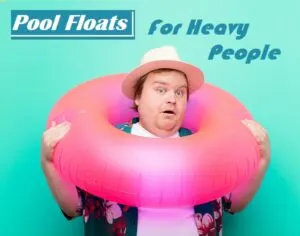 It's been 3 years since our pool was built and it wasn't until recently that I discovered that there are pool floats for heavy people. Who knew us big adults could have just as much fun as the kids, but on our own oversized floating air filled lounges!
There are so many different styles, shapes, and colors of pool floats available it becomes overwhelming trying to choose just one to buy. The one advantage us heavier people have is that our options are limited compared to a regular size person.
Did you know that pool floats have specified weight capacities? Who knew right. As most of the options available have a weight capacity around the 200-pound mark, any person that weighs 250 or 300 Lb or more is going to need to look into a bigger heavy duty pool float.
This does help narrow down our choices, but there is more to consider than just the weight capacity. One thing I do want to mention is that I would never buy a product that is designed to support my body weight if there is no specified weight capacity, even if you are just floating on water. Chances are if you puncture a pool float with a capacity lower than your weight, any warranty on the product would be void.
Compare Pool Floats By Weight Capacity
Size Does Matter
When comparing pool floats, you need to consider the size of the float. Not just for the fact it may be too small for you, but it may also be too big to effectively provide a relaxing time in your pool. I don't know about you, but when I relax in the pool I don't want to have to be continuously banging into the side of the pol because the float is too big.
If you have any sort of rough tile edging around the rim of your pool, you will have to be very mindful of this as it can cause the floating device to pop due to wear and tear of rubbing up against the rough edges.
But on the other end of the spectrum, you need the float to be wide enough to support your body. If you go for a float like a donut floatation device, chances are it will be a tight squeeze when sliding into the hole. But I find them to be great to sit on top of even if I can't fit inside the donut hole.
Best 500lb Pool Float For Big People
Pros
Holds Heavy People (40% thicker materials)

Wide enough for large adults (38″ wide)

Zero gravity position

Cup holder built-in

Removable and adjustable headrest

Features Boston 2-way valve for fast and easy inflation
Cons
Difficult to get onto when in water

Requires periodic topping up

You never want to get off the thing!
Getting onto any floating pool device is a challenge when you're a big man, and this 500 lb pool float by Aqua is no different. However, with this float, you can anchor it so it doesn't float away on you as you attempt to get on board. Alternatively, you can ask someone already in the pool to hold it still with the handle while you climb onboard.
As this pool float is more above the water than below, it is advisable to approach the boarding of this vessel from above. Climb up a few steps of your above ground pool ladder for an easier mounting point. Even tho you can get on this float and stay dry, chances are until you perfect the mounting process, you are going to get wet. But that is half the fun if you ask me.
Designed For Relaxation
This is not one of those pool toys you swim around with and have fun on. It's primarily designed for relaxing on top of and letting the water drift you around the pool or lake. What makes this float so relaxing is that it is designed based on similar principals used in zero gravity chairs.
So your knees are raised close to the level of your heart to create a feeling of weightlessness, similar to how astronauts are launched into space. Except you will be lounging around in the pool.
Built-In Cup Holder
Adding to the relaxing is the built-in cup holder. The problem is there is only one cup holder on the right side. So if you are left-handed you have sacrifice your weaker hand to drink with, a small price to pay for ultimate relaxation in the pool.
Adjustable Pillow
Another feature that enhances the ability to relax is the adjustable pillow. It can be adjusted to suit your height or removed completely if pillows are not your thing.
Heavy Duty Construction
You don't often hear the terms heavy-duty construction and pool floats tossed around that often, but Aqua has made a point to reinforce this design by using materials said to be 40% thicker than others. This s what gives this pool float a 500-pound weight capacity. Perfect for the big adult looking to relax in the pool.
Best Floating Foam Mattress For Obese People
Over 1000 Lbs Weight Capacity
Pros
Huge size: 9′ x 6′

Massive weight capacity: 1210 LB

Never sinks 9 (3 layered composite foam)

Includes 2 anchor points with bungee teethers to tie off the float

Easy to get on & off

Never need to inflate
Cons
Can be TOO big for some pools

Not a stay dry pool float (not always a bad thing)

Rather Expensive (But worth it)
Oversized Pool Float Is An Understatement
If the aim of the game is to float on water, you can get much better than the GoPlus 1220 pound capacity foam mattress pool float. This thing is huge and more than big enough for the obese person to simply lay on top of and drift away to the sound of trickling water.
The GoPlus is not your conventional pool float by any means, but when you weigh more than 500 pounds, the options are very scarce. The good news is that this triple-layered foam float is up to the task.
It's designed to hold multiple people at a time and as it is a 3 layer composite foam float, it is designed to never sink. This is great news for the heavier couple wanting to simply relax while floating on water.
You Asked For An Oversized Pool Float
The 1210 LB capacity is huge, but what's even bigger is the float itself. This thing is the definition of oversized. Two overweight/obese people can easily share this together while relaxing in the sun.
It comes in at an incredible 9′ in length and has a width of 6′. Because it is so long, GoPlus also designed a roll-up pillow into the build. This allows you to rest your head on an angle supported by the foam. The pillow is held don by straps so it never bounces back on you.
As the float is extra-large, you will need to be mindful of the size of your pool. Ensure you leave enough room for your friends to swim and play in the water. To help you relax even further, GoPlus has included two anchor points with bungee teethers that you can tie off so the float stays in the same place. Allowing you to chill and relax in the sun for as long as you deserve.
---
Oversized 50″ Ring Pool Float 300 Lb Capacity

Another huge pool float this time in the shape of a diamond ring. Whether you are getting engaged or not, the addition of a 300 LB capacity pool float like this will make you glad you put a ring on it.
The ring itself is 50 inches wide leaving adequate space for those of us with larger backsides. The diamond part of the float acts not just as decor, but as a backrest and pillow for laying back into.
The 16-18 inch opening inside the ring section will likely be too narrow for many heavy people, but you can still stay afloat by sitting on top of the ring due to its oversized nature.
The fact the Phthalates free PVC has been reinforced an extra .25mm gives this ring pool float the sturdiness and durability a big man needs. Bring made from PVC, you will probably notice the 'air mattress smell' that is common with plastic materials. However, this smell doesn't take long to dissipate.
Because the diamond ring is such an oversize pool float, I would highly recommend using an electric air mattress pump to inflate, it will save you from building up unnecessary sweat. But then again, building up a sweat and then refreshing yourself in the pool is equally inviting. So in this case, go with a standard foot pump and make it worth your while.
---
Floating Pool Raft For Big & Tall Adults
650 LB Weight Capacity

Another contender for one of my personal favorite pool floats for heavy adults is this Ocestar Giant Pool Raft Float. It ticks most of the boxes but has one feature that wins me over, but may not be what you are looking for.
That feature is the built in head rest. Having this feature allows you to sit with your back reclined into a comfortable position. You can also use this feature to rock the float in the pool. However, people that want to lay completely flat, won't find this feature beneficial as the pillow is built into the raft. .
It's basically like your regular raft, but it is literally in the pool and floats. With the ability to hold people up to 650 pounds, most heavy adults can appreciate just chilling in this wider than normal raft float. At 60″ wide and 72-84″ long, big and tall people will find the surface area very spacious.
One of the features that many people overlook when buying a pool float is how many air chambers it has. It is similar to buying an air mattress with multiple chambers. With a multiple chamber pool float, you have the reassurance that if you puncture one chamber, the remaining chamber won't lose air and you can still float your way back to shore/pool edge.
---
400 LB Pool Floats For Overweight People

The Peacock symbolizes freedom, awakening, and self-expression. What a better way to express your freedom of expression than by floating on your own giant Peacock pool float. With oversized dimensions and a 400-pound capacity, this pool float is a serious contender for the coolest float on this list.
Made from .30mm thicker tear-resistant raft-like plastic, this Peacock float is built for the heavy person. While designed to hold 2 people, however, space limitations make it suitable for a single overweight person.
In terms of size, when inflated this float measures 66″W x 62″L x 48″H. There is ample space to position yourself comfortably behind the Peacock's head with your back and head resting in the tail feathers. Because of the large size, it is highly recommended to inflate with a air pump via the Boston 2 way valve. Ensure you close both connections correctly to minimize any air leaks from the valve.
---
Portable Inflatable Pool Float For Large Adults

This next option is a unique one and one that won't appeal to everyone. What's so unique about it? Well, it requires no pumping to inflate. It is one of those pool floats that you inflate by letting the wind blow it up. Think of it as a huge garbage bag and on a breezy day, the wind blows up the bag.
It's the same principle, except on days where it is not so windy, you will have to do a bit of a jog to fill the float up with air. So you get a bit of exercise in before relaxing on the 400-pound pool float.
To make sure the float doesn't lose the air as soon as you have filled it up, you just roll the end and twist to ensure its a tight seal. Put the security lock in place and no air escapes. Job done, no need for a pump ever again.
With this unique pool float, you sit in the mesh opening, so you are in contact with the water at all times. The surrounding nylon material filled with air is what keeps you afloat. This float uses parachute grade nylon with double stitching rather than plastic, so it is quite durable.
But what's great about this float for the bigger adults is that it is just about impossible to tip, fall or roll off this float. If stability and the security of knowing you won't fall off the float while you're relaxing is something that appeals to you, then this could be the best pool float for you.
---
The Average pool Float Weight Capacity
A pool float is typically designed to hold between 200 and 250 pounds. Like most products that require you to put your weight into them, they are not aimed at the heavier market. The thing with a pool float is that while manufacturers label a specific tested weight limit, this is not to say it won't hold your body weight.
What is more important is the quality of the build. If there are seams present, how well are they made. Do they look heavy duty enough to hold a 350-pound person?. Is the material the pool float made out of sturdy enough or will it blow apart the moment you put 400 pounds of weight on it?. These are things to consider before buying a pool float based on how much weight it can hold.
How Does A Pool Float Hold A Heavy Person
Surprisingly enough, overweight and less physically active people have a tendency to float better. This is because of the fat to muscle ratio. A bigger person has a large lung inhalation capacity which creates greater buoyancy. As fat has a lower gravity rating than bone and muscle, we heavier people tend to float better anyway.
The buoyancy force with water and the gravitational pull is what makes it possible for objects to float, including humans on a pool float. Your body weight is one of the key measurements used in the measurement of the gravitational force. When your body is heavier than the volume of water displaced, you will create the ideal floating situation. This is certainly one advantage of having excess fat on your body.
So now that you are reassured that these pool floats for heavy people will actually hold the bigger adults, it's time to put those concerns to bed and start relaxing instead. There's nothing quite like doing nothing while laying in the sun enjoying the water brushing up against your skin on a hot summer day.