I hope you love the products I've recommended below, just a heads up that as an Amazon associate, I earn from qualifying purchases. This means I may earn commissions on products bought via links on this page.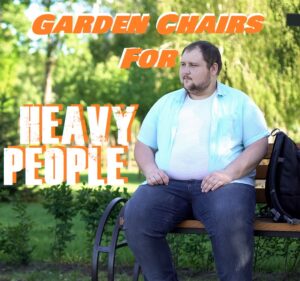 It's turning out to be quite the year for heading to the garden for some tranquility and as a way to escape the dramas unfolding in the world. Just sitting back and surrounding yourself with plants, flowers, and nature is one of the best ways to unwind and best of all, it cost you nothing. Much like any form of seating for a bigger person, finding garden chairs for heavy people is easier said than done.
Garden chairs that are exposed to the elements need to be heavy-duty in nature, but when it comes to supporting a heavy person, they need to be reinforced to safely allow someone that weighs more than 250 pounds to sit on them.
The task gets even harder when you have a heavier couple wanting to snuggle up together on a garden bench as most benches can withstand around 400 pounds. Depending on what type of garden chair you are after, we may have the solution for you below.
Compare Heavy Duty Garden Chairs
Alternative Outdoor Seating Possibilities
Best Garden Chair For Obese Person

The first chair on the list is a 500-pound capacity single garden chair. Besides being made in the USA, the thing I love most about this chair is the material it is made from. The brand Highwood prides itself on constructing these chairs from recycled materials to create a maintenance-free chair.
By maintenance-free, I literally mean you can leave this chair out in the rain, snow, and the sun because it is made from a Ply Material that doesn't break down in harsh environments. Perfect for the garden or out on the lawn.
The material used to construct the chair is not only durable and weather resistant, but it mimics the look and feel of real timber. So essentially, you are getting a wooden garden chair without the hassle of maintaining a wood product. So no sanding, painting or varnishing it every 6 to 12 months.
Quite A Wide Chair
While the Highwood garden chair is not the widest in the world, it is considerably wider than many other chairs on the market. The overall width of the chair is 27 inches. But keep in mind this chair has arms and us larger people tent to fight with chairs that have arms.
So you will need to ensure you can fit between the arms which is about 23-24 inches. Still a wide seat in comparison to many others.
The only real downside to the Highwood garden chair is that it sits relatively low, which is fine if your a shorter person. But when you are of average height or are big and tall, the 16″ seat height can be a little challenging to pull yourself up out from. However, I do like how the seat contours so you can position your backside in the curved seat for greater comfort.
Available in a selection of colors.
500 LB Highwood Lehigh Garden Chair
600 LB Capacity Rocking Chair For The Garden

Outdoor rocking chairs make for great garden chairs and this Amish crafted rocking chair is an excellent choice for the bigger people. With a 600 pound capacity and a very strong foundation, this chair that is made in the USA is built for heavy people.
Rocking chairs can be hit and miss for larger people. Not only do they have to support heavier weights, but they also have to be able to withstand heavier weights while in motion. Fortunately, with the heavy-duty construction of Amish rocking chair, it's up to the task.
The construction of the chair takes advantage of pressure dried pine, which is thick and durable. The thick slats are held together by rust-resistant and durable screws. This combination of craftsmanship is what makes it such a good choice for heavier people.
Decent Size For Bigger Folks
The seat measures a fraction of 23 inches wide and has a seat height of about 19 inches from ground to seat. As the chair is contoured and its a rocker, the seat height varies. But overall, the dimensions are well suited for a big person and the seat height is not too low that it becomes incredibly difficult to get out from. Especially as this is a rocking chair, the higher the better.
What's interesting about the finish used on this garden chair is that it utilizes a natural soy oil, rather than varnish or stain. This soy oil is meant to replenish itself onto the surface over time as it is exposed to UV rays. Normally UV rays will make the stain/varnish breakdown and require repainting every 6 months or so. But with this chair, you may get longer as a result of the soy oil being used.
The garden chair is also available without any oil/stain if you prefer to have a natural timber look. But I highly recommend coating the pine in an exterior stain to preserve the wood and protect it from sun and water damage.
600 LB Amish Outdoor Rocking Chair
Heavy Duty Garden Adirondack Chairs

While not a super high weight capacity Adirondack chair, what this one by QomoTop offers is an extra-wide seating area. Where other Adirondack chairs tend to be narrow, this one has a width between the arms of 22 inches.
To complement the extra space between the arms, this Adirondack also has a decent weight capacity of 350 pounds. Making it not only roomy, but also durable enough to support a larger size person.
Made from similar materials as the Highwood garden chair mentioned above, this QomoTop also uses a poly lumbar material. Making it appear like timber, but with the benefits of a durable resin material.
So no sanding, painting, and maintenance to perform. It handles the weather very well and is quite heavy at 46 lbs. Being heavy is a good sign as to its ability to support heavier people as it is an indication hat heavy-duty materials are used. However, the added benefit of a heavy garden chair like this is that is can stay put when strong winds are blowing outside.
Overall, it makes a good garden chair for heavy people. It has the foundation and capacity to hold a heavy person, while the measurements allow the larger people to fit comfortably. The only downside is that it is an Adirondack chair, so the seat is very low to the ground. However, this chair is actually about 2 inches higher off the ground compared to many other Adirondack chairs.
Extra Wide Adirondack Chair 350 LB
1200 LB Garden Benches For Heavy People

In case you haven't noticed the theme yet, poly wood material is the new trend for outdoor furniture. As it resembles real wood without all the drawbacks wood poses. Such as splintering, chipping, rotting, fading, maintenance, etc.
This 1200 pound capacity garden bench comes to you from none other than the original poly wood recycled plastics founders: PolyWood. For about 40 years now PolyWood has been generating this recycled wood resembling plastic to the masses. best of all, the PolyWood chairs are also made in the USA.
400 LB Rated Per Seat
With each seat being able to hold 400 pounds each, this 3 seater garden bench is the ideal oversized garden bench for the overweight couple to sit back and relax on. Without the fear of busting the chair into pieces.
In terms of size, this bench is one of the bigger ones available. Measuring 60 inches wide, it is intended to be a 3 seater. However, for heavy people it is best suited to a couple of overweight people and a child. The seat has a slight contour to it to make sitting out in the garden all that much more pleasurable.
The downside to this garden bench is that is can be quite expensive. But in saying that, you get a pretty long warranty to ensure that the chair lasts and lasts. So over the life of the bench, it really doesn't cost that much. Scraping together the initial investment is the only downside.
POLYWOOD Vineyard 60" Bench
500 LB Capacity Garden Bench Seats
Garden Kneeler Chair For Heavy People

One area that I have found to be lacking, is sufficient garden kneeler seats for heavy people. There are many with weight capacities around the 300-pound mark, but if you're nay heavier you are probably out of luck.
So with that said, the best I could find was this 330-pound capacity garden kneeler chair. What separates this model form many other kneelers is that the seating area is slightly wider. However, it is still not all that wide, measuring in at only 16.3″.
While not that wide, it is still between 1″ and 4″ wider than other models on the market. So it appears as tho beggars can't be choosers in this scenario.
More About This Garden Seat/Kneeler
To start with, it's a folding kneeler, so you can easily carry it with you from shed to garden. The seat transforms into a kneeler when you need to get down low to pull out those pesky weeds. When you need a break you can flip the kneeler over so you can sit on top at the full height position of 19″ and take a 5-minute break.
The seat is padded with foam so your knees and backside have some comfort while attending to your garden. The kit also includes two side pockets so you can store your gardening tools at an arms reach.
Garden Kneeler Seat 330 LB Capacity