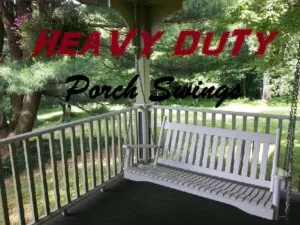 With a deck extension currently in the works, we have been trying to find the best heavy duty porch swings suited to us oversized people. That is one with a high enough weight capacity and the heavy duty frame work to handle both myself and my partner without collapsing to the floor.
Being able to relax on a patio swing has been a great fear for me for as long as I can remember. Much like trying to relax in a hammock, it's a daunting experience putting faith in such a flimsy looking item.
Anybody remotely overweight or obese knows the feeling and it's not a good one. This is enough for many big people to boycott such things as porch swing, hammocks, chairs and basically anything that could break under the heavier weight.
So whats the answer?. Do us heavier people not get to sit out on the deck and enjoy a relaxing book on the porch swing… Not me, I'm on the hunt to find the best oversized heavy duty porch swing.
One which will fit in nicely with our wooden deck and can easily handle a couple of heavy people. So lets get into which ones we think are the best porch swings and hopefully you too can get your swing on too.
Compare Heavy Duty Porch Swings
| | Features | Capacity | Price |
| --- | --- | --- | --- |
| | Choose 4 or 5 foot wide & a selection of colors. Low maintenance PolyWood. | 500 Lbs | Check Price Amazon |
| | Rust resistant powder coated, available in a selection of colors and designs, UV rated canopy. | 750 Lbs | Check Price Amazon |
| | Made in USA, 2 built in cup holders, 58" wide seat, comes with hanging chains. | 800 Lbs | Check Price Amazon |
| | 55" Wide seat with depth of 23", Tilt & Lock feature, Rust resistant steel frame, 2 side tables with cup holders | 600 Lbs | Check Price Amazon |
| | Includes a large canopy, backrest folds down to convert into a beautiful outdoors daybed. Generous padding. | 750 Lbs | Check Price Amazon |
| | Weather & Rust resistant, Breathable polyester fabric, Heavy duty springs, Adjustable canopy. | 750 Lbs | Check Price Amazon |
The Best Porch Swing For An Obese Person
The Highwood Lehigh 500 Lbs Capacity Swing

Highwood is a premium brand and one we trust dearly. They also make products suitable to heavy people such as their outdoor rocker, which is simply amazing. So for matching furniture, buying this Highwood porch swing would be our safest bet. But there is only one problem… The 500 lbs weight capacity.
The Highwood 500 pound capacity is fine for one big person to use as a time, but in the chance you have two larger folks wanting a chilled out time at the same time.
The weight limit may be a problem, that is unless you are both under 250 lbs of course. But we really do love this Highwood brand so it could also be used as a second swing as well.
What we like about the Highwood porch swing is that it's ideal for outdoors weather conditions. The material is not actual real timber, therefor it wont rot and need additional paint work over the years.
However the material is as close as you can get to resembling real wood, even the grains in the timber look real. This is same material Highwood uses at various Amusement parks across America to make walls resemble real wood without the hassle of maintenance and deterioration.
Great Porch Swing, But what Color!
This swing also comes in a nice variety of colors, the color we like best is the Weathered Acorn as it will match our deck stain perfectly. But looks aside, these are the key features that pertain to being overweight. The depth of the seat is about 17-20 inches.
Which is plenty deep enough to fit bigger backsides in without feeling like you're going to tip over the front of the swing. Also suitable for taller people or people with long legs. The width of the seat is 64 inches and plenty wide enough for 2 people.
There are 2 options available for chain length, either 4 foot or 5 foot. However, after reading many reviews, it's recommended to treat yourself to a heavy duty porch swing spring set. Each of the springs has a 600 pound capacity rating for an even safer swing, but also gives the swing a bit of a gentle bounce.
Overall we are very pleased with what the Highwood porch swing offers. For some folks, the weight capacity may be too low or it may be just perfect. While the price tag is a little pricey, I have come to realize a long time ago that as a big Man, the higher quality products cost more.
Especially if you want them to last longer than a week. The fact this porch swing is made by craftsmen in the USA (Pennsylvania) makes me believe this is a awesome heavy duty swing built to last.
Highwood Lehigh 500 Lbs Capacity Swing
Heavy Duty Patio Swing With Canopy 750 Lbs

Adding a patio swing to your yard can make the world of difference. They give the ability to make your yard more relaxing to sit in. This makes you want to stop being cooped up inside since you now have somewhere comfortable outside to sit. So they add tremendous value to your yard and your overall state of mind.
Being on the heavier side myself, I want my chairs to have a higher weight capacity. While this doesn't have the highest weight capacity on the market, it does have an impressive 750lbs. This patio swing is good for heavier people or for multiple smaller people, so it has options.
It's a comfortable chair in more ways then one thanks to a great design choice. Which is you can lay the back down, which means you can lay down on it. This combined with its canopy makes it a great place to relax on those warm days in my opinion.
Swing That Converts Into An Outdoors Bed
But what I absolutely love about this heavy duty patio swing with canopy is the fact the seats fold down to form an outdoors swinging bed. How awesome is that.
Setting it up is fairly simple thankfully and shouldn't take a long time. All the parts are labeled which does make it a fair amount easier. This kind of thing is simple but it shows the company actually wanted to make it easier on their customers.
This isn't something that a lot of people consider when they look at these types of things. Which is that this swing chair comes with covers for the bolts it has. The there is the fact that it comes in 4 different colors, meaning there should be something for everyone.
Tangkula Converting Outdoor Swing 750Lbs
The Best High Weight Capacity Porch Swing With Frame
750 Pound Capacity Covered Swing By Mainstays

I can just imagine relaxing under this covered swing as the sun goes down with a cool refreshing beverage. The high weight capacity for this porch swing is just ones of it's draw cards.
With a huge 750 Lbs rating according to the seller, me and my partner could easily fit into this large 60 inch wide seat. As it's intended to be a 3 seater, I feel 2 plus size people could very comfortably fit into this swing without sitting on top of each other.
This porch swing by Mainstays has got quite a few reviews in regards to the heavy duty and strong construction by fellow heavy people. Which is very reassuring.
Here's What I Like About This Patio Swing
Heavy duty powder coated steel frame suggests that the 750 lbs weight capacity is true to it's word. The powder coating is also a great outdoors material for protection from natures elements, including rust.
It comes with cushions which are easy to clean material. However the flamingo design may not be everybody's cup of tea.
Additional uses: This porch swing can also be used as a hammock and better yet a bed. The back folds down and locks into position for a relaxing sleep out on the deck.
The cover/canopy is adjustable. So it can be moved into position to best protect you from the sun.
What Concerns Me
The canopy is not water proof, which isn't really a problem if you are using it on a covered porch. But in all reality, why would you be sitting in the yard on your swing in the rain.
Assembly is required. Doh!
Powder coat typically does fade in direct sunlight over time. So could possibly need a re-paint in years to come.
750 Lbs Capacity Porch Swing Mainstays
Heavy Duty Porch Swing 800 Lbs Weight Capacity

This Amish heavy treated porch swing has an impressive weight limit of 800 pounds. One of the highest we have seen and with such high quality. Made in the USA, this swing is stained to Cedar, but can easily be painted to the color of choice.
The noticeable features include a 8 foot solid chain. This may or may not be enough chain depending on the ceiling height of your porch. Additional chain is readily available if you need more. But whats even more impressive are the thick slats.
They scream heavy duty boasting a inch thickness. Assuring me of a solid and reliable seating platform. The slats are not sharp either, they have been rounded to prevent injuries/splinters etc. It's these kind of attention to detail features that make this porch swing stand out from the rest of the pure timber swings.
Rounding out this porch swing is the curved 58 inch wide seat. The front of the seat has a waterfall edge (rounded) and curved seat. This is a very ergonomic design typically found in office chairs for comfort and correct posture. The seat goes back a nice 19 inches which is deep enough for the big Man to sit on comfortably.
Overall, we believe this porch swing to be one of the best heavy duty swings available. The quality craftsmanship combined with the comfort settings are amazing. Add a heavy man weight capacity and we have a very good looking and performing porch swing.
Amish Heavy Duty Swing 800 Lbs Capacity
Heavy Duty Porch Swing With Frame
The frames of your outdoor swinging chairs is often overlooked when considering one. Which really, they shouldn't be. They're what holds you up and keeps everything together. Since it has a really durable swinging frame, I couldn't help but add it onto this list..
With these types of chairs, the weight capacity can make or break them. Who wants a 3 seat chair that can only handle 600 lbs. Which is why I was glad when the specs of this chair say that it can handle 750 lbs. This does add value to any swing chair that has this level of weight capacity, it just gives you peace of mind.
A swing chair needs to be comfortable to be worth getting for your yard. There's not much point to a chair that isn't. Thankfully this chair is comfortable when you're just sitting in it. Since the way the seat bases are angled you can't really sleep on this chair. This could be a downside to people who want that feature.
Assembling this swing chair is a little time consuming but not too difficult. Depending on your skill level it will take between an hour or two at most. It's definitely easier to set up with two people but doable with just one.
Cleaning anything is always the downside to practically anything you own, which I don't think I'm alone in thinking this. Which is one of the best things about this chair in my opinion. To clean it, all you need to do is just hose it off. This just makes life so much easier with this chair.
Kozyard Brenda 3 Person Outdoor Patio Swing
Find More Heavy Duty Porch Swings On Amazon
Save