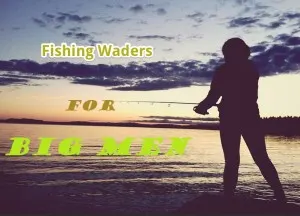 Trying to find the right fishing wader is difficult enough for the standard size person. Trying to find extra large fishing waders for big Men is even more of a challenge. With the multiple choices of waders available for all different sorts of conditions and climates, it's pretty much impossible to find a one size fits all big guys fishing wader.
For us guys with a trophy cabinet sitting just under the chest, shorter legs (not too mention stumpy) and wide backsides, it's pretty obvious that a standard wader is simply not going to fit. Unless you have a fishing/outdoors store in your local area that specializes in products for the big and tall your best bet is to look online.
Now I know not every fishing wader on this page is going to be right for everyone, but these are some hand selected waders that may suit specific individuals. Custom waders can also be made to order from various departments.
Compare Wader Sizes Here
| | Measurements | Max Size | Price |
| --- | --- | --- | --- |
| | >38" Inseam, >64" Girth, >13 Shoe | XXL Stout | Check Price Amazon |
| | >41" Inseam, >64.5" Chest, Shoe >14 | XXL 14 Stout | Check Price Amazon |
| | >59" Hip, 37.4" Inseam, 13 Shoe | XXXL | Check Price Amazon |
| | >58" Chest, 39" Inseam, 15 Shoe | XXL | Check Price Amazon |
| | >14 Shoe, >37" Inseam, >54" Chest | XXL King & Big/Tall | Check Price Amazon |
| | >12/13 Shoe, 51"-53" Chest | XXL | Check Price Amazon |
Best Waterproof Breathable Fishing Waders For Big Guys
Caddis Fishing Wader Up To 64″

Caddis are a popular choice for many Fishermen big and small. But these particular Waders are special in their own way. While not the most expensive brand on the market, they pack some nice features into this product. One in particular is the pocked that resides on the exterior of the outfit. It is zippered, but it doesn't stop there. There's a build in hand warmer, which is perfect for those colder mornings.
But as the day gets warmer, the breathable unique CaddisDry fabric comes into play. Somehow while this wader is waterproof, the design allows for vapors/perspiration to exit through the material which results in less build up inside the suit.
As for how size restrictions, according to Caddis, the maximum girth on the XXL Stout is 64 inches. Which is the largest part around your body. So this Wader will cater to many plus size Fisherman looking for a good fit without paying through the roof. The User Size Chart will help out in finding the right size for different body types.
Overall I believe it's hard to look past the Caddis Fishing Waders, not only for the price but also the all round greatness of them. There are many more pluses for this such as the reinforced knee caps, ventilation when you leave the water and the bonus repair kit (With instructions).
The only negative would be a the fact the booties are quite large. Which is great for wearing a couple pairs of socks as well, but don't give into temptation and yank on them when taking the Wader off. This can cause them to leak.
Caddis XXl Fishing Waders
Fishing Waders For Men With Big Chests

Transitioning from Neoprene to breathable waders can be a tough decision, but once you do, you may end up never going back to Neoprene waders. After all, us bigger guys need breathable clothing!
One of, if not the best breathable wader is the Grand Refuge 2.0 by Frogg Toggs. To describe wearing the Grand Refuge in just 2 words I think 'Velvet waterfall' would be the most fitting description.
The 120 gram liner is just so darn comfortable and slick. Not to mention the way the boots fit so nicely, sleeping in these waders would certainly not be difficult. Regardless of what you're wearing underneath these Grand Refuge 2.0 waders, whether it be jeans or shorts, the waders just slide over like a velvet waterfall. They are just a super comfortable fishing wader for the larger guys.
Features I Love
I can't stress enough how comfortable these waders are, oh and how they don't leak in the crouch area like many of the cheap waders do. But there are some pretty cool features that make this wader a pretty good investment.
Basically the waders have two snap locks at the top with bungees to hold them together. But it also has a handy belt around the hips. When I'm pulling my decoy sled during the late season when there's snow I can pull the sled with a cord attached to the belt, leaving my hands free more important stuff.
On the inside, it has the 2-in-1 liner so in the warmer months you can take the liner out so you don't get too hot. They are a very versatile wader as you can hunt and fish the whole year round sing just one chest wader.
The waders also got a bunch of pockets so you can keep your valuables safe. I particularly like the large clear display pocket for keeping my phone in as you can see your screen without having to take it out of the waterproof pocket A nifty feature to have as it sits on the inside of the chest region and flips over the front so you can see your phone.
Size Details
The Frogg Toggs Grand Refuge 2.0 come in a variety of sizes, but best of all they have sizes for big men. Including a XXL size 14 stout which offers a maximum chest size of 64.5″. This size chest is suitable to people with shoe sizes 13-14.
Even if you have smaller feet, say size 11-12, the chest size for the relevant wader is still an impressive 63 inches. So this is certainly one fishing and hunting wader for big chested men.
Frogg Toggs Grand Refuge 2.0
3XL Waders For The Largest Fishermen

So far the largest fishing waders I've found on amazon are these XXXL waders by 8 Fans. They are suitable for the big and tall people as they have all the right measurements.
For the larger people, the sizes go up to 3XL which offers generous 59 inches around the hips. For the tall people, the 37.4 inch inseam will typically suit people around 6'3″. However, you should always measure your inseam first, before buying and realizing your 6'3 but have an inseam measurement of 39 inches. We all have different size inseams which can make it tricky buying things like waders.
I quite like these waders by 8 Fans because not only are the wader 100% waterproof, but the material is also breathable. This is especially important for us bigger people because we tend to sweat more and clothes don't breath well don't help the cause.
This feature is achieved by a special 3 ply outer material. They call it the 8 Fans Dry Technology. What it does is allows perspiration to exit the material while blocking any water from coming in. So keeping you cooler and dryer at the same time.
The 8 Fans comes with all the usual features you would expect like rust proof D-rings, mobile phone storage pocket, reinforced taping for better water protection and gravel guards. All in all the 8 Fans fishing wader are a good choice for the bigger man. Simply because of the larger sizes available and the number of quality features.
8 Fans Men's Fishing Chest Waders XXXL
Fishing Wader For The Big And Tall
Hodgman H3 Stocking Foot Multi Size

What I like about the H3 by Hodgman is that they not only come in a XXL but they also make 3 different versions of the 2XL version. One for the big and tall fisherman, one for the King size Man and the standard regular XXL. So any size overweight person should have less problem deciding which size fishing wader is right for them.
The Hodman H3 is ideal for fly fishing but not so great for colder climates. While the breath-ability of the wader is great on summer days, during Winter it's recommended to get the Hodgman Core INS insulation system for extra warmth. The insulation system also comes in the 3 different sizes – King, Regular and Tall. The size chart recommends the XXL to people with a 52-54 inch chest (220-260lbs) and a shoe size of 12-14.
Hodgman H3 Stocking Foot Multi Size
Most Durable Big Mans Fishing Wader
Sonic Pro Stocking Foot 2XL

The Sonic-Pro Stocking Foot waders are made of high quality 100% Nylon. Consisting of 4 layers which provide a lightweight, breathable and waterproof experience. These waders boast the features you expect from a high quality wader. There are many internal pockets to keep the valuables dry with welded seams to keep moisture out. No sewing is present.
This model comes with internal hand warmers finished in brushed micro fleece which as we know is great for the chilly mornings. But do remember to do the zipper up all the way!. Another handy feature is the flip out tool storage pouch and the neoprene boots. This wader has implemented the necessities and put some quality workmanship into this design.
The largest size the Sonic Pro comes in is 2XL. On the size chart you can see that the XXL fits Men with a chest size of 51-53 inches and a size 12-13 shoe. Some folks have noticed that the size is slightly larger than expected, which can be a positive to allow for insulation underneath the waders for use on cold days. But do be aware of the sizes before you buy.
Sonic Pro Stocking Foot 2XL
Oversized Camo Fishing Waders Up To 5XL
Great For The Obese Fisherman
Now don't be put off by the skinny guy in the picture, these waders are
made for many sizes and they are camo. With 6XL being the largest and a suggested weight of 320 lbs to 360lbs and a average shoe size of 12-14 Mens. Down to the standard large size catering to people around 150 lbs and a shoe size of 8-9.
These fishing waders are actually a spin off product by TommyD Sports who specialize in wet-suits. According to TommyD Sports they have over 50,000 wet suits in circulation worldwide. These waders are made from the same 5mm neoprene material used in their wet suits. So if you've had the experience of wearing a wet suit you know what warmth these waders will also bring.
While these huge fishing waders are made from the more popular material neoprene because of there insulation and warming features, if you plan to wear these in hotter climates, prepare to sweat. Neoprene is not the most breathable nor the lightest wader material on the market, but is a comfortable material and easy to repair with an aqua seal patch if the inevitable happens.
[bannerbox id=19]
Save