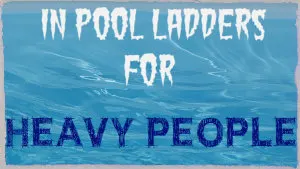 When you are a larger person, accessing the swimming pool can be a daunting time. Especially below ground pools. A possible solution is here in the form of in-ground pool ladders for heavy people. These in ladders can drastically assist you getting in and out of the pool.
The standard ladders that come with pools are in my opinion simply no good for us big people. They are frightening to say the least and can really cripple my motivation and courage to get into the pool (or out).
As a heavy person myself, i know how much I enjoy the pool and it's the one place I feel comfortable doing gentle exercises. With no strain on my swollen ankles or bad knees, working out in the water seems like it's one of the only exercise options I have. When I feel like being lazy, I lounge around in my big Mans pool float and forget about the world for a while.
However getting in and out of a standard in ground pool has always been a fear of mine, even when I was a younger guy and not so overweight. Back then it was difficult at times to pull myself out of the pool, so now without an in ground pool ladder made possible for heavy people. I don't think I would have ever re-entered our swimming pool.
Which is a really sad thought and one I hope no other heavy person has to feel. Life without cool calm relaxing times in the pool is something everyone should enjoy. Whether you are a first-time pool owner or an experienced swimmer, we hope these in pool ladders for big people bring you options to your plus-size needs.
Extra Wide In Ground Pool Steps With Rails

For me, the safest and easiest way for a large person to gain access to a below ground pool is via steps. For me it's a absolute must. No straight up and down ladder could do it in with my experience. Preferably heavy duty pool steps with hand rails. The hand rails are essential for maintaining balance and support while I get in and out of the pool.
In my opinion the best pool stairs for us bigger guys is the Confer Curve in ground pool system. It's a fantastic idea and customizable to suit your needs.
This in pool ladder has a weight capacity of 400 lbs and is made to withstand heavy duty usage. But what I love most about this step system is that it has an extremely wide entrance/exit into the pool.
This particular model is the complete set with the add on side attachment. It costs a little extra but I think it's well worth the few bucks for the extra wide entrance. Plus they make for a great sitting area to just relax and take in the sun. For the standalone base steps (Singular entrance) see the model below.
*For more stability I recommend using concrete anchors like these ones on amazon to hold ladder firmly in place. Quick and easy to apply.
Complete In Ground Pool Step System
More Pool Ladders For Big People
Confer Curve Base Steps

The standalone Confer base curved steps are not only ideal for heavy people but can also be of assistance for the elderly and people with movement restricting illness/disease.
Rated to hold up to 400 pounds capacity, the heavy duty UV resistant resin could impress for many pool seasons to come. What I like about this particular model is the fact you can position the curved steps inwards or outwards upon installation. Plus the padded feet are adjustable to allow for differences in pool heights.
The actual installation of these heavy duty pool steps is rather simple. Allow about 1 hour or so and you are set for the summer. When it comes to dismantling the Confer base steps, I prefer this model because you won't need a crane to lift them out. It's such a relief when it comes time to pack them away for the winter.
With a width of 38 inches, I feel big guys could have less problems accessing the pool. The hand rail may become your best friend during the Summer.
Confer Base Curved In Pool Steps
5 Step 300 Pound Pool Ladder
Blue Wave Heavy Duty In Pool Ladder
Normally I wouldn't recommend a ladder as such for big people. But this ladder is different. Its not directly vertical in position, it has a slight angle so in essence its like walking up and down stairs. With the added bonus of a strong hand rail/grab bar at the top.
Its rated to withstand a weight capacity of 300 lbs, so it's not an ideal pool ladder for obese people. However it's a good choice for overweight people looking for straightforward in ground pool ladder at a decent price.
The positives about this heavy duty pool ladder are its extra wide stairs and deep treads. Which are considerably wider then most steps I've owned and has 5 inch deep non slip treads.
Plus the addition of an extra step making this a 5 step ladder, which will be a positive for some people. The child safety barrier is a great addition. Don't take this off if you have kids in the pool. It sits behind the ladder in the pool so little ones can't get trapped underneath the ladder.
Blue Wave Heavy Duty Ladder 300 Lbs
500 Pound Grand Entrance Pool Steps With Rails
By Ocean Blue
This heavy duty pool ladder step system for in ground pools is rated to hold 500 lbs.
Which is excellent for us big couples. The perfect spot to sit together in the water and not worry about breaking anything beneath out backsides. That's relaxing in the pools all about.
However I advise you to execute precaution with this particular model of in ground pool steps. As I always state, you must read reviews before considering to buy anything for the big and heavy people. This pool ladder is no exemption.
While it receives mixed reviews I do believe it to be a satisfactory set up for larger swimmers. When compared to the Confer Step ladder systems mentioned above, this model seems like it was basically the test subject and Confer fixed where this ladder goes wrong.
Tearing the lining of the pool I foresee could be an issue in my observations. It's my recommendation that for any pool ladder you buy, that you also buy a pool mat to prevent anything like this happening in the future. Hydro Tools do a extra large pool mat which would fit this step ladder system nicely.
All in all, I think this ladder system has potential but is still far behind the Confer model, in regards to in ground pool ladders. It does offer excellent water flow between the treads/ladder which does prevent algae build up and the actual ladder itself does appear to sty rather new looking over time.
Ocean Blue In Ground Pool Ladder
Which In Ground Pool Ladder Should You Buy?
As we are only discussing in pool ladders for heavy people, the options are limited. Unless you go for a straight up and down pool ladder. Which I don't recommend as a big guy for obvious reasons.
The above step ladder systems are all adequate to handle high weight capacities and have easy to use stairs. The added benefits of a hand rail and extra wide entry ways are something I definitely consider. The pick of the bunch in my opinion is the Confer curved complete step system. It's a trusted brand that I know and I think is the most adequate pool ladder for us big people.
Save