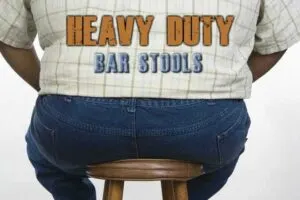 Whether you're buying a heavy duty bar stool for the breakfast bar, kitchen or the Man Cave, it's important to be aware of the weight capacities. Bar stools come in a variety of styles, shapes and colors. But today we are going to be looking at only the suitable Bar Stools For Heavy People.
These oversized bar stools will be categorized into individual high weight capacity limits to make it that much easier to find an appropriate bar stool for you.
The weight capacity ratings should not be overlooked and it's important to read the reviews to get a good idea of previous big people's experience with these heavy duty bar stools. After all, there is nothing worse than being overweight and breaking any chair.
Especially a bar stool as they are generally higher from the floor which can result in serious injury if you happen to fall. Besides the embarrassment, you may feel from knowing you're a big person and you just destroyed an inferior bar stool, the actual physical injury possibilities should be your primary concern.
Keep this in mind if you're tempted to get a bar stool with a weight capacity lower then your actual body weight. For me, this is always at the top of the list when looking to buy a Big Mans bar stool.
Buy Heavy Duty Bar Stools Up To 750 Lbs
Best Barstool For Big And Tall
What's great about this PlushCore heavy-duty barstool is that it is not only built strong with height adjustments suitable for the taller people, but it is armless.
Having no arms on the stool allows us wider framed people to fit on the seat much easier. It also includes a back so you can sit on the stool and feel safe as the backrest supports your back.
The 18.7″ wide seat also allows us to have more surface contact on the stool. Part of the reason bar stools can be so scary for a heavy person is the fact the seats can be quite narrow. So I appreciate the rectangular shape of this seat as it allows for more contact between the backside and seat.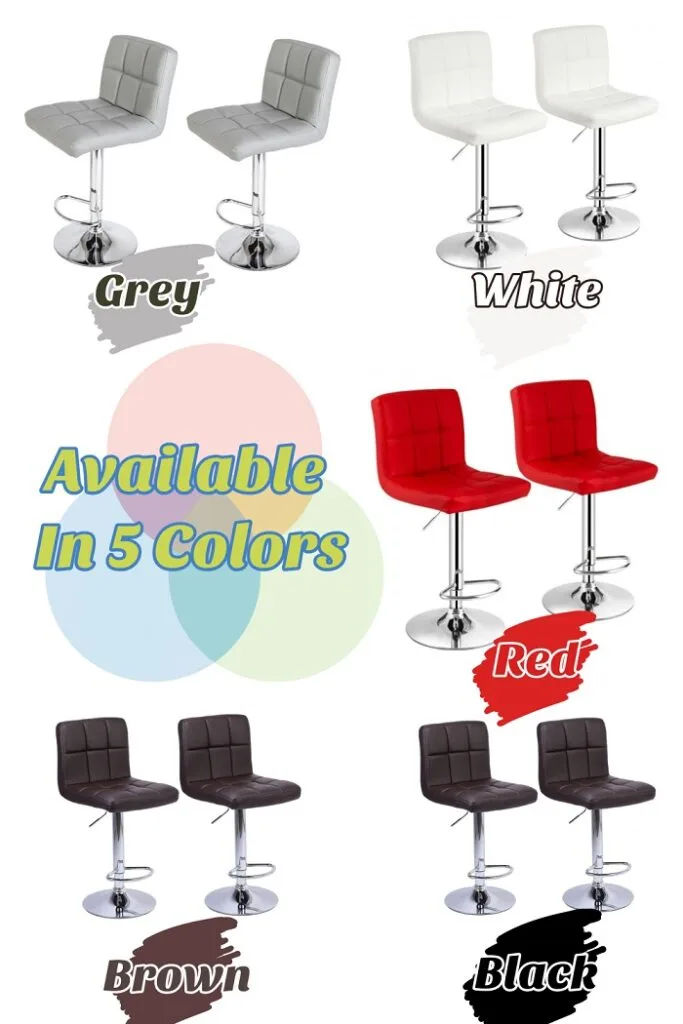 The Specs
330 LB capacity per stool (Comes as a twin pack)
Height Adjustable Seat: 24.6″ to 32.5″
Height Adjustable Footrest: 7.5″ – 15.7″
Heavy-duty chrome-plated steel base
Seat size: 18.7″Wide by 14.5″Deep
High-density foam padding for the best big man support
Available in a selection of vibrant colors on atomicbuys.com
---
300 Lb Bar Stools For Heavy People

This bar stool has a 300 pound weight capacity and is a good choice in the heavy duty market. This Trinity stool has a stylish retro feel to it, so it would be a good fit almost anywhere. It's a very sturdy and strong stool. The base of the legs has extenders on them if you need to level out the legs to sit flush with your floor.
The fire retardant seat swivels to 360 degrees and has a nice 2.5 inch thick padding on it. The stylish high gloss finish on the framing makes this chair appear to be worth a lot more then what it is. You may be surprised by the great value you can get from this plus size bar stool.
My Recommended Best Man Cave Bar Stool For Big Guys
This 300 pound capacity bar stool is a little pricey, but I kind of expect that with the Harley Davidson branding on it. This is a must-have for any Harley fanatic. Was a great Father's Day gift let me tell you. The chair swivels 360 degrees but is a tad bit firmer to swivel then those free-spinning bar stools.
The foot rest ring is placed perfectly for my height and is always a bonus to have the foot rest in my opinion. The padded seat and back rest are comfortable, but during hot months you can expect to stick a little to them.
But when it's a bar stool in the Man Cave, this is not really a concern. Assembly is fairly easy, but as other reviewers have stated, you must go easy on the bolts towards the end of tightening. Other than that, its a really easy to put together stool.
The Simple Bar Stool 300 Lbs Limit
If you need a bar stool that's simple, adjustable and very sturdy with a rating of 300 pounds, then your going to be looking at the National Public Seating bar stool. While it's a simple-looking chair, the detail is refined down to the screws.
Attention to detail is what makes this stool a popular choice among, schools, labs, garages, etc. In fact, it could be the exact model I remember sitting on many years ago during science class.
The legs can be adjusted to modify the height to your liking (Up to 33″) which is another handy attribute. The Masonite seat is 14″ wide and riveted into the powder-coated steel frame. The build of this bar stool is very plain, but is very useful and a popular choice for long term chairs. I think it's likely this chair will outlast many others who stood before it.
350 Lbs Capacity Bar Stools

These 350 pound weight capacity bar stools are perfect for sports fans. They come in a variety of colors, heights and heaps of various U.S sports teams. Great gift ideas for the Man Cave or Bar.
The swivel comes with an impressive guarantee and the padding on the seat is also an impressive 4 inches thick. They are professionally made and look just that. Various models and styles of 350 pound capacity bar stools are available too. Many to choose from.
400 Lbs Capacity Bar Stools
Big & Tall Bar Stool

One very well constructed oversized bar stool that is as solid as they come. The rating of 400 pounds is no surprise from the heavy duty look of this chair. What's so good about this stool is how wide the seat is, which is perfect for us big guys.
The width of this bar stool is a very roomy 19 inches. To top it off, it has a rather comfortable faux leather padded seat. The overall design and eye appeal are quite rustic, which I like.
The only thing that could be of concern is the arms, they can restrict really big guys from sitting comfortably. However, the company also has a 400 pound bar stool without arms which can be found on amazon here.
Heavy Duty Bar Stool With Weight Capacity Of 400 lbs

Stylish and safe is something that Castlecreek has nailed with this chair in my opinion. Its design has a very antique look to it that is sure to look great in and around the bar. Certainly a piece to make people who are lucky enough to lay their eyes on this stool, jealous they don't have them.
To be a heavy duty bar stool there are certain things the chair has to have. It needs to have a good weight capacity and a decent sized seat to make it comfortable.
Which this barstool does, with it having a 400lbs capacity, thanks to the solid reinforced metal frame. The seat itself has a 20-inch diameter which is quite large for a bar stool.
The faux leather seat does look really nice and it's padded very nicely to make it a very comfortable seat. It's also very easy to clean and only takes a dry cloth to wipe it down. Allowing you to have more time to do enjoyable things in life, like sit at the bar and have a drink.
Wicker Barstools 330 LB Weight Capacity
Outdoor wicker barstools are a great accessory for any porch or deck and this 2-pack of wicker barstools have a heavy duty rating of 330 pounds. Rattan wicker furniture is very appealing to me and I love the strength and integrity of the frames of these barstools.
Each leg is thicker in diameter and are joined to each other with a support bar. This gives the bar stool the additional stability and balance required to handle up to 330 pounds.
On the base of each foot is a aluminium ring to guard the legs from dents and common wear and tear associated with outdoor life. The feet also feature a non-slip rubber point to prevent the stool from sliding when you sit on it along with preventing any scratching to hardwood flooring or outdoor timber decks.
The only real downside to these barstools is that you can't take off the armrests. I personally prefer no arms and in this case, if your backside can't fit on a 19.7″ wide seat, then the chair may be too narrow for you.
Otherwise, its a great set of wicker barstools for the heavy person. The look amazing, are very stable and provide a nice height for sitting around the bar while having a relaxing drink with you loved ones.
---
440 Lbs Industrial King Size Bar Stool

This stool by Lokkhan is one of the most unique looking stools on the market in my opinion. It has a look that will suit a wide range of people, but especially in your man cave or bar. It gives you that industrial feeling when you look at it thanks to the robust and heavy duty design.
This stool unlike a lot of others offers you the ability to change the height of it, which can make it useful for both tall and short people. It can go as low as 23.4-inches to an impressive 33-inches tall, which makes it great for the big and tall people.
The weight capacity of this king size bar stool is an impressive 440 lbs, making it a great bar stool for someone that weighs 400 pounds. This high weight limit is a direct reflection of the materials used in construction. It doesn't get sturdier or stronger than a heavy-duty cast iron frame. To complete the robust design is a timber seat 13 inches wide.
With a seat made out of 1.3″ thick high-quality pine wood, you'd expect it to be a little uncomfortable when sitting on it for long periods of time. The way it has rounded edges, combined with the ergonomic footrest does make this stool extremely comfortable. The wood is also nice and thick so that the stool lasts for a long time, if not forever.
For those who don't like the lack of a backrest on it, there is a backrest option for you. Overall, I really like the rustic and heavy duty design of the bar stool. It makes a bold statement and better yet, it can hold a heavy person with ease. Certainly one of the strongest bar stools I've witnessed.
500 Lbs Capacity Bar Stool

Who other than Flash Furniture to produce a 500 lb capacity bar stool. The Flash Furniture 'Hercules' series of products are designed for big and tall people. Including their 500 pound rated office chair and now the 500 pound rated bar counter stool.
The stool was essentially designed for heavy duty commercial use in Restaurants and bars. However, they have a certain home bar appeal due to their ladder backrest design.
But looks aside, the 16 gauge steel frame is strong enough to handle 500 pounds and better yet, it's well padded with a 2.5 inch thick foam. While I would like another inch of padding, you can't really complain considering the lack of 500 pound capacity bar stools.
The seat height is a tall 32 inches, so big and tall people are in heaven with this chair. The seat size is ok at 16.5″ in diameter. A few more inches to cater to larger backsides would have been preferred.
However, the backrest gives you the reassurance of safety as a big man sitting on a 16.5″ seat. Every little bit of support to help you balance on a stool is welcomed.
500 Pound Weight Limit Counter Stools
We have seen in the specs that these 2 below bar stools do have a tested weight capacity of 500 lbs and 750 lbs. While there isn't a vast selection available in the 500 lb category, as soon as a new one hits the market. We will be sure to find it.
Heavy Duty Commercial Bar Stools

Richardson Seating has made a barstool where the design is very timeless. Being a commercial grade bar stool suitable for restaurants, you can expect it to handle some heavy duty use. While there is no specified weight capacity, there are many people commenting on this stool with weights of 450 pounds.
It comes in a range of colors that make finding something that will suit your needs a bit easier. Especially if you go the red model and are looking for something that gives you that early 50's diner look, that a lot of people love.
If you're someone who wants something that's made in the USA then this stool is a good option for you. With it being American made can give you that peace of mind that nothing has been overlooked when it was made so you can trust sitting on it.
The height of the stool is 30-inches which is a fairly decent height that might be difficult for really short people, but not a dealbreaker. The seat itself is 3.75 thick and made out of wood and foam padding to give it the extra element of comfort. Tho it can get a little uncomfortable if you sit on it for a long time due to it not having a backrest.
Additional Heavy Duty Stools
You may also be interested in Heavy Duty Garage Stools. These stools sit lower to the ground and have weight capacities up to 400 pounds. Perfect for the handy big man.
Recap Of The Big Mans Barstools
Save