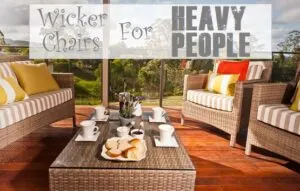 Wicker furniture adds ample amounts of design and style to anyone's patio or outdoor entertaining area. However, wicker chairs for heavy people are not as easy to find.
Wicker chairs tend to have a heavy-duty design to them, but when you weigh 400 pounds, it's not worth risking it if the chair hasn't specified a high weight capacity.
As wicker can deteriorate in extreme conditions if not well maintained, it's important that a heavy person ensures that the actual support system of the chair is capable of handling their weight.
But finding wicker chairs and furniture with labeled weight capacities is not an easy task. Many manufacturers don't test their chairs to hold weights higher than the average size person. Fortunately, some do and these are the wicker chairs mentioned below. All of them have specified weight capacities from 350 lb to 500lb.
Compare Wicker Furniture For Heavy People
---
Wicker Barstools 350LB Weight Limit

It can be hard to find wicker barstools for heavy people simply because the added height creates greater force on the structural supports. Fortunately there is this 2-pack of wicker barstools with a weight capacity of 350 pounds.
While it's not the highest capacity, it does give the overweight people to option to enjoy wicker furniture behind the bar or counter height bench.
While each leg has been reinforced by joining support bars, I would not be tempted to sit on these chairs if I were heavier than 340 pounds. I am dubious about sitting up high at my weight as a result of breaking friends barstools in the past.
However, these chairs seem to be built better with thicker legs compared to many other wicker barstools. The legs have a 24mm diameter (about 1-inch) compared to a standard 19mm barstool legs.
So this is reassuring. You also need to ensure you can fit in the 25″ wide seat as the stool has armrests. If you generally need a seat that is wider than 23-inches, then this barstool would likely be too narrow.
---
Stackable Wicker Chairs With 440 LB Capacity

It's hard to go past these incredibly stylish set of 4 stackable wicker chairs that are excellent for heavy people thanks to the great weight capacity and size. If you're on the larger size, then these are a great option as each chair is able to support 440lbs weight.
Heavy-Duty Wicker Chairs Yet Comfortable
While the cushions might look a little thin from a glance but they're 3″ thick. This level of thickness combined with the firm padding really makes this chair more comfortable. The padding is a little firm that holds its shape when you sit on it for long periods of time.
Perfect For The Bigger Person
Having the great 440lbs weight capacity is great for the bigger people but a chair needs more than this in my opinion. The seat itself needs to be big enough to fit you which this chair is capable of doing thanks to the impressive measurements of 21″ depth long by 43.3″ height by 30″ width.
---
500 LB Wicker Glider Rocking Chair

When you think of a wicker chair what you will think of is something that most likely looks exactly like this Valencia wicker chair, especially if you're after an outdoors rocking chair. Being such a simple design does make this chair actually stand out in my opinion, it's not trying to be overly fancy and take away from the room.
While this chair is a very simple design it's still a chair that I believe to be stylish. It does come in 4 different color variations which give you more options and helps find something that will suit the look you either have or are going for.
Assembling these wicker chairs isn't very difficult and doesn't take long. It will take roughly around 2 hours to set up if you have a little bit of experience setting up furniture. There is an option to get expert assembly if you're not the most confident if you don't mind spending a little bit of extra money.
Extra Stong Durable Frame
Knowing what a chair is made out of can help you know exactly how durable it is which is crucial for bigger people. Valencia went with very durable steel for the frame and a tough but comfortable wicker resin. In my opinion, this is one of the best features of this wicker chair.
One of the biggest issues that can face a wicker chair is that the weather elements can hurt them fairly easily. That's not the case thanks to the UV protection they made sure this chair had when designing it. So it can handle being used as an external chair if that's what you're looking for.
---
Up To 660 LB LB Wicker Furniture Chairs & Table Set

This wicker table set by Ovios is a cut above the rest when it comes to style and quality. The stylish design is the first thing that really does catch your eye when you first see them making them instantly add style to where you will be putting them.
With this table set including a 3 seat sofa (660 LB capacity), a love seat (550 LB rating), 2x 250 LB capacity wicker swivel chair and a 2 x table you're getting great value for money in my opinion.
Having four chairs that can handle heavy loads makes this set excellent for a heavy family looking for some peace of mind on their next table set.
Ovios went with sponge foam for the padding the seat cushions use which is a genorous 3.54″ in thickness. This gives you a good amount of support which is important for any chair but it's the comfort of this that really stands out and makes it worth your time.
High-quality Wicker
One of the things that really sets this table set apart in my opinion, is the impressive high-quality materials they have made it out of. The wicker is weather resistant which protects it from the outside elements making it great for any outdoor use.
The quality of this wicker table set is improved even further by the excellent workmanship that went into it. With the way the wicker goes together does give it that hand-woven style that a lot of people do really like. Ovios do claim that it's 100% hand-woven and while I'm not 100% if it is, it doesn't stop it from being excellent.
---
Rocking Wicker Conversation Set 330 LBs Weight Limit

If you've never had the experience of relaxing outside in a recliner then I can say you've been missing out and the best way to rectify this is with these excellent wicker reclining chairs from Enstver. You'll kick yourself for not trying it earlier and want to start relaxing outside more often!
It's very easy to assume that these chairs are only good because of there reclining feature, but you'd be mistaken in thinking this. For me, it's the comfort they offer thanks to the fairly thick cushion and the really comfortable armrests which are wider than your standard chairs.
To improve upon the already incredible comfort, these chairs are also rocking chairs as well. You can set them up in a way that will allow you to rock without having to continuously push yourself which is something that I think most people will like about this wicker reclining/ rocking chairs.
Safety Is A Key Design Choice
While reclining is the best way to get comfortable in my opinion, there are people who struggle to trust it since they don't feel safe. Enstver made a smart design choice by including a device at the back of the chair that will help in preventing the chair from falling over making it much safer.
In my opinion, the best feature on these chairs will always be the reclining feature they have. The mechanism is smooth so you don't get that stutter other chairs can have which does make you feel safer when putting it into its recline mode.
---
Heavy-Duty Wicker Chairs With 330 Lbs Capacity

With the way the wicker has been woven on these chairs, it really gives it that feeling that these chairs very durable and stable. Which is exactly what Best Choice Products were going for and have achieved in my opinion. While the 300lbs max weight capacity (250 recommended) isn't the biggest on the market, it does work really well with how stable these chairs are.
Having a chair that has a 500lbs weight capacity doesn't mean much if when you sit on the chair you don't feel like it's going to support you. This is a big part of the reason I really like these chairs as you feel like they're able to hold you and not going to just give out at any second.
Comfortable Thanks To Clever Design
The design of these chairs is something that I really like thanks to them being really comfortable. The backrest and armrests are curved which feels really comfortable when you sit in them. This design is ergonomic which makes sitting in them for long periods easier to do.
Outdoor Swivel Rocker, Need I Say More?
An outdoor swivel rocker made from handcrafter weather resistant resin wicker is what outdoor living should be like. The best thing about this unique wicker is that it wont crack and break like genuine wicker. The resin wicker wont dry out as it stays flexible and will keep looking like new season after season.
---

There is a lot to like about this set of wicker chaise chairs from Outsunny who do make a lot of quality garden furniture. Which is a trend they continue with these excellent chaise lounges that are stylish, comfortable, and most importantly high-quality.
Big And tall? No Worries
This is something that I really like about these chairs is just how versatile they are when it comes to who can use them. Having the impressive 350lbs weight capacity is great for the bigger people out there and mainly thanks to the excellent polypropylene resin frame.
If you're a big or tall person then there is a good chance you've struggled to find a product to suit you. If you're both of these things then it seems about a one in a million chance to find something to suit you. With this chair measuring 78.5″ long it will suit both big and tall people.
Unique Construction
This is one of the things that really stand out about these lounges in my opinion. They're made out of a polypropylene resin that is designed to look like a rattan style. In my opinion, they have nailed the look they were going for that also has another great advantage you might not realize.
While most outside chairs have some kind of weather protection, not many of them compare to these lounges. This is thanks to the polypropylene resin as it's durable and offers more protection than your standard wicker chairs. This makes it a great option for those who know these chairs will be getting wet.