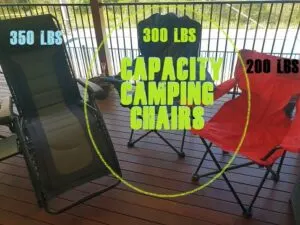 Camping chairs are quite a versatile chair, but as a heavy person, they need to be structurally safe to support our heavier weight. The ones listed below are what I believe to be the best 300 LB capacity camp chairs with a few of the best 350 Lb capacity camping chairs for the people that weight 300 pounds or more.
Having owned quite a few camping chairs over the years, I know first hand how weak some of them can be. If you don't know what to look for when buying a chair like this, you could end up with one not designed for the heavier person.
Many people with their wallets, rather than their heads. In regards to buying a 300 lb camping chair to support a bigger person, this is a case where you need to use your head.
By this I mean, cheap camping chairs you can pick up from your local box store will certainly not provide the strength and heavy-duty rating required to support a 300 pound person. Unfortunately for us, the chairs need to be reinforced, made to be oversized which uses more material including thick gauge steel. This drives the price of the chair up, but it is something us heavy people have become accustomed to over the years. Paying more for a heavy-duty product.
Compare 300LB-350LB Camp Chairs
Best Camp Chair With 300 Lbs Capacity
Key Features
300 Lb Weight Capacity
20.5″ Wide Seat
Up to 19mm thick steel, including hard armrests
This camping chair by Core does the small things right that often get ignored by most other companies. By getting these small things right they show that they care about the product they put out and this camping chair is a great example of that.
One thing that gets overlooked with camping chairs for us bigger people is how it can be difficult to get out of them. Most camping chairs armrests are usually just fabric so you can't trust putting any pressure on them. This is why I really like how Core has designed this with steel arms so you have something solid to use to help get up.
Something that I really like about this camping chair is how they gave the seat, armrests, and backrest some padding. Adding this padding makes sitting in this amazing camping chair really comfortable for when you need to sit for those extended periods of time.
The size of the seat is very spacious for the bigger people out there. With a great width of 25.5-inches and a depth of 18-inches offering a lot of room for those who need it. This seat is made even better with how durable it is thanks to it being made out of a 600D polyester which is tough and soft.
The storage possibilities on this camping chair are really good with it offering an extra side pocket and drink holder, which are both useful when camping or using this as a tailgating chair. The pocket on the side has enough room that you can easily fit a phone into it and still have some space for something else. The drink holder is also oversized to allow you to have a bigger cup which is a nice touch.
CORE Equipment Padded Hard Arm Camp Chair
300 Lbs Limit Camp Chair With Swivel Feet
Key Features
Wide Seat 22.5″
Tall Backrest 22″
300 Lb Weight Rating
If you've ever spent time camping then there is a good chance you have heard of Timber Ridge since they are one of the most well-known camping companies next to Coleman. Once you get to know this camping chair you will understand why this is the case and adding it to your camping gear is a good idea for someone that weighs 300 pounds.
Heavy Duty Swivel Cut Holder & Feet
One of the biggest issues when camping is the lack of even ground which can make sitting on a camping chair a nightmare. This brings me to one of the best features of this camping chair which is the plastic swivel drink holder and feet. These feet allow the chair to be more even when on uneven ground which makes it great camping.
This is a great fishing chair for overweight people because you never know what the ground is going to be like when you're fishing. The adjustable swivel feet allow you to sit comfortably on unexpected terrains.
Most cup holders on a camping chair are fixed so you can't move them. With this camping chair that's not the case with the cupholder being able to swivel. This allows you to put the cup into a better and more comfortable position for your needs.
With a lot of camping chairs, you will lack back support as they're normally fairly low which can cause some back issues. They have helped with this issue on this camping chair with the backrest being 22-inches high and 22.5-inches wide.
These measurements are impressive and really help with the back pain that can come from sitting in a camping chair. It also allows the bigger person with broad shoulders to have adequate back support.
They have made the armrest padding removable which some people might find strange but there is a clever reason for this. If you know you're going to be leaving the chair out in the sun for a bit you can remove the padding. So when you come back you can put the padding back on which will prevent you from burning your arm on the armrest.
Timber Ridge Camping Chair 300 LB Capacity
Best Camping Chair For Someone 300 Pounds Of Weight
Key Features
325 LB Weight Capacity
4 Position Recliner
Adjustable feet up to 4″ For uneven ground
Approx 21″ wide seat
Earth Products have got a lot of the parts of this camping chair right that make extremely comfortable and durable. When you're looking for a comfortable camping experience it's hard to go past this excellent camping chair by Earth Products.
Heavy Duty Reclining Camp Chair
In my opinion, the best feature of this camping chair is its ability to recline into a total of 4 different positions. Being able to recline is an excellent feature that adds to the already impressive comfort of this camping chair. Reclining to a laid back position and just watching the stars is a great experience that this chair can provide.
Having the option to customize the position this chair can be in is made even better by the front legs. They are able to be adjusted by 3.5-inches which helps with uneven ground and getting into a comfortable position.
While this camping chair isn't the first to have padding, the amount of padding they used for it makes it very comfortable. This is thanks to them not just putting it in the seat, and armrests they also put it in the headrest. When this is all combined the padding of this chair is one of its stand out features.
This camping chair comes with a handy strap for when you fold it down that allows you to carry it over the shoulder. This makes transporting it very easy and leaves your hands free to carry other things which makes it really useful. The folded dimensions are 37′ height by 23′ wide by 5″ deep which does make it a little big for when you pack it away.
Earth Ultimate Reclining Camp Chair 325 LB
Camping Chairs 350 Lbs Capacity
Key Takeaways
Oversized steel frame
350 LB weight limit
Lumbar support for the back
A lot of right design choices have been made by KingCamp when they made this camping chair. Whether it's comfort or durability KingCamp have made sure this camping chair has both while also making a very stylish camping chair in my opinion.
While a lot of camping chairs will have either a drink holder or one storage spot. KingCamp decided that it wasn't enough and went several steps further. It has an insulated cooler bag that can hold up to 3 cans, side pocket, drink holder, and a back pocket that's at the top of the chair. If you want storage space and convenience in a camping chair then this is a great option.
Lumbar Support On A Camping Chair?
One thing that I really like and I know a lot of people out there will like is the lumbar support this camping chair offers. It has an alignment strap that you're able to adjust to give you the right amount of lumbar support you need. Considering back pain is one of the biggest problems in the USA this is a useful feature.
The frame of this chair is impressive with it being made of a high strength steel tubing that's very durable. With the way they're set up your weight is evenly distributed which gives that durability that will give you peace of mind when sitting on this chair.
The folding style of this camping chair is the classic design of 4-direction folding. It comes with a carry bag that's made out of a strong Oxford fabric that makes the carry bag durable which is a rare thing for camping chairs.
KingCamp Camping Chair 350 LB
350 Lbs Reclining Camp Chair
Key Points To Consider
21″ Wide Padded Seat
0°-170° Recline Zero Gravity
Reinforced Fram To Hold 350 LB
This large camping chair has a lot of great features that will make it hard to go back to your standard camping chair. I know prefer to take my heavy duty zero gravity chair with me on all camping trips. The luxurious relation is too hard to pass up.
Portal has nailed the design of this camping chair that offers great versatility and strong reinforcements for heavy people.
The first thing you will notice with this camping chair is how it's able to be put into a reclined position with it offering 170 degrees of adjustment. When you fully recline this chair back it measures an impressive 72-inches which will be good for the taller people out there who struggle to find a camping chair.
Being a zero gravity chair, it's not easy to accommodate a heavy person in this position. But with the reinforcements, this chair has, it's possible for people that weight up to 350 pounds.
Padded With Breathable Mesh Material
One of the issues that camping chairs can have is they can get hot when you're sitting in them for long periods of time. This camping chair by Portal is made out of a breathable mesh that helps with preventing this issue which is something that I appreciate.
Something that I really like about this chair is the lumbar support chair that it comes with. You can lower it to help with your back or raise it to where your head will be to use it as a pillow. When in the reclined position this is really useful as you will have this handy makeshift pillow without needing to get one.
While the armrests aren't padded they're still very comfortable with how they're shaped. It allows the arm to sit nicely onto the wooden frame without the arm sliding off the side like some other types of armrests do. While it's a small thing it was a smart design choice by Portal.
PORTAL Oversized Mesh Back Zero Gravity Chair
Heavy Duty 350 Lb Capacity Camping Chair
Features To Consider
20mm Reinforced heavy-duty steel tubing
23″ Wide Seat
18.5″ Seat Height for Big And Tall People
350 LB Weight Capacity
Sometimes the classic designs are all you need and this camping chair by Alpha Camp is the perfect example of a classic design done extremely well. When you want this classic design it's hard to go past this camping chair that does everything this classic design needs to do.
What a camping chair fabric is made out of can make or break a camping chair in my opinion. With this being made out of a very durable oxford fabric is made even better by Alpha Camp adding a coating of waterproofing. Having this extra level of protection on the camping chair is handy if you accidentally leave it in the rain.
There is a really good amount of storage on this camping chair that will come in handy. It has two cupholders with one being larger to accommodate a 32-ounce drink and one for your standard drinks. There is also 3 pockets on the side of the camping chair which is really useful if you want to store your books or phone.
When you have a maximum 350lbs weight capacity you need your camping chair to have a really tough frame. Alpha Camp delivers here with a heavy-duty steel frame that makes it really solid. Combine this with the really sturdy feet of this camping chair then you have one sturdy piece of camping equipment.
It's a very lightweight and compact chair for something that has a steel frame. With it only weighing 9.7lbs you're unlikely going to struggle when you need to carry this camping chair. Carrying has been made easy by the included carry bag that makes life easier.
ALPHA CAMP Oversized 350 LB Camp Chair
If You Weigh 300 Lbs
What camp chair do you buy if you weigh 300 pounds? In my personal opinion, you should always allow 10% more than your body weight. So if you weigh 300 pounds, I would recommend looking for a chair with at least a 330 lb weight capacity.
This is why I have included some camping chairs with weight capacities of 350 pounds. This extra 50 LB will give you the confidence to know the chair is strong enough to hold your weight.
While these chairs are quite heavy-duty, they are by no means the strongest on the market. If you are concerned in the slightest about being 300 pounds and breaking your chair, I would strongly suggest you consider other camping chairs for heavy people.
These camp chairs have weight capacities well above 300 LB, all the way up to 800 pounds to give you that reassurance that the chair has been reinforced with strong steel to support heavy people.