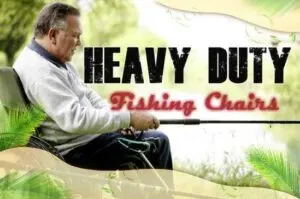 While you can use just about any chair while you're fishing, I've even seen people bring along sofas in their trucks, heavy duty fishing chairs are the way to go. Especially if you're a larger fisherman wanting the reassurance from the construction of the chair.
A fishing chair built strong, sturdy and capable of handling uneven terrain is the ticket to a enjoyable day fishing. Not everybody fishes from piers or flat banks. So a chair that has the capabilities to adjust its feet to the uneven terrain is well worth its weight in gold.
The feet of the chair are just one factor to consider and one that may not be relevant to everyone. But in terms of the fishing chair being heavy duty, it needs to be built from tough materials. Nobody want's a chair they can use once and then all of a sudden its no longer a viable option.
Compare Heavy Duty Fishing Chairs
| | Capacity | Features | Price |
| --- | --- | --- | --- |
| | 440 Lbs | Lightweight, Strong, Includes rod & umbrella holder, backrest, bait bucket, storage bag and carry bag. | Check Price Amazon |
| | 300-350 Lbs | 180 degree recline, Adjustable leg height & feet, well padded, | Check Price Amazon |
| | 250 Lbs | 4 Position recline, 2 cup holders, rod holder, shoulder carry strap, premium quality | Check Price Amazon |
| | 330 Lbs | Side table with drink holder, cooler bag attachment, very sturdy design, heavy duty 600D fabric. | Check Price Amazon |
| | Up To 800 Lbs | Strong & wide camping chairs suitable for fishing | View Camping Chairs |
| | Up To 600 Lbs | Rely on the sturdiness of a Big & Tall Directors Chair while fishing | View Directors Chairs |
What Makes A Fisherman's Chair Extra Strong?
Heavy duty means just that, being capable of being thrown in the back of the truck or perched up in among a rocky landscape. Heavy duty also means the chair has to be able to hold substantial weights.
Superior Strength
As any big person knows, a chair to be suitable has to have a high weight capacity, a big seat and a decent width between the arms. Depending on the type of fishing chair you're after, the arms of the chair may be not applicable.
The biggest problem is that most chairs aren't capable of holding a bigger guy. This is also true when looking to buy a high weight capacity fishing chair. They are few and far between. Many chairs can barely hold 200-220 pounds and from my experience aren't all that heavy duty.
However, you can find a few good chairs suitable for fishing with rod holders designed to withstand the heavier person as well as take a bit if a beating. These chairs are listed below.
440 Pound Capacity Fishing Chair

In terms of the fishing chair with the highest weight capacity, I found this little gem by Creator. It has a beefy 440 pound weight capacity and all the bells and whistles a fisherman could dream of.
While it is quite heavy duty and very strong, it's probably not the best choice for someone that is 400 pounds plus. This is only because it's more of a folding stool design with a small backrest. I like that Creator have gone the extra mile to include a backrest.
But the tiny width of 13 inches makes it quite small for larger people. But if you don't mind sitting on a folding stool in general, you can't get a better one suited to fishing.
Features For The Fisherman
What I love about this chair is that it really was designed with people that love to fish for hours on end. Its got everything you need bar a drink holder. Although, attaching a drink holder to the frame is easy enough.
This fishing chair includes the following attachments and gizmos to make the day fishing all that much lazier, I mean more practical
Includes a rod holder which can be tightened to keep rod firmly in position while topping up the drinks.
Strong alloy aluminum cross bars for greater support.
Individual height adjustable legs for fishing on uneven terrains.
A green bait box which attaches to the front of the chair.
Small tackle bag or tool bag which attaches to back of chair.
Larger back pack bag to carry everything in.
Umbrella holder which has been reinforced with two clamps now for greater resistance.
Creator Fishing Chair With The Lot
Fishing Chair For Tall People With Adjustable Legs

This chair by Vingli made it into the list for its high weight capacity and the fact its got adjustable legs. The 300 to 350 pound capacity is backed up by the reinforced frames front and rear bars. The chair itself has been oversized so that big and tall people can comfortably sit and relax.
Should you run into some pretty rough terrain and are persistent to not move on, the adjustable legs and paws of this chair make it the ideal choice.
The front legs are adjustable to adapt to sloping terrain which is a huge benefit when fishing in waders off the beaten track locations. The front legs can adjust 6 inches from 14 to 20 inches tall. The paws also swivel to prevent the chair from sinking into the river reservoir, mud and sand.
When the fish aren't biting, you can take full advantage of the comfort this chair offers. Not only is it well padded, including the tall backrest, but the chair even reclines. It reclines to a full 180 degrees. Does life get any better than this?.
While the Vingli fishing chair doesn't include rod holders, you can quite easily attach some to the frame of the chair. They are not expensive and will last you a long time. Especially if you get something like this stainless steel rod holder found on amazon.
The chair does come with a carry bag, but I've found it to not be the best, but it does the trick nonetheless. Just like catering to a plus size person. This thing is bulky and probably heavier than you imagine. But you got to expect this from such a heavy duty fishing chair.
Vingli Reclining Adjustable Legs Fishing Chair
250 Lbs Strong & Durable Fishing Chair With Pole Holder

This chair is by Earth Products and while it is quite similar to the above Vingli chair, this chair boasts a couple extra features. However, it's rated to only 250 pounds, so not quite as heavy duty.
The similarities lay in the areas of the adjustable legs, paws and that this too is a reclining fishing chair. This chair by Earth Products has 4 levels of recline and is also rather well padded for comfort.
There are a couple notable differences which may sway you towards this chair over the other. First of all it has a rod holder on the left side, which takes the hassle out of you having to manually attach one.
Secondly there's 2 cup holders on the right side, again a small detail but may be the deciding factor for you. There is also a zippered storage pouch for keeping your valuables safe and dry in. However the thing that wins me over is the nice sturdy shoulder strap the Earth Products chair comes with. This is much more up my alley and makes carrying the bulkier fishing chair much easier.
Overall, I find the Earth Products fishing chair a higher quality than many of its competitors. Its the small details that many miss that make this a winning chair. For instance, the front support bar has been reinforced with a second bar to give it the extra strength to not only support you, but counterbalance the chairs foundation when fishing on steep slopes.
However, the lower weight capacity may turn some folks off. I also like the high 21 inch seat, makes it much easier to get out of the chair when the fish action begins to happen. If you're under 250 pounds, this is quite a good choice.
Earth Products Ultimate Outdoor Adjustable Fishing Chair
330 Lbs Reinforced Alternative Fishing Chair

Directors chairs like this one by King Camp make awesome hard surface fishing chairs. Reason they are not ideal for the beach or muddy conditions is because the legs have bottom bars on them.
These bars, while they add extra strength and support to the chair also means they can easily sink into softer surfaces. There's no paw feet on them to help stop them from sinking.
King Camp have a range of directors chairs, but I quite like this design. This is because you get a handy side table and a storage pouch on the left side. Sure the storage area is designed as a cooler, but you can easily line it with a bag and put your bait in. The side table also has a drink holder which is pretty handy.
Te King Camp also uses a steel cross (X) support bar system at the front and rear of the chair. This creates a stronger foundation and one that is not as easy to break. As mentioned earlier, the two sides also have a support bar running along the bottom for greater overall strength.
But its not just the steel frame that makes this fishing chair heavy duty, the woven polyester 600 denier fabric used is just as tough as they come. Overall, if you're looking for a strong chair that you will feel secure in, this one is certainly one of the best.
KingCamp Heavy Duty Steel Folding Chair / Director's Chair
Alternative Fishing Chairs Built Strong
1.Directors Chairs
Some of the best heavy duty fishing chairs don't necessarily have the exact title. If you like the idea of the above directors chair as an alternative to other fishing chairs, there's a selection of big and tall directors chairs here that may be of interest.
Directors chairs can be quite heavy duty in nature. But some are obviously better built than others. In the above list you can find some of the widest chairs with high weight capacities up to 600 pounds. Perfect for the larger fisherman.
2. Camping Chairs
Most people simply use a traditional camping chair when they go fishing. There is absolutely nothing wrong with that either.
However when heavy duty is the aim of the game, many camp chairs fall short. These heavy duty camping chairs here are not that. They are built tough and strong to handle heavy weights up to 800 pounds. Best of all, you can use them for both camping and fishing adventures.
3. Outdoor Folding Fishing Chairs
Probably not the kind of fishing chair you have come to expect, but with a heavy duty 1000 pound capacity, I think they pass. These folding chairs are great for fishing as they are very portable.
They fold down nice and compact and are much lighter than carrying one of the actual fishing chairs listed above. Some options are a bit dorky, but the 1000 pound chair would make a pretty decent fishing chair. Best of all, ti's super tough.