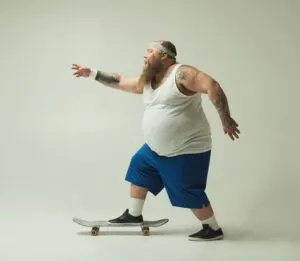 When it comes to choosing the best skateboards for heavy riders there are a few key factors to take into consideration. For example, did you know that skateboards have weight capacities?
It's true and if you're an overweight adult, it is essential to check on the weight limit before buying the skateboard. Most skateboards for adults have a lower capacity of about 200 pounds, which is no where near high enough for a heavy adult.
Going for a skateboard with a high weight capacity is a good starting point, but there is more to take into consideration as a heavier user.
I have complied a full buyers guide to the big mans skateboard beneath my list of recommended heavy-duty skateboards listed below. Similar to our guide on electronic skateboards for heavy riders, these basic principals remain.
However, as a brief overview the type of skateboard suitable for a heavy rider will be similar to these specs:
Cruiser or longboards – Alternatively Mountain Boards for 500LB capacity
Mid size wheels (54mm to 59mm in diameter) rather than small or large wheels
A softer wheel on the Durometer A scale. Consider wheels with a softness about 78a to 87a rather than the typical 99a hard wheels.
Wider deck, relevant to your height for greater balance.
Compare Skateboards By Weight Capacity
| | Capacity | Features | Price |
| --- | --- | --- | --- |
| | 500 LB | Off Road Downhill Mountain Board. 38" x 97.86"W. 9 Ply Maple, Rebound Shock Absorber | Check Price Amazon |
| | 400 LB | 5" magnesium trucks, 7 Layer Maple, High Speed ABEC-9 Bearings and Superior Shock Absorption | Check Price Amazon |
| | 330 LB | 31.75" x 7.88"W double kick dis-symmetric concave, 52mm 95A PU Wheels, 5" Alloy Trucks | Check Price Amazon |
| | 330 LB | 41" longboard, 9.5" wide deck, 8-ply Maple, 70mm x 51mm 80A softer wheels (Rock Finish) ABEC-11 Speed Bearings | Check Price Amazon |
| | 330 LB | 41" x 9"W, 8-layer Maple, 51mm 82A ant-shock wheels, 7" heavy-duty aluminum trucks | Check Price Amazon |
| | 330 LB | As Above but with a deck that has less flex to it | Check Price Amazon |
| | 330 LB | Double Kick 8"w x 31"L 95A PU wheels with ABEC-11 precision bearings and 95A High rebound PU bushin | Check Price Amazon |
---
Heavy-Duty Skateboard 500 LB Capacity Mountain Board

Technological advancements have occurred in almost everything we use in life. Even skateboards have changed, and we no longer need to pull or push them the traditional way.
As technology is moving toward excellence, off-road mountain skateboards are even becoming more appealing to the bigger rider, especially if you've found traditional skateboards too much effort to conquer in the past.
This is one of the best options on the market if downhill skateboarding is your thing. It is friendly for entry-level skaters who would like to learn it as a hobby and as an added bonus, a unique way to get into shape.
Strong Robust Design
One thing that makes it a perfect skateboard is its robust structure. A skateboards for heavy people needs to have a strong deck and trucks that will be heavy-duty enough to withstand up to double the average size persons weight.
This Losenka board boasts a very high weight capacity of 500 pounds which is un-heard of in this industry. But it is not your typical on road type of skateboard as it is made up of high-quality inflatable tires that offer perfect traction on different kinds of terrains.
Because it is made from materials consisting of 9-ply composite Maple and 5-star alloy hubs, it makes for a great choice for heavy riders. As mentioned earlier, you can also use it on all terrains as it is one of the best options for mountainous landscapes. You can also use it for kiteboarding or road cruising and basically anything your heart desires.
High Performance For Handling Heavier People
Another thing to note about this skateboard is the high-performance features it comes with, making sure you have a great skating experience. For instance, it comes with high-speed bearings that make the ride as smooth as possible under maximum weight loads.
Its inflatable wheels and shock absorbers make sure you feel minimal impact when using it which is especially important as a bigger rider as you feel every bump and divot on the road more so.
It is well-sized and can be perfect for adult and teen use. It carries up to 500lbs of maximum weight, making it an excellent choice. Skaters also love it because it comes with accessories such as a storage bag and protective gear.
With all these features, the Losenka all-terrain skateboard is one of the best choices for anyone looking for a strong skateboard that they can use comfortably on all terrains. Besides, it is an excellent gift for anyone as you do not need to worry so much about weight capacity.
Alternative 400 LB Capacity Skateboard
Pros
Available in many decals

Deck Size: 31″ x 8″W- Great quality wood, really grippy!

400 LB Capacity

Shock resistant 95A PU wheels, ABEC-9 precision bearings, 5″ magnesium trucks

Handles very well and smooth for the heavy rider

Sharp turn radius
Cons
Suitable for beginners, experienced riders may not enjoy it as much

Budget friendly = Cheaper parts = Won't last as long

Trucks should be upgraded for heavier users in my opinion.
Skateboards for Overweight Riders
WhiteFang – 330LB Capacity
Quick Overview
Deck: 7 Layer Canadian Maple Wood. 31.75″ x 7.88″w
95A Rebound wheels, 52mm diameter
5″ Alloy Trucks
Emery sandpaper top for maximum grip

WhiteFang has designed this skateboard for beginners and the fact it has a 330 LB weight capacity makes it a great place to start for overweight adults. Its deck width (7.88″) provides the necessary balance for adults. However, if you have larger feet you may find the width a little too narrow.
The double kick concave shape makes it stand out among a sea of skateboards. It works well for kids but as it has a heavy-duty capacity its durable enough to support overweight adults also. Each time you start riding, it assures you of a fast glide thanks to the 52mm 95A wheels. However, the wheels are a little too hard for road skating as such.
Key features and benefits
The heavy-duty construction makes it a very reliable skateboard for heavy riders. It is a skateboard that will assure you the best experience when on smooth surfaces. The ability to hold up to 330 pounds makes it very reassuring for the heavier adult daring to take on skateboarding.
The WhiteFang is a super-smooth skateboard to ride on and can adapt to multiple skateboarding scenarios. High rebound PU wheels and the precision construction make it very reliable in your everyday applications. The material used works well for commuting, skate parks and pool ramps. Five-inch magnesium alloy trucks assure you great results as you work on different surfaces.
Versatile Design
The skateboard can work for beginners and skilled riders alike which makes it a great choice for heavier people wanting something to learn and improve with. The double kick dissymmetric concave design combines several safety features to to help ease you into a safe ride. They are built to assure riders for the safest experience. After all, the boards are built to meet the highest standards.
Making the transition into skateboarding couldn't be any easier as the WhiteFang comes delivered fully assembled. But its not just the ease or lack of assembly, its the fact they are influential skateboards that can provide you with great results as you work on different surfaces.
Theses high-quality skateboards incorporate several features to allow you to enjoy the best skateboarding experience possible. The professional design not only looks amazing, but allows you to ride the skateboard on different surfaces.
Best Longboard Skateboard For Heavy People
Brief Overview
330 LB Capacity
41″ longboard, 9.5″ wide deck
70mm x 51mm 80A softer wheels (Rock Finish)
ABEC-11 Speed Bearings
The 41-inch skateboard by Junli is built to allow you to enjoy a safe and smooth riding experience as a heavy rider. The complete skateboard cruise design assures you outstanding performance when riding. They are built to meet the highest standards; free style and the highly effective design make them very practical in your everyday use. The highly responsive 7-inch aluminum alloy trucks and the ultra-elastic construction offer the best support.
9.5″ Wide Deck
With a maximum weight capacity of 330 pounds and a 9.5″ wide deck, this cold pressed 8-ply maple board is a suitable candidate for big and tall riders. With softer 80A wheels, the heavier rider can pivot softly over rougher road terrain while cruising around town.
Ultra elastic PU Support
The skateboards are built to allow you to enjoy the best experience when controlling them. The elastic PU support pads provide excellent stability and control as a bigger adult. This makes it easier to control the longboard on different types of surfaces. It is good to get skateboards that can allow you full control on a variety of surfaces as it opens up more avenues for you.
The longer 41″ deck gives talelr and bigger users greater comfort as there is more width to spread your feet. Theses longboards are designed to last longer thanks to the use of 8-ply natural maple and the ability to hold large weight assures users a great experience. The anti-slip surfaces will make them assure you great support. Like the above board, this one by Junli also comes fully assembled, hooray for getting your board and hitting the pavement immediately.
Durable construction
The surfaces on the skateboard are built to meet the highest standards when it comes to durability. Besides the finish that admittedly makes them very attractive to the eye, the underneath design is also waterproof. The PU 'rock' finished wheels also makes the overall board reliable and durable for cruising environments.
High-speed bearings
The bearings on the skateboards are of considerably good quality considering the affordable price tag. The bearings work smoothly to allow you to reach high speeds on your typical cruising surface. The fast speed makes them very practical in your everyday needs. You can apply them in your freestyle riding and high-speed cruise. Even when turning at high speeds, you will still have full control of the skateboards as it has a considerably wide turning radius.
Hawkeye 41 inch 330 LB Capacity Longboard

Longboard skateboards work well to assure heavier riders a comfortable and safe ride and this 41″ version by Hawkeye does just that. The eight-layer Maple design makes it very sturdy and robust enough to handle adults up to 330 pounds in weight.
When riding downhill, you have full control because of the careful flex design of the skateboard. They are designed to allow you to manoeuvre without too much grief thanks to the reactive 180mm KingPin trucks.
The Hawkeye skateboards are built to assure you of a smooth experience when riding on different surfaces but what makes them so popular is that they can be the perfect board for beginners, while also keeping the more experienced riders satisfied. The deck is stable enough to provide flex so you to practice different tricks without breaking the board, even as a bigger man.
You can count on the units to turn at the drop of a pin even when rolling at high speeds. They come with high-quality bearings and a pulley that turns rather well, so much so that 'bad corners' won't surprise you when performing stunts.
Overall, the Hawkeye 41-inch longboard is a solid board with heavy -duty trucks capable of handling a heavier person. The design is refreshing and the trucks are not just painted plastic, they are durable aluminum with decent bearings.
FISH Skateboards 330 Pound Weight Limit

Similar to the above longboard, this 41-inch by FISH Skateboards has less flex to the board. It is also an 8 layer maple board and is quite thick in comparison to many other longboards. If too much flex scares you off, then this board may be the answer as it has a much firmer deck.
The board itself comprises of pretty much the exact same specs as the above Hawkeye in that it can hold 330 pounds, has a 9 inch deck width and utilizes 7″ trucks. The Artisan drop-style is designed for giving this board extra speed over other longboards.
While the board comes assembled, FISH skateboards does include a multi-tool so you can alter the board or tighten things on the fly. This tool is quite handy as it is small in size, but has the fittings to adjust the Kingpin nuts, wheel nuts and the screws on the deck.
All in all, the FISH board is a decent skateboard for the price. It has enough width and robust features to satisfy the heavier rider. It's available in an array of colors so you can make your board stand out from the crowd.
Skateboard For Someone That Weighs 300 LBS

This skateboard by Pwigs has a weight limit of 330 pounds and is ideal for smooth surface riding. The medium size wheels (54mm) with a hardness rating of 95A give it the ability to travel smoothly and quickly over smooth surfaces while being able to withstand a larger adult.
The deck is quite durable and thick, which is why it has a higher weight capacity than what is considered standard. They have built the deck using layers of high quality Maple wood, making it have more give and support for a bigger adult.
The only thing I would consider changing on this skateboard are the trucks. They are 5-inches but feel a bit wobbly. Even with thorough tightening, they appear a bit loose. Perhaps this is just a design flaw or a one off, but either way its concerning.
But with that said, its the deck that is impressive. It is very strong and that is what counts. You can always buy more heavy-duty trucks to add to a board. But if the board is weak, chances are it could break easily under 300 pounds. So kudos to the strong maple deck.
Guide To Buying a Skateboard As A Big Guy
If this is your first time attempting to buy a skateboard, its helpful to know a few of the ins and outs of the styles of boards available. There are 4 main types of boards, and choosing one based on your size and weight can prove beneficial to the overall performance.
After all, it the board isn't performing, you're simply not going to have much fun and what's the point of skateboarding if you're not having fun right?
The 4 Styles Of Skateboards
Cruiser Boards – Typically feature Kicktails with a mid-length deck. Ideal for cruising around town
Popsicle Boards – The modernized 'standard' skateboard capable of performing tricks, cruising and of course taking to the skate park.
Old School Boards – These skateboards will usually have a flatter nose and feature kicktails. The wider nose makes these types of boards ideal for ramps, skate pools and cruising the streets.
Longboards
The ideal skateboards for a heavy person with limited skillset or mobility are either cruisers or longboards. Longboards with their a symmetrical shape sit lower to the ground which provides a better centre of gravity for heavier and taller riders. Longboards can also feature wheel cut-outs which means you can place bigger wheels on them, giving you more traction on the road which also helps with balance.
Skateboard Set-Up For Heavy People
Should A Heavier Rider Buy A Wider Deck Skateboard?
The average deck size is between 7.75″ wide and 8.25″ wide, but when you're a heavier person, it can be tempting to go for the widest possible deck, thinking this will provide the most support for you.
But this is not necessarily the case for every heavy rider. The best size deck for you will be based on your height, shoe size and of course your skateboarding style.
If you are heavy but not necessarily big footed and you buy a wider deck closer to 10″, you could end up regretting it. As the wider the deck is, the more power needed to propel the board. Meaning you need to work harder to make the skateboard work for you.
On the other hand, if you have big feet and are considered big and tall, a narrow board closer to 7″ will be extremely difficult to find balance on. As balance is pivotal for a big man, choosing a narrow board just doesn't make sense.
The happy medium for many big and heavy riders will be buying a skateboard with a deck width of 8.25 inches or more. This equates to a US show size 9 and larger and for adults taller than 5'3″.
What Size Skateboard Wheels Does A Larger Adult Require?
The wheels on the skateboard can determine what type of surface you can skate on along with the speed in which you travel. Being a heavier adult will mean your body weight can restrict the boards top speed when cruising. So choosing your wheels correctly will result in maximum performance.
Skateboard wheels are measured in millimetres (mm) with smaller wheels being about 50mm in diameter and the larger wheels coming in at over 60mm. Not a huge difference, but certainly a difference in performing certain tasks such as:
Small Wheels (50mm-53mm) Ideal for performing tricks as the board can spin faster in air and optimal for locking into grinds. Smaller wheels equals slower speed.
Mid-size Wheels (54mm-59mm) This is the size wheel a heavy rider will be looking for. They are not the fastest, yet not the slowest wheels but are just right for street skating while holding more body weight.
Large Wheels (60mm Plus) The need for speed – Specialty size wheels for use on longboards, old school boards and perfect for downhill speeds on rough surfaces.
Understanding Wheel Hardness As a Plus Size Rider
Another aspect to consider when buying a skateboard as a plus size adult is the wheels level of hardness known as the Durometer A Scale. This is basically the level of hardness represented by a number using a 100-point scale.
Do note: Pro wheels will be represented by the number 101a and offer the least amount of grip at the fastest speed. Not ideal for the heavy rider.
Most skateboards will have hard wheels with an average of 99a level. As 100a is the hardest, you can see most boards are pretty much maxed out.
The differences between buying softer or harder wheels will be determined by the use of the skateboard. A harder wheel will naturally roll faster on smooth surfaces down at the skate park, where a softer wheel will be ideal for street skating to pivot over the small rocks and bitumen.
What level of hardness you decide to go with will be determined by how you plane to use the skateboard. However, in general as the heavier riders ideal board is either a cruiser or longboard with slightly wider deck and mid size diameter wheels, I find that the hardness level should be around 78a to 87a.
This is soft enough to carry the heavier rider while still firm enough to roll over cracks and rough surfaces on a longboard or street board.