I hope you love the products I've recommended below, just a heads up that as an Amazon associate, I earn from qualifying purchases. This means I may earn commissions on products bought via links on this page.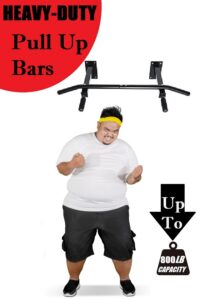 Pull up bars are a great addition to any home gym as they are relatively inexpensive, easy to assemble/install and are easy to use. But did you know, pull up bars have weight capacities? In this guide we will be discussing the best chin up bars for heavy people according to their heavy-duty rating and their weight capacity.
Unlike most other exercise equipment for heavy people, the chin up bar can be used without any other accessories and best of all, they take up minimal space in your room.
Depending on the type of bar you buy (wall mounted or free standing are best for bigger people), there are multiple routines and muscle groups you can target. As a heavy person, it can be hard to undertake many of these routines unless the bar is quite sturdy.
Compare By Weight Capacity
| | Features | Capacity | Price |
| --- | --- | --- | --- |
| | 38" Wide grip, Multi-Function: dipping station, Leg raises etc. Recommended for Solid Walls only | 440 LB | Check Price Amazon |
| | Folding, Free-standing, Height Adjustable, 7mm thick handle grips with wide bar for taller people. | 485 LB | Check Price Amazon |
| | 2 Position Pull Up Free-standing tower, dipping bar, Thick elbow supports, Adjustable backrest, heavy duty anti-tip over base. | 500 LB | Check Price Amazon |
| | Ceiling Mounted multi-position, heavy duty, 38" suits standard ceiling studs, high end | 800 LB | Check Price Amazon |
---
Are Pull Up Bars Suitable For Overweight People?
The answer to this question is not as straight forward as you may think. Pull ups or chins ups typically work the upper body muscles, but it is important for heavier people also as it can help with everyday life movements.
If you are looking to add a pull up bar to your existing workout routine, there's absolutely no reason a heavy person couldn't buy and safely use one.
However, if you are quite out of shape and looking to build your upper body as an overweight person, you may find that lifting your body weight with the assistance of a pull up bar may be more challenging.
In this case, you may be better off looking at a heavy-duty weight bench. This is because you can control how much weight you can lift while still working the upper body. But this of course does take up more valuable floor space, which is a significant disadvantage over chin up bars.
However, as a 350 pound person, you may find it hard to pull your own body weight up without having some decent upper body strength already.
---
Best Wall Mounted Pull Up Bars For Heavy People

The first option is the Hercules by GoPlus available on Amazon here. This is a sturdy and strong frame designed to hold people up to 440 pounds. As it is a wall mounted pull up bar, you can expect it to be quite strong.
But the GoPlus also takes it further by including a triangular support brace between each of the arms and the wall plate. This gives the overall bar more strength and resistance to breaking at the joint.
The Hercules bar also features 4 hand grips with the 2 at the front coming out from the wall by 20-inches. This is much more than the recommended 14-inches from wall measurement to ensure you get enough working space for your body.
Reinforced For Greater Strength
The steel tubing itself is quite robust, with its 1-inch diameter and the 1.5mm thickened tubing. The 1″ thickness is ideal for gripping your hand around, while the thickened tubing adds to durability of the bar, making it harder bend or snap.
The package includes the wall mounting kit so you can assemble it to drywall, concrete, brick, masonry etc. The bar itself also comes with soft handgrips so your skin doesn't rub get blisters after pro-longed use.
All in all, GoPlus really provides a strong 440 pound capacity bar without breaking the bank. I like the fact the support bracket has been reinforced with the triangle brace and the tubing has been thickened to 1.5mm, whereas many other bars are about 1.22mm.
GoPlus 440LB Wall Mounted Chin Up Bar
Deluxe Wall Mounted Pull Up Bar 440 LB Capacity

Another high weight capacity pull up bar that is wall mounted is by BDL. This is more of a deluxe version for those people that want more from their pull up bar. As with anything deluxe, you have to pay more. So don't be surprised when you see it is more expensive.
However, I feel you get real bang for your buck with this product. It offers ample amounts of upper body workout opportunities and is also includes a hook for hanging a punching bag and or power ropes. This allows you to perform even more exercises from the ground.
There Is A Downside
While the DBL is a great pull up and dipping station, there is one major downside that may put a lot of people off. That is, it is not suitable for drywall and plasterboard walls.
Due to the heavy duty nature of the station and the shear number of workouts possible, this pull up and dipping station is only suitable for really strong walls. In order to provide the right amount of support while you are using it, the pull up bar station MUST be installed on a concrete or brick wall.
So unless you have brick or concrete walls inside your home, you are kind of forced to install this bar outdoors. Which is not always a bad thing as you get fresh open air. But for some people this is simply not possible.
Drywall At Your Own Risk
While I personally wouldn't risk setting this up on drywall, there have been quite a few people that have successfully mounted this pull up bar to their drywall. As most homes have drywall on the inside, it makes sense right.
To install it indoors, many people suggest applying a backing of drywall or pin wood over the studs for greater reinforcement. But again, drywall at your own risk.
Wall Mounted Pull Up Bar Chin Up bar Multifunctional Dip Station
Free-Standing Pull Up Bar For Heavy Person

One of the biggest issues with free-standing pull up bars is the fact the are floor hungry, meaning they accommodate a lot of floor area when not in use. This is fine if you live in a big house, but for many folks they simply don't have the floor space for such a product.
But this all changes with the Kt Toes free standing pull up bar. What makes the KT Toes free standing pull up bar such a handy choice is the fact it folds down into a compact unit for storage. Giving you the option to not only set up where you like, but store away in a area without taking up a heap of room.
485-Pound Weight Capacity
For a folding chin up bar, the weight capacity of 485 pounds is quite impressive. But what's more impressive is that the unique design provides greater stability in comparison to some other free-standing options.
While it is not 100% wobble free, I doubt any 'wobble-free' in this weight range actually exist, the amount of stabilization put into the design is reassuring for a big man. For a free standing frame, its incredibly hard to find something that doesn't wobble around on the ground, especially under heavier loads.
Lastly, this pull up bar is a great choice for big and tall people. As it is height adjustable, tall people can take advantage of the max height suited to people 6'5″. Total height adjusts from 76.7″ to 100″ tall.
If space is something you lack, and drilling holes into your wall or ceiling are simply not possible, it is hard to go past this free standing pull up bar, especially considering it has a high weight limit of 485-pounds.
Folding Free-Standing Pull Up Bar KT Toes
Pull Up Tower For Overweight People

If you like the idea of the second bar on this list, the 'deluxe' wall mounted, but don't/can't drill holes into your wall, this next option by Zenova is going to blow your socks off.
It's basically the same design, but it is free standing, so no drilling into things or applying bits of extra plywood on the wall. However, it is not compact and does take up significate floor space. But if you have a corner of your house spare, it fits nicely into area like this.
500 LB Weight Capacity
What's incredible about the Zenova is the unique 'U' Frame design. This extra layer of enforcement allows the pull up bar to be extra strong. So much so it has a very high weight capacity of 500 pounds.
Besides being robust and strong enough to hold a heavy person, the next thing to consider is the number of hand grips. The more handgrips a pull up tower has, the more variety of routines you can perform.
Fortunately Zenova has thought about this in the design process and has built in 2 different handgrip positions. Many pull up towers don't offer this, which is why Zenova has the edge in my opinion.
Little Wobble Noticed
As with most if not all power towers, this one by Zenova has a bit of wobble to it, especially when putting the downward pressure on it while performing dips. However, it is hard to get around a product like this without experiencing some for of movement in the frame, especially if you are putting 400 pounds of pressure on it.
To make the wobble less noticeable, I would recommend laying down a gym mat on the floor before use, especially if you are working out on the concrete floor in the garage as the sound can echo making it sound worse than it actually is.
Zenova Pull Up & Dip Tower 500 LB
Heavy-Duty Ceiling Mounted Pull Up Bar

The last option for a heavy person is the ceiling mounted bars. This type of set-up is an amazing way to turn any room in the house into a gym. As they mount to the studs in the ceiling, you can practically mount them anywhere, even in the toilet if that is your thing.
But what makes the Gronk Fitness ceiling mounted bars stand out is the super high 800 pound weight capacity. This is more than enough for any heavy person trying to increase their upper body strength.
Multi-Position Hand Grips
The Gronk Fitness ceiling bar features 4 straight bars and 2 angled bars so you can position your arms and body to perform an array of routines. The actually workout area of these bars has a width of roughly 28 inches, so its not the widest on this list. But with the number of bars available, you can easily find a position comfortable to suit your shoulder width.
The width between the mounting frame is 48-inches, which is the standard distance between studs in the ceiling. So you can mount the bracket directly to the ceilings into the studs. No need for a backing board which eliminates the amount of friction and wobble between the bar and the mounted surface.
The ceiling pull up bars are finished in a powder coat to prevent rusting, but I would add an additional layer of grip tape. This will help when your hands get sweaty for extra grip. Overall, the Gronk Fitness bar is one of the more expensive options listed, but it certainly wins the heavy duty department thanks to the 800 pound capacity.
Gronk Fitness Ceiling Mounted Pull Up Bar
Types Of Pull Up Bars Explained
There are 6 main types of chin up bars you can buy from department stores and online vendors. Each type serves a unique scenario along with a certain type of clientele. Many of these options are not suitable for heavy people due to the weight capacities.
We will start with the 3 best types of pull up bars for heavy people, followed by the remaining 3 types so you can get an idea as to which type is best for you and the environment you plan to workout in.
Wall-Mounted
If you're looking to do relatively straight forward chin ups that don't include large body movement routines, the wall mounted bar is in my opinion the best route to take.
These bars are designed to form a frame which is screwed into the joists of the all. You can also use them on concrete and brick walls should the kit include the adequate mounting gear.
Wall mounted chin up bars usually have a higher weight capacity as they are reinforced and utilize the strength of the house foundation as a way to support heavier people.
Ceiling Mounted
Just like a wall mounted, except mounted on the ceiling. Assembling this type of bar is more complex as it deals with getting up higher and ensuring the beans in the ceiling are load bearing.
Ceiling mounted pull up bars can hold up to 600 pounds if installed correctly using a load bearing beam. The main advantage to ceiling over wall mounted is that you get more room to perform full body routines as there is no horizontal walls to block you movement. Provided you mount the bar in a central location.
Free-standing
The third type of pull up bar I recommend for a heavier person is the free-standing variety. This is because they can hold up to 700 pounds, provided you buy a reinforced heavy-duty version.
The main advantage to a free standing option is versatility. Most come with dip bars allowing you to perform more exercises and target additional muscles.
The lack of mounting to a wall is also a bonus, but at the same time a disadvantage. This is because they can take up just as much floor space as a treadmill. Plus they are not easy to move around if you keep in storage when not in use.
Other Types Available
Door Frame Pull Up Bars – Frame and over the door frame bars are not recommended for heavy people. This is because the frame of the doorway is typically not strong enough to endure 300-400 lbs. Especially the over the doorframe styles. Plus you are limited in space between the door to workout and as a larger person, this is impractical.
Joist-Mounted- These are typically to be used outdoors and involve screwing each end of a bar between two joists/beams/poles. With the right set up, this option can be suitable for heavy people, but require you to have the joists already in place.
Heavy People Have Chin Up Bar Options
In conclusion you can clearly see that there are a number of options for the heavier person. Most styles are suitable except the door frame and over the door frame styles. Not only can these frames not support the weight, you can injure yourself while also damaging the door frame.
It's best to stick to heavy-duty bars that have a solid and robust mounting surface. This will ensure you are safe, while you don't end up destroying your house in the process.
There are other pull up bar alternatives such as the Flying pull up bar and the triangular version, not to forget the DIY chin up bar options. But when it comes to supporting larger bodies with higher weights, its best to chose a pull up bar that is suited to your specific needs.