I hope you love the products I've recommended below, just a heads up that as an Amazon associate, I earn from qualifying purchases. This means I may earn commissions on products bought via links on this page.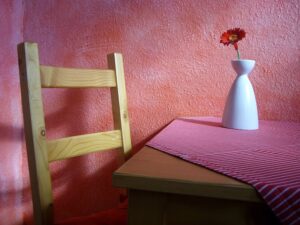 Dinner time is a pleasant time of day for most American Families. When your part of a big family as in overweight, it's common knowledge to have many super heavy duty Kitchen Chairs For Heavy People. However they are not all that common.
In fact it's almost ridiculous how few there are available to the overweight and even obese community. With obesity rates doubling since the 1980's and currently 34.9% of Adult Americans are obese. So why's it so hard to provide us with heavier capacity rated kitchen chairs right.
Finding Chairs Can Be Difficult
Moving on, below you can find some Heavy Duty Kitchen Chairs For us Big People. The kind of chairs that hopefully won't break beneath you when your trying to eat dinner. Which is rather annoying, not to mention can get expensive to keep replacing inferior chairs.
While most kitchen chairs don't come with an official weight capacity rating, one must go from word of mouth. If you're after an industrial style you can check out these heavy duty industrial chairs here.

Quickly Compare Heavy Duty Kitchen Chairs
Padded Fabric Dining Chairs 300 Pound Capacity By Merax
These chairs by Merax don't just look amazing, the feel pretty awesome too. They can hold up to 300 pounds, which is pretty evident from the solid foundation. The parts of the chair are bolted together for a heavy duty and strong built. These bolts are covered using the fabric and Velcro found under the chair. I found this to be a nice touch. If the bolts were visible, then the whole visual appeal would be lost. So well done Merax.
The seat padding is very cushy which appears to be made of high quality thick foam. While there are arms on this chair, they are very small. So they will not be an issue for a wider person to fit into. They are more of a design element over anything else.
But what really makes these chairs 'pop' are the bronze copper nail trims. These nails run along the outer edge of the arms all the way across the front of the chair and up the back. This creates a very elegant and noble appearance that makes the chairs seem far more expensive then what they really are. The only issue I would see people having is the back is not all that high. So if you are relatively tall you may feel it's too short for you.
Merax Elegant Dining Chairs 300 Lbs Capacity
Windsor Natural Twin Set Kitchen Chairs
This set of heavy duty kitchen chairs were the only one's with an official weight capacity that I could find from my extensive research. I think that these Winsome Windsor kitchen chairs are good value for a sturdy and strong pair of chairs. Many brick and mortar stores sell these types of chairs as well.
They are a fine looking piece of timber. The grains are highlighted beautifully. The high curved back of the chair really offers some extra back support. Probably the best part about these chairs is the fact they come delivered to your door assembled. Phew!.
Word of warning, if you intend to use these chairs for anything other then sitting around the dinner table, you may need to buy some cushions. While they are comfortable to sit on, after about 40 minutes your butt tends to get a bit sore.
Twin Pack Windsor Natural Chairs
Unique 1000 Lbs Capacity Dining Chair
This chair by Flash Furniture is not your conventional kitchen chair. However I say what's wrong with having a unique kitchen chair that stands out, yet still looks fabulous.
Plus, we are after plus sized kitchen chairs right, and this beast can apparently handle up to 1000 pounds from its super strong polycarbonate and the highest form of resin possible. This high weight limit alone gives me the support, confidence and freedom I need at the dining table.
1000 Pound Capacity Chair
*Made from resin of the greatest form none - Hence the incredible Lb weight capacity of 1000 Lbs
*Can style it to match any room of the house with the addition of cushions
*Seat made from ultra strong polycarbonate.
*Low maintenance - No painting, sanding, oiling required etc.
*Choose from various colors.
Roundhill Solid Wood Parsons Chair For Big Men

For the sophisticated kitchen table. These chairs will match many existing dinning rooms, they look great and are made from solid timber for true strength.
Roundhill Solid Wood Padded Chair
*Available in various colors
*Easy to clean
*Very stable design
*Comfortable back support which us larger people need
*Simple to assemble by following instructions
'Hercules' By Flash Furniture – Black & Burgundy Chair

The Hercules range from Flash furniture are the heavy duty range of kitchen chairs. The padding is vinyl and is quite comfortable. Perfect for the longer stays around the dinner table.
The back support frame is made of black 18 gauge steel and metal for that added support for bigger guys sitting on it. The seat is timber which needs to be screwed into the frame. Other then that there is no assembly. Screws included, taped to the underneath of the seat.
Hercules Series Black Vertical Back Metal with Burgundy Vinyl Seat
Available in various colors - With or without vinyl padded seat.
Stained Kitchen Chairs

These dining chairs are simply beautiful. Looks aside they can handle some large weight loading. They are really sturdy and solid looking chairs. Moderately priced in my opinion as well especially for timber of this quality.
Stained Timber Heavy Duty Chairs
*Alternatives To Kitchen chairs can also include over-size bar stools. This is if you sit around the main kitchen bench, which is growing in popularity.
Another good idea for kitchen chairs are folding chairs. These can be interior and exterior chairs. I know most folding chairs are quite boring, but these few selections are more stylish with heavier weight capacities. If nothing above takes your fancy, give the folding chair range a chance.
Save
Save
Save
Save