I hope you love the products I've recommended below, just a heads up that as an Amazon associate, I earn from qualifying purchases. This means I may earn commissions on products bought via links on this page.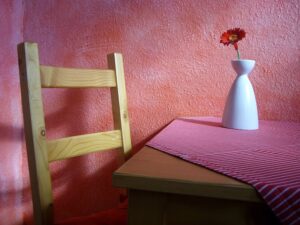 Dinner time is a pleasant time of day for most American Families. When your part of a big family as in overweight, it's common knowledge to have many super heavy duty Kitchen Chairs For Heavy People. However, dining and kitchen chairs for bigger people are not all that common.
In fact it's almost ridiculous how few there are available to the overweight and even obese community. With obesity rates doubling since the 1980's and currently 34.9% of adult Americans are obese. So why's it so hard to provide us with heavier capacity rated kitchen chairs right.
Finding Chairs Can Be Difficult
Moving on, below you can find some heavy-duty kitchen chairs for us big people up to 1000 Lb capacity. The kind of chairs that hopefully won't break beneath you when you're trying to eat dinner. Which is rather annoying, not to mention can get expensive to keep replacing inferior chairs.
While most kitchen chairs don't come with an official weight capacity rating, one must go from word of mouth. If you're after an industrial style you can check out these heavy duty industrial chairs here.
300LB To 330 LB Kitchen & Dining Room Chairs
Below you can compare some of the best kitchen chairs for overweight people up to 330 pounds. If this weight limit is too low, skip this section and jump into the higher load capacity options.
---
330 LB Dining Chairs For Someone That Weighs Over 300 LB

If you weigh 300 pounds or just over, this next set of 2 parson's style dining chairs might be a good fit. They have a higher weight capacity of 330 pounds and have a elegant and exquisite appeal to them.
The set of 2 chairs comes in 3 colors/styles and is available on amazon. 1. Silky beige color 2. Smooth grey color 3. Floral Cream Color. These very modern colors will assist in adding class and elegance to any room of the house, especially the dining room.
Solid Wood With Thick Padding
Probably two of my favorite things as a big man myself, solid wood and thick padding. They go together like peanut butter and jelly. Again, these chairs are constructed form solid Rubberwood, which as I stated on the previous chair, is one of the strongest hardwoods used in furniture construction.
Something a big person must have, strength in their chair!. The strength of the frame is backed up by a nice and thick padded seat with serpentine springs. This means you should not have any issues of bottoming out on this chair!.
Overall, I quite like the chairs, however I would like to see the company offer more colors than just three. But in saying that, the tufted button design mixed with the nailhead trim works so well on the beige color, it's hard to ignore.
Giantex Tufted Nailhead Trim Dining Chairs
---
Compare Heavy Duty Kitchen Chairs
Dining Chairs 300 Pound Capacity Padded Fabric
These chairs by Merax don't just look amazing, they feel pretty awesome too. They can hold up to 300 pounds, which is pretty evident from the solid foundation.
The parts of the chair are bolted together for a heavy-duty and strong built. These bolts are covered using the fabric and Velcro found under the chair. I found this to be a nice touch. If the bolts were visible, then the whole visual appeal would be lost. So well done Merax.
The seat padding is very cushy which appears to be made of high-quality thick foam. While there are arms on this chair, they are very small. So they will not be an issue for a wider person to fit into. They are more of a design element over anything else.
But what really makes these chairs 'pop' are the bronze copper-nail trims. These nails run along the outer edge of the arms all the way across the front of the chair and up the back. This creates a very elegant and noble appearance that makes the chairs seem far more expensive then what they really are. The only issue I would see people having is the back is not all that high. So if you are relatively tall you may feel it's too short for you.
Merax Elegant Dining Chairs 300 Lbs Capacity
Windsor Natural Twin Set Kitchen Chairs
This set of heavy-duty kitchen chairs was the only one with an official weight capacity that I could find from my extensive research. I think that these Winsome Windsor kitchen chairs are good value for a sturdy and strong pair of chairs. Many brick and mortar stores sell these types of chairs as well.
They are a fine-looking piece of timber. The grains are highlighted beautifully. The high curved back of the chair really offers some extra back support. Probably the best part about these chairs is the fact they come delivered to your door assembled. Phew!.
Word of warning, if you intend to use these chairs for anything other then sitting around the dinner table, you may need to buy some cushions. While they are comfortable to sit on, after about 40 minutes your butt tends to get a bit sore.
Twin Pack Windsor Natural Chairs
Unique 1000 Lbs Capacity Dining Chair
This chair by Flash Furniture is not your conventional kitchen chair. However I say what's wrong with having a unique kitchen chair that stands out, yet still looks fabulous.
Plus, we are after plus sized kitchen chairs right, and this beast can apparently handle up to 1000 pounds from its super strong polycarbonate and the highest form of resin possible. This high weight limit alone gives me the support, confidence and freedom I need at the dining table.
1000 Pound Capacity Chair
*Made from resin of the greatest form none - Hence the incredible Lb weight capacity of 1000 Lbs
*Can style it to match any room of the house with the addition of cushions
*Seat made from ultra strong polycarbonate.
*Low maintenance - No painting, sanding, oiling required etc.
*Choose from various colors.
Roundhill Solid Wood Parsons Chair For Big Men

For the sophisticated kitchen table. These chairs will match many existing dining rooms, they look great and are made from solid timber for true strength.
Roundhill Solid Wood Padded Chair
*Available in various colors
*Easy to clean
*Very stable design
*Comfortable back support which us larger people need
*Simple to assemble by following instructions
'Hercules' By Flash Furniture – Black & Burgundy Chair

The Hercules range from Flash furniture is the heavy-duty range of kitchen chairs. The padding is vinyl and is quite comfortable. Perfect for the longer stays around the dinner table.
The back support frame is made of black 18 gauge steel and metal for that added support for bigger guys sitting on it. The seat is timber which needs to be screwed into the frame. Other than that there is no assembly. Screws included, taped to the underneath of the seat.
Hercules Series Black Vertical Back Metal with Burgundy Vinyl Seat
Available in various colors - With or without vinyl padded seat.
Stained Kitchen Chairs

These dining chairs are simply beautiful. Looks aside they can handle some large weight loading. They are really sturdy and solid looking chairs. Moderately priced in my opinion as well especially for timber of this quality.
Stained Timber Heavy Duty Chairs
Big And Tall Dining Room Chairs 500Lbs

These stylish dining room chairs by Flash Furniture are more than there amazing 500lbs weight capacity. They're extremely stylish and comfortable that not only improves the look of your dining room but makes it a more comfortable experience compared to your standard dining room chairs.
Comfort is important for any chair that you will be sitting in and these chairs from Flash Furniture are exactly that, comfortable. A big part of this is thanks to the 2.5-inches of padding that the seat has which makes sitting for long periods of time more comfortable.
With these chairs being made out of metal does mean they're very durable but also fairly heavy. Each chair weighs roughly 18lbs which is fairly heavy but an easy trade for the level of durability of these chairs so it's far from a dealbreaker in my opinion.
Includes Floor Protectors
One of the most impressive things about these dining room chairs is the feet themselves and how they're designed to protect your floor. The last thing you want your dining room chairs to do is to ruin your floor by scratching and scuffing it up. This isn't an issue with these chairs thanks to its excellent floor glides that protect your floors.
Assembling dining room chairs can be a hassle since a lot of the times instructions are wrong or very vague. With these impressive dining room chairs, it won't take very long as all you have to do is screw the padded seat onto the chair. This is made easier by the guide holes in the seat so there is no need to make your own.
''X'' Back Metal Restaurant Chair
Extra Wide Dining Room Chairs For 400 Pounds Person

Luckyermore has knocked it out of the park when it comes to the design of these chairs, I find them to be very stylish. The combination of wood and metal is a classic look that never goes out of style. But these chairs are more than just how good they look with them offering some great quality of life improvements.
In my opinion, most dining room chairs are lacking enough space when you sit on them with the seats being too small and uncomfortable.
This is a big part of the reason I really like these dining room chairs as the seat is wider than your standard seat with it measuring 16.3-inches in width. While it's not huge by any stretch of the imagination, it's still better than some chairs out there.
Heavy Duty Dining Chairs With 450 Lb Capacity
The wooden seat is really sturdy and adds an impressive look at these dining room chairs. For those who think the wooden seat might be uncomfortable I'd recommend getting a big man rated cushion for the chairs which can allow you to not only increase the comfort but let you add your own touch of personal style.
But either way, the heavy-duty construction of this dining chair gives it a hefty 450 lb weight capacity.
If you don't like the classic black finish of these dining chairs then there is another option. They also offer a white variation that also has a slightly different style of the backrest. Having an extra color option is useful for those who are looking for something a little different.
The backrest on this dining chair is high which makes this an ergonomic chair. By going with this higher back Luckyermore has improved the comfort of this chair for when you need to sit for long periods of time which was a clever design choice.
LUCKYERMORE Heavy Duty Kitchen Dining 450 LB
Heavy Duty Dining Chairs 500 Lb Weight Capacity

Impressive is one word that sums up these chairs by Huisenus that are durable, comfortable, and stylish. These chairs have everything you could need in a dining room chair in my opinion. While you may be drawn to these chairs for its impressive 500lbs capacity it's only one of the reasons these chairs are impressive.
They opted to go with pine for there legs which are a really durable wood which is a big part of how it got its impressive weight capacity. The classic wooden black look of these legs does add an extra touch of style to these chairs.
Padded Fabric Dining Chairs
With the seat having a fabric cover instead of being wood or vinyl does add to the comfort of these chairs. This is useful for those hot days where you will stick to the other types of materials which does give the fabric an advantage for these types of situations.
The padding in the chair while not the thickest on the market it's still very comfortable. Combine this with the button style back of the chairs gives this chair a feeling of a concave-convex which makes it more comfortable. This was one of the Companies main goals when they were designing these chairs.
Suitable For Big And Tall People
One of the most unappreciated features of these dining room chairs is just how high the seat is off the ground. With the seat being 19.6-inches off the ground makes this useful for both tall and heavy people. It gives a taller person more legroom and a heavier person doesn't need to bend as far down which makes life easier for both parties.
Huisenus Set of 4 Dining Chairs 500 LB
500 Lbs Dining Room Chairs Plus Size

There is a lot to love about these chairs from HomeSailing that make them worth your time in considering if they're right for you. They have the ever-important feature of having 500lbs capacity that makes it excellent for the bigger people out there who need that extra security when they sit.
Something that I really like about these dining room chairs is the type of wood they went with for there legs. They made the smart choice of going with oak for there legs which is a hardwood that makes the legs on these chairs really durable.
The width of these chairs is really impressive and offers a good amount of room for heavy people. The width is an impressive 20.4-inches but the armrests do affect this towards the back so it does make it a little less in terms of width.
In my opinion, the armrests on these dining room chairs increase comfort by a high amount. Being able to actually rest your arms when you need to is a nice advantage and increases the versatility of these chairs. It allows you to use them for more than just in your dining room which is a nice advantage.
Options are something that I really like having since there is nothing that suits everybody. This is why I really like how these dining room chairs come in 2 different colors that is grey, and a beige. Having an extra option will help with finding something that will suit your design in your place.
Grey Tufted Dining Chairs 500 Lb
Dining Chairs Buyers Guide
A lot more goes into a dining room chair then most people think which means there is a lot to consider before you buy a dining room chair. Learning what makes a dining chair good can help save you money in the long run which is why I put this buyers guide together.
The First Thing To Look For
In my opinion, the first step you should do doesn't actually involve a dining room chair. This is to measure the space where you will be putting the chairs and measuring the distance between the table and floor. There is no point buying a chair that doesn't fit into where you're going to be putting it.
Once you've measured the space where you will be putting the chairs you're off to a good start. Now you will need to try and find chairs that not only fit where you will be putting them but also to make sure if you will fit in the chair comfortably. So you will want to get the measurements of the chairs to work this out.
Dining Chair Weight Capacity
It's not common knowledge that most chairs aren't designed to handle more than 250 pounds. Often it's too late and you have already broken the kitchen or dining room chair before you realize that not all chairs are built equal.
The rule I follow when buying any product that supports my weight is that if the description doesn't specify a weight limit, then I assume it's only able to handle 200-250 pounds at the most.
If the chair does specify a weight capacity I will then buy it provided the chair's capacity is 10% more than my body weight. So for example, if I weigh 350 pounds, the chair I'm looking for needs to have a weight limit of 385 lbs minimum.
Find The Right Style For You
Dining room chairs come in a variety of styles that can get overwhelming when you first start looking. There is a wide range of styles just for the backrest alone with them all offering different advantages which makes it difficult to find the right style for you and your preference.
You could go with something that has an open back which will breath better when it's hotter or a closed back that offers more support for your back. Either of these two options are great for what they do and will come down which style you'd prefer to sit on.
There is more to the style of a dining room chair than just backrests. You will also have to decide if you'd like to go with a chair that has armrests or not. Going with armrests does take up more space so might not be a good idea for those with a lack of space. Where armless take up less room and give the illusion of more space.
Comfort Is Important But Hard To Define
What makes a chair comfortable for me won't necessarily be comfortable for you which is what makes it difficult. Having a chair with padding is a great way to improve comfort in my opinion. But I know there are people out there who like the wooden feel when sitting. So learning your preference is one way to help with working if you think a chair will be comfortable for you.
Types Of Dining Room Chairs
There is a number of different types of dining room chairs with there being something to suit everyone. So learning what the different types of dining room chairs are and what the differences are is a good way to find the perfect chair for you.
The Casual Type
For those who are looking for something that is generally cheaper and doesn't mind losing a bit of comfort then a casual style is a solid option. They're often a basic chair design that's made out of wood that are fairly durable for the average person but lacks the strength for a heavy person.
Faux Leather Style
These chairs are similar to casual dining room chairs in that they're on the cheaper side in most cases. They're made of faux leather and often have metal legs which do give them some extra strength compared to a casual chair.
Bonded Leather
One of the most common styles of dining room chairs is a bonded leather chair. While these chairs do generally look really stylish and are durable thanks to them often having a decent wood, they do have one issue. If you've ever owned bonded leather before you will know that it doesn't have the best life span with the leather often flaking after a few months.
That Modern Touch
Modern dining room chairs are made out of a metal which gives them a supreme level of durability and versatility. If you go with the right style of modern metal dining chair they can double as being a patio chair which gives them a good range of versatility. While metal might not be for everyone they're worth considering due to there excellent durability.
Blast From The Past!
If you've ever seen a vintage wooden dining chair then you know they're one of the most stylish types of dining chairs on the market. They have an amazing handcrafted look that is usually made out of durable wood. You can find these in a wide range of neutral colors with the seat being either a dark or light natural wood.
Upholstered Is The Market Leader
When you look into dining room chairs this will most likely be the most common type you will find and for good reason. A big part of this is due to them often being much more comfortable than most other chairs thanks to the soft fabric you sit on.
Upholster dining room chairs have a range of features that do make them stand out. They come in a wide range of colors so you can find something to suit your style. But for me, it's how they usually have a higher back which can be more ergonomic to sit on.
Alternative Kitchen Chair Options For Plus Size People
*Alternatives to heavy-duty dining and kitchen chairs can also include over-size bar stools. This is if you sit around the main kitchen bench, which is growing in popularity.
Another good idea for kitchen chairs are folding chairs. These can be interior and exterior chairs. I know most folding chairs are quite boring, but these few selections are more stylish with heavier weight capacities. If nothing above takes your fancy, give the folding chair range a chance.
At the end of the day, us heavy people need to use what we can find. The options aren't always plenty when you weigh more than 300 pounds.