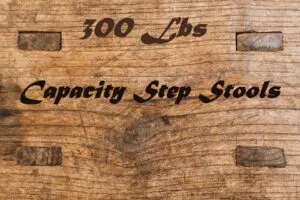 A 300 to 500 pound weight capacity stepping stool is higher than the typical domestic step, yet high enough to support us plus size people.
Step stools are a necessary tool for any household or workstation. As an overweight person, I know all to well the dangers of just stepping onto a stool that has an inferior weight limit. What I'm looking for are the best step stools with 300 lbs capacity load bearing.
Besides sitting, I believe standing on an object such as a step stool is very frightening as a big Man. Naturally we are trying to reach or work at a higher altitude. This can cause off balance and the shakes the higher we go up. This fear is only multiplied when one doesn't have the confidence in the step ladder/stool to not crumble beneath us.
Compare Stepping Stools By Weight Capacity
| | Features | Capacity | Price |
| --- | --- | --- | --- |
| | Solid reinforced frame, 9" height, non-slip platform | 500 LB | Check Price Amazon |
| | Heavy Duty Stool Ideal For Rv's/Camping. Sandy Grip Surface with folding legs and rubber grip feet. 24"L x 15"W x 9"H | 440 LB | Check Price Amazon |
| | Industrial standard step stool. 21"W x 23"D | 500 LB | Check Price Amazon |
| | Ideal for outdoor use - Serrated steps for maximum grip in muddy conditions | 500 LB | Check Price Amazon |
| | 2 Or 3 step options with small magnetic tray. Ideal for home handy man. | 300 LB | Check Price Amazon |
---
Sturdy & Durable Step Stool For Overweight People
500 LB Step Stool – Fixed Legs

With a 9 inch rise, the Essential Medical Supply stool is a great fit for people up to 500 lbs. Unlike some other stools with a 12″ rise from ground to step, this stool makes it a lot easier for a heavier person to make the first step with ease.
What makes this step stool one of the more sturdier and durable stools available is the thicker legs. The thickness of the 3 layered chrome steel heavy duty legs create a solid and stable foundation.
At 14.25 inches wide and a depth of 11.25 inches, I would feel rather safe with both feet firmly placed on the step. The 500 lbs weight capacity, non slip surface and durable non skid rubber feet make this step stool an easy recommendation.
While this EMS step stool doesn't come with a handrail, it's very convenient for many uses around the house. Especially over slippery tiles when trying to reach the back of the pantry. Having the 9″ height and safe step below can make such a difference.
User Tip: These kind of step stools make a great alternative to exercise steps. The sturdiness and heavy duty framework make them a cheaper yet stronger alternative to exercise steps. But do note that the frame is solid and not foldable, so not ideal for storage and travelling with.
Essential Medical Supply Heavy Duty Foot Stool
---
Heavy Duty Folding RV Step Stool For Camping

This is my favorite kind of step stool because it can be used for just about any task. To start with, it has a high 440 pound weight capacity. But the fact it folds down compact for storage is a huge win for me.
I spent many months looking for a robust and heavy duty stepping stool like this that folds down without compromising on its strength. This is it!
Can Be Used For Anything!
So its heavy duty, has a good weight capacity but what else makes it so special? It can be folded down as mentioned earlier. This makes is a really good choice for someone that likes to camp a lot (hands up) or go on road trips in their RV. This makes for the perfect RV step assist if the drop from your RV bottom step is too far.
The gritty textured surface is what makes it a real winner for any job outdoors, or even in the bathroom. When you have wet or muddy feet/shoes, it can be very slippery, but with this gritty grip on the platform, there's much greater grip to be found.
Overall, I love this thing. I use it for camping, packing up the rooftop storage on my car, setting up Christmas decorations where I am simply not tall enough and so much more. It's heavy duty and just seems like it will last a life time.
RV Heavy-Duty Stepping Stool 440LB
---
Extra Wide Industrial Step Stool
500 Pound Weight Capacity
This step stool makes a great shed or garage step stool. Because it's not the best looking thing in the world, it will feel right at home in the garage. This huge step stool has a high weight capacity of 500 lbs and big enough to fit many people of different shapes and sizes.
Made in the USA and most likely not too unfamiliar to many people. It's a common warehouse industrial grade step stool because it is so robust, but also very convenient for quick and easy reaches to get stock, tools, boxes up high.
The main thing to take notice of with this step stool is the rise from ground to step. With a 9.5″ rise, this step stool may be too high for some larger folks that are use to the industry standard rise height of 7.25″. However the 23″ base is very sturdy and the 21″ wide steps are big-man friendly.
DPI 2 Step Stool 500 LB Capacity
---
Heavy-Duty 500-Pound Capacity Steel Step Stool
When it comes to the best non-slip step stool for outdoor use, nothing beats a serrated steel step stool. These things are tanks due to being made from robust steel.
However it's the serrated steps that are more appealing, especially if you need a heavy-duty stool for use around the shed, farm or even to take with your camping/RVing.
With steps like this, having wet and muddy boots on is not an issue. You can confidently climb the 2 steps knowing the serrated steps will give better grip than any other step stool listed on this page.
This particular steel step stool is made in the USA, which is always nice. It has a high weight capacity of 500-pounds, which is also very useful for us heavy people.
The width is also rather wide at 23-inches, giving you enough standing space to comfortably position both your feet on the top step for reaching those things up high.
The feet of the steel stool feature a rubber non-slip boot so that you can use the stool safely on hard flat surfaces like concrete, tiles, vinyl etc. Overall, if you need a heavy-duty stool, particularly for outdoor use, this is a very good option.
Cotterman 500 LB Steel Serrated Step Stool
---
The Hailo 2/3 Step 300 Pound Capacity Step Stool
Great For Around The Home
The Hailo 2 or 3 step ladder is one of my favorite tools for around the house. While it is more of a big man's step ladder, I still find it very useful for around the house as it folds down to a compact size.
It has a 300 pound weight capacity and has a sturdy frame which gives me the confidence to do such things as change a light bulb, clean fans, reach the top shelf safely in the pantry/robes etc.
The thing I find the most handy as a bigger Man is the 2 handles placed at the top of the step stool. The handle grips are facing the body so you can grab onto them and pull yourself up the steps a lot easier than if there were just a rail. They also come in handy when leaning over to reach something but still need to hold onto something to maintain balance.
The platform between the 2 handles goes the width of the ladder. While it's not huge, it comes in handy for replacing light bulbs, screwing photo frames up on the wall and basically anything where you need to hold something small.
One very nice feature are the magnets on the side of the handles/platform. I find this very helpful for whenever I need to screw/nail things up high. The magnet can hold the screwdriver/nails etc when you are measuring or marking the walls out without falling to the ground.
Hailo 2/3 Step 300 Pound Capacity Step Stool
---
The Best 500 Lbs Rated Step Stool With Handrail
Drive Medical Heavy Duty Footstool

This footstool by Drive Medical is one that you may have possibly seen in Hospitals and health care facilities around the country. This step stool has all of the 3 features I look for as a larger person. Grip top and bottom and hand rail. As this is just a one step stool, a work platform is not really suited.
I like the industrial silver vein finish which feels nice to touch on the hands. It showcases its heavy duty rating and 500 lbs weight capacity via the strong steel tubing. The extra cross brace underneath the stool adds extra strength to the overall unit.
Like any good heavy duty stool, the legs spread outwards to increase the stability and strength. The rather solid/thick looking rubber feet are perfect for tiles, vinyl, carpet and just about anywhere you need to reach that extra foot of height.

Another brilliant way to use this heavy duty footstool with handrail is to combine it with the Drive Home Bed Assist Handle for getting in and out of bed. Having that extra step in and out of bed for a big person can make bedtime much less of a struggle. There are many other uses where the Drive Medical 500 lbs weight capacity step stool could be handy. Overall I find it a great addition to the household and may just get used more than you ever imagined.
Key Highlights
What makes this step stool so useful is the addition of the rounded handle. This handrail is helpful because of the following reasons.
Provides stability and increases balance when holding onto the handle and reaching up high.
Helpful for someone with an injury, or the elderly that need a helping hand on and off the stool. For example, when getting into the bathtub you can grab onto the handle as you step onto the stool.
Non-slip and Rust-Resistant
The frame is made from metal and finished in a nice silver vein powder coat finish. It looks heavy-duty and the fact the legs have been braced together shows that it is certainly designed to hold people up to 500 pounds.
The feet and the platform surface are both non-slip so you can confidently get up and down the step whether you are on concrete, tiles or hardwood floors.
I also like the fact you can assemble the stool without the handrail if you please, but I'm not sure why you would want to as for me, its the main attraction.
Drive Medical 500 Lbs Capacity Foot Stool
Be Safe On A Ladder & At Heights
What To Consider When Buying A Step Stool For Heavy People
Depending on the job the stool has to perform there are some guidelines which I prefer to stick by. From my experience in the construction industry, I know how often I had wished for a tool/appliance stand on the ladder, even when just working 4 feet off the ground.
So if its a step stool to be used for 'fixing' things then I always prefer a ladder to have a platform. The 2 other preferences I look for are gripping bottoms (to the top of the treads especially and also under the feet of the stool so it doesn't slip on the floor), and a hand rail.
As I tend to wobble a bit (fear of heights, even at low levels), having a hand rail brings me a much more sense of being safe. So therefor whatever job I need the step stool for, I will be able to confidently step up to the recommended maximum height without falling.
The step stools provided below have a maximum weight capacity of 300 to 500 pounds. However, I recommend you buy a higher weight capacity than your body weight. So if you weigh 300 Lbs, perhaps a heavy duty 400 lbs step stool would be better suited.
---
Weight Capacity
It goes without saying that us heavy people are used to investigating weight capacities on the various products we need in our day to day lives, and it's no different with step stools.
However, with step stools you need to also factor in any potential weight of items you may be lifting. If you need a step stool for lifting up heavy items onto a shelf on a regular basis, be sure to facto in the weight of the items plus your body weight.
So if you weigh 400 pounds and have to lift something that is 7o pounds, it would be best to buy a step stool with a weight limit of 500 pounds. This will give you enough room for additional weight to be lifted.
---
Quality Of Materials
I've never felt comfortable sitting in a plastic chair or standing on a plastic stool. I know I break stuff on impact, so finding a step stool made form heavy-duty materials is a must.
Sure you can get plastic step stools capable of handing heavier folks, but you must be sure that the plastic is not cheaply made and flimsy. The last thing you want is for the plastic to break beneath you and you end up with a broken ankle.
---
The Number Of Steps
When it comes to the number of steps on the stool, just remember that the more steps there are, the harder it is for you to lift those legs up each time. So if you only need a one step stool, don't buy a 2 step stool just for the sake of it. Do what's best for you.
Save
Save