The humble weight bench has been around for as long as I can remember and over time it has evolved. But what hasn't changed is that weight benches for heavy people need to be robust, heavy duty and extremely sturdy.
I remember first using a weight bench as a chubby kid back in middle school. This was of course in preparation for high school where I knew I would be bullied over my weight. Not really knowing what I was doing, I stuck at it for a few months.
Did it work, was I the next weight lifting success story. Sadly no, while I did build some good muscle mass for a youngster, it wasn't enough to outdo the harm the years of bad eating habits had caused.
While I was known as the school arm wrestling champ with my taking down of the school bully in a arm wrestling challenge, the fact I was still an obese kid in a world where being fat was an easy target for bullies.
But not all was lost. After experiencing some basic bench presses at a young age, I learned more about weight benches as they evolved into what they are today. As a big and heavy person, there's more to consider when buying a weight bench.
So its time for us to have a look at the key factors to consider when buying a weight bench if you're a heavy person, as well as some reviews on the leading models available.
Compare Heavy Duty Weight Benches Up To 1500 Lbs
What Type OF Weight Bench Is Best For Obese People
The type of weight bench you end up buying will most likely be a direct result of what your main goal is. Is it to get stronger, build more muscles or simply tone up multiple sections of your body. There is plenty of exercise equipment for heavy people if weight lose is your goal.
Whereas I feel that a weight bench is better suited to building muscle as a person that weighs more than 250 pounds. So there are 3 types of weight benches a larger person could potentially buy, these area as follows:
1. Flat Weight Bench. These are a fixed flat weight bench where you cannot adjust for further exercise routines. The benefit these benches have for heavy people is that they are the most robust and sturdiest of the 3 designs. If feeling safe while your are holding weights above your head is what you're after, a simple flat bench may be all you need.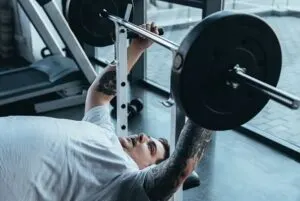 2. Barbell Weight Bench. This is the type of weight bench I started on many years ago. This is similar to a flat bench but is usually attached to a weight rake stand. The stand allows you to bench press safely as the flat benches don't have this feature.
These weight benches can also come with arm curls and leg lifting equipment. The bench itself can sometimes be inclined or declined to vary your chest workout. If you don't already have a weight rack, getting a weight bench like this is the best as you can achieve more exercises plus have the safety of the sturdy weight bench beneath you.
3. Utility Bench. Personally, this would be my least likely weight bench to start out on as a heavy person. Not to say they are bad, but they are not as robust as the flat benches. Because there are moving parts, the backrest for starters can decline or incline greatly, the heavy duty statue of the bench is compromised slightly.
But in saying that, utility benches offer you the most exercise possibilities from one piece of equipment. They pair up nicely with dumbbell workouts and can also be used with free standing weight racks for bench presses. But if bench pressing is your main interest, I would go with a flat bench for its heavy duty qualities.
Best Heavy Duty Weight Benches

Made from heavy duty steel, the Steelbody weight bench is my number one choice for flat weight benches. While the flat bench listed below this one has a higher weight capacity by 200 pounds, I still prefer this 800 pound capacity weight bench over it.
The 200 pound weight capacity difference may be relevant to some very heavy people wanting to lift some serious weights, but for the 400 pound person, you get to play around with 400 ponds of weights on top of your weight. So for most heavy people, this weight bench is sufficient.
Wider Thicker Padded Bench
The main reason I prefer the Steelbody bench is because it caters to the body of a larger person better from my experience. Most benches are 12 inches wide along the entire the seating area, which for a big man can be quite tiny.
Whats great about the Steelbody is that it is not a straight up and down rectangular bench. The end where you put your backside is wider than the end where you rest your head. Most flat benches don't have this design.
The widest end of the bench is 15 inches wide while the head end is your normal 12 inches wide. So this gives the people with larger rear ends an extra 3 inches of wiggle room. May not sound like much, but that 3 inches of extra support is very valuable.
2.5″ Thick Padding
Many benches have just 1.5 inches of thick padding, the Steelbody goes the extra mile and beefs the padding on this one to 2.5 inches. This is great for the heavy person as there's nothing worse than compressing the padding that much that you can feel the plywood in your back.
Heavy Duty And Portable
You don't often associate the terms heavy duty and portable in the same sentence when referring to weight benches. But the Steelbody is not like your regular flat bench. Being made from super strong steel and utilizing foot pads with caps to keep the bench firmly in position, the Steelbody is quite the heavy duty bench.
When it comes to portability, what I really took a fancy to on this bench was the addition of wheels and pulling handle. There are 2 wheels on the end where your head goes, but these wheels are not on the bottom of the bench. So no need to worry about the bench rolling away.
To move the bench you grab the handle located on the opposite end of the bench, lift it up and then the wheels come into play. Giving you an easy way to move this weight bench wherever you like. Whether its back into storage or to position it closer to a fan for example.
Who This Bench Is Not Suited To
Unfortunately, tall people miss out on this bench. As the bench is just 43 inches in length and stands 17 inches tall, I feel people taller than 6 foot may find the bench too short. Plus the height is a little low for those long legs to feel comfortable on. But for heavy people under 6 foot, I find this bench to be the best in terms of strength, durability and practicality.
Steelbody Deluxe Versatile Rated 800 lbs
1000 Pound Rated Flat Weight Bench

The next flat bench is by Rep Fitness and it has a weight capacity of 1000 pounds. Which as stated earlier is 200 pounds more than the above Steelbody. However, this bench is the one width, 12 inches, along the entire body of the bench.
Its the type of flat weight bench you want permanently positioned in your home gym. While it only weighs 45 pounds, its not as portable as the Steelbody, as in has no transporting wheels.
The feet on the Rep Fitness are 16 inches wide to give you better ground support when lifting heavy weights along with supporting a heavier person. While the Rep Fitness does have wider feet at the base end of the bench, the above Steelbody has wide feet (26″) up toward the head region, making the Steel body a better choice for bench presses in my opinion. But the wider feet also mean you need to ensure you have enough room in your home to position the bench.
The padding on this bench is pretty similar to the Steelbody, also being 2.5 inches thick. Its a nice firm pad, but not so firm that it feels as tho you're laying top of a concrete board. It has just the right amount of give to it that when you have weights on you, the padding relaxes so to speak and provides the support without being too soft and squishy.
Great Flat Weight Bench For Big And Tall
The main area of focus where this flat bench is better than the Steelbody, besides having a higher weight capacity, is in the benches length. It measures 47 inches long, which gives taller people a generous bench to position themselves on. The height is slightly higher by half an inch.
So all in all, the Rep Fitness is a pretty robust and heavy duty weight bench suitable for the big and tall people. The textured 2.5″ thick padding and the overall solid feel of the bench really does make you feel safe on top, even at 300 pounds plus.
Rep Fitness Flat Bench 1000 Lbs Capacity
Best Utility Weight Bench For Obese People

While its true that the perception is that utility benches are not as supportive for the big man, XMark Fitness is out to prove this theory wrong. With their range of utility benches that are tested to hold 1500 pounds!. Which is quite incredible, one of their product images even has a cars front end supported by 2 of their benches.
Quite impressive for a weight bench and certainly appealing to the heavy and obese people. The benefit to going with a utility bench over a straight forward flat bench is that you can mix up your routine more.
This is evident by XMark Fitness's line of utility benches. The one mentioned here is I guess the baseline where you can upgrade further to the XM-7472 bench on amazon here which allows you the option of attachments for leg developer and preacher curls, whereas this model you cannot attach them. Also on this model, the XM-7630 on amazon here, you cannot remove the bar that holds down you legs.
Just so you know, you can choose between the 1500 pound capacity XMark benches to suit your individual needs. If leg and curls don't interest you, then simply get this baseline model. Either way you have the support of a heavy duty bench.
The Big Man Features
Feeling stable on top of the bench is utmost importance for the heavier person which is one of the reasons I quite like the XM-7630. The permanent leg hold down bar gives you the feeling of security and safety as you're on your back. Sure the 1500 pound capacity is pretty reassuring, but it means nothing if you don't feel secure on the bench. Which I find this bar provides.
Wide Seat And Extra Thick Padding
Another aspect of feeling secure comes from the width of the seat. The XMark has a generous 16 inch wide seat, which is the second widest part of the bench behind the feet which measure 22 inches wide for even more stability and support.
But whats even more generous is the amount of padding this weight bench has. Its an incredible 3 inches of pure padding. Which is double that of many other benches. Now this is the kind of padded support us heavier folks need, especially if you're lifting heavy weights.
The other features of the XMark are that it can be easily transported to and from the home gym as it has transport wheels where you just lift one end of the bench and wheel it away. The bench itself has 7 adjustable positions allowing you to enter into a number of positions including military press and decline.
At the end of the day, it's very hard to beat the XMark Fitness line of commercial grade utility benches for the heavier person. The incredible support, quality and features allow the heaviest of people to safely perform weight exercises.
XMark Adjustable FID Weight Bench 1500 Lbs
Utility Weight Bench For Big And Tall People

Being heavy is one thing, but being big and tall is certainly another. Having extra height makes finding the right weight bench all that much more difficult. There's the head rest to consider, height of bench from floor, the depth of the seat and the possibility of attachments to consider.
Fortunately Fitness Reality have considered the big and tall with the X-Class light commercial utility bench. This bench is a monster, being able to withstand up to 1500 pounds of weight like the above Xmark series. However this bench has been produced to cater to the tall person as well.
With a extra tall backrest measuring 40.5 inches, the X-Class is stated to be suitable for people up to 6'4″ tall. However, this number is not set in stone. There are things to consider when you're tall like your inseam length, arm reach and of course how long your upper torso is.
But the fact the bench sits very tall, about 20 inches from ground level, means this is certainly for tall people only. Most weight benches are either 15 or 17 inches in height, so you can clearly see that the 20 inch height is going to be beneficial to the taller people.
With Or Without Preacher Curl Attachment
How much you want to spend on a a heavy duty weigh bench like this will determine whether or not you want to include the preacher curl attachment. There's a bit of a price difference so its something to consider before you hit the buy now button.
For me, I would opt for the preacher curl attachment as its Olympic standard quality and opens up more avenues of potential exercises from building your arms to leg and thigh muscles. But of course, this is totally optional and one that will probably come down to how much you're willing to spend on a weight bench.
Independent Adjustments
Whats really good about this commercial grade bench is that the seat and the backrest can adjust positions independently of each other. This makes it possible to achieve just about any workout position.
In total there are 7 backrest positions and 5 seat positions. The seat can adjust form 0 degrees to 15 degrees while the backrest can go from 15-85 degrees. The padding on the bench is about 2.5 inches thick and is quite firm. But again, it needs to be firm, not soft to cater to heavy weight and heavy people.
Overall, the dimensions of this bench and its high weight capacity make it one of the best for big and tall people. So much so, I would avoid this bench if you were under 6 foot tall. It's a beast and was created for a reason: big and tall.
Fitness Reality X-Class 1500 lbs Capacity
Heavy Duty Bench Press With Racks

When you're first starting out, the more common approach to a weight bench is your classic bench press. This is where the weight bench is attached to the weight rack with height options for the bar along with additional attachments to work the arms and legs.
The Reliancer Power Station is a great place to start for the heavier person. It's affordable, performs multiple exercises and has a relatively high weight capacity of 800 pounds.
The thing with bench press combos like this, you need to be aware that most of the time the specified weight capacity includes the weight of the user along with the weights your pushing. Sometimes people fall into the trap of thinking, the bench alone is 800 pounds, which is not the case with the Reliance.
But nonetheless, the 800 pound weight capacity is a good starting point as it gives the heavy person the freedom to push some medium duty weights. Alternatively, the lighter person can lift some serious heavy duty weights at this rating.
What The Reliancer Offers
The heavy duty aspects of the weight bench include reinforced steel for the frame which features a larger base to offer greater stability. The overall width comes in at 44.1″. Along the base of the station is two stability bars, these help to keep the station nice and still while acting as another foundation support.
The bench itself can be adjusted to 4 positions and also removed for independent workouts. When using as a bench press, there are 2 height levels to position the bar. The backrest is an impressive 3 inches thick to give the bigger person more support and comfort.
In total there are 20 workouts all possible form this one weight bench. Even if you only use the weight bench aspect of things to do bench presses, the amount of value you get from the Reliancer is quite good. The other possible workouts this bench allows you to perform include:
Pull ups on the above horizontal bar
Vertical knee raises
Preacher curls
Tricep dips
leg exercises and much more.
Reliancer Power Weight Bench Press Station 800 Lbs
Heavy Duty Commercial Grade Bench Press

Jumping from one extreme to the next is this package by Iron Company. Its not a cheap bench press, but does bench, squat rack, storage posts all while having a total weight capacity of 1000 pounds.
Because this is a commercial grade bench and rack combo that's designed for heavy duty frequent usage, the price is going to be quite steep. However, you know you are getting some serious quality and the support you need as a heavy person. The mainframes 4 sides are welded for even greater strength and resistance.
This is not a flat weight bench either, so you can target your workouts more accurately. The backrest can decline to -18° or incline up to 80 degrees. The seat itself can adjust from 0 to 18 degrees as well to give you greater control and accuracy of your workout.
The rack itself comes with an incredible amount of positions to hold the bar. 14 in total giving you the freedom to pick and choose which workout you wish to undertake.
On the back of the rack are 4 storage posts where you can store your weights safely. This helps to keep your home gym cleaner/organized while giving you instant access to the weights you desire.
Overall its hard to fault the quality and heavy duty rating of this weight bench. Its certainly built tough and strong for the serious lifters and with the 1000 pound weight capacity, its ideal for heavy lifters. Price tag might be scary to some, especially as the price doesn't include the bar or weights.
Iron Company 1000 Lbs Squat & Weight Bench Press
Bench Presses For Heavy People
With all the above mentioned weight benches, its possible to recreate your own heavy duty bench press. With the total weight capacity being vital for the heavy person, these benches are certainly possible candidates.
But should none of the above appeal to you, below you can find 4 more bench press racks that have higher weight capacities. The Ader in particular uses a flat bench attached to a weight rake. The bench has a 1500 pound weight capacity and includes 300 pounds worth of Olympic 2 inch weights.
What To Look For If You're A Big Person
Now that you may have a clearer idea as to what type of weight bench you want, there are some key factors to consider before buying the first one you see. These include:
Weight Capacity: This is an absolute must for a heavy person. The weight bench MUST be high weight capacity. But be warned, many descriptions of products can have a misleading weight capacity. For example, the highest weight capacity weight bench on this list below is 1500 pounds. Which sounds great, who weighs 1500 pounds right. But this 1500 pounds includes your weight, the weight of any weights you life and the weight bar. So make you sure you minus your weight from the total weight capacity. This will tell you the maximum amount of weights you can lift when you weigh your current weight.
Padding: Padding is crucial for the big person, just like anything else we sit or lay on. Many weight benches will have 1.5″ of padding, which is sufficient for most people. But us heavier people need more. I would recommend looking for 2 inch thick or even 3 inch extra thick padding on the benches.
Bench Width: As weight benches are quite narrow in general, this is where it can get difficult for the larger size person. Many benches are 10 inches wide. That may be sufficient to rest one leg on, but will your backside feel safe on a thin bit of padding like this. I don't think so, which is why I have tried to find the wide seat weight benches where possible as well.
Big & Tall Weight Benches: If you happen to be tall as a well as heavy, the game just gets harder. Now you need to find a bench that has sufficient surface for your your longer body to safely rest on. But don't worry, I have got your covered below.