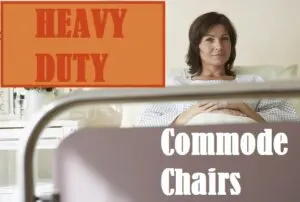 Heavy-duty commode chairs a necessity for many family members across this great country. Without them, going to the bathroom can become extremely difficult if not impossible.
But as a larger person who needs to use such devices to do his business, finding a suitable extra wide commode chair with a high weight capacity can be quite the challenge.
Some commode chairs are extra wide, yet are made from flimsy materials that couldn't even support 250 pounds. While others may have even higher weight capacities, but have a narrow seat.
Which as a big man, it can be impossible to squeeze into a tiny 13 inch wide seat. This is without even mentioning the distance between the arms on the chair. This too has to be wider than standard commodes if it is to be classified as heavy duty.
Quickly Compare By Weight Capacity
Extra Wide Bedside Commode Features
While some folks look to find a commode chair that can double as a shower chair and also as a safety rail seat for sitting over the existing toilet. To me, an extra-wide bedside commode chair should be able to be used from the bedroom, lounge room, office or wherever it needs to be set up.
Sure having a padded seat is a bonus, but not a deal-breaker for me. If I can get the above requirements while also having a large opening for waste to enter, I'm happy. I can't stand the commode chairs which don't have big enough holes to do your business in.
When all is said and done, we all have unique needs when it comes to going to the toilet. So while a commode on caster wheels may work for one, it may be an irrelevance to another.
But the main thing to look for when buying a heavy-duty commode chair is weight capacity and width between the arms if you are a heavy person like myself. So with that said, the commode chairs listed below have been selected based on what I consider to be the best for an obese or overweight person.
550 LB Bariatric Bedside Commode Chair
My #1 Recommendation – 550 LB Capacity
While there are quite a few good contenders on this list of heavy duty commode chairs, this one by MedEase™ is my personal favorite.
MedEase™ Bariatric Commode Is Available Here.
What makes it a standout for me is the "stress" support bar. These are additional support bars to reinforce the strength and integrity of the commode. These are extra steel poles between the side legs to give it greater resistance to the impact of heavy people when they sit down.
Many other commodes don't have this bar, and for me it is almost a necessity, especially if you are creeping up towards the 550 LB weight rating.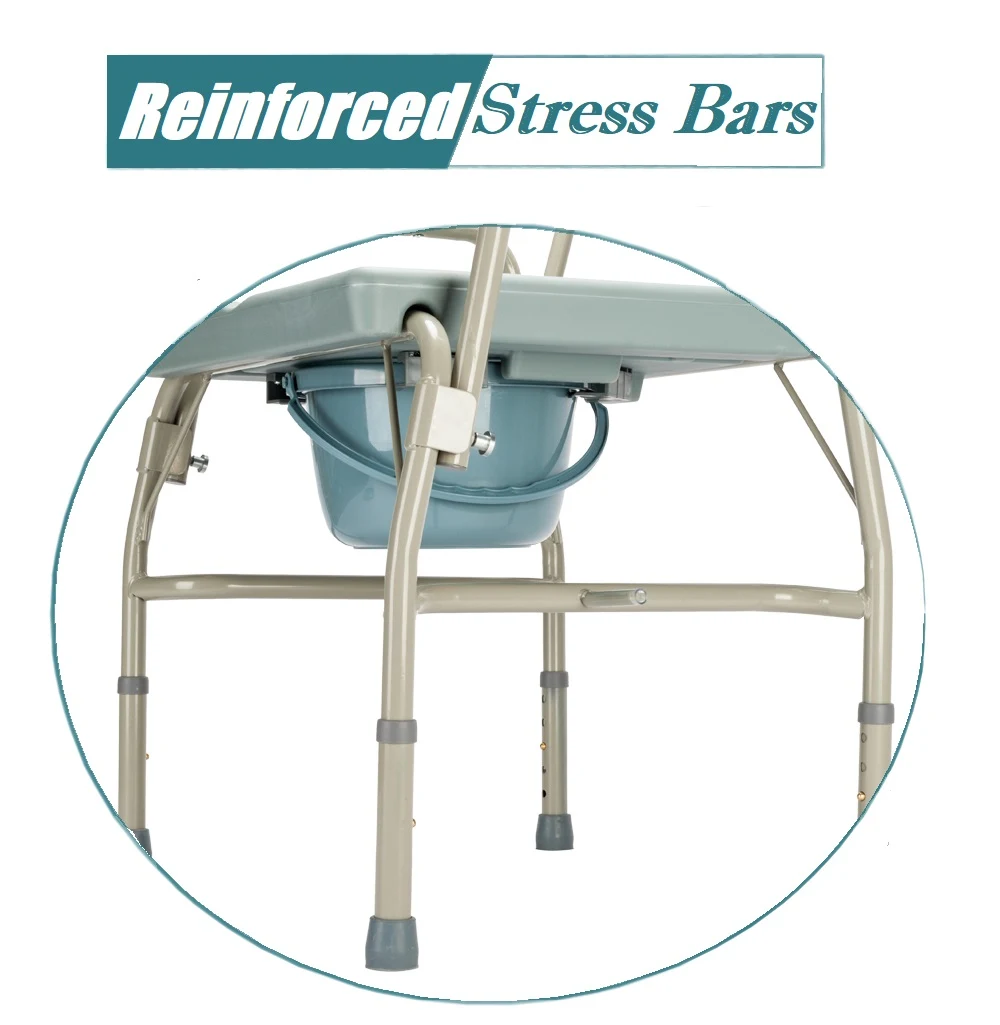 Extra Wide Seat Is A Must!
When it comes to choosing a commode, I simply can't recommend getting one with a narrow seat, especially if it is a seat that you have to lift up. As these types of chairs can pinch your skin between the lid and the frame as you go to sit down.
The seat on the MedEase™ is extra wide at 23.2″, but what seals the deal for me is the width between the arms. An incredible 24.8 inches of space between the arms.
Best Bedside Transfer Commode For Obese People
The fact the MedEase™ has a huge seat is one thing, but having drop down arms really takes this shair to another level. These arms drop down by pulling a easy pin and then the arms fall by the side.
This allows you to easily transfer someone from a bed onto the commode chair for bedside use. Having drop down arms is mandatory for someone that has limited mobility and spends a lot of time in bed or on the sofa, etc.
Overall, the features and overall heavy-duty rating of the MedEase™ commode make it a sure contender for most Bariatric people.
MedEase™ Bariatric Bedside Commode 550 LB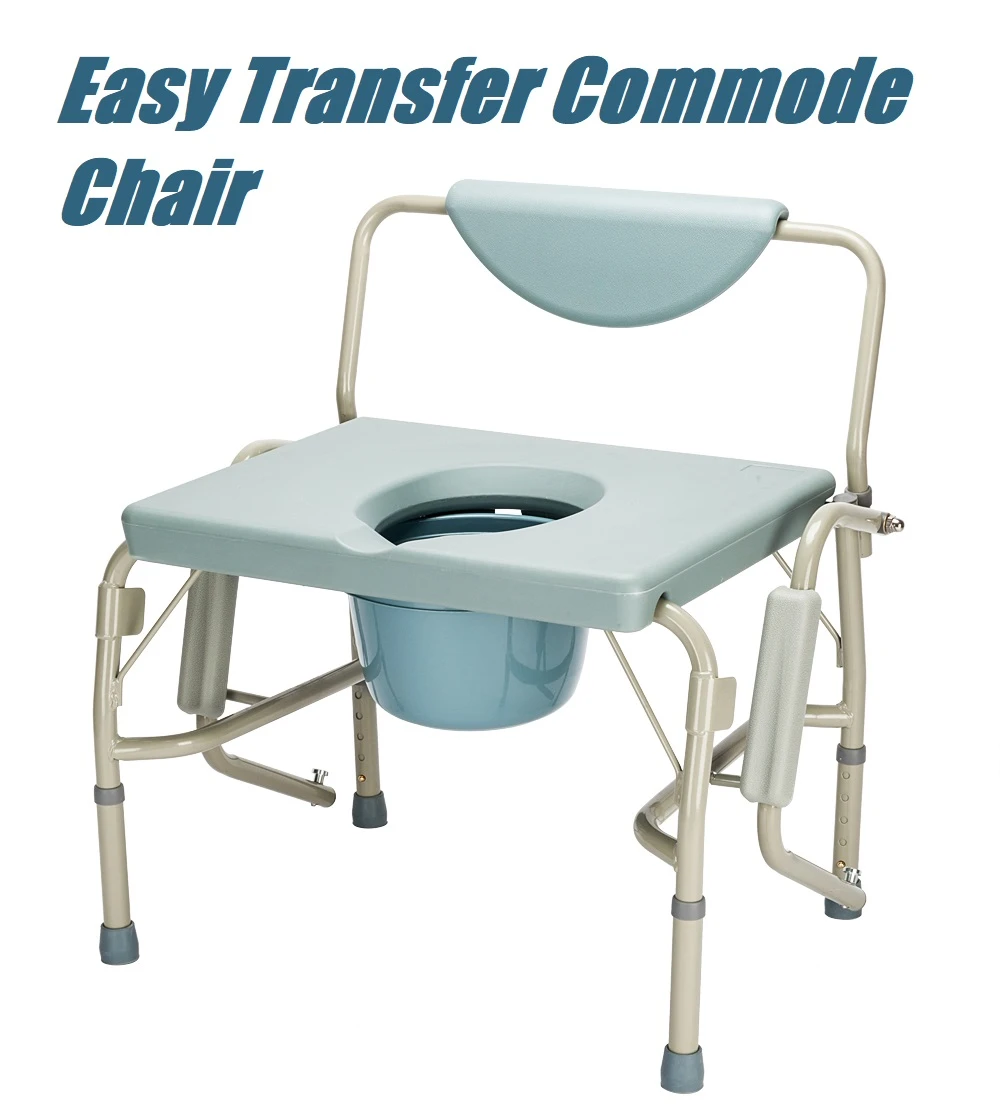 Extra Heavy Duty Commode Chair
1000 Lbs Weight Capacity
This Bariatric chair by Drive Medical has the highest weight capacity I know of boasting an impressive 1000 pounds. Which makes it the most heavy duty commode chair on this list. Unlike other toilet chairs, this one has extra support beams to give it the strength and durability it needs to hold heavy weights.
Between each of the side legs is a horizontal bar to add the extra strength and support. As you will see, not too many other commodes have this feature which really does add confidence when sitting on it as a larger person.
Extra Large, Extra Wide
The chair is stable and strong, but what about the width. Is it an extra wide commode chair as well?. Absolutely. Which is why I highly recommend this chair. The distance between the arms on this chair is just over 23 inches wide. The easy release arm feature also allows you to slide the arm out of the way for when sliding from bed, wheelchair, sofa onto the toilet. Which is very helpful for the very limited mobile people.
Commode Suitable For Big And Tall People
The depth of the seat goes back about 18 inches. So if you are tall or have long legs this means you won't be cramped up while sitting. The height adjustments have a very broad range. Measuring from 17 inches to 22 inches. So most people will be catered for here.
If you are unsure of what height toilet seat you need it's an easy fix. Simply measure the distance between the floor and the underneath side of the knee when sitting down. Add about 2 inches on top and that is the ideal sitting height for sitting on a commode chair.
The other great feature of the Drive Medical commode chair is the oversized waste bucket. The 12 QT bucket is substantially larger than other models on the market and comes with a removable lid. The lid can be slide off from behind the chair.
But having the large opening really does make using this chair that much easier as you can relax knowing you're not going to miss the hole or get too much splash back.
Overall it really is hard to fault this commode chair. It has everything you could desire in a chair. The finishing touches like the rubber feet ensure you won't be sliding around, even on timber floors. The padded arms and padded backrest just finish off the chair perfectly. Bucket liners work wonderfully and the chair is very lightweight. So moving this 21 pound chair won't be a huge mission when you want it out of sight.
Drive Medical 1000 Lb Commode Chair
Best Heavy Duty Bedside Commode

If you're or the person you know who will be using this chair is on the heavier side then this heavy duty extra wide commode chair by Big John is an excellent option.
It has a maximum weight capacity of 800lbs which is incredible and gives the person using it peace of mind to do their business safely.
Extra Wide Seat Between The Arms
While it has that incredible weight capacity it does need to have some decent width to go with it in my opinion. The internal width of the chair is an impressive 26 inches which is a good amount of space for a bigger person.
This chair also has some height adjustment for the seat that gives it that versatility for taller users. The maximum height on the chair is 23 inches which is one of the higher ones on the market. It can go as low as 19-inches which is why it's better for people of average and taller height.
If there is one thing with this chair that you need to pay attention to is the bolts holding the chair together. They're made out of plastic and do come a little loose for some people. Some people recommend getting some different bolts which are an option as long as they're rustproof since they will get wet.
Overall this is a great chair for the heavier people out there and its heavy-duty rating is easily its best feature in my opinion. It's surprisingly comfortable as well which is something you don't expect from these kinds of chairs. So if you want heavy capacity and simple to use chair then this one by Big John is a good option.
Big John Bariatric Commode Chair
Extra Large Bedside Commode
Padded Seat 350 Lbs Capacity
Not everyone needs or wants a padded bedside commode chair. But there are many that do. Especially overweight people as it adds a little comfort to the whole endeavor. But finding a high weight capacity padded commode chair that is heavy duty a wide seat certainly is a mission.
Fortunately for us bigger folks, there is this 350 pound capacity padded chair by Medline available on Amazon. Its a super sturdy looking chair with some serious padding. The only downside is that the width between the arms is just 18.5 inches.
So get out the tape measure and see if you qualify to sit in the Maserati of commode chairs. Do note the overall width is 22 inches. Do also not the non-padded version of this commode is only 300 pound capacity.
Besides the copious amounts of padding on the backrest, seat and foam handles the next best thing about the Medline is that both the arms can swing out of the way for easy transfers. To do this you just need to push in the spring-loaded button which releases the arms in a downwards direction. Once down they sit flush with the chair and won't get in the way.
The chair is very stubborn to move, so it makes it a solid 'over the traditional toilet seat' commode. To do this just remove the bucket and going to the traditional toilet is now so much easier and way more comfortable. The commode is a tad heavier at about 28 pounds which is a good thing. It means it won't tip or slide out of the way so easy. Plus it's a true testimony to how thick the steel is that gives this commode chair a 350 lb weight capacity.
Best Commode For Big & Tall People
Overall, its a very solid and strong portable commode chair. The height adjustments are a little limited being 20″ to 25″ so make sure you check your leg measurements to see if this well-padded and comfortable toilet chair is suitable for you.
The seat has a decent opening size although I wouldn't complain about an extra inch. It comes with the usual suspects (pail, lid, splash guard) and looks rather appealing compared to some of the creations out there that look flimsy and dull.
MedLine Padded 350 Lbs Commode Chair
500 Pound Toilet Frame Commode
Duro Med provide this 500 lbs weight capacity commode chair. It's certainly heavy duty with an extra wide seat. Certainly suitable for the heavier person, but does come with a couple of common flaws seen in the industry.
Unlike the above Drive Medical, the pail is smaller and doesn't fit snug up against the bottom of the toilet seat. Being just 7 QT it is just over half the size of the Drive Medical. But the main issue is that it doesn't fit close enough to the toilet seat.
So when urinating, (For a men in particular) it can escape through the gap between pail and seat. So careful aiming may be in order or a bigger splash guard (Get creative here). The gap is there to allow the lid to slide in from behind the commode. So it's not huge but still worth thinking about.
The last flaw in comparison to the Drive Medical is that there is no padded backrest which is kind of annoying to be honest. But other than those few smaller defects, the Duro Med has some great selling points.
Firstly it's very heavy duty and can handle up to 500 pounds of user weight. There are no extra support bars like on the 1000 pound model, but still very strong steel nonetheless. The rubber handles and feet are high quality and don't look like they would break anytime soon.
23 Inches Wide
One of the best things about the Duro Med is that it gets delivered assembled. Not a huge positive for some, but for myself, it's a welcomed relief. However, the total width of the chair is 24 inches, so be sure you can fit it in your doorway when assembled. The extra-wide frame means the distance between the arms is also rather wide. Measuring 23 inches wide, it's very suitable for oversized persons.
This commode chair has a slightly larger height distance than the Drive Medical. Which is 16.5″ to 23.5″. Not much but that extra one inch may make this rather light 19-pound commode chair the ideal choice for them.
Duro Med 500 Lb Commode
Choosing A Heavy Duty Commode
The above 3 commode chairs are my personal recommendations for heavy duty use. If you are plus size or have very high weight, then these chairs may be applicable to you. But as we all have unique individual needs, please be sure to check out the vast variety available. I hope this short guide on extra wide heavy duty commode chairs has been helpful to you and you have now narrowed down your search to at least three.
Use Your Chair Safely