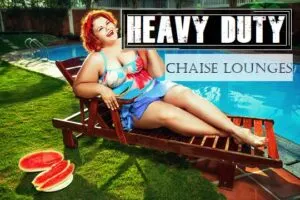 There's nothing better than lounging around, just kicking back and relaxing. With these chaise lounges for heavy people, it's now possible for the heavy person to relax knowing that the chair they are on is capable of handling their weight.
Whether you need a chaise lounge for indoors to add as a temporary bedding solution to your lounge room, or a outdoors chaise for out on your patio or by the pool, the options listed below are all suited for overweight to obese people.
However, it's important to take into consideration other factors and not just the weight capacity of the chair. Typically speaking, a chair like this will need to be oversized, especially in the width department.
Whether you are tall or short will also play a key role in deciding which chaise is right for you. So it's important to look into the actual height of the sitting and sleeping surface of the chair along with the length of the sleeping area.
Compare Heavy Duty Chaise Lounges
Indoor Chaise Lounges For Heavy People
300 Lb Capacity

One thing that a chaise lounge needs to be is stylish in my opinion, as they're often something that really stands out in the room they're in. This is something that Belleze has gotten right with this being one of the more stylish chaise lounges available for heavy people. It comes in 3 different colors so there is something to suit most people's tastes.
This chaise lounge does offer a good amount room for the bigger people out there. With impressive measurements of 60.5″ long by 26.75″ wide and 30.75″ high, it will have plenty of room for the bigger people to stretch out when needed.
The fabric that Belleze chose for this lounge is velvet which does feel very nice to lay down and relax on. But its the 300 Lb capacity that makes this a standout for heavier people. As most chaise lounges have a capacity of about 200 pounds, the extra capacity offered by this chaise gives the bigger man peace of mind.
Offers Great Comfort And Extra Features
With this lounge having a nailhead design for it's lounging section, you might be worried this would affect the comfort of it. Fortunately its a design appeal only and does not affect the level of comfort in the slightest. You won't notice them when you're relaxing in this well-padded lounge.
Something that I really like about this chaise lounge from Belleze is the excellent storage section it has. This gives it more versatility than a lot of others on the market since you're able to store a wide variety of things in it.
---
350 LB Capacity Chaise Lounge

If you're looking for a modern chaise lounge than DHP have you covered with this modern styled lounge that comes in either grey linen or black faux leather. Thankfully this chaise lounge offers more than just a modern look, with it offering some versatile features that a lot of other chairs miss.
One thing that really stands out for me, and is one of my favorite features of this chaise lounge is how it has multiple positions. You can have it in a slightly reclined position or lay it down completely so you can use it as a daybed or just use it to lay down and have a rest.
Assembly is one of those things that can make or break a product in my opinion, since who wants the headache of spending hours setting up a lounge. This is something that's not an issue for this lounge as it only requires you to screw the legs in and you're good to go.
Firm But Still Comfortable
The thing most people forget about chaise lounges is that they're not meant to be an everyday lounge so this model being a little firm isn't too big of an issue in my opinion. The firmness does give you a little more support when you're sitting on it compared to other chaise lounges on the market.
As an overweight person, the cushioning needs to be denser in order to fully support the extra weight. So it's actually a good thing this chaise is a bit firmer than some. With the dense padding comes a construction that is capable of handling people up to 350 pounds.
---
Heavy Duty Chaise Lounges 400 LB Capacity

While a lot of chaise lounges have been designed to only be used on the occasion, 24KF Furniture has changed the game with this excellent lounge. They have made comfort one of the priorities on this lounge and if you weigh under 400 pounds, you're able to use it far more often than you would with most other chaise lounges.
Intelligent Material Choice
In my opinion, this is where Coaster Home Furnishings got this lounge so right. They went with a high-density sponge filling which is comfortable to sit or lay down on for longer periods of time. This was a really smart move on their part in my opinion as heavier folks require a high density padding to support their weight.
They took this even further with the frame of this lounge that has given it an impressive 400lbs weight capacity. They went with sturdy legs that give it great support and made the frame out of a hardwood which is less likely to splinter and break, giving it a longer life expectancy.
Available In An Array Of Colors
---
High Weight Capacity Chaise Lounge

From a first glance, this chaise lounge from Rosevera is extremely stylish and really does stand out with the gentle curve of the base. It has an excellent design that gives it this extremely high-class feeling and can easily be the standout piece of furniture in your room.
Surprising Amount Of Comfort
As I've mentioned before, chaise lounges are normally not meant to be everyday lounges. But if companies like Rosevera and CHF above keep this trend up I'll have to change my opinion. This lounge has great feeling linen fabric that doesn't scratch or gets caught on things and feels comfortable to sit on.
The curve and backrest of the lounge itself are where it gets most of the comfort from in my opinion. The shape is comfortable to sit on for long periods and the backrest is in a good reclined position that your back feels like it's getting a good amount of support which is something I like.
Will Always Appreciate Choice
One thing that I always appreciate that a lot of people take for granted is when a company offers you a range of colors for there lounges. Rosevera understands this, which is why they have 6 different color options which will help you in finding something to hopefully suit the room you will have it set up in.
*According to the manufacturer, this chaise has an 800 Lbs Weight Limit
---
Outdoor Chaise Lounges For Heavy People
Wooden Chaise Lounger For Big People 700 LB

When you first look at this outdoor chaise lounge I wouldn't blame you if you thought that it does look a little frail from a design point. But you'd be wrong in thinking this since this chaise lounge has an impressive weight capacity of 700lbs making it one of the strongest outdoor chaise lounges on the market in my opinion.
The cushions that are included in this lounge are comfortable but also removable which does make cleaning them easier which is something that I really like.. While they're a little thin the padding they're filled with really helps with making them more comfortable to lay on.
Useful Extra Features
There are two extra features on this chaise lounge that I really like. The added side table makes a great addition to this chaise lounge as it allows you to relax even easier. You don't have to get up to get your drink or just allow you to put your food on it while you're reading.
But the thing that really stood out to me was the wheels on this outdoor chaise lounge. This makes repositioning it very easy to do and if you need to clean underneath this lounge you can just move it. I also find that it makes moving this lounge easier if you're by yourself and have no one to help out.
---
500 LB Camping Chaise Chairs

There is a lot to like about this set of two outdoor camping chaise lounges from Aboron, whether it's multiple different color options or the comfort of these excellent lounges. Aboron have knocked it out of the park and have made these chaise lounges well worth your time looking into.
If you have an outside pool and are wanting the perfect pair of chaise lounges to sit beside them than this set does make a great option. They have been designed to be able to handle salt and chlorinated environments making them tougher and designed to be around pools of any kind.
Stand Out Backrest
The backrest on these chaise lounges really stands out thanks to their very adjustable nature that's hard to beat. You're able to adjust them to different positions so you can find one that will give you the support that your back needs which also allows you to be more comfortable.
To improve the backrest and comfort even further, Abron made sure to include a headrest on the cushions that come with these lounges. This improves your relaxation on this set of lounges and makes an already incredible backrest even better in my opinion.
---
Chaise Lounge For Overweight People
350 Lb Capacity

When you want the classic design of a chaise lounge it's hard to go past this model from Best Choice Products who have nailed the cruise ship vibe in my opinion. The classic beige pillow with the acacia wood frame is a look that will stand the test of time and give your backyard the holiday vibe!
Extra Features And Multiple Positions
I really like when chaise lounges have adjustable backs they can be put in different positions, especially when they allow you to lay down completely. You can adjust the back of this lounge into 4 different positions including the horizontal position.
It also has a very useful side table attached to it so you can store numerous things on it which is always a plus. Thankfully Best Choice Products have included wheels on this chaise lounge as well so moving it is really simple to do by yourself in my opinion.
Tough On The Elements
Something that I really like about this chaise lounge is how everything about it has been designed to fight the outside elements. Acacia wood has a natural defense against the water and the cushions have been made water-resistant to help with this even further.