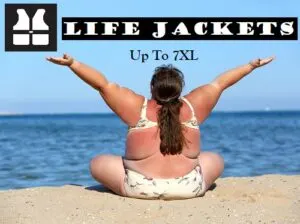 When you're a big boy or girl, it can very difficult finding a life jacket from your local store to fit a chest size over 60 inches. While this can be disheartening, there is hope. Online you can buy life jackets for obese people and big men up to 7XL.
With a 7XL life vest you can get an oversized life jacket that fits up to 70 inches around the chest. But if you're big and tall, you're going to need a vest that has extra length and this just makes trying to find on instore almost impossible. The good news is that I have managed to find a life jacket for big and tall people as the design of the jacket allows for an extra 3 inches in length.
This will give not only the bigger people confidence, but the taller folks the ability to go out on the water safely. Below you can find 6 approved and suitable life jackets for heavy people based on their maximum size available. If one product is out of stock, don't forget to check the next in line.
Compare Extra Large Life Vests By Size
What Size Life Jacket For A Big Person?
A big part of the answer to this question will come down to your body type since that will affect it the most. Are you someone where your weight goes more to your chest? Or does all your weight go to your stomach? Depending on which type you are will affect what you will need.
One thing you will want to look for in your vest is if it has a flex panel on its back. This will help the life jacket stretch and will it fit better since it will give your stomach more room which is important.
Even if your life jacket does have a flex panel on it I would still recommend going with a larger size if your stomach section is bigger than your chest. This is to help improve your comfort as well as giving you room when you're in the life jacket.
For a bigger person no matter what you will be doing that requires a life jacket I would recommend going with a larger size. Going with one that has a flex panel will help if you accidentally buy a size that's smaller. Tho it's always preferred if you go with one that is larger instead.
The Biggest Life Vests 7XL

When you need the extra room, Absolute Outdoor have you covered with this life jacket that will make your water experiences much safer and more comfortable as a big man. Offering up to an impressive 7XL for someone who has a 60″ to 70″ chest, it will help cover a greater range of people out there who need something larger.
If you've ever tried fishing with a life jacket on then you know how frustrating it can be if you don't have proper arm movement. Absolute Outdoor understands this so they have designed this life jacket to give you proper arm motion so you're able to fish properly and not be held back!
One thing that I really like about this life jacket is the number of pockets it offers which just makes life outside easier. It has a total of 4 pockets with two of them having a drainage mesh so water won't fill up in those pockets.
I really like the reflective material on this life jacket which I know is pretty standard for most life jackets. But I really like the amount of reflecting this particular one has which gives you peace of mind that you're more easily visible.
Is It Stamped With The US Coast Guard Approval?
This is one of the most important things that a life jacket needs in my opinion, as it tells you that it's been properly tested. I'm happy to report that this life jack has the US Coastguard stamping on the inside back of this vest making it much safer in my opinion.
7XL Life Jacket By Absolute Outdoors
Life Jackets For Obese People
Up To 68″ Chest Size (6XL)

If you've ever spent any time in the water sports industry or been a fan of them than you would have heard of O'Neil Wetsuits. They have made a name for themselves making some of the best water products on the market which they continue this trend with this excellent life jacket.
It offers a variety of sizes going all the way up to a 6XL which is about a 68″ chest. This does make it likely that they will have one that will fit you and having the name O'Neil behind it, you know you will be getting a high-quality product.
One thing I really like about this life jacket is how easy it is to adjust thanks to the 4 heavy-duty straps it has on it. They're quick release so they can come off easily which makes adjusting them a lot easier in my opinion.
They have opted to go with a closed-cell marine foam floatation which offers a very good amount of buoyancy which helps you feel safer while wearing it. This is something that I really like as it helps keep the bulky nature of a life jacket down which makes it a great choice for those who want to try water sports.
The Important Question Answered
As I said above and will say every time it's applicable which is the question that's always asked, is it approved by the US Coastguard? Which again I'm happy to report that yes it's been approved by the USCG so you will have peace of mind in picking up this life jacket.
O'Neill Men's Superlite USCG Life Vest 6XL
Life Jackets For Big & Tall People

Are you a big person? Are you a tall person? Are you both? If you answered yes to any of these questions then there is a good chance that this life jacket from Overton's could be the ideal life jacket for the bg and tall people. It has been designed with the big and tall in mind making it a rare item on the market in my opinion.
One of the things that I really like about this life jacket is that it's 3″ longer than your standard life jackets. Giving it a total length of 24″ which is great for taller people who are so often used to wearing a life jacket that is far to short for them.
Something that I do appreciate is that this does come in 3 different colors which is something that is useful if you're planning on buying multiple. This is great for families who want there own color so they don't get mixed up which I've seen some people on the water arguing over such a thing so it does happen.
Does It Have The Stamp Of Approval?
The difference between something untrustworthy and something that will keep you safe is the ever-important seal of approval. Which of course I'm referring to the USCG approval stamp that only safe life jackets have on them which this one from Overton's does have.
Features On Offer
Having a longer torso so it works really well for tall people
designed for men with chests of 50″ to 60″ making it great for bigger people
Made from closed-cell foam to help keep you safe in the water
Overton's Big and Tall Nylon Life Jacket
Life Jackets 300 Pound People
6XL Up To 66″ Chest Size

There is a lot to like about this life jacket from Hardcore Water Sports who have taken this life jacket to another level in my opinion. Offering a wide selection and the right features making it one of the better life jackets on the market in my opinion.
The thing that really stands out about these life jackets is the high visibility that they offer. Such as the neon yellow that makes you stand out really well in the water which will keep you safer. This is just one of the 5 colors they have on offer tho.
It can be used in a number of different situations which is one of the reasons I really like this life jacket. It works just as well for the fisher as it does the wakeboarder which gives it a lot of versatility and gives you a wide range of movement when using it.
Yes, It Does!
You know what time it is! The important stamp, the one that will help give you peace of mind when using this life jacket in the water. This life jacket has been approved by the USCG so you can trust that this life jacket will help keep you buoyant in the water.
Stand Out Features
Perfect for larger people thanks to the large sizing going from 58″ to 66″ chests
Has a really good reflection of light in the many different colors making it safer
Approved by the USCG so it's safe to use in the water for a number of different hobbies
Hardcore Water Sports High Visibility 6XL
Survival Jacket For Big People 64″ Chest

When it comes to the top of the line you can't go past Mustang who are arguably the market leaders when it comes to survival jackets like this one. They just make their products to such a high standard that other companies struggle to keep up with them which is exactly what they're done again with this jacket.
It gives you peace of mind when using this life jacket knowing that the 5XL is able to support a 400lbs adult male. This is something that really stands out to me since most will say heavy-duty but only used by people who are 200lbs often ignoring the people who need something stronger.
One thing I really like is the mesh shoulders on this life jacket as it just frees up your arms more than most others. It also stops the shoulders from getting really warm that can happen when there is padding on them.
It's A Mustang, Of Course, It Does!
This shouldn't come as a surprise to anyone who knows that Mustang means quality. So, of course, they have the USCG approval on this life jacket which isn't a surprise to most people. It does have a rating of 15.5 making it the right rating for adults which is something that's useful to know.
What You Need To Know
It's made in the USA which is something a lot of people will love about this life jacket
Designed for the bigger people out there easily supporting a 400lbs man
The bright orange design is extremely reflective which will protect you in numerous situations
Mustang Survival Industrial PFD Mesh Vest (4/5XLarge)
Life Vest For Large People 62″

This life jacket from Stearns is your more traditional life jacket which is something that I really like since it keeps it simple and does that simplicity really well. This does make it very reliable which is something I think we would all want in an emergency situation if it ever came to that.
I really like the three-strap design and the way they have been put further away from each other meaning you won't have to adjust as many straps. It also allows for people who have a larger stomach to adjust to it easier since they aren't all so close together which also makes it comfortable to wear.
While the blue does offer a certain amount of reflection it might not be enough for some people. It does come in a red version that is much easier to see so if you're worried about visibility there is an option to help with that.
It Should Be Named Stern!
Being so traditional it should come as no surprise that it does have all the right stamps of approval from the USCG. It's such an important thing that if a life jacket doesn't have this approval I wouldn't trust it at all.
Traditional Features
The oversized version is able to fit chests that are anywhere between 52″ and 62″ making them great for bigger people
They are perfect for a day on the lake or in the pool but equally as good if you're going to on a boat or being towed by a boat
Stearns Adult Classic Series Vest
How Much Weight Can a Life Jacket Hold?
While you can get high weight capacity kayaks easy enough and even paddle boards suitable for heavy people, the more serious question is whether or not life jackets can actually provide the safety an oversized person needs.
This is one of the most common questions I see when it comes to bigger people and life jackets which makes sense since it's an important one. The answer to this question can be simple and complicated at the same time and can vary depending on the life jacket you own or will be purchasing.
If you go with a life jacket that has been approved by the Coast Guard then you will find that they are not rated by how much you weigh. They are rated by the size of your chest which most people don't know.
The reason that they rate them by the size of your chest and not body weight is actually quite simple. The fat in our bodies is actually lighter than water and life jackets approved by the Coast Guard are supportive enough to hold your weight.
Testing If A Life Jaket Can Hold A Heavy Person
Being a big person, I know that we rarely trust most things that are meant to be "designed" for us such as chairs with heavyweight capacities, I still feel a certain amount of unease on them. This also happens with life jackets except if a chair doesn't hold I may injure myself if a life jacket won't hold me the result is far worst.
It becomes a big trust issue when it comes to how do you know it will float? and how can you trust it? Thankfully people who are much smarter than I have done the calculations behind such a thing have given us the answers to this question.
The thing you might not expect is that our heavier weight is actually going to work in our favor since fat is lighter than water. We have a better buoyancy than slimmer people so that means we don't need as much buoyancy as smaller people.
This means that the average rating of 15.5 will work for practically all adults no matter how large they are. As I mentioned up above our biggest issue is finding a life jacket of an appropriate size or one that has a flex panel on the back.
Is There Any Way To Test How Buoyant The Life Jacket Is?
This is something that I suggest for everybody to do not just heavy people which is when they first get a life jacket is to test the buoyancy of it. This can tell you if it will hold you if something does go wrong so you're not left struggling so it's recommended to do this.
One of the first things you should do when you get your life jacket is to test the sizing and get familiar with all the straps and buckles. The last thing you want in an emergency is to be fumbling around trying to work out where everything is.
You will want to go to where there is water where you're able to stand in to test how buoyant your life jacket will be. You will want to be in shallower water first and make all the adjustments you need to before you test it in deeper water.
Now you will want to go into deeper water where you will be able to lean back and start floating. You will want to breathe naturally and pay attention to the distance between your mouth and the waterline. The more room you have between this area you will find it easier to float and know that it will support you.