I hope you love the products I've recommended below, just a heads up that as an Amazon associate, I earn from qualifying purchases. This means I may earn commissions on products bought via links on this page.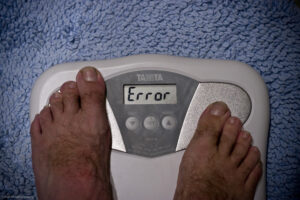 Weight scales for obese people are an important tool for your weight lose bag. Without it you can become lost. So today we will share our best recommendations for heavy duty bathroom scales that can cater to heavy people. We will review and discuss the few good options we have, ranging from the 400 lbs to 1000 lbs weighing scales. Plus which brand of scales we think you should avoid like the plague.
Why should you invest in an appropriate weight capacity bathroom scale?. Well to be honest I think you would be fighting an uphill battle trying to lose weight without one. The most important step when trying to battle the bulge is to monitor progress and achieve results. This is made possible through decent digital weighing scales. I know I would loose all inspiration if I worked so hard with dieting and exercise to not see results. It's knowing that you may have lost 10 pounds this month or 5 pounds this week or whatever. It's what keeps me going and striving forward to my weight lose goal. Seeing accurate results are crucial.
What Scales For Overweight People Should I Avoid?.
Results are critical, and so is accuracy. Without out the both, your in for a hard time. So any weighing scales that don't have accurate readings or calibrated probably can just destroy your goals and ambitions without you knowing it. So the brand I have heard not to trust for accuracy is fairly well known. But this does not prove to be a winner in all circumstances. You can view the product and read all The Reviews Here. By the way, it's a 400 pound rated weighing scale.
The Revolutionary Bathroom Scales
Bluetooth Arboleaf Weigh Scale 396Pound Capacity
You know times have changed and technology has left you behind when you can simply stand on the scales and it literally tells you if you have either gained weight or lost weight. This is incredible!.
Not only that, this Bluetooth scale 'of the future' can have unlimited users and be used with or without your phones app being present. What it does is stores your data and the next time you are on with your phone, it will automatically update the app with the stored data.
The app used does require your smart phone to be Android 4.3+ or IOS 8 and above. This Bluetooth scale is amazing because it can share your actual weight with your fitness and weight tracking apps like Fitbit and Google Fit.
The Smart Scales simply just lay on the floor waiting to feed you data the next time you stand on them. It doesn't matter who stands on them, they can automatically detect the person due to the auto-recognition feature. Wow! is what I said.It would be too annoying if I had to manage settings and such, just to get on the scales. So a welcomed relief that this auto recognition feature is present.
They are pretty accurate too. When you hop on and weigh yourself then weigh yourself again a minute later, the results are the same. What a relief.
Only disadvantages to the Bluetooth Scales is that they need to be on a hard flat surface. So weighing yourself on carpet is not going to work. Other then that I think the 396 Lbs weight capacity scales are a serious contender for taking over household bathrooms.
ArboLeaf Bluetooth Scales 396 Lbs
The 400 Lbs High Capacity Digital Scales
iChoice Smart Scale Review

If you don't weight over 400 pounds, or 396 Lbs to be more precise, and like to track your data seriously, then you are going to absolutely love The iChoice Smart Scale.
Technology has evolved into the humble digital scale. With the iChoice you can do many great things to help you keep on track with your weight goals and attempt to achieve them faster. 400 Lbs Digital Scales For Overweight People
The iChoice Digital Scales allow you to track your weight loss, works out BMI, set goals and more by syncing with your iPhone. The up to date models available can be found here.
What makes this 400 Lb bathroom scale so accurate with weight measurements are the 4 precision sensors. The results are displayed in a clear and large format so its really easy to see. The scale itself is bigger then the normal, which I love. While it is only a scale, it has a very cool look about it. Very modern and professionally designed. A treat for the bathroom, rather then an eyesore. I think for the price of this weight scale its a really good product.
iChoice Smart Scale
Extra Wide 550 Lbs Weigh Scale For Big People

The My Weigh XL 550 is a popular choice among consumers. Especially in the big person area. It's capable of holding up to 550 pounds and has reports that size 15 shoes can still fit on this scale. It's a very wide scale and surprisingly its very light. It comes pre packed with batteries. When you install the batteries you have the option of turning on the voice control feature. You can turn the voice off whenever you like. However the voice feature is particularly handy when those annoying bellies that get in the way of reading the digits on the LCD screen.
The rubber feet work really well for gripping to tiles which aid in more accuracy in it's readings. It's not the most eye appealing bathroom scale I've ever seen, but well worth checking out.
My Weigh XL 550 Vs XI 700 Digital Bathroom Scales
You may have heard or seen the My Weigh 700 model and wondered what's the difference between the My Weigh XL 550 and the XI 700. Well basically the XI 700 has a higher weight capacity of 700 lbs compared to the 550. The platform on the 700 is larger measuring at 20″ x 12″compared to the 550's 14.7″ x 12.5″. In my opinion the XI 700 is a much better and more professional looking scale. I'll let you be the judge.
My Weigh XL 550
My Weigh XI 700
The High Capacity Bathroom Scales Up To 1000 Lbs
If your an extra large person and looking to achieve good results with accurate readings, then your may need to invest in something like one of these high capacity 1000 pound rated weighing scales. These scales are also used for weighing shipping etc Like with anything larger then life, we get charged more for the product as they are heavy duty. So keep this in mind, but know that improving your health and trimming the unnecessary edges away is worth it in my opinion.
There's 2 options you can take if your looking to buy a bathroom scales for an obese person. The Siltec and the Medweigh. The Siltec is a lower budget option so we will have a look at this one. But feel free to see what other consumer reviews say about the 1000 lb Med Weigh Here.
The Siltec is great value for money I believe, considering the huge weight capacity limit is when compared to the bariatric scales. It's a very professional and high quality scale. You will have your relatives and friends weighing themselves at your place in time once they see how accurate this scale scan be. It measures by 1 lb increments.
What I do like about the Siltec bathroom scales is the mounting brackets that come with it. This will enable you to mount the digital reader to the wall for easy and accurate results. This is optional as some people are hesitant about putting holes in the wall. The actual scales themselves sit very low to the ground, which is excellent for the obese and heavy people. Lower to the ground the easier to stand on.
The scales are wider and bigger then your conventional 250-300 pound scales, which is great for us bigger guys as we can find our balance easier. The LED screen reads big red numbers so it's really easy to see the results. Overall I think the Siltec weighing scales 1000 Lbs are well suited digital bathroom scales for anyone overweight to obese.
Siltec Weigh Scales 1000 Lbs
How To Choose The Correct Bathroom Scales For You
Watch Mike Dolce (Famous for the Dolce Diet: 3 Weeks To Shredded) walk into Walmart to show you how to pick the right digital scales for your bathroom.
Quick Video Recap
Save