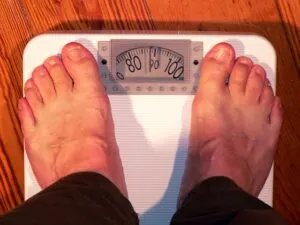 Having an accurate weighing scale is one thing, but another important factor to consider for a big person is having Bathroom Scales With 500 Lbs Capacity minimum. While accuracy is very important in successful weight loss, a high weight capacity digital digital bathroom scale is critical for an overweight person. Here we will compare the features and prices for some heavy duty 500 pound capacity weighing scales.
While there are various other good high weight rated scales, for this comparison we will be looking at just the bathroom scales which can handle about 500 Lbs with accuracy. If you're after more variety or selections you can check out the bathroom scales for heavy people which reveals the 1000 pound capacity beast.
Compare Digital Bathroom Scales For People Up To 550 Lbs
Below you can quickly compare the features of each 500 pound weight limit weighing scale, for more details we have reviewed each scale in further detail below the comparison table.
Entry Level 550 Pound Rated Bathroom Scale

For the majority of big and heavy people, the My Weigh XL – 550 scales will be suffice. It's rather well priced considering it's 550 pound capacity and is a rather popular weighing scale among the larger population. From the many amazon reviews I researched, it was a standout. But why is it so popular?. My guess is the price is right and the fact it's actually a decent weight scale. Best Cheap Bathrrom Scales 500 Lbs Weight Capacity
The platform is moderately big and can apparently handle up to size 15 shoe, but anything bigger would be pushing the boundaries I reckon. So plenty of standing space and area to quickly tap on and off with your foot. The actual dimensions are: 14.7″ x 12.5″
For accuracy, this oversized bathroom scale is more hit than miss. It's fairly accurate and consistent on most occasions. The trick with this actual scale is to minimize moving the scales around as this can cause the calibration to offset a little at the beginning. However besides this minor bug, it's a reliable and accurate heavy duty scale for the plus size people.
The talking feature of the My Weigh XL550 is something consumers will either love or hate. Fortunately when you place the AA batteries into the slot, the switch just near the LCD monitor has an on and off button. This controls whether you want the talking feature or not. Basically the voice over says Hello, Ready, Your Weight and then Goodbye when you step off the scales. Like I said, something that will be decided by the user. Not everyone wants their relatives/neighbors to know their exact weight.
Is the My Weigh Xl 550 Bathroom Scale worth buying?. As this scale has a weight capacity of up to 550 pounds and is very good value for dollar. The simple answer is yes. For home users looking for an accurate and affordable scale then this is an option for you. However if you want a more heavy duty scale that can handle frequent daily usage and to hopefully last many years, you can consider the more expensive brands below.
My Weigh Xl 550Lb Capacity
Premium Bathroom Scale For Heavy People
Health O Meter Professional 498KL Digital Medical Scale

Now before you go any further, do note that this scale is a professional weighing station. It does cost a fair bit more then your common household bathroom scales, but boy its worth it if you ask me. If you can afford to spend a couple hundred bucks on an accurate weighing station then go for it. For accuracy this scale is up there in my reliable scale list. Weigh yourself, go eat dinner then weigh yourself again. My thoughts are this scale is that good.
The extra large base on the digital scales is suitable for us bigger lads. Even if you have a problem with balance, the oversized base and the fact it's lower to the ground than traditional scales will get you standing still with ease.
The feature I love the most is the movable monitor and lock feature. The display monitor can be mounted to the wall (at eye height preferably) which is a must for the really big Guys and Gals. What's even better is the lock feature which allows you to lock the display at the current weight if you cannot quite read the screen from the scales. Then move closer or get the glasses on for a more accurate weight reading.
Overall this is a great 500 pound weight limit bathroom scale. It's one of the most reliable and durable bathroom scales I've found around it's price and high weight capacity. The only negative about it really is how it needs 6 x AA batteries to run. Alternatively you can purchase the AC adapter to connect to the mains and save batteries, which then saves you money in the long run as we all know how fast batteries can drain. Plus it has a USB port so you can connect it to your PC or weight management software for documented results.
Health o meter 500 Lbs Capacity Scale
The Professional Weighing Scale With High Weight Capacity
Health O Meter 752KL
A more expensive scale is also by Health O Meter. This particular model is rated to hold up to 600 pounds and is aimed more at the Medical market. While I think it is still a very good home use bathroom scale, I think the price will scare most buyers off. But in retrospective the amount of money one can waste on cheap inferior scales may surpass this one off purchase. Which with any luck will hang around for years providing you with accurate readings. This model also comes with the AC adapter included and a larger easier to read monitor, which like the 498KL can be mounted to the wall for easy readings. This model also has a slightly larger standing platform made of steel and is ideal for heavy duty usage.
Health o Meter 600 Lb Capacity Bathroom Scale
Save