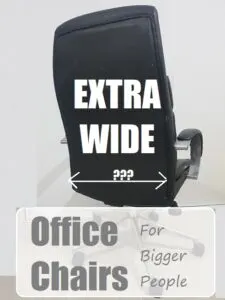 When you are a larger than life person, buying extra wide office chairs are simply a must. Trying to squeeze into a 16-inch wide chair is simply not going to work if you have a waist size greater than 40 inches. If you look at your typical office chair, you will see there's a huge difference in comparison compared to a big man's version.
For starters, the weight capacity is a dismal 200-250 pounds which could barely hold my lower half. However, some wider people are not necessarily that heavy. So this is where seat measurements and distance between the arms (if any) are extremely important to consider.
On a smaller office chair, you can expect the seat size to be about 18 to 20 inches wide. Seat depth is important for taller people as the extra room to shuffle the buttocks back a few inches really helps.
Lastly, the thing to consider when buying an extra-wide office chair is the height of the seat from the floor. Its all well and good to fit sideways into the seat, but if you can't reach the floor or if your knees are up near your ears due to a low height setting, you're no better off. Being ergonomic in the office is very important. It's more than just being able to fit into the chair.
So with that said, below you can find some of the widest office chairs (up to 500 lbs) I have been able to source. While being wide, they are of high quality and reinforced to hold a heavier person.
Compare Office Chairs By Seat Width
The Widest Office Chair For Heavy People?
When looking for the widest office chair, the total width of the chair is not important if you are looking for that extra seat space. The widest office chair I could find is the Comfort Products Admiral big and tall executive leather chair (60-5600T).
There is a bit of confusion going on in regards to the actual seat size. In the reviews, the seller states that it is 27 inches wide and 33 inches deep.
Which is quite large indeed. But when you check the Comfort Products website it clearly states the seat size as 25 inches by 21 inches in depth. However the seller also comments in the Q&A that the seating area is 22″x22″, confusing much?
While the seats back is 26 inches wide by 36 inches high. The actual overall width of the chair is 27 inches, not the seat.
Either way, 22 inches – 25 inches wide is quite special. Only one other chair was able to match this size which is mentioned below.
500 LB Capacity
Moving on… What is so special about this chair is the fact it can hold up to 500 pounds in weight. So a high weight capacity. But with this comes a very well padded chair. Something dreams are made of (if you dream about office chairs).
But what impressed me the most is how curved the Lumbar support is. It's a great fit for people who suffer lower and mid back pain. I don't know if every office worker experiences this pain after sitting for extended hours, but I sure do. So I highly appreciated a well padded Lumbar support like this Comfort Product offers.
The seat from the ground measurement at it's lowest point is about 19 inches. Which I find perfect, but I would imagine shorter people may find too high off the ground. But for average to taller people, its a perfect fit as it extends to over 23 inches in height.
In terms of performance, it has the basic office chair requirements, but on steroids. The gas lift is reinforced to support the heavier loads. While the casters seem to be quite heavy duty and glide over most office floorings without too much hassle.
Overall it not a bad chair for the price. Sure its the widest Ive seen, but I'll be honest here in saying I'm not a huge fan of bonded leather. It can deteriorate much faster than the real deal leather. But as you know, genuine leather office chairs are not exactly cheap.
I've had many bonded leather products over the years and I've learned to put a cloth covering like a towel or similar over to extend the lifespan of the material. But for the price and the huge dimensions and 500 lbs weight capacity, I really can't complain about this office chair.
Comfort Products Admiral III Big & Tall Executive Bonded Leather Chair
23″ Wide Executive Big & Tall Office Chair
Another option to consider is the office chair by PlushCore which has a 23 inch wide seat with a depth of 22.5″. So quite a large seat and best of all, it offers enough depth for the taller person to feel supported under their thighs.
Speaking of tall people, the seat height on this chair is not for anyone below 5'9″ in my opinion. The minimum the seat goes is 20 inches and the highest the seat raises to is 23 inches. So certainly a option for the big and tall.
It's More Than Just Oversized
What makes the PlushCore a stand out for me is the fact it has 6 built in vibrational massagers. Two in the seat and four in the backrest. These massagers are precisely positioned to relieve built up tension in the pressure points along your back, lumbar and under your thighs.
The massage is controlled by an external remote which gives you the option to play with the intensity, type of massage and timer settings. when your done, simply put the control away in the attached pouch ready for your next work session.
Rocks, Reclines & Swivels
A feature I never paid too much attention to was the ability to rock back in my chair as I'm working. My last chair didn't have this feature and this PlushCore does. Boy does it make a difference being able to gently rock back in your chair.
The chair can also recline and lock into any position up to a 20 degree angle. Like most chairs, it is also fully swivel so you can quickly turn around in your seat to answer the phone, attend to the printer, etc.
Overall, the PlushCore is a unique big and tall chair in the fact it offers massage while you work (or play). Having a high 400 pound capacity and a wide seat just tops it off. Highly recommended.
500 LB Wide Seat Massage Office Chair
25 Inch Wide Seat Office Chair By OFM
OFM have been making decent big people office chairs for quite some time now and this 400 pound beast is the extra wide version. Measuring in at 25 inches wide, the seat is quite large and well padded. It's worth noting that there are two similar chairs by OFM, this one being the OFM ESS-202 and the ESS-201. This one has the larger seat while the ESS-201 has a slightly smaller seat at 24 inches wide.

This is another executive style bonded leather office chair for heavy people. Which in my opinion is what us bigger people need. A well cushioned chair and that this OFM certainly is. But not over the top padding where you sink, but just the right amount to feel comfortable.
What I liked about this OFM was that it has the tilt lock feature which is not all the common for heavier chairs like this. It allows you to tilt the chair to how you prefer and lock it into position. This is done by the knob underneath the seat which I did find to be a little stiff at first. But nothing a little spray couldn't fix.
The seat height adjustments for the OFM are pretty similar to that of the above Comfort Products chair. Being between about 20 and 24″ maximum from ground in height. So again, really short people should avoid this chair unless you use a foot stool regularly.
Overall, it s another high quality product by OFM with an affordable price tag. But not just an ordinary chair that's been reinforced, its a chair that designed to be used by larger individuals. Which I just love. The 400 lbs capacity is suitable for many people, while the padding is just right. Not having all the bells and whistles some of the $1000+ office chairs cost, I think the OFM certainly stands its ground in terms of competition.
OFM ESS-202 Essentials Big and Tall Leather Executive Office Chair
Extra Wide Desk Chair With Mesh
The best fabric and mesh desk chair that is also extra wide I found it the Flash Furniture Hercules. With a 22.5 inch wide seat, this 500 pound weight capacity chair can certainly handle some larger bodies.
Moving away from the bonded leather arena, we step into my personal favorite kind of office chair. While it doesn't have huge amounts of padding like the executive chairs, this Hercules still stands up tall. That's because of the mesh backing which is almost compulsory for us bigger people. That is because of how breathable this material is.
The mesh allows airflow onto your back instead of a build up of sweat streaming down to regions it doesn't belong. So in air conditioning this chair is very cool indeed. While breathable, its quite comfortable as well. Mainly down to the adjustable lumbar cushion. Not all chairs have this feature, but is certainly a must when you experience back pain. Being able to pin point where to position the cushioned lumbar on your back is seriously priceless.
The steel base is a dead giveaway that this chair was built with heavy people in mind. It's not some rip off plastic material, nor is it fake. This chair is super strong. Hence the 500 pounds weight capacity. But what I found the most relevant for being a bigger person was the slight lean in the chair.
While it doesn't lock and tilt, it does have a slight lean forwards. Now don't panic, this is intentional. By having a slight lean forwards, your feet are firmly planted on the ground. What this does is improves blood circulation, especially in the legs. Other chairs can often restrict blood flow because they don't do this. But the Hercules is on board with this improving the workplace ergonomics. Which I highly support.
Overall, Hercules is a brand by Flash Furniture that has been seating extra large bums for many years now. This is one of my favorites because it's breathable mesh and slight tile forward feature. Having an almost 23 inch wide seat with a high weight capacity of 500 pounds is the finishing touches that make this one of the best wide desk chairs going around.
Flash Furniture Hercules Mesh Fabric Office Chair
23″ Wide Seat Mid Back Office Chair For Big People
While OIF was fairly new to me, I knew instantly that this was one seriously heavy duty office chair. The assembly requires a second person in my opinion. But that is due to the heavy duty components that build this beast of a chair. While is can be assembled by yourself, I do encourage a second pair of hands help to make it faster and easier.
So its 450 lbs weight capacity office chair designed for larger people. This is obvious from the heavy duty design and parts. But can your backside fit comfortably?. Well the seat is not the biggest on this list, but it's still much larger than your traditional office chair. The actual seating area for this chair is about 23.5 inches wide while having a depth of 22 inches. Some reviews state larger, but this is not taking into consideration the couple inches you loose from the backrest and arms.
Speaking of arms, they are so adjustable that you can even leave them off this chair and it won't look like a chair missing arms. The design of this chair was well thought out. It allows you to move the arms into a position you like before adjusting. Or just leave them off completely for a more spacious rump area. I personally don't use arms on my chair, while it does have arms I rest my elbows on the desk.
Continuing on with the heavy duty theme, the fabric on this chair is unbelievably tough. It's a very sturdy and thick Polyurethane fabric that covers about 4 inches of comfortable padding. So the butt should certainly feel at home in this chair. What the OIF allows that the Hercules didn't is a tilt and lock feature. So kicking back in this 450 pound chair is quite rare. As the higher the weight capacity, the less chance of being able to tilt the chair (not just the backrest). But the OIF is that well built it can handle the heavier weights kicking back in it. If I had to guess, I would say it reclines back to about 40°.
Overall its a pretty solid and stocky office chair. The mid back will suit some while it may deter others. The fact it can have no arms is a huge plus. The height adjustments are pretty standard being 19.25″ minimum to a maximum of 22.75″. The extra wide seat and the huge 450 lbs weight capacity just prove that this well padded chair is not just your few month typical office chair fling. It's built to hang around for a long time.
OIF BT4510 Big and Tall Swivel/Tilt Mid-Back Chair