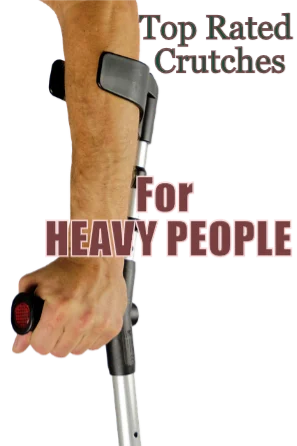 For an overweight person, a pair of heavy duty crutches can be a great mobility asset. These extra large crutches for heavy people can give you the freedom to move again. Even after years of being bed ridden, a good set of crutches may come in handy.
Many overweight people sprain ankles and injure all sorts of lower body parts which severely affect the way we get around. It's not until you find yourself in this position that you realize that crutches actually do have weight capacities on them. So if you're overweight or even obese, I think it's always a good idea to have a set stored away for any future emergencies.
When you first start using a pair of crutches it can be quite difficult, especially for us heavy people. The extra weight on our bodies does us no favors in this instance. Usually the first few times you depend on the crutches, you will find your body gets really sore. This is because your using muscles you probably didn't even know exist. In many cases bruising and strains in the wrist occur from frequent pressure being exhorted upon them. Even a simple 5 minute walk may now take you 30 minutes longer.
These symptoms are all common and a way to get around them is by using the crutches more (Shoulder/hand strapping also helps). Get your body adjusted to the situation and you might find in a week or 2 that the 5 minute walk may now only take a few minutes more. However it's important you are using the crutches correctly also, so see a Physician or your local Doctor if you are concerned. With all this in mind, we have gone out to find out which crutches are best suited to heavy people and rate them for their high weight capacity. When it come's to mobility and being a plus size person, the cost of products to assist us, such as crutches price has no bearing on our results.
Heavy Duty Crutches With 350 Lbs Weight Capacity
Ergobaum Highly Comfortable Crutches

If you weigh under 350 pounds, our recommended set of crutches are the Ergobaums. Both ergonomic and comfortable, these crutches are well suited for a person who weighs up to 350 Lbs. The features and functionality of the crutches reflect the price tag considerably. Some folks may have never seen crutches like this before, so prepare to be blown away. Nothing like your conventional crutches, the Ergobaum is designed for the big Man.
A quick run down of the features I find most beneficial include the built in knee rest. Simply genius!. We all know how tiresome walking around on crutches can be, whilst taking a quick rest is simply too hard. Or while waiting in line for a movie ticket for what seems like hours. The knee rest is a brilliant idea.
The shock absorbing spring loaded legs are an amazing addition and I reckon should be implemented on all crutches. This reduces jabbing in the armpits with every step. The shock absorbers do a fine job at reducing the impact with the ground which can end in a much more comfortable and smooth experience. Don't under estimate this feature here guys and gals, as the soft cushioned steps you take seriously could be a game changer.
I also value the safety features of the Ergobaum. Don't you hate it when you in a crowded place and trying to merge thru the people, with crutches it's even harder. The Ergobaum can make getting through a crowded place that much easier with its subtle horn. Which actually sounds more like a microwave beeping, just enough to let the person in front of you know you need to get through. Also the side reflectors are inconspicuous but work really well. A light also can be glared from the crutches onto the ground, which is great for night walking.
Overall I love the idea of the Egrobaum crutches and I don't just think they are suited only for the big and heavy, but just about anyone. Although short people may find these crutches a little too high for them. With all the upgraded features and more not mentioned here combined with it's super strong heavy duty frame I know which set is my favorite.
Ergobaum 350 Lb Capacity Crutches
Sturdy & Strong 500 Lbs Capacity Crutches
Back in the old days, people use to make things really strong and tough, apparently. Nowadays we always hear or say "They don't make….. like that anymore". When you set your eyes on these Millennial Medical Crutches you can be brought bake to the good ole days. Upon first inspection one can easily notice the heavy duty rating and high quality materials used to make the Millennial crutches. To hold up to 500 pounds, one would hope it's a heavy duty foundation right, correct and the Millennial shouldn't disappoint here.

These crutches are particularly good at avoiding the armpit area, they lean into your body without potentially causing harm to your under arms. While these crutches don't come with all the fancy bells and whistles the Ergobaum boasts, its still one solid pair of crutches and the price reflects this well. The hand rest is very well positioned to avoid wrist twisting and pain one can commonly get from a standard version of crutches.
Like the Ergobaum, the Millennial also has an absorbing spring foundation. Which is especially important for a heavy person up to 400 Lbs on his feet a fair bit. Some people spend a long time, even years upon years on crutches. So imagine the relief one will feel with these new shock absorbing features the higher quality crutches are featuring now. For the extra money, the absorbing feature is well worth it in my opinion.
The Millennial has an impressive 13 different height settings. When measured from floor to the underneath armpit, its important to make sure your height is between 50 inches and 62.5″. Otherwise these crutches won't suit your body. If you have low upper body strength you will find the design of these crutches to be very assisting like something you may have never experienced before. The only gripe I have is the hand piece is molded to be an ergonomic fit, but after extended sessions without break they can tend to rub a bit. Depending on your skin, you may even start getting blisters after a while. This won't affect most people as we generally don't walk marathons on crutches. I do like how they can easily fold down for storage and portability, plus they are available in multiple colors also. Adds a touch of uniqueness to them. Millennial Medical Crutches are a popular choice among celebrities and sports stars such as Kobe Bryant, Chris Klein, Paul George and many more.
Millennial Medical 400 Lbs Crutches
500 Lbs Capacity Crutches For The Big And Tall
Before you read any further, if you are short, hesitate to buy these. You will be out of pocket with an UN-usable pair of crutches in my opinion. These Drive Medical Bariatric crutches come in 2 different sizes. Adult and Tall Adult. For the adult size you should be taller than 5 foot 2 to a maximum of 5 foot 10. Distance from ground level to under arm is from 46 to 54 inches. While the TALL Adult version is for people between 5'10" and 6 foot 6 with a height from floor to under arm between 55 to 63″.
If you fit the height requirements and are a very big person, up to 500 pounds, you might find these stable and heavy duty pair of crutches a welcome relief. These things are made from steel to provide the most support and ensure confidence for many larger folks.
The underarm padding is very thick to cater for the heavier people and are also latex free. A much bigger vinyl tip which is none skid for more surface connection allows us bigger Guys to feel more comfortable on crutches again. Overall a very basic crutch with height adjustment and one very high heavy duty rating of 500 pounds. When you start to get into these high weight ratings, you tend to loose some of the bells and whistles you may see on the lower weight restrictive crutches. This is also common in office chairs and recliner chairs as devices are limited to handle the higher weights.
Drive Medical Crutches 500 Lbs Weight Capacity
Save