I hope you love the products I've recommended below, just a heads up that as an Amazon associate, I earn from qualifying purchases. This means I may earn commissions on products bought via links on this page.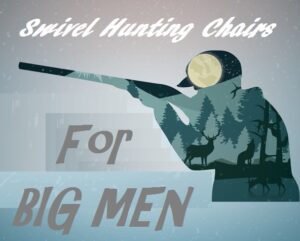 With many aspects to consider when buying a hunting chair such as does it swivel, camo capabilities, comfort, legs etc the biggest factor for a heavy people is weight capacity, it must be high. Below you can find Hunting Chairs For Big Men, then find out immediately if the chair is suitable to your weight capacity.
Certain hunters will require different attributes to the next hunter, so if you can find a fully adjustable hunting chair to suit your style, then you're in a good position from the get go. However not all Men are created equal. Some are large, heavy or festively overweight. While the rest are well…the opposite, or somewhere in between. So finding the best swivel hunting chair in regards to comfort level may not be as easy as you think. However adding an extra cushion to a seat never hurt anyone.
We have presented these heavy duty hunting chairs by a weight capacity rating and will include all the important factors us bigger Guys require. Such as seat size and height from ground. The price of any hunting item is never on the top of our list when it comes to hunting gear. This is because we don't believe cheaper is always better. Like all hunting equipment, quality comes at a price. So keep this in mind as well. In saying this, I don't believe in spending $250+ on a hunting chair either. For this price tag you're better off buying Climbing Tree Stands For Big Men and getting a much better height advantage. 
What Are The Best Swivel Hunting Chair Up To 400 Pounds Weight Capacity!
Millennium Treestands G100 Blind Chair

Every ground hunter NEEDS to want this blind chair by Millennium. But unfortunately not every hunter can afford to shell out a hefty amount for a chair. But it's a Millennium and its worth its weight in gold if you ask me. If you can overlook the price, you are in for what I believe to be high quality and function-able hunting chair.
The G100 has a rather high weight capacity for a blind chair. A massive 400 lbs should be adequate for lots of determined hunters. The shear quality and strength of the chair is visible upon immediate inspection. One can tell that this is not your average hunting chair. The 'Patented' sling tight material used on the chair just adds a new element and even more strength to the experience of hunting. Not too mention comfort. The unique seating and backing area has a different feel to what you may be use to. A fellow huntsmen friend of mine has even said 'this chair is the most comfortable he has ever used in over 3 decades of hunting'. Now that's a big statement and testimony to this chairs comfort level.
The Millennium G100 features a full 360 degree swivel and adjustable options. The feet/legs are adjustable and heavy duty to handle uneven tough surfaces. A must have feature on hunting chairs. The frame is already pre-drilled to attach the shooting mount, which unfortunately isn't included unless you buy the bundle.
Overall it's hard not too recommend this chair to any hunter big or small. I think its an amazing high quality chair with features that are a must. With only one gripe to consider: The carry pouch is too noisy. When folded down and packed away for transport it can become too noisy, which is a bad thing. This can be easily solved tho by either setting up the chair before you reach the hunting location or adding some soft materials to the pouch to reduce the clanging noises. But other than that, you cannot go wrong with this 400 lbs weight capacity swivel hunting chair.
Seat Size: 20″ Wide x 17″
Height From Ground 13″ to 18″.
Millennium 400 Pound Capacity Hunting Chair
Adjustable Hunting Chair For large People

One of the best investments a hunter can make is buying a high quality swivel hunting chair. The Sniper 360 is definitely a contender in this category. For a heavy duty chair, it weighs only 25 lbs. Which is a little heavy, but considering its strong foundations and capabilities its well worth the few extra pounds. Which brings us to its weight capacity. While the manufacturer hasn't labelled the Sniper 360 hunting chair with a weight limit its best to contact them directly for larger folks.
What is brilliant about this hunters seat besides the fact it swivels a complete 360 degrees is it's adjustable features. Yes the seat even swivels around without the legs attached. Anyways, like I said earlier, it does weight a bit more than your conventional chair. But once you commit to a location you can set up the chair and be good for the day. The Legs are completely adjustable for all the uneven terrain you may encounter. Ideal for those tricky sniper spots.
The arms are also adjustable and can even be removed including the shooting rest, which is great for bow hunters. Arms are also padded for added comfort during long sessions. The back rest is also adjustable and can recline back to about 50 degrees. Again padded with foam and covered in cordura fabric which is weather resistant and meant to extend the longevity of the chair.
Overall I find this hunting swivel chair to be a great addition to any hunters arsenal. My only gripe is that no carry bag is included, you know like the ones you get with camping chairs. However there are straps to carry the chair on your back once you fold the chair down. The swivel motion is smooth and quite and is adjustable like no other chair I've tried. I reckon it's a top buy if you want a quality heavy duty hunting chair.
Seat Dimensions: 16″x11″
Height From Ground: Adjusts from 13″ to 17″
Sniper 360 Hunters Chair By BenchMaster
Ultra Portable Swivel Hunting Chair 350 Lbs Capacity
By Redneck Outdoors

A tight compact yet stable and heavy duty hunting chair by Redneck Outdoors. A decent weight capacity of 350 lbs, this chair is for the more financially minded hunter. Not the cheapest and not the most expensive, but yet still a very good 180 degree swivel chair.
Whats good about this particular chair is the amount of dense padding the seat boasts. Being a heavy person, usually requires extra padding, and this hunting seat offers just that. Combined with the backing, I think you may enjoy a full days hunting without too much discomfort at all.
The swivel is silent and smooth, yet only 180 degrees. Which is fine if that suits your set up, ideal in blinds looking through windows. This chair uses noise deadening techniques, which are the hook and loop on the legs, making for a very silent experience. The 3 legs are also adjustable and fit pretty tight into the slot, but not too tight that they make any noise. Completing the chair is the tough self leveling feet which adjust to uneven terrains.
If you're considering upgrading from a ordinary folding chair to a hunting chair for the first time, then this is an option for you. Not too expensive yet very stable and comfortable. Boasts just enough features to get you hunting quietly in a shorter amount of time. Plus its really portable for quick location changes.
Redneck Outdoors 350 Lb Hunting Chair
Big Man's Hunting Chair Up Close
Save