I hope you love the products I've recommended below, just a heads up that as an Amazon associate, I earn from qualifying purchases. This means I may earn commissions on products bought via links on this page.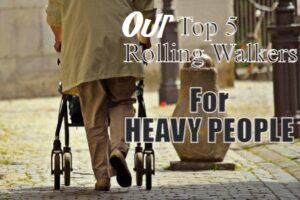 I find bariatric Rolling Walkers for Overweight People can mean the difference between struggling on canes and running out of puff very quickly, or enjoying mobility with greater ease.
However not just any rolling walker will do for me. For the Big Man like myself, a walker must pertain certain features before I even consider it worthy.
A big persons walker must be heavy duty rated. This is not an option, while most heavy duty walkers are just that, always be sure to check the weight capacity and strength of the frame support system.
My Top Picks
For Big & Tall People: Days Rollator Up To 700 Lbs Capacity
Wider Rollator Shorter Height: 500 Lbs Nova Rollator
What To Consider When Buying A Big Mans Rollator
This is one of the most crucial elements to buying a good rolling walker for heavy people. As we get older, our bodies generally find most things harder to achieve, including walking. When you add the extra body weight us larger people carry around, well mobility becomes a big issue.
Having a heavy duty walker with a seat is also a recommended asset. The seat can be your best friend. The seat should be well padded and have an extra wide area to support our bigger bodies. So when we do run out of puff, or joints start aching.
The padded seat will always be on hand for a quick rest. Naturally with a larger seat, you must find a extra wide walker frame to allow the bigger space. A padded back rest always helps too.
One other important thing to look for in a rolling walker for a heavy person is the quality of the braking system. While this may be pretty straight forward, its a key factor to tumbles and runaway walkers. Sometimes the braking system is not a priority when indeed it should be. So make sure the brakes are easy to use, reliable and will last a long time.
Cheap Doesn't Mean Quality
Price is often a factor in any buying decision and as Walkers are usually a cheaper alternative to Heavy Duty Mobility Scooters, the savings you can make will be reflected in the quality and ease of use. Scooters can cost 10 times the amount of a Walker, but they can make life much easier. So when it comes to putting a price on ease of living, it's not always best to go for the cheapest necessary. So you may expect to pay a little bit more for a real heavy duty walker built for the larger person.
While there are more factors you could consider, with just the above features you will be able to find a pretty good and reliable bariatric rolling walker for an overweight person. To help you in the right direction, we here at Big & Heavy People have done some of the research for you.
We have gone out and found some heavy duty roller walkers with high weight capacities to showcase here for you. Because we don't want to steer anyone in the wrong direction, we have focused on high quality walkers which are most suitable to heavy people.
Rolling Walker For People Up To 700 Lbs
Best Rollator For Big And Tall People

The highest weight capacity rollator I have come across is the 'Days Mobility' which has a heavy duty capacity of 700 pounds. Not only is this good for heavy people, but it's also got the capabilities to handle big and tall people.
The handles on the days Rollator can extend to 39 inches tall. Which is a good 2 or so inches taller than standard height rolling walkers. While it's not the tallest rollator on the market, it certainly offers the taller person a better option. So for big and tall people, the Days option is certainly worthy of a look.
Who Is The Days Mobility Rollator Best Suited To
However, where it excels in height and weight capabilities, the width lets the Days rollator down. When compared to the 500 pound capacity Nova rollator below, this Days model is slightly more narrow.
The seat width measures 18.5 inches wide (1.5″ less than the Nova) and the distance in between the handlebars is 22 inches, about 2 inches less than the Nova. So if you're not over 500 pounds and need a wider area, the Nova makes a better choice.
But if weight capacity is the major issue for you, this Days Mobility is the best I've seen. The steel supports and frame give you that peace of mind one needs from a 700 pound rollator.
If you're shorter than say 5'10", the Days may be too tall for you. But for people around 6 foot and taller whom weight 400 pounds or more, this is a great choice. The 21.5″ high seat and adjustable handlebars give the big and tall people the best chance of finding the perfect fitting rollator.
Days 700 Lbs Rollator
Rollator For Heavy People (500 Lbs)
The Nova Mighty Mack Walker Review

The Mighty Mack rolling walker is a leader in the field in terms of heavy duty. This extra strong walker can handle a high weight capacity of up to 500 pounds according to the manufacturer.
Which is quite incredible for an item that only weighs about 26 lbs. The weight of the walker is evenly distributed so its rather easy to carry around, making this a really good portable rolling walker.
When you fold it down, its easy to just put in the back seat of the car or beside your seat on the bus etc. The comfort and easiness to carry is a huge positive for this walker.
The brakes work kinda like a car's handbrake. Push down on the hand brakes and gently squeeze again for full release. The brakes work really well and put the 8″ tough rugged wheels to a stand still on demand. Which is critical for when we go to sit down. But when you do go to sit down you may be surprised.
Extra Wide Rolling Walker
The Mighty Mack is one wide walker. For the actual dimensions for sitting purposes: Distance between handle bars is 23.3/4″. The actual seat itself measures in at 20 inches wide and from front to back its 13.3/4″.
This amount of seat space is ample for most people up to 500 Lbs in weight. While the walkers extra width is amazing for our larger bodies its not ideal for doorway frames, in particular the bathroom.
Depending on the width of your bathroom frame, the Mighty Mack may be too wide. However you can slightly turn the walker to fit thru most narrow doorways. But I suggest you have a cane set up in the bathroom at all times anyway.
Nova Mighty Mack Reviews Conclusion
Without even mentioning some of the features such as a handy wire basket which is detachable, you can easily see how the Nova Might Mack is like the Rolls Royce of rolling walkers. Its oversized frame and seat combined with a very well constructed and stable support system make this a great rolling walker for obese people the world over.
While the Nova Mighty Mack may cost you a few more bucks than other brands, I find it assuring to know it has such a high weight capacity.
Nova Mighty Mack Rolling Walker
500 Pound Capacity Rolling Walkers With Seats
Invacare Flip Up Seat Bariatric Walker
The Invacare has a a weight capacity rating of 500 lbs according to manufacturer. This walker is an alternative to the above Mighty Mack walker.
It's a bit cheaper but has a smaller weight capacity limit. Like all good heavy duty walkers, the Invacare is made from steel and not aluminum like the lower capacity walkers.
However, because the Invacare is made from heavy duty steel, the weight of the roller can become an issue. Depending on your upper body strength you may struggle to lift the walker by yourself. The walker itself comes in at 26 pounds.
As for width of the seating area, the widest part is 22.5″ but the actual padded area is 18″. Which is still wide enough for anyone with 60-64″ hips. The seat sits about 22 inches from the floor level, which is important to consider if you are shorter. There are additional holes in the bars for height of the handle bars which go up to about 40″.
I like the idea of the storage/basket area being under the seat because it makes the walker less bulky. The storage area is also considerably large and capable of carrying valuables as well as food and drinks. Which is great for long walks with the dog or even picnics. Life can be easier because the walker folds down to a compact 7″ thick. Ideal for traveling to parks, work or the Mall because of its folding down capabilities.
Overall I find the Invacare a great alternative to the Might Mack if finances are a concern to you. The Invacare looks to me like a solid unit that could stand the test of time. Because of the steel structure, the walker is extremely stable and reliable.
Also boasting 8″ wheels which I feel are less heavy duty than the Mighty Mack, but easily stopped with the above par braking system.
The only draw backs to the Invacare are the fact it doesn't have an adjustable back rest, the screw covers on the external of the frame are sub standard in my opinion and the heavy weight may put some users off. Otherwise the Invacare rolling walker is a fine mobility product for heavy people.
Invacare 500 Lbs Capacity Roller Walker
3 More Bariatric Rolling Walkers For Heavy People
Rounding out our top 5 recommended oversized walkers are the 3 remaining walkers below. The Mighty Mack and Invacare Walkers take the number 1 and 2 spot in our recommendations.
However these 4 walkers below are not to be disregarded either. With high weight capacity limits of 450 lbs and 500 pounds, they will be suitable for overweight persons. Do note it's important to buy a heavy duty roller walker above your actual weight.
This is because of the extra luggage you may carry on board the storage or basket area. So if you are a 350 pound person, I would recommend buying a 400 lb capacity walker at minimum. I hope this information has been of some assistance to you all.
Brief Video Explaining How To Use A 4 Wheel Walker
You May Be Interested In:


Video Recap Of The Best Oversized Rolling Walkers
Quickly review the features of Our top 3 heavy duty rolling walkers for big people.
Save