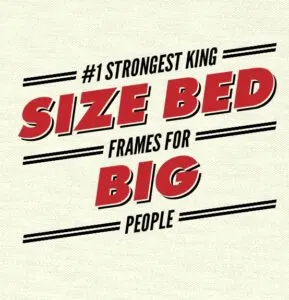 As a large person or couple, you may have experienced some uncomfortable nights in the bedroom due to inferior beds breaking beneath you. So you may be looking for the strongest King size bed frames as your sleeping solution.
The good news is, that there are a few really good bed frames built and designed to handle heavy weight capacities. Which is just a breathe of fresh air for us bigger people.
To find the absolute strongest heavy duty bed frame we had to dig deep and sort the weak from the strong. But we are only human and can only search so far, so based on the results we found, we can recommend these King size bed frame suited to us heavy folks.
*Updated: Strongest bed frame with a 3500 pound weight capacity can now be found here.
Super Strong Yet Modern King Platform Bed Frame
Flex Form Arch King Bed Supports 2500 Pounds!

The strongest platform king size bed frame we could find through research is the Flex Form bed. It's superior strength and high weight capacity are results of the well designed and supportive frame system.
This bed frame can handle some serious heavy weight with less chance of buckling to the ground. For me, the heavy duty design and support bars are truly amazing to say the least.
Not only is this 2500 lbs capacity bed frame what we like to call The Tank, but it also has a certain touch of elegance to it. The unique arch design and sleek grey color separates this bed frame from the typical black color frames we often see.
Plus because of its design its easy to put this bed anywhere you want without it looking out of place. However an optional headboard is available to give it that classic looking bed look.
King Bed Frame By Flex Form
The Arch Design
The arch design goes down the long sides of the bed and looks great as is. However as the bed frame sits 14 inches from ground level, the option to put storage boxes under the bed is available. Which brings me to my next point.
If you buy this flex form bed frame, it can also act as a platform bed. So the need for a box spring or additional bed frame is not necessarily required. The flex form can be used as is basically, once set up of course.
Equip this bad boy with a heavy duty mattress for big people and you have yourself one heck of a good sleeping arrangement. Or you can even use your current mattress straight on top. For possibly the first time, you're mattress may even feel like how your mattress was meant to feel like. Yes the support from this bed frame may even enhance the mattress you currently own.
Features Of The Flex Form King Bed Frame
As you can see in the picture, this bed frame sits just beautifully on timber flooring without scratching. The feet and arch's of the Flex Form have plastic caps with rubber sticker pads on them to minimize damage to flooring. Which is an absolute brilliant idea for people with hardwood floors.


While this bed frame is relatively quite, as in not much squeaking noises when you get out of bed, it can tend to make noises at in-appropriate times.
While most people can live with this, for those that want a perfectly quite night the solution is simple. Rubber washers, go out and buy a few (they are very cheap) and you will have yourself a nice sturdy King size platform bed. A king size mattress fits on this bed with no problems and doesn't slide around at all. It's design holds the mattress pretty well, but be sure to check measurements before buying.
Assembly of the Flex Form is very basic. However I advise you to take your time, allow about 30minutes. Just to ensure you have the arch lined up correctly with both ends being level on the floor before tightening the screws.
Other than this, I think assembly is a breeze. A few extra steps will be required if you also buy the headboard brackets, but nothing major. It's advisable to buy the additional brackets if you want to add a headboard/foot board to the bed. Most king size headboards or foot boards will be able to slip onto the brackets, but make sure you check measurements first.
Should You Buy The Strongest Bed Frame?
While there maybe a stronger King sized bed frame designed for heavy people out there somewhere, we can only deal with what we know. With the impressive 2500 Lbs weight capacity, its easy to see how the Flex Form Arch Platform Bed is our recommendation for the Strongest rated platform bed.
With a good price tag, I don't think any big person or large couple shouldn't consider the Flex Form the next time they hit the sops. The high weight capacity and supportive platform really give plenty of foundation for the big and heavy people. Even with 2 x 500 pound people and a decent 12″ thick mattress, this bed frame can handle the weight and still beg for more. Always room for the Dogs right.
Overall I rate this bed frame 9.5 out of 10. The style, price and heavy duty tag really set the bar high and I've yet to see a stronger and appropriate bed frame for larger people. Highly recommended. If you have read this far and are still looking for an alternative, don't worry. Head over to More King Bed Frames to see your other options.
King Bed Frame By Flex Form
More Plus Size Bedding You May Like
[bannerbox id=15]
[bannerbox id=16]
Save