I hope you love the products I've recommended below, just a heads up that as an Amazon associate, I earn from qualifying purchases. This means I may earn commissions on products bought via links on this page.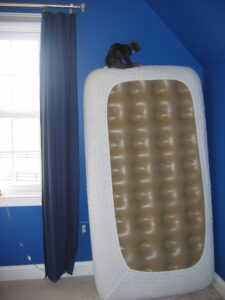 While there are hundreds of choices available, only few heavy duty twin air beds pass our big and heavy test. While it's not an official test, it's more of a guide to hand selecting what we think are the best suited twin size air mattresses for big people.
Some of the requirements we think are important when choosing any size air bed/mattress, may be different from person to person. However, these are what we look for in a good twin sized air bed. For other size air beds, please visit our High Weight Capacity Air Beds:
*Skip what we thinks important and go straight to the Big Man's Twin Air Beds!
Weight Capacity: While someone may be looking for a heavy duty twin mattress and not actually be overweight, it's still a good indicator on the overall strength and support the bed can offer. If you are a plus size person, I highly recommend adhering to weight limits set on the individual beds.
Height From Floor: Depending on mobility issues due to body size, having the correct height of the air bed from ground level can be a massive advantage. It's much easier as a big person to get in and out of a raised/extra high air bed compared to a mattress just a few inches from the ground.
Width – Extra Wide: The overall 'True' width of the air bed is important. For obvious reasons us larger people need wider air mattresses. Be careful of tricky marketing tactics that may fool you into thinking a bed is actually wider than it really is. This can be done by over inflating the mattress for greater width. Not a good idea for the longevity of the air bed however…
Heavy Duty: A heavy duty air bed will have more features to allow it to handle harsher situations. So be sure to look for thicker materials and greater internal support systems. These are good indicators of a well built heavy duty air mattress.
Price: Finally we get to the ultimate buying decision. Does it cost too much? Honestly, one may feel that some of the heavy duty air beds are a bit over the top. I too thought this once as well. However when you take into consideration all the above features and the fact they can handle heavyweight capacities. I wouldn't be surprised if they started to charge more. If you're a frequent camper, or have guests over all the time. The durability and longevity of the guest camping air bed will come into play. This is where you should see the true value of these air mattresses, over the extended lifespan.
High Quality 400 Pound Capacity Air Bed
SimplySleeper

Raised Twin Air Bed

This 400 lbs weight capacity raised twin size air bed is a great choice for moderate to permanent users. Especially us larger Guys & Gals because of its high weight limit. This is one of those high quality air beds that can actually pull off being used as a bed replacement. In fact, many people have stated that it's as good if not better than the real deal.
As for measurements, the SimplySleeper, meets our big and heavy requirements. The height from floor to the top of the mattress is 18″, being a raised air bed we expected this. The width is 40 inches across which is sufficient for one person only. As for length, it's an impressive 74 inches. Which is not too bad, however if you are really tall check out the longest twin air bed we found below.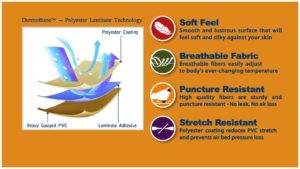 The top of the mattress is an oval shape with raised padding I guess you could call it. The design is similar to a 6 panel glass door. It's a little extra cushioning, however it still feels flat when you lay on it. But not hard bumps as some could assume from the actually design.
Like all good air beds, this one also has a built in pump which can quickly inflate or deflate the bed in mere minutes. Its rather fast at doing it's job. But can be a little too noisy if you have guests in the same room. It kind of sounds like a vacuum, so I wouldn't recommend setting up whilst others are sleeping.
As for the quality, I can see it straight away in the Patented design of the outer layers. Boasting 3 separate puncture resistant levels, makes this air mattress one of my favorites for heavy duty internal use. It's so tough I reckon I would struggle getting through it with a knife.
In conclusion, a few years ago I would not have heard of SimplySleeper and perhaps would have hesitated to buy one or recommend them. Fast forward 5 or so years and I think this is one of the best heavy duty twin size mattresses going around. It seems like SimplySleeper are on the rise and hopefully they will continue to develop high quality air beds.
Simply Sleeper 400 Lbs Capacity Air Bed
Whats The Best Air Bed For The Big And Tall
FOX Air Beds Amazing Twin XL

A relatively new competitor to the market, Fox Air Beds have quickly gained momentum and plenty of online reviews for such a short period of time. The company makes some pretty bold claims on their site, as their 'air beds are 50% thicker vinyl to their competitors' and has the 'most stable edges of any air mattress'. But can they live up to these claims?. Time will tell I assume.
While we couldn't find a documented weight capacity for the Fox Twin XL raised air mattress, we did find others online claiming it to hold over 400 pounds. To be honest, I could possibly see this air bed holding very high weights. The design and the unique features the Fox boasts are compelling evidence for us.
As for the tall person, regardless of body weight this is one beauty. I would go as far as saying this is the best air mattress for tall people. Why?. Well, from our extensive research, we could not find a longer air bed. I mean anywhere, and we looked far and wide. Nothing compared to the 80″ length of the Twin XL Fox air bed. While there may be longer beds available, we simply could not find one.
Fox Twin XL Air Bed - Where To Buy
Why The FOX Air Beds Are Good Alternatives
Watch this short video to see some of the features of the Fox air mattress. I must say I do like having the alternative options for inflating or deflating the bed. Just in case something ever goes wrong with the built in pump, one can manually inflate or deflate the bed without the need for the pump. Which is good for emergencies. Something else worth mentioning that they don't cover in the video are that the Fox beds are generally larger and sit higher from ground level than most others. In particular the king size, which is about 6 inches wider than it's number one competitor.
*The Fox Twin XL is available as a bundle on amazon which includes a Gel memory foam topper & Pillows. For even more comfort and a restless nights sleep. However, not everyone will need a memory foam topper, but it's a good additive for anyone wanting the real deal mattress like nights sleep.
[bannerbox id=17]
300 Pound Weight Capacity Air Beds For Overweight People
Sound Asleep Dream Series Twin Size

One our all time favorite heavy duty air mattresses has to be the Dream Series by Sound Asleep. This air bed we found to be especially good in the larger King size for guests rooms and emergency bedding.  But for a single big person, than the twin size should be sufficient.
The aspect we like most about the Dream Series is the design. More precisely the internal aspects. The Dream Series has a unique coiling system, this twin version has 21 of these vertical coils/channels. The coils act as a comfort and more importantly a support system for the outer layers. They help maintain a solid bed shape without bending and warping out of shape. I must admit I'm not a fan of squishy bedding that flops all over the place. It makes it that much harder to get out of the bed because of the extra pounds I carry around.
The bed also comes with a built in pump which can inflate the bed rather quickly. The company state that the pump is 20% quieter than other pumps, however I can't be one to judge on the accuracy of that. It's also recommended that the bed be inflated several times in the beginning to help the materials stretch. This is very important for the longevity of the bed. If done correctly I find that this bed can maintain its shape and air for much longer.
Overall, I find the Dream series to be a real good air bed. Especially for extended use. The next time I plan to move house and need a temporary sleeping arrangement, I wouldn't hesitate to sleep on these air beds for many weeks straight. The fact it sits double high at 18 inches from floor level is also a winner for me. Twin sheets fit like they should and I recommend using them. While the nice soft blue surface is very comfortable and eye appealing, it won't stay that way without the protection of sheets.
Twin Dream Series Raised Air Bed
The Dream Series Official Video
Budget Twin Size Air Mattresses For Heavy People
The below heavy duty air mattresses are for the more budget minded. These air beds still meet out minimum requirements, however in our opinion are more suited to less frequent usage.
Intex Twin Air Bed With Raised Pillow
The Good
300 Lbs Weight Capacity
Decent Size For Large People: 39" wide, 18" from floor & 75" Long
Waterproof top which works good with fitted sheets
Lightweight & easy to use
Built in pump & Manual Inflation option
The Bad
Not ideal for long term use - We found it to have a water bed feel to it.
Built in pillow may be insufficient for others
Intex Twin Double layer Air Mattress
The Good
300 Lbs Weight Capacity
Edges are curved upwards to prevent rolling out
Good for medium level of usage
Middle section is great for folding fitted sheets into
20" in height from floor, 39" wide and 75" long
Built in pump for quick inflation
The Bad
Doesn't hold air as long as we would hope
Many folks complain about leaks and waking up on floor. This may be rare occasions tho.
Some users have complained of a raised/lump forming in the middle of mattress after extended usage.
Our Recommended Twin Camping Air Bed
The Good
Coleman Double High Support Rest is our pick of the bunch if you need a twin sized camping mattress. It's very wide 58" and sits 18" in height.
35 comfort coils, similar to the Dream Series, but this bed is intended more for outdoors use.
The Bad
Doesn't have a built in pump. But this is due to the fact it's an outdoors air bed. Typically people are aware that a pump is needed. So we recommend that you get the Coleman 4D CPX Quick pump. Together they offer one heck of a comfortable nights sleep in the great outdoors.
Save