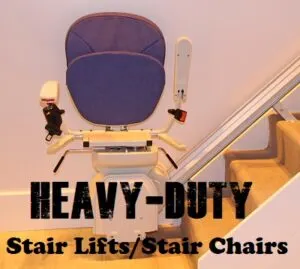 Heavy-duty stair chairs and stair lifts for heavy people are a critical mobility product if you live in a dwelling with flights of stairs. Like any product that you sit on, you need to ensure the weight capacity is higher than your body weight.
Being a heavy person and trying to find a suitable stair lift is not easy. The amount of weight the lift has to support is often too much for the unit. As a result, there are few options available for people that weigh more than 250 pounds.
However, in saying that, there are 5 different models and types of stair lifts listed below. These units can handle between 300 pounds and 500 pounds, depending on the type of lift you need for your stairs.
Stair Lifts For Heavy People

Universal Lifts has designed this chair lift to not only be safe but easy to install, which is something I believe they've achieved. Not only is it really safe it also has a fairly decent weight capacity for the larger people out there having an impressive 350lbs capacity.
When it comes to stairlifts, safety should be your number one priority when choosing one. Which is one of the reasons this chair lift is good since it has a total of 3 safety mechanisms making it extremely safe to use.
No Wiring Or Electrician Required
Normally you'd think you need an electrician to install something like this but Universal Lifts made the smart design choice making it plug into your standard AC outlet. This means you don't need to do any wiring which is something that I really like and think it was a smart choice as I don't believe I'm alone when I think wasting extra money on hiring an electrician is not essential.
Back-Up Power Source Included
One thing that I really like about this chair lift is that it also has a rechargeable battery. This battery doesn't power the chair full time as it's designed to be a backup power source. What this means is that if there is a power outage you're able to still go up and down the stairs without being stuck.
This is a really good feature to have when you are physically challenged by stairs. The battery holds enough charge to do this up to 20 times give or take. Great to know you have access up and down the stairs during the event of a fire or an emergency.
This comes with 15 feet of track which is designed to be for your standard one-floor installation which was a smart design choice. So it should suit your house if that's the style you have otherwise you might have to find a different lift chair.
---
Heavy Duty 2 Stair Lift 350 Lbs Capacity

The small features that this stairlift has is what sets it apart from other lifts in my opinion. AmeriGlide has done an excellent job with this stairlift making it easy to install and be comfortable for your short trips up or downstairs.
Do note that installation can only be done on the stair treads, not on the wall. Mounting it to the stairs like this does give the chair lift the heavy-duty support it needs to carry a 300-pound person.
One of the biggest problems when it comes to stairlifts is trying to get off them on the stairs since you're normally forced to get off onto the uneven stairs. This is bypassed with this lift as the seat can swivel meaning you can turn it at the top of the stairs so you don't have to get off ion the stairs themselves.
Plugs Into The Mains
Having a stairlift installed can make using the stairs awkward for other people which can put some people off. AmeriGlide made the smart choice and designed this chair to be able to plug into the wall, so no wiring is needed. The seat can also fold up against the wall. This gives you more space on the stairs so it helps with the issue at hand.
They also included a key lock for the chair so when you have grandkids over you can lock it and stop them from playing with it. This is something small that I really appreciate since it tells me that the company put thought into the chair when designing it.
Overall this chairlift is a great option that has a lot of these smaller more useful features that I really appreciate. Individually they're all useful but when you combine them together they make one of the best stairlifts on the market in my opinion.
Rack & pinion motor rotates up and down beneath the chair – It's not a worm gear drive
2.5″ Gap between wall and back of the chair
Back-up battery for power
Seat swivels to the top of stairs
Arms operate independently of each other
---
Electric Stair Chair 350 Lbs Capacity

This evacuation chair by MS3C is an impressive bit of engineering that has a lot to like about it with very little drawbacks in my opinion. It's sturdy and reliable, which is what you want when you need to use one of these chairs since time can be a big factor when using.
Most of these types of chairs usually require two people to operate them which can be an issue. Thankfully that's not the case with this chair and as long as the tracks are in good condition, and you've got the battery charged you only need one person. This is really useful for those who are sole carers and have no help.
Since it's a battery-powered chair I was happy to see it was a lithium-ion battery that powers the 200W motor. Lithium-ion batteries make a difference when it comes to longevity as they're some of the most durable batteries on the market.
Cons Of This Heavy Duty Stair Chair
While this chair has a lot of advantages it does have one small disadvantage. When you're not using the chair it's a good idea to turn the battery off so it doesn't drain which is a good idea. The problem is that the switch to turn it off is in a bad spot and can be difficult to get to since it's on the underneath side of the battery.
When you combine everything with a great weight capacity of 350lbs then you have a fantastic lift chair that's reliable and durable. It's hard to pass up this chair if it suits your needs.
400 Pound Weight Capacity Stair Chair Lift

There is something comforting in knowing that in an emergency your stair chair will work as intended without having to worry about having power. This is where this evacuation chair by Line2design comes in with it being one of the easiest manual lift chairs to use that will give you peace of mind if you need it for an emergency.
This chair comes with a number of safety features that make it a great option for you to consider. It comes with two seatbelts for the patient or family member who will be sitting in it so the risk of them falling out of the chair is minimum which is crucial for these chairs.
One of the most difficult things with these types of chairs is trying to get the person into the chair as it keeps sliding around. Thankfully they made the clever design choice of adding rear wheel brakes to the chair making it much easier to get the person onto the chair.
While it's possible to only need one person to help lift this up or down the stairs it's not recommended. Having two people makes this much easier and needed if the person is of a heavier frame which this chair can handle thanks to its high weight capacity.
It's made out of a durable 2-inch tubular frame that makes this one of the more durable stair chairs on the market. This does have a small drawback of the chair can be a little uncomfortable with some people using pillows to make it more comfortable. This is not something you should do as this can make the patient fall off.
How To Correctly Use A stair Chair