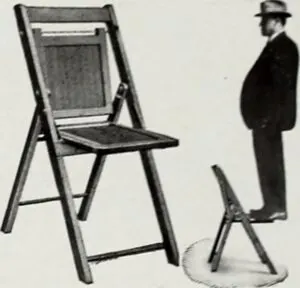 When looking to buy any heavy duty folding chairs with 400 lbs capacity or more, I find it important to not settle for something that hasn't stated a weight capacity.
If there's no specified weight limit, it's best to assume it's a standard chair without the adequate heavy-duty reinforcements.
With super high weight capacity limits from, 400 lbs, 500 lbs and all the way up to 1000 lbs, these heavy duty folding chairs listed below may be what you are after.
This includes both chairs for interior and exterior use. If you are specifically after exterior use, check out my guide to outdoors folding chairs for heavy people here.
Compare Heavy Duty Folding Chairs
Minimum Of 400 Pounds Required
It's getting considerably harder to find indoor chairs that are portable, stackable and with a minimum of 400-pound capacity. I've found when shopping in local malls/outlets, it's super tiring, which is never a good thing when you're a big man like myself.
However, when you look to buy folding chairs online for us large guys, the options are considerably greater. Now that's why I love online shopping!.
But what's even better is that you can even search for the exact weight rating on product pages and descriptions. But this can also take some of your valuable time.
So as we always do here, we try to provide you with all the necessary products for us larger people to help you get to what you may want in a timely manner. We also like to offer our preferred recommendations and reviews along the way. So let's get started with the 400-pound weight limit folding chairs for big people.
Padded 400 – 450 Lbs Folding Chairs

The first padded folding chair I was considering with a 400-pound capacity was the Yi Hai. But after reading the reviews and the fact its seat size is a little too small in my opinion (because the seat has small arms that restrict wide bottoms from sitting nicely), I ended up deciding on this popular and well-reviewed chair by NPS.
It does come in 4 different colors, so don't be put off by my choice of color. It's also rated to hold up to 480 lbs. Which can give us bigger guys that little bit extra breathing space.
It has a pretty strong looking frame that supports the seat, so I am hopeful that this chair has many sitting hours to come. One of the key point's that took my interest is the water repellent fabric surface, as I do like to have a few drinks and tend to spill them on the occasion. Plus it's also protected with Scotchgard stain to keep the folding chair looking flash. Well, hopefully.
For a folding chair, the cushion is pretty thick, even on the backrest. So as you may determine, I find the comfort level is much greater than your stand-alone folding chair. Any big guest or heavy family member will probably want to try this chair. It's definitely the best 400-pound capacity folding chair I could find.
I find the price is very reasonable as well for what you get. Heck, it may be a few bucks more than your standard flimsy plastic chair, but you get confidence that your chair shouldn't break the next time a big person sits on it. Plus I think it's rather stylish looking and is comfortable, to say the least.
NPS 480 Lb Folding Chair
Heavy Duty Metal Folding Chairs
Below you can find four heavy-duty metal folding chairs available on amazon.
National Public Seating (Above) – 480Lbs capacity, 0.9lb density 1-1/4″ thick padding upholstered and treated with Scotchguard stain and water-repelling protectant.
Flash Furniture Double Braced – 300 Lbs Capacity, 18 gauge steel with a 15.75″ wide seat.
Ontario Furniture – 800 Lbs Capacity, steel frame finished with a

textured polypropylene

seat and backrest. Commercial grade folding chair.
Flash Furniture Triple Braced – 300 Lbs Capacity, as above Flash Furniture folding chair with one extra bracing bar for greater stability and support.
500 Lbs Folding Chair For Overweight People

It's almost unheard of for a product designed for a heavy person to be affordable yet maintain high quality. Well, these Lifetime white folding chairs might be about to change it all. It's almost unbelievable how well these heavy duty chairs perform, and what's better yet is that they are more affordable in bulk buy.
The 16-inch wide seat and backrest are molded to shape from high-density polyethylene plastics which is supported by 25-gauge steel legs. This chair is very strong and should support 500 pounds according to specs on the Lifetime website.
500 Pound Folding Chair By LifeTime
Heavy Duty Padded Folding Chairs
450 Pound Weight Capacity

Padding on a folding chair can mean the difference between sitting comfortably for an hour and a numb backside. There's not a huge range of heavy duty padded folding chairs on the market.
As I have mentioned above with the metal chairs, Nation Public Seating has one, Flash Furniture has the Hercules series also, but this chair has only a 300 lbs weight rating.
OEF Furnishings has this nice and strong folding chair with a weight capacity of 450 pounds, ideal for the 400-pound person looking for a padded folding chair built strong enough to hold their weight.
What's impressive about this OEF folding chair is that it not only claims to be heavy duty, it actually lives up to the title. This is shown via the triple bracing, 2 on the back of the chair and one on the front.
The 7/8 inch tubing is reinforced vis the 18 gauge steel, which is quite hefty. The higher the gauge number, the thicker the steel. So having 18 gauge steel is quite heavy duty for a chair like this in comparison to many of the other chairs.
Wide Padded Seat
The total width of the chair is just shy of 19 inches, while the padded seat has a diameter of 16 inches. So the size of the seat is quite large considering its a folding chair.
The seat thickness is fairly decent as well, measuring 1.25″ thick and finished in a Scotchguard protected upholstered fabric. The seat sits about 18 inches high, which is a good height for most people, considering many folding chairs sit quite low. Overall, OEF has done a great job looking after the heavier people with this 450 pound chair.
OEF Furnishings Premium Folding Chairs
Sturdy Folding Chairs With 1000 Lb Capacity
One Of My All Time Favorites – Made In USA

For a folding chair with a high weight capacity of 1000 lbs, you might expect to pay big bucks right. But surprisingly I find the Flex One has the best value of all chairs. If you're after a 400-pound folding chair, you may want to consider the Flex One.
The seat and backrest are made from super strong and durable plastic mesh. Much like you may find in mesh office chairs. This mesh material is an excellent way to reduce the heat on the back. As a big man, we tend to sweat a lot and it can be sometimes embarrassing.
Well this Flex One solves this problem with its unique mesh materials. The mesh backing and extra-wide seat may allow for airflow to your body, which cools us down and can reduce nasty sweat.
I think this 1000 pound folding chair is also highly popular because it actually molds to your body shape, making it an extremely tailored comfortable seat. The mesh material is meant to shape itself to the body to prove maximum comfort for extended periods. One can also use this folding chair indoors or outdoors as the heavy duty framing is powder coated which should prevent the frame from rusting.
It folds away very easily and only weighs 11 pounds. So it's very easy to carry around as a portable folding chair or stack away for guests, parties etc. As for cons, I can honestly say I can't find any.
Its a stylish looking chair that's strong enough to hold 1000 lbs, super portable and the most comfortable refreshing folding chair I could ever find, regardless of price. It's basically the folding chair that has re-invented the way we sit in my opinion.
1000 Lb Folding Chairs
See First Hand Why This 1000 Pound Folding Chair Is Tops!
Extra Strong Folding Chairs – Resin
1000 Lbs Weight Limit
*Available in Mahogany Red, Black Or White
When you need extra strong folding chairs that can last a long time while robust enough to handle heavy people, the Flash Furniture Hercules series is a top contender.
This is an amazingly strong folding chair with a high weight capacity of 1000 pounds. That is 1000 pounds per chair. Yes, they are plastic, and yes you read that right. These chairs are seriously heavy duty.
How they get their strength to hold such heavy weights comes from the double bracing design. This specific design allows the weight on the chair to distribute evenly with the braces reinforcing the foundation of the chair.
The chairs are made from a heavy duty Polypropylene Resin. This resin is a hard-wearing type of plastic that is not only easy to clean but also UV stabilized. So you can safely use these on a regular occasion outdoors and not have to worry about the sun fading the color.
Removable Padding
While the design and the heavy duty resin used to make this chair is quite impressive, Flash Furniture goes the extra step and includes a removable cushion. This cushion can be washed and used over and over again.
While it's certainly not the thickest cushion you will come across on a folding chair, it does the job when you have to sit for an hour or two. However, I wouldn't recommend using just this cushion if you anticipate sitting on this chair for an 8-hour workday.
But don't let this deter you, because, with the addition of a seat cushion for heavy people, you can create one strong and comfortable folding chair that you can use all day long should you please.
If you're not super tall, you can even use the front brace as a footrest. However, as the seat sits 17 inches tall, people over 6 foot would likely not be able to do so. The seat is also 17,5″ wide, which is not huge, but not tiny either. With the fact these strong folding chairs can handle 1000 pounds, I think the Hercules series is a magnificent choice for heavy people.
Flash Furniture HERCULES Series 1000 lb
500 Lbs Folding Directors Chairs
Directors chairs can also be a good reliable folding chair for a heavy person. In this article found here, you can find directors chairs that have weight capacities up to 500 pounds. These chairs are great outdoors chairs made from aluminum, steel, and polyester.
What's great about these chairs (besides being oversized with high weight capacities) is that they have many uses. Many of the director's chairs come with either a side table, drink holder and even storage compartments.
So you can take a director's chair fishing, throw the line out and have a cold drink resting on your table. On the other end of the scale, you can use them indoors as a hairdresser's chair or take them out for a picnic. The options are limitless.
Stacking Folding Chairs Over 400 Lbs
This is another high quality plus size folding chair built for heavy-duty use. It's rated to hold up to 440 Lbs. This chair has something unique to the folding chair world.
This is what makes this chair very durable and sturdy. The double bar support system underneath the seat, whereas many only use the single bar. More support the better is what I recommend.
While the seat is not padded (I recommend only the above-padded chair for this weight capacity) it is made from high quality plastic. Which is contoured to fit the shape of your backside.
So it's not like sitting on a hard flat surface that you may expect. The chair folds very easy for storage or stacking, plus it has a carry handle on the top of the seat for easy transport. Still, it's a good folding chair without padding for people needing a 400-pound seat.
Extra Heavy Duty Folding Chair 440 lbs
How Much Weight Can A Folding Chair Hold
Before going online to purchase a bunch of folding chairs for your upcoming family gathering or social endeavor, it's important to determine if the chair will hold your weight. Many people are in two minds and want to know how much weight can a metal folding chair hold compared to a plastic chair.
The amount of weight a folding chair can support will vary from product to product. It's not necessarily a case of whether the metal is stronger than plastic as you can see from the above resin Hercules chair with an impressive 1000 pounds capacity.
The amount the chair can hold will come down to steel gauge thickness, reinforcement braces, and overall design of the chair. You can have a metal chair put together and yet it still could buckle under 150 pounds if the reinforcements aren't there.
If you're unsure how much weight the folding chair can hold, chances are it's not a heavy duty folding chair as weight capacity is often specified on these models. If the weight capacity is not specified, I would naturally assume the chair can only hold the standard 200-220 pounds. Which is not enough for most heavy people in this day and age.