I hope you love the products I've recommended below, just a heads up that as an Amazon associate, I earn from qualifying purchases. This means I may earn commissions on products bought via links on this page.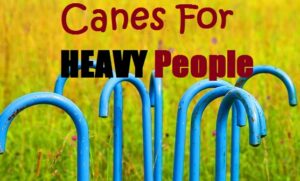 You may be surprised to know that a simple walking cane does in fact have a weight capacity and if you are an obese or overweight person, buying the heavy duty version is a requirement. But how do you know which cane to buy when many stores may not even disclose the capacity, and if so is the weight capacity even that important?.
Specially designed walking canes for heavy people are not your typical fashion statements or weapons used for self defense like many people used walking sticks for back in the olden days. These days a cane is a great mobility device for disabled or obese people. According to Wikipedia, 10% of US Adults older than 65 use a walking cane over the Mobility Walker (4.6%). Common reasons people prefer a walking cane over a Bariatric Walker are: Canes are more portable, lighter, Walkers can be difficult to use with a bigger stomach. But walkers obviously have a greater support feature in many circumstances.
Before You Buy Just Any Ole Cane
But as we are discussing walking canes for the plus sized community, we can disregard the walkers/canes battle for today. When it comes to buying a walking cane there are some important aspects from which a heavy person should consider. If this is the first time using a walking cane, here are some useful tips we found.
The most important feature in regards to measurements is how tall the cane is. Especially if you are a big and tall person. If the cane is too low, then you will be slouching over and this can cause severe back and shoulder pain. If the cane is too tall it will force you into a uncomfortable position and may even be impossible to use. This is our height guide (Use at your own discretion) The cane height should be about as high as half your body height minus 1 inch.
The angle your elbow should be at is about 20 degrees. Any lower or greater and you are forcing unwanted pressure on the shoulders which could create further health related problems.
Walking Canes come with a weight capacity, so it's important to know your own weight and the capacity of the cane. While we shouldn't rest on the cane like a body support, having the right weight capacity can give a greater lifespan and better stability in our opinion. It's important to not rely on the walking cane for total support, this is not the job of the cane. The canes to be used as an assistant for walking, not a body supporting aid. In this case, a heavy duty Knee Walker may be a better choice as you can have your body weight supported by the knee walker while also being able to walk around.
[bannerbox id=21]
The Best Walking Cane For Big & Tall People
The Drive Medical Offset Heavy Duty Walking Cane

A simple yet elegant looking can made specifically for the big and tall people. With a weight capacity of 600 Lbs, many heavy people will be able to use this cane. In regards to height measurements this Drive Medical Cane has a maximum handle height of 46″ and a minimum of 37″. On our recommendations, this cane is suitable for people 6 foot to 7 foot 5.
After researching many canes on the market, it was pretty clear to us that this is the most durable and sturdy cane on the market. The 1 inch thick steel tubing is extremely tough. If you are use to canes that break easy, then you may be pleasantly surprised by the strength of this tough cane. It can take a beating and has longevity written all over it.
But what usually comes with a high quality super strong steel product?. Yup you guessed it, extra weight. I warn you now that this cane is NOT for a fragile person. As this is designed for a big tall person, it's built using heavy materials. So the cane itself is not lightweight. People who have wrist problems or anything of the kind that makes lifting heavy things with one hand a huge task. Then this Cane will probably be too heavy for you.
But if you are built big and have adequate hand and arm strength, you are in for one heck of a treat. Do note that the handle is made of Vinyl (does come with a hand strap) and is not padded.
Drive Medical Big & Tall Cane 600 Lbs
All Purpose Can For Overweight People
The All Terrain Cane By Hurrycane 350 Lbs Capacity

When I first saw that this cane has 2 joint's I instinctively thought that it couldn't possibly have a high weight capacity. Which is partly true, as this cane can withstand up to 350 pounds. While the rating is not huge it will be suitable for many overweight folks across the States. Whats compromised with the lower weight capacity is made up for with really advanced features I haven't seen on any other cane before. The reason behind the extra joint is portability. The cane can fold up into 1/3 of it's original size and stored away in the provided carry case. Which is great for traveling, parties, conferences etc.
You may have seen this cane on TV commercials as it has been highly advertised as one of the most popular canes in America. Whether that is true or not is irrelevant, what we want to know is it suitable for big Men and Women to assist in mobility.
The biggest feature in my opinion is the all terrain foot. It's designed to replicate a Human foots movement when walking. There's a joint between the foot and the actual cane. This join is how the cane is able move to replicate how your body is moving. So for example when you normally walk up a staircase with a upright cane, the cane can slip, slide and be more difficult than grabbing onto the handrail. But with the HurryCane, the moving joint will allow you to lever the cane upwards with your body while the foot is firmly planted on the tread. It feels like a much safer option and one that can make tackling stairs that much easier.
On the actual foot their are 3 smaller grippy feet. These little feet are what make this a great cane for outdoor use. Unlike traditional canes, the HurryCane has a greater sense of stability, smoothness and overall balance because of these 3 feet stabilizers. Besides improving the ability to walk outdoors, the 3 feet act as a stand alone support system for the cane. Meaning the cane will stand on it's own. This is awesome news for anyone who is tired of having to rest their canes against themselves or a table whenever you need to use your hands.
HurryCane 350 Lbs All Terrain Cane
Bariatric Approved Walking Cane 700 Lbs Capacity

This cane is by Invacare who specialize in Bariatric and long term assistance products, such as wheelchairs, walkers, safety etc. Much like the Drive Medical cane this cane is heavy to hold. But it is like that for a very good reason. It has a huge weight capacity of 700 pounds, so it needs to be reinforced and built heavy duty. This results in a heavy cane.
However, while heavy in the hand, it becomes much more usable once in motion. After a few uses, it may feel like the heaviness was a thing of the past. When you are 350 lbs + with a fractured or broken knee, you WANT something that is sturdy and will give you the confidence to walk again. In my opinion the Invacare Bariatric 700 pound capacity cane will do just that. I couldn't imagine fathering the thought of using a cheaper aluminum cane for such an occasion. The pure steel design of the Invacare will get you walking with confidence again.
As for measurements, this cane extends from 29″ to 38″ which is roughly suitable for people from 4 foot 6 to 6 foot 3 using our measuring guide.
Just a word of warning, this thing is heavy (15 Oz). So please try not to drop it on your foot, it WILL hurt!.
InvaCare Bariatric Offset Cane 700 Lbs Capacity
Save
Save
Save