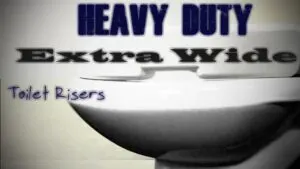 If you're big and tall, you probably already have a suitable size toilet seat. Only problem is the seat sits too low. Heavy duty extra wide toilet seat risers benefit both tall people and heavy people.
For tall people, the extra height turns a ordinary toilet into the best toilet for tall people without having to go through the troubles of plumbing in a new one. That's if you can even find a extra tall toilet for such an occasion.
For bigger and heavier people, the extra width of the riser supports the toilet seat better so you feel safer and more comfortable when using it. It's also easier to pull yourself off the toilet when you're a larger person if the toilet seat sits higher. Which is why many of us bigger people use extra wide toilet seat risers.
So with that said, on this page you can find extra wide seat risers that are heavy duty to handle heavy weight capacities. Some of these risers will have legs similar to a frame in order to support heavy people up to 600 pounds.
If you already have a toilet seat for big people, chances are you will have the Big John. This seat measures 19 inches wide. So you are going to need a seat riser that matches or is very close its dimensions so that the riser supports the width of the seat properly. If this is you, take a look at the heavy duty seat riser below as its a close match.
Best Toilet Seat Riser For Big And Tall People

Probably the best toilet seat riser I have come across for big and tall people is the Tall Ette range. There are 3 models, all of which have a total seat width of 22.5 inches. But beware the arms.

Whats great about the Tall Ette series is that you get options to choose from. All of which have a locking mechanism perfect for medium to long term use.The risers add an extra 4″ in height to your toilet seat.

For heavier people the bolt down option is the best as it ensures stability and adds to the heavy duty rating of the toilet seat riser.
Toilet Risers For Heavy People
Of the 3 Tall Ette seat risers, the best one for a heavy person is the steel leg model. This is because it has a 600 pound weight capacity. The second option is the aluminum frame Tall Ette which has a 400 pound weight capacity.
The steel leg version is the best seat riser for a larger person because of its heavy duty 600 lb rating. However it is more expensive than the aluminum model. But if you need a seat riser that can hold 400 pounds to 600 pounds of weight, this is the only option I have come across.
If you're under 400 pounds, the Aluminum Tall Ette would be suffice and work out cheaper. However the 400 lbs capacity seat riser has the slip on brackets whereas the 600 pound riser has the bolt down bracket which provides greater stability and strength.
Seat Riser Under 300 Lbs Weight Capacity

If you're under 300 pounds and just want a seat riser that is extra wide and gives you extra height, the third installment by Tall Ette would be a good choice.
The 300 pound seat riser has no legs to support the riser. Which is the reason for the lower weight capacity. However it does have the bolt down bracket for keeping the riser in place for greater stability.
The third option is only a little cheaper than the aluminum Tall Ette. So for the extra sturdiness of having a heavy duty seat riser I would go for the aluminum Tall Ette. That is unless you don't like having legs support your toilet seat. Which in my opinion is the only real difference besides weight capacity.
All 3 seat risers come with padded arms which add comfort but most of all ease in getting onto and off the toilet seat. All of the Tall Ette series can fit over standard or elongated bowls.
The 2 models with legs have height adjustments so that you can perfectly fit the seat over your toilet. Most toilet seats have a height between 17-19″ and the Tall Ette has a total height of 25 inches. If you're concerned about assembly you can view the instruction manual here.
The biggest concern with these models is the arms if you are a wide person. The distance between the arms is 18 inches. Which can be a tight fit for some bigger people. Also, be sure to read the sizing requirements for distance between bolts before buying. Must be 4.25″ between bolts in order to fit.
If the arms are a concern for you as well, look below for an arm-less seat riser.
Tall Ette 600 Lbs Capacity Seat Riser
Widest Toilet Raises With No Arms

As a big man and chair with arms can be troublesome. Companies just don't seem to get the fact we are wider individuals. So a toilet seat riser with an arm can be an issue for some overweight people.
From my research there's 2 extra wide toilet seat risers available. There could be more but I couldn't find them. But if you do, let me know in the comments section below.
Without sounding bias, one of them again is by Tall Ette. But this riser has no arms or legs. It's a contoured riser with a overall width of 16.5 inches. Whereas most risers have a width of between 13″ and 14″. So the added 2 inches will certainly help.
The Ableware Tall Ette has a 6 inch rise which makes it a great toilet seat riser for tall people as 6 inches is a decent height in terms of these products. This riser also comes with the Lock-In-El bolt bracket like the above Tall Ette models. So the riser is in place nice and firm.
5″ Extra Wide Toilet Riser

The second extra wide toilet seat riser with no arms is by Medline. This heavy duty riser has a overall width of 16 1/8″ and has a weight capacity of 350 pounds. The amount this riser raises the heat of your toilet by is 5 inches.
With this riser it comes with a built in locking mechanism. So no bolting down is required at all. All you do is insert the rear end flap into the rear end of the toilet bowl. Lay the riser on top of your toilet rim and then use the switch on the front of the riser. Turn it to the right and a clamp on the inside will lock the riser into position. Not as stable in my opinion, but still a good quick an easy option.
The seat itself is also contoured so you get a more comfortable seating surface but what makes this riser stand out is the anti bacteria properties. This antimicrobial system is built into the riser. It's there for good and doesn't wash away. A nice little feature you don't see too often on toilet risers.
More Heavy Duty Toilet Seat Risers
If none of the above toilet seat risers suit your needs, there are a few more available to buy on amazon. But they don't have the high 600 pound capacity like the Tall Ette and the 16″ width like the Medline. However they have wider seats than the normal 13/14″ riser. So do some further investigation if you see one you like by clicking on the images below.