I hope you love the products I've recommended below, just a heads up that as an Amazon associate, I earn from qualifying purchases. This means I may earn commissions on products bought via links on this page.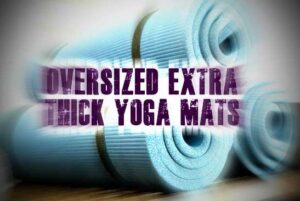 Yoga is not easy for an overweight person, Ill be the first to admit that. Poses need to be modified and extra support is a must if you want to succeed. These are things I learned the hard way until I found out about overweight specific yoga. I also learned about oversized yoga mats for large people when first entering a yoga class that specifically deals with overweight people.
Attending yoga classes with people of a similar size to you is a massive motivation boost. Instead of feeling intimidated and scared because of how much regular poses can hurt and be difficult with the extra weight, you feel encouraged and welcomed into class. Even the class mates are helpful and encouraging to be around. If you're in the New York area, Buddha Body has yoga classes for overweight people.
Once you feel comfortable with the people around you, the next best thing you can do to making yoga more comfortable is to invest in a oversized extra thick yoga mat. While some people will tell you that you don't need a extra thick mat, I think it's certainly not an option to rule out.
Do You Need An Extra Thick Yoga Matt When Overweight?
Why?. Well we aren't all the same level of fitness and we aren't all the same weight. An extra thick yoga mat will provide better comfort and support for oversized bodies. Sure it will be heavier and more cumbersome to drive around or walk around town with.
But when you're overweight and performing yoga poses suck as the plank and downward facing dog, the extra weight being forced on the wrists can be excruciating. Thinner mats simply don't provide enough suspension for us larger people if you ask me.
Or if you have joint issues and bad knees to begin with, a thicker mat will help ease the burden. Poses such as the Camel and the Chaturanga present a lot of kneeling which causes pressure on the knees, not to mention the poses like 'The Boat' that impact the tailbone. So a thicker mat makes sense if you do these poses and carry extra body weight around.
Best Plus Size Yoga Mats

If you're looking for a plus size yoga mat that is not double wide yet still oversized suitably for one person, there's none better than the Jade Fushion. Jade Yoga in my opinion has some of the best quality yoga mats and apparel you can buy.
Quality is the defining feature when it comes to Jade Yoga and this mat being the widest and longest in the Jade Yoga line, quality is what you get. Oversized but not so huge you need to man handle it every time you want to roll it up. This mat is a nice 28 inches wide (4 inches wider than regular) and 80 inches in length. Which makes this yoga mat perfect for the big and tall people.
The Thickest Yoga Mat
Oversized extra thick, is that what you want from a yoga mat?. This mat is surly the thickest yoga mat I've come across. 5/16″ to be precise. While it's thick, it's not too soft either. The foundation is firm and supportive.
The extra thickness makes it a great choice for larger people, especially people with bad knees. The extra thick rubber is Eco friendly as well. Being made from renewable rubber trees, this is a natural rubber and not synthetic.
Because the mat is rubber, traction is no longer a problem. Which is a big deal if you are a heavier person. Landing on the floor from a pose gone bad due to mats not sticking is never a fun pastime.
The Jade Fusion is a two toned mat. One side is blue and the other purple. The purple side is firmer than the blue which is good as it gives you options depending on your routine and poses.
Overall It's High Quality
Many people will buy the Jade Fusion simply because the extremely good reputation Jade has going for themselves and many others will buy this particular mat because it is extra wide and longer than regular mats.
But many also won't buy this mat as it is quite pricey unfortunately. But don't get me wrong, it's worth every penny. It just may be out of reach for some folks. How much exactly?. Well you can find out the up to date price on amazon here.
Overall you really can't fault this yoga mat, besides the obvious extra weight due to being extra thick. But that's what you get when you want support, cushion and extreme stability. One of the best yoga mats period.
Jade Fusion XW Yoga Mat (5/16" x 28" Wide x 80" Long)
Best Yoga Mat For Larger People

Before we get into the oversized yoga mats (below), lets have a look at a more affordable option than the above Jade Fusion. This is a lessor known brand, but still gets some raving reviews for it. Considering it is more affordable I thought it would be a good share also.
This extra large yoga mat is by Rolling Sands whom are a US based supplier of yoga and fitness gear. They are a green company meaning they source out products that are non toxic. That includes this mat which is latex and EVA free.
The Size Of The Yoga Mat
This mat is larger than the above Jade Fusion. It comes in at an impressive 36 inches wide and 84″ long. So it's quite roomy even for the big people that want to stretch out on a mat.
The thickness is rated at 1/4″ and offers generous cushioned support for yoga poses where the emphasis is on the knees and back while also being shock absorbing enough to perform insanity jumps.
The mat is made up of closed cell vinyl foam mixed with mesh fabric. The closed cell design means that sweat and moisture just wipes away. It doesn't soak into the mat and create stains and bad smells. Whats also good about closed cell mats is that they can be washed with water in a bath and not deteriorate. So cleaning this mat is a breeze.
The surface of the mat has a sticky film so that traction on the mat is optimum. This surface can be washed down with a cloth to keep it sticky.
Overall it's a pretty decent yoga mat for the price. It's oversized, 1/4″ thick which is quite supportive with a sticky surface and repels sweat. For the price of the Rolling Sands there really is nothing to argue about when you compare it to some of the high end yoga brand names.
Rolling Sands Oversized Yoga Mat 36" x 84"
Best Oversized Extra Thick Yoga Mats
When you want an oversized yoga mat and by oversized I mean much bigger than the two mats available above, you have a few options. Below you can see 4 yoga mats that are extra wide and have extra length to them also.
These mats can be especially good for home where space is not limited. They can be used for home gyms and used as a general workout mat. Because of how wide these yoga mats are, the options are limitless. Perfect for the big man or women wanting space and privacy from the comfort of their own home to perform yoga for heavier people.
Yoga Mat Thickness Options
A regular yoga mat will have a 1/8″ thickness and the extra thick mats will be around the 1/4″ thickness. Some mats even closer to the 1/4″ thickness. The ultralight thin mats are typically 1/16″ thick and are great for on the go traveling where weight is an issue.
A plus size yoga mat should be between 1/8″ and 1/3″ thick in my opinion. This will give you the thickness needed to cater to the extra body weight. But do keep in mind that some of the really thick mats can weight about 6-7 pounds. If you have to carry the mat far on foot, it can be quite tiring after a while. But if you drive to yoga classes or practice it at home, weight of the mat is not an issue.
Does The Yoga Mat Need To Be Oversized?
Another question plus size and overweight people consider is the size of the mat. Taller folks should certainly get an extra long yoga mat and therefore heavier people should get a wider oversized yoga mat.
Oversized mats do come at a cost however. Weight and money. So sometimes a overweight person can get away with a regular size yoga mat that's 24″ wide and 68″ long. But for the convenience of extra space, the investment in a oversized yoga mat is well worth the extra investment.
.