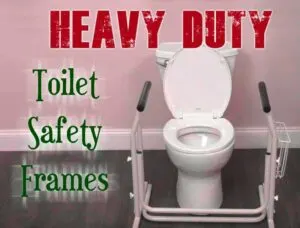 These Bariatric toilet safety frames have been designed to handle heavier loads, have a wider opening between the arms with heavy duty rails. Most importantly, be safer for the bigger person to safely put their body weight into.
Going to the toilet as a larger person is never easy, especially if you have a narrow walls in the bathroom. Even with wider open toilet spaces, getting off the toilet can prove quite challenging.
It's not just the extra body weight that makes it difficult, but also the awkwardness of having nothing to grab onto to lift yourself up. Toilet safety frames are not only used by heavy people, they are also widely used among the elderly community and for people recovering from hip surgery.
But in the case of a bariatric person, the toilet seat frame must be heavy duty enough to support a larger person. But because you're not exactly sitting directly on the frame, these products don't have accurate weight capacities.
Most safety frames will have weight capacities between 200 lbs and 250 lbs. This is simply not strong enough for bariatric and heavy people. The models listed below all have higher weight capacities to best suit the heavier users.
Compare Toilet Frames By Weight Capacity
Heavy Duty Toilet Safety Rails Stand Alone 450 LB Capacity

MedEase™ have one of the highest weight capacity heavy-duty toilet safety rails on the market. For a stand alone model like this, the 450 pound weight capacity is quite impressive.
The higher load bearing is made possible with
the addition of an extra support bar across the front of the frame.
With this type of model where the bars run across the front, you usually only see one bar. But this model, there are two to provide the support and reassurance a big person needs when putting their weight into the frame.
Height & Width Adjustable Frame
Another unique feature of the MedEase is the ability to adjust both the height and the width of the frame. This allows you to easily fit the frame over most standard toilets.
The additional height adjustment feature allows you to modify the height of the handles to suit your height. With 6 height levels ranging from 26.77″ to 31.5″, many big and tall users will be able to find a height to suit them.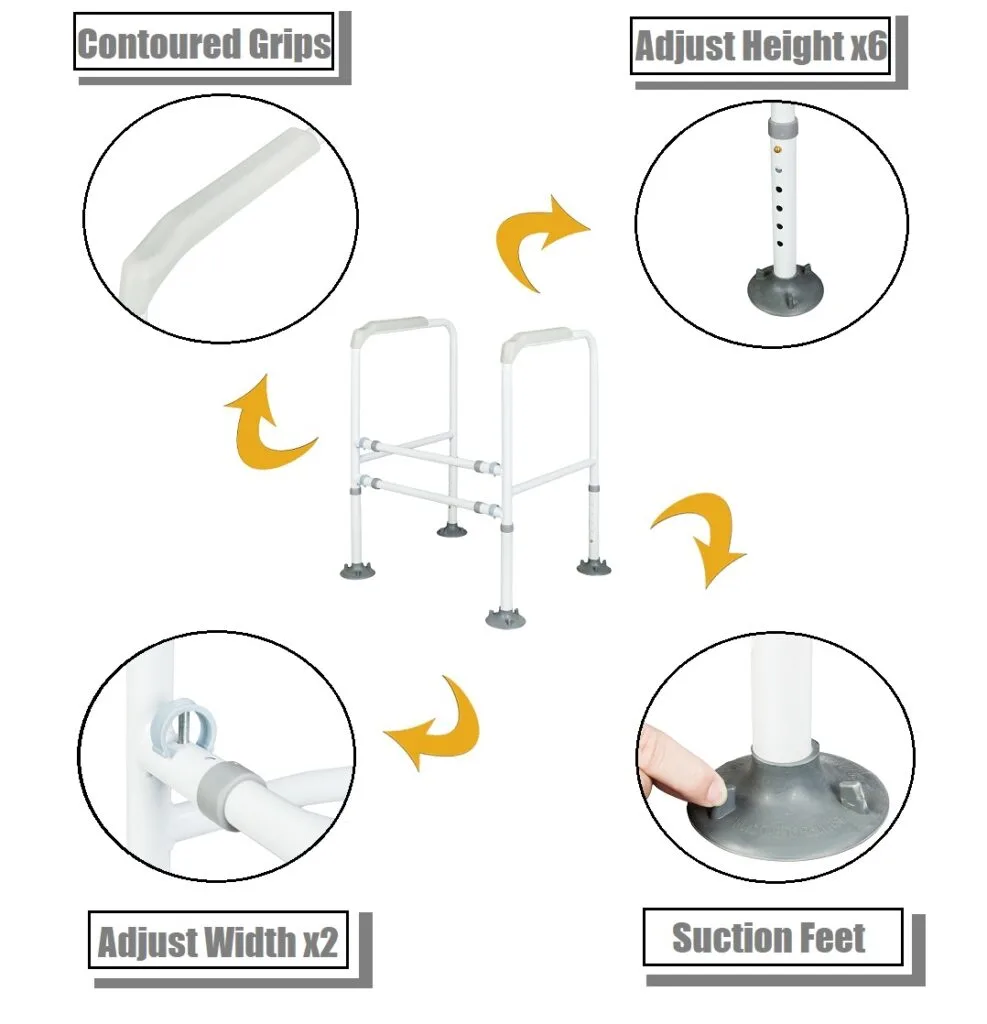 Stable Foundation You Can Rely On
For me, the best features of this frame are the suction cap feet. By having feet that glue themselves to hard surfaces, you can feel safer when putting your weight into the frame when getting on or off the toilet.
The handle grips are contoured and textured moulded plastic. I prefer this over the foam handles because they are more durable and provide a firm grip. I found that foam handles will decay after a short time due to the environment commonly found in a bathroom.
Even tho I am not always a fan of front bar frames, I quite like the MedEase frame. Having the ability to adjust the width and the eight in combination with the suction caps make this frame a clear winner for me.
MedEase™ 450 LB Bariatric Toilet Safety Frame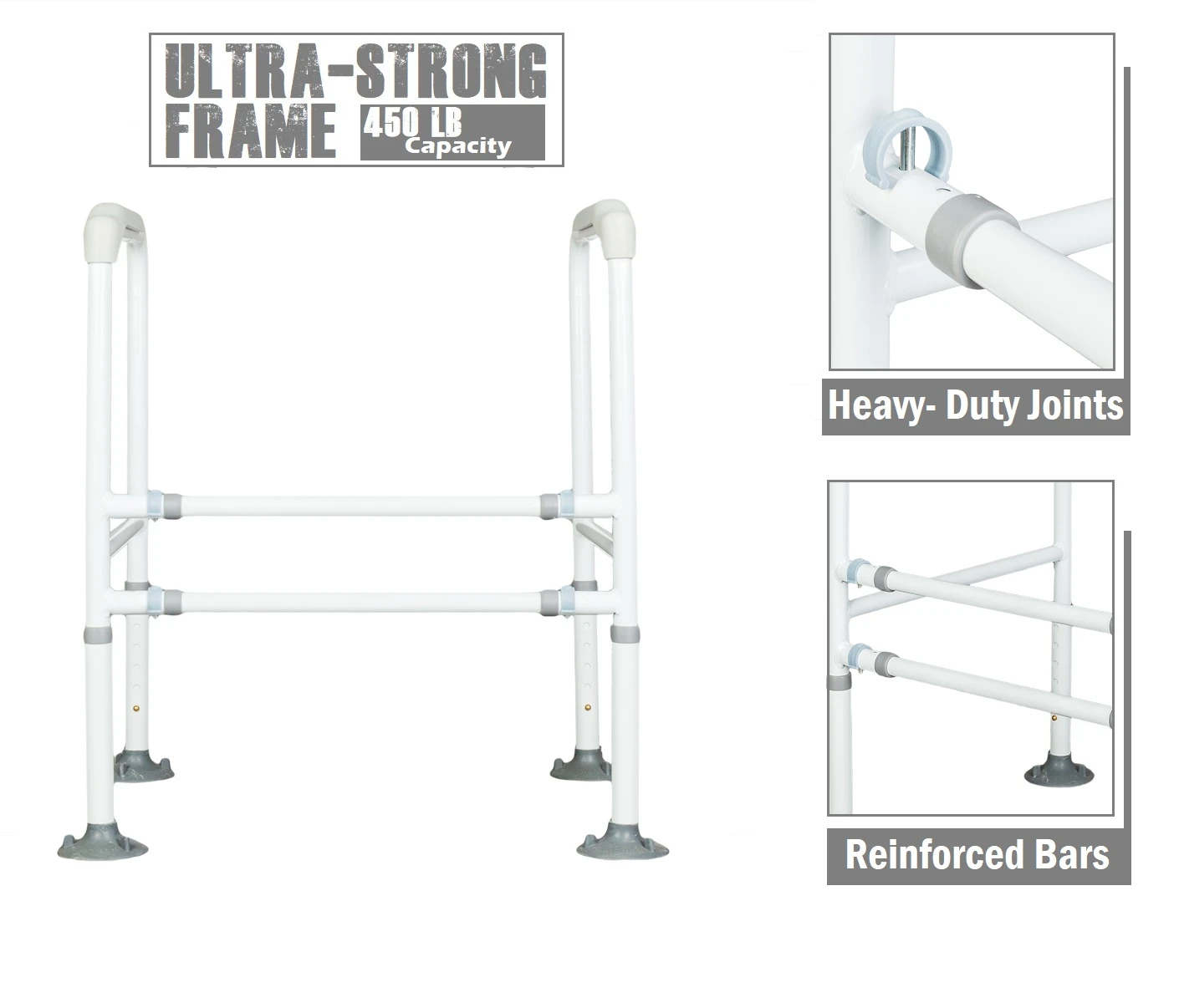 The Widest Toilet Safety Frame

Another problem us larger people have is sitting in between arm rails. As these arms are required to act as stability and support they can't exactly be taken off. So you need to make sure the toilet frame you buy has a wide enough distance between the arms so you can actually sit down between them.
So with that in mind, the widest toilet safety rail I could find has a maximum distance between the arms of 25″. But don't worry if you feel this is too wide as the Drive Medical frame is completely adjustable. The width between the arms adjusts from 18″ to 25″. Which is on par with some of the widest Commode Chairs.
The safety rail arms are also adjustable, which is good for both short and tall people. They adjust the height of the arms from the floor from 25.5″ to 29.5″.
The weight capacity for the Drive Medical is 300 pounds, which is the maximum I have found from my research. But again, you are not sitting on the frame, so take this into consideration.
The simplicity of the design is what also attracts people to this toilet safety frame. Being a heavy duty powder coated aluminium frame, it's quite lightweight. But very durable. The simplicity comes in regards to the assembly. Your existing toilet seat simply bolts back on top of the frame which then provides the support from the toilet and the two front legs.
Overall the Drive Medical is a lightweight option for a big an tall person. It's easy to move as it's just 4 lbs and yet can provide 300 lbs of support. But the true winning factor is that this is the widest adjustable toilet safety frame I've come across. Finally big people can use the toilet with ease.
Drive Medical Toilet Safety Frame
Best Toilet Safety Frames For Big And Tall People

A slightly lower weight capacity rating of 250 pounds is this Medline frame. Similar in design to the above Drive Medical, this Medline uses the front legs and bolts to the toilet for its heavy duty strength.
While it has a lower capacity, it is still a great option for the big and tall people. The height adjustments for this frame go all the way up to 31 inches from floor level. So even the tallest people will be able to lift them selves up at this height.
But its also quite a wide toilet safety frame as well. This Medline can also be adjusted in width to a maximum width of 24 inches. So the adjustments are great for big and tall, but how heavy duty is this toilet safety frame.
The frame is also aluminum like the above Drive Medical. This frame has also been anodized which basically means it wont corrode on you making it more durable.
The arms are padded in a closed cell foam for comfort, but also for easy cleaning. The feet comprise of non skid rubber to keep the frame in position. A nice little bonus is that the legs lift up without having to take out the bolts. This makes cleaning the floor under the frame so much easier.
Overall the Medline is a fine choice for someone that needs more adjustments in terms of height and width. The 250 pound capacity will be enough for most overweight people but would be better if they could reinforce this frame to make it more heavy duty.
Medline Toilet Safety Rails
Heavy Duty Standalone Safety Toilet Frame

For those that don't want to attach the safety frame or rails to your toilet, the next best option is a standalone frame. These frames are very easy to assemble and because they are not physically attached to anything they can be quite portable.
I found this free standing toilet safety frame by Vaunn to be quite a good choice. It has a 300 pound weight capacity and a decent height adjustment feature that can raise the height of the rails from 24 inches to 29 inches. The only problem is that the width between the arms is about 21 inches.
While overall it's 27 inches wide, you loose some of that due to the thickness of the steel frame. So it you can fit between a 21 inch gap, the Vaunn is a great choice. Do note that the 27 inch width doesn't include the wingnuts that hold it together. So when measuring your toilet space allow an inch or two for the wingnuts to fit.
With these types of toilet safety frames you need to careful when getting up or sitting down. As they are not attached to the toilet you need to make sure you grab onto the bar in the middle. This is where its most supportive.
The frame includes anti slip rubber feet and anti slip handles.Whats unique about this frame is that it includes a magazine rack. Great for keeping reading material in the toilet up off the floor.

The frame is a tool free assembly. Which is important to know for Seniors and people with less wrist strength. The assembly you need to do is tighten the wingnuts. If you are weaker in the wrists, a simple pair of pliers to turn the wing nuts will do the job.
Vaunn Medical Bathroom Adjustable Height Toilet Rail Grab Bar
Bariatric Toilet Safety Frame Alternative

Because most heavy duty toilet safety frames only have a 300 pound weight capacity, someone who's bariatric may find them not heavy duty enough.
An alternative is this 660 pound weight capacity toilet grab bar. This bar comes out from the wall to offer support when sitting down while also able to be used as a way to pull yourself up from the toilet.
What makes this grab bar a better option then the typical grab bars you see is the double handles which have non slip textured grip on them. This gives you even more to grab onto without slipping.
This grab bar does need to be installed into your wall. It only takes 4 screws which are included. So it's not a big task at all. Once installed on your toilet wall the bar can be rotated and or flipped up vertically when not in use. Which is handy if the toilet is used by more than just one person.
In terms of height there's 2 options, roughly 24″ and 30″ in height. Both have support bars that run vertically down to the floor to offer even greater stability and support. Something I have not seen on a toilet grab bar before.
Overall its on of the best toilet grab bars I've seen. The high weight capacity and the textured grips make slipping less of an option.
Medical Safety Toilet Grab Bar
Other Options For Strong Toilet Safety Frames
If none of the above options you find suitable, look below for four more options available on amazon. All of them have a 300 pound weight capacity but are different in design. From the standalone to the 4 leg frames and to the support frame with no legs.
Bariatric Toilet Safety Rails Need To Be Strong
Toilet frames are designed to be supportive and provide stability for anyone that has a hard time getting on and off the toilet on their own. So while weight capacity is important to a degree, it's not the be all to end all factors in my opinion.
When it comes to toilet assistance aids there are a few options a bariatric or heavy person can choose from. These range from safety rails/grab bars to self standing toilet frames. Above you can find a few of the best heavy duty toilet seat frames that I've come across.
Another option is a toilet riser with an included frame. These too have heavy weight capacities to cater to heavy people but also the taller folks as the seat is now higher from the ground. Making it easier to sit down and get back up.