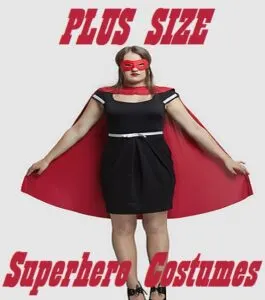 Plus size Superhero costumes for Women come in a variety of shapes and Sizes. But what Superhero they come in are what really matters. While Superhero costumes are a popular choice over the Halloween period, I decided to leave them out of the Plus Size Halloween Guide and give the Heroes a whole section of their own. I think they deserve their own space after keeping the Universe save from villains for so many years now.
The problem with trying to buy superhero costumes as a larger person is that many of the costumes come in those pre-packed boxes/plastic cartons. So trying them on in store is sometimes impossible. But this is not to mention if the store even has costumes in large enough sizes.
So online we bigger people often turn when it comes to buying any sort of clothing. Costume or not. But the problem again is not being able to 'virtually' try the costume on. So this is where customer reviews and feedback come into play. Often people will leave there comments on a product stating whether the costume fits their current waist/bra size etc. This is great feedback and will ensure you are going to buy a superhero costume that fits.
Wonder Woman Plus Size Costume For Bigger Women
Sizes 16-22

When it comes to buying a extra large Wonder Woman costume, like most superheroes you may get conflicted on which style to buy. The classic Wonder Woman, or the more recent movie edition costumes?. Well regardless of which you prefer better, you can find a few different versions of Wonder Woman on Amazon.
Me personally, I prefer the new flashy up to date movie costumes. But being a larger person, sometimes our options aren't as huge as the slimmer variety. So beggars cant always be choosers as they say. Fortunately, I found this plus sized Wonder Women costume which is based on the recent Batman VS Superman movie where Wonder Woman is featured towards the end.
So this particular costume is meant to fit dress sizes 16-22 or if you prefer to measure by the bust it is ideal for 42-44″ busts. Around the weights its ideal for people that have between 35 and 38″ waists.
What I like about this superhero costume is how detailed everything is. Nothing is left out, the Tiara is there, the arm band to the boot tops. So its the complete Wonder Woman look. In fact, this is the licensed DC Comics costume. So its the real deal deluxe version and not some cheap crappy rip off.
Plus Sized Wonder Woman Costume
Supergirl Costume For Larger Size Women
Suits Size 14-16

Another officially licensed DC Comics costume, this time none other than Supergirl. With the latest Supergirl TV series being a hit with fans all across the world, it's no surprise to see a increase in Supergirl costumes popping up over the country. Superman has been an iconic superhero for as long as I can remember. Hes taken a lot of the credit in the past decades. But now is Supergirl's time to rise and show how tough a female superhero can really be.
This particular Supergirl costume is a 'Plus' Size which means it is ideal for US sizes 14-16 in Womens. The waist is suited for 35 to 38 inches. The red iconic Supergirl skirt comes down to the knees. But as it is a rather flowing type of skirt, I'd recommend wearing some black or red shorts underneath. Especially if you are going to a outdoors party or exploring the streets at Halloween.
The costume itself is made from high quality materials (Polyester) that seem to be well made. The whole costume includes the dress (Blue and red sections) and the iconic Supergirl flowing red cape. I wouldn't mind if the cape was a tad bit longer, but that is just a personally preference. Either way, this is one of the best Supergirl Costumes I've seen in regards to quality, accuracy and available in plus sizes.
Supergirl Costume For Plus Sized Women
Who Are You? I'm Batgirl!

Batgirl has long been a favorite of mine. But she has never really received the credit in the movies that she deserves. If it wasn't for the 1997 Batman & Robin movie, where Alicia Silverstone starred as Batgirl. I don't think many people today would even know of the character Batgirl. Thankfully, there is a plus size costume of the infamous Batgirl Superhero.
This oversized Batgirl costume is the old school Batgirl boasting the big yellow Bat symbol. Not as cool as the modern Batgirl Superhero costume if you ask me. But still cool nonetheless. The 'Plus' size for this costume is for US sizes 14 to 16. Measurements for the bust are 42 – 44 inches and the waist is 35 -38 inches.
What I do like about this costume in comparison to other styles are the spiked arm bands that come included. This adds an extra level of toughness to this authentic Batgirl costume. The yellow belt that comes included has the bat symbol on it as well. I would be very tempted to paint just the bat symbol black so that it really pops out.
For the price of this costume, I think the quality and inclusions really are well suited. Good price, great quality and a great way to impress this Halloween.
Batgirl Costume For Women
Female Robin Costume 2XL
Sizes 14-16(Plus) & 18 – 20 (2xl)

There's a couple choices when it comes to the Female Robin of the Batman series. Turns out she is quite a popular superhero costume. One that is available in 2 Xl and one available in Plus size. The 2 Xl version has many reviewers stating that the costume runs small. So after reading the reviews, I get the feeling they both will be about the 'Plus' size on the size charts shown.
So going off that information, you can assume the sizes will be about the same as the Batgirl measurements being size 14 – 16. Both of the Robin costumes are very well designed. Very cute looking and will certainly turn heads at your Superhero themed party. The 2 xl version's skirt is a tad shorter and the arm bands run longer past the elbow. This may be a deciding factor for you as it would be for me. I like my elbows to be free to move.
The plus sized Robin costume is officially licensed by DC comics whereas the xxl version is not. Also there are boot covers on the plus size version and no leggings included on the other. Because of these factors, I would go with the licensed version as it does appear to be a better made costume.
Female Plus Size Robin Superhero Costume
Harlequin Super Hero/Villain Costume
Size 14-24
This Harlequin costume may be a bit of a surprise when your guests see it. At first they may not know who you are dressed up as. That is until you mention you are dressed up as the sexy Harlequin. Harlequin has been a round for a long time, but recently got her rise to fame known as Harley Quin in the latest Suicide Squad movie.
While this is not the official costume from the Suicide Squad movie, it is still a stunning costume that the Joker would love to have the real Harlequin wear beside him. Plus its the only plus size costume I could find.
Available in up to 3 X, this can cover sizes from US 14 to 24. At the 3X size, the bust measurements are 50-52 inches while the waist is suitable for 43 to 45″. There is a lot of detail put into this larger size Superhero costume that even haters of Harlequin could adore this dress.
Need More Plus Size Superheros Costumes For Women?
While there isn't a huge selection available for plus sized Women, we will continue to add to this page as more becomes available. But if you need to find something else that isn't on offer here. Perhaps this cape, tutu and mask combination of superheros will fit the bill. Available in plus size for up to 44 inch waist and a range of Superheros including a Spidergirl, The Flash, Captain America, Wonder Woman etc etc.
Multiple Superhero Mask, Tutu & Cape - Plus Size
.
Save