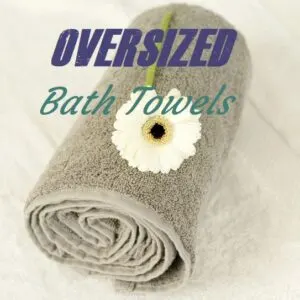 Just recently we moved house and many of our old worn out bathroom towels got left behind. So for the last few days it feels like, I've been trying to hunt down some quality oversized bath towels for big people without spending three figures on a darn towel.
During this time researching, I've also learned a far bit about the types of materials towels can be made out of. This has helped me narrow down my selection for the new place. No longer is it just 'see the cheapest option and buy'. Now I am armed with some useful knowledge, I'm going to buy the best bath towels suitable plus size people like myself and my partner.
Oh, and if you guys and gals want to get the upper hand, read on below to find some extra large bath towels made from various materials. I will also share a little about what I learned when researching these types of materials. One quick tip is. If you're struggling to find any really big bath towels, there may be a reason for this. Once towels reach a certain size they are known as 'bath sheets'. Bat sheets are basically oversized towels and usually are no smaller than 35″ wide x 60″ in length.
But as bath sheets are considerably larger than ordinary bath towels, they can become unimaginable for some circumstances such as wrapping your hair up in a towel. However, a bath sheet is perfect for larger persons due to body size, but also because when drying yourself, you typically have more 'dry' towel left to explore. So with that said, we are going to not worry about drying the hair, but more of the largest bath towels so they can actually wrap around our bodies without letting a thigh or cheek left exposed to the elements.
The Best Type Of Bath Sheet – Egyptian Cotton?
From what I have gathered, Egyptian cotton is the bees knees when it comes the bath towel materials. This comes down to the high absorbancy and longevity of the towel. The high absorbancy comes from the extra long fibers used in the towel. Which is almost the perfect combination, the only thing it may be missing is softness. While still considerably soft, Turkish cotton is better known for is exceptional feeling on your skin.
While Turkish cotton is the softest bath towel out there (From what I have experienced), where it lacks in comparison to Egyptian cotton is in absorbancy. So Turkish bath towels are very soft and sensual, which makes then perfect for warmer locations.
Microfiber towels are relatively new on the scene, but from my findings, I may want to avoid them. They are very absorbent and very fast drying, so that is not an issue. But they don't feel soft and snuggly like a cotton towel. However, they are very compact when folding down. Which makes them ideal for traveling. A bath towel can be folded down to the size of a short novel. So I am keeping this stored in the memory for sure.
As for choosing a color, it doesn't matter too much to me. If you have neutral colored walls, then just about any color towel will do. If I had to choose, I would go the darker colors as they hide dirt and stains better. Plus they look more sophisticated. Can a towel really look sophisticated?.
Best Oversized Egyptian Bath Sheet 36″ x70″
Because I believe Egyptian to be the best it's natural to want to share this find with you. This towel is made by Caribbean Natural. Available in a couple of colors and comes in a two pack on amazon. But what makes this the best from my understandings is the way this towel is made.
Yes, who thought towels could be so complicated. Anyways, this Egyptian oversized bath sheet is 'Ringspun'. Which is the best method of assembling the towel as it combines both the shorter and longer fibers together. The Ringspun method twists the fibers together to make a smoother feel. Ringspun towels are considered luxurious when compared to combined cotton towels.
While Turkish cotton towels are said to be the softest, this Caribbean Natural Egyptian towel is said to be very soft. This would be a direct result of the Ringspun method of assembly. So being Egyptian, this towel is very absorbent and wrings out very well. Whats also a feature you don't see on lower end towels are that it's Chemical Free and also OEKO-TEX Certified (Standard 100).
Extra Large Bath Towel 40″ x 80″ Massive!
If softness is your go to requirement when looking to buy a big persons bath towel. Then Turkish cotton is the way to go. The Salbakos 40″ x 80″ bath sheet is one of the best out there made form Turkish cotton. Whys that?. Because Turkey makes the best and the softest cottons in the world.
The Salbakos towel has many colors to choose from and the colors have been Vat Dyed (Which is a process used to dye yarns in a vessel such as a vat) to ensure the color stays vibrant for years to come. The black or the grey colors are what I'm thinking look great.
This is a big extra large bath towel (Sheet) which is quite heavy to allow for great absorption. Not as great as the Egyptian, but still super absorbent and the King or Queen of softness. There's something called double locked hems, which means the stitching is double the usual amount to prevent hem failure.
The only downside really is the price which you can find on amazon. This is for one bath sheet only. However, if you are a big and tall person, this is about the ball park figure you should aim for. It's a very big towel that is super soft and absorbs water quite well.
SALBAKOS Luxury Spa 100% Combed Turkish Cotton Oversized 40" x 80"
Extra Thick White Bath Towel For Big And Tall People
It just wouldn't be right if I didn't include a luxury white Hotel Spa bath towel in the mix. One of the best things about visiting a fancy Hotel or spa, is using their fine towels. This one by Crafted Work is very a close resemblance to the high quality white towels you expect to find.
Being 40″ wide by 80″ in length, this towel is perfect for the big and tall people. Or just big like myself. However, if you are tall, there is plenty of room to cover your torso with this towel.
While this towel is 40 inch by 80 inch like the above Salbakos towel, this one is less heavy. I would describe it as being mid range. Even tho it is still made from Turkish cotton straight from Denizli Turkey. Maybe it wouldn't be considered extra thick, but maybe more along the lines of a plush oversized bath towel.
Either way, you're not going to be left with a hard crispy towel after using it. You know, like those cheap beach towels that once wet seem to turn into crystals rather than cotton fibers. This is not the case with this plush oversized towel and from what I have researched, it doesn't malt either. Bonus.
40" X 80" Luxury Turkish Cotton Large Bath Sheet
How Oversized Does Your Towel Really Need To Be
While I have tried to offer three of my personal favorite choices when it comes to buying an extra large bath towel. I know not everybody is going to want a huge 40″ x 80″ monster of a towel.
So what size towel do you even need?. Well, this really will come down to personal preference. I like my towel to be much larger than me so that none of my assets are accidentally revealed to onlookers (Maybe I'm being paranoid).
So for me, I will simply measure my waist line and times it by 1.5. So if you have a waist that's 50″, I would look for a towel at least 70″ in length. This gives me room to move so to speak, so I am being generous here. It means I can completely wrap by plus size body in this big bath towel and still go 1/3 to 1/2 the way around again and tuck in nicely without any mishaps. As bad as this sounds, it also allows me 'room to grow'.
So as we are not all exactly the same body size, below you can find some more various oversize bath towels for big people that can be found on amazon. Hope this helps you all out.